The Unexpected. . .
The Voyeur becomes the Passenger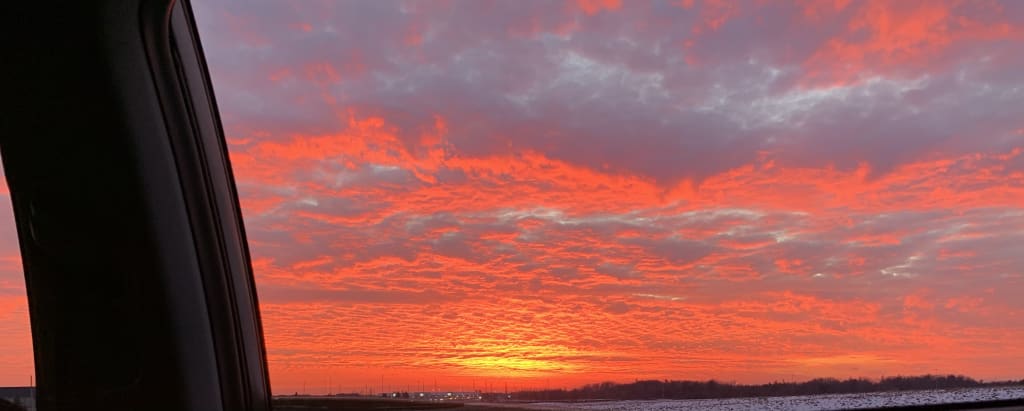 Photo taken by Author
The hour struck twenty-two hundred and I watched my employees inject their cards into the punch clock. Each stamping yet another start to another shift.
On this night the air stood stagnant, and the barrier of humidity was climbing steadily. Andre one of drivers departed past the station doors. I stepped up to my vehicle, the very charming and luxurious Maserati Levante Gran Sport.
It would be the one I use every night and why not, I own it, and what better way to contribute to the continued success of our company.
Truthfully speaking though, it helps with support and motivates my crew when I join them; it also gives me a better sense of what's happening in this great city and with keeping my focus on the bigger picture.
Upon exiting the station, the thick wall of humidity smothered my face like the weight of a down pillow.
I immediately turned the dial and cranked up the air-conditioning while observing the garage door drop from the rearview. All I could think was, "damn it's fucking hot."
Suddenly the set of fourteen Harman Kardon speakers filled the cabin with the melodic sounds of steel drums. They harmoniously filtered through the Bluetooth audio system. The song playing, Bob Marley's, "Three Little Birds".
A magical ballad carrying a wonderfully powerful message, a hopeful reminder sung within its first few lyrics, "don't worry, about a thing, cause everything little thing, is going to be alright."
An endless classic. It's quite possibly the reason why I chose it for my default to everything. Waiting a few moments before answering the call, ensuring that the door to the property had closed completely.
The metal door thudded, echoing from the alley across the way. Having a quick glimpse on the infotainment screen, it read, "No Caller ID."
I pressed the call button on the steering wheel and that's when I heard the most enchanting vocalist on the other end. She sang a tune that had me captivated. This siren forced me to slip off the red leather seat while struggling to find the fastener to the seat belt.
The soft-spoken request was something oddly specific. The woman asked to be taken for a drive, that's all. She inquired if our services would provide this type of travel consideration.
I did mention, "Although it's a bit strange, we do however cater to whatever our clients needs." A simple "Thank you," was her response and then dead air.
From the second the call ended, there was something angelic about her voice that struck me deep, and whatever carried this feeling was something too familiar.
Feeling engrossed, my mind wickedly played with the idea of piecing together the sound of her voice and what she may resemble. The intrigue rose through my loins, amid a set of scenes nipping at my every nerve. It twitched and beat slowly like notes played on a saxophone.
As the miles dwindled, the excitement delivered one final blow to the pulsing ego between my thighs.
Pulling into the long extended semi-circular driveway, I felt for a fraction of the moment that this home was welcoming. The exterior charmed its way into my heart. It washed away my other preoccupied senses.
The house was warmly lit, yet visible enough to see the front veranda veer off the corner and lowered slightly, displaying a beautiful wrap-around deck.
It gave the home a warm romantic appeal. A soulful glow emanated from the interior lights. The burning orbs twinkled through the darkened sienna in my eyes, until she entered. Dancing so elegantly into view.
Nothing could sway my gaze from this magnificent bright star. Her vibrance shot throughout my body, like the rays of the sun slicing past the clouds.
She pulled the handle, opened the door, and stepped into the backseat. Making herself comfortable, she requested that I begin to drive in the direction the headlights were pointing.
"Do you have a suggested destination?" I asked, hoping to create a cordial atmosphere. Her lightning-quick response, "anywhere, please!"
In all the haze from when I first laid my eyes on her full figure, I didn't completely make out what she was wearing. I zipped a peek into the rearview and noticed her choice of attire. Caught by surprise, her entire body was sheltered.
Odd, considering the kind of sweltering night we were having. She was completely draped in a long charcoal grey coat. The only image I managed to capture was the flash of her stilettos under a blur of bright crimson.
Twenty minutes into the trip, not a word. As we drove deep into the jungle of city lights. I tried to spark some form of dialogue by asking the usual small talk type questions, "So, have you enjoyed this weather we've been getting lately?" No response...
"What kind of work do you do?" still nothing ... She sat quietly, didn't share a thing, just stared off into the distance through the windshield, watching the traffic pass us.
Then finally, "Sure," was the answer she gave to my last question, if she didn't mind, I turn on the radio. The DJ's timing and chosen tune hit what I was already feeling.
The ride pushed ahead, and the mysterious excitement filled my framework. There was nothing to stop me from thinking about her attire. I needed to know. My curiosity burned.
With an extended gaze into the overhead mirror. The timing of the view was perhaps too perfect. The enigmatic woman shared a scintillating scene.
She shuffled into the center seat, positioning herself directly in my sights. The subtle gesture lifted the ends of her coat. Instantly delivering a brilliant contrast of her soft meaty flesh and the edge of the thigh-high black lace stockings she was wearing.
The potent yet brief scene was too much to ignore and easily absorbed. The sleek length and shape of her legs had my senseless mind wandered frantically with innuendo, making me, her latest casualty.
Although with all these visuals circulating through my brain, I averted my eyes long enough to ask, "Would you mind if I stop to pick up some drinks at the nearest liquor store?" She searched the mirror to meet my eyes and nodded yes.
Driving a few more blocks, we reached the store's lot. Ramped up the curb and parked near the entrance. "I'll be quick," I mentioned, before jumping out of the vehicle. She waited patiently as I raced through the aisles, making the usual rounds, picking up a few of my favorites and a couple I was curious to try.
The cashier noticed my antsy behaviour and scanned my full basket with quick precision. I thanked Rachel for her great service, grabbed my case, and sped towards the exit.
Entering the car, I swiftly placed the box of spirits at the foot of the passenger side. Sat my ass in and strapped the seatbelt on. While clinching the lock I looked into the mirror and apologized.
"I'm sorry for the extra trip, just wasn't sure I'd get the chance before they shut their doors!" Then further remarked that I wouldn't be charging her for the full trip.
She responded softly, "it's alright." It didn't fully occur to me when I pressed the brake pedal to gear down into reverse that my passenger removed her coat.
It became crystal clear what she was wearing when I swung my head around my shoulder to watch the direction I was driving. "I hope you don't mind, I made myself a bit more comfortable," she smiled sinfully, biting on the end of her painted right index finger.
"You certainly caught me by surprise," I sheepishly responded. Continuing to reverse out of the parking spot, I tried to soak up all of her sensuality like a sponge, tapping on my head for luck; my imaginary piece of wood.
Where I would have the pleasure to feel the rawness of her skin, drink the honey from her pores, and mingle delightfully upon her senses. Shifting into drive, we left the cover of bright lights behind. The destination still unknown but at this point, it didn't matter.
The trip had suddenly sprung to life. She was completely ready to share more than I had ever suspected. I watched her delectable movements scatter across her smooth tanned skin and the way she wanted to express her absolute desire to stimulate me visually.
With each underpass and each spotlight from the streetlamps above, the scene would unfold like a strobe light at a disco. Her display was completely sexual. She'd reveal bits and pieces of her glowing soul to me.
The shimmer to her sultry puzzle that was her body and I hungered for her the way I only could. She was quite skillful at removing the top half of her silk and lace black colored onesie. Catching just parts of her magical show under flashes of light had me fascinated.
Slowly she would glide her hands up over the full mounds of her breasts. Crossing them at her collarbone and gently slid her fingers beneath the straps. Pinching and lifting the thin bands off her shoulders. She peeled them away from her skin, pushing them down until they met the crease at her forearm.
She rolled and looped them around, past her elbows. The more they dropped, the more wonderful was the picture. Her succulent tits would soon be on full exhibition. The thrill plundered my sense of sight. I couldn't keep my eyes off her and she knew it.
Still working at maintaining the direction of the vehicle. I instinctively chose a road less traveled just to get more accessible glances. This route was perfect, near a new residential build. A quiet place where we could continually circle without bother or disturbance.
My body ached to stop the car and admire the sweet flawless presentation of expressionistic exhibitionism. The voyeur in me has become the passenger. I wanted nothing more than to enjoy the pleasure of bearing witness to her ecstasy. It was so fucking erotic to watch, and it transcended my wildest dreams. She stared into my reflected eyes with penetration and longing.
"Yeah," she yelped, her right hand buried under the lace between her thighs, sunken and circulating. "Park the car under there," she pleaded while pointing at the nearest light post. She abruptly stopped dug her feet into the floor and pushed her ass off the seat. Her hands grabbed and tugged at the onesie, locked snug at her hips.
She dragged the lacy number down her long shapely legs. All that remained were her luscious thigh-high stockings. Quickly I drove to that lamppost faster than any other time tonight urging to meet her demands. I ached to savor this piece of paradise. And she wasn't looking to miss it either. "Fuck," she gasped again, excited to see how soaked her pussy got, she spread her legs wide, her feet anchored to the seats and her pelvis rocked forward.
She reached for the dripping threshold and restarted the sensation with her right hand, floating over her saturated folds. "Oh...yes!" she belted, hitting the mark, as though she were tuning an instrument. Her quickened circular fingertip brush strokes against her slick swollen clit magnified the building pressure. I watched recklessly, a bystander caught in a mystical scene.
My breath picked up, growing in pace with hers. The need to completely fulfill this fantasy began to tether a noose around every one of my senses. Raising her left hand, she ravaged both breasts. Desperately kneading on their milky tenderness. Rubbing them together and periodically tweaking at her erect nipples. That extra sensation helped increase her appetite and mine.
She feverishly thrived to feel the full throttle of that beautifully invigorating apex. That pulsing rush through her veins and every cell in her body. Her moans grew louder with each gaze in my direction and each grind upon her clit. Exchanging glances, I could tell she had begun to undress me with her eyes.
Moaning more brashly. "Ahh...yeah," she sung with pleasure and satisfaction. Her intensity soared, "Oh fuck...yes," she panted heavily, licking her lips moist. Her body jittered and jolted as though her fingers were spikes of current sending charges over her electrical hot box.
That's when her next words solidified my fantasy. "Show me your cock!" she breathlessly invited the idea, to lose absolute control. "I want to watch you, enjoying me." she expelled under bated breath.
"Hmm...Ahh...Hmm...Hmm," she hummed with content at the first sign of my compliance. She watched me remove my shirt and exposing my bare chest, set her off spinning.
With the sheer placement of my fingers over the button on my jeans, rose her moans exponentially. "Fuck... yes, show me, take them off for me, please!" She was on the verge of a category five cataclysmic orgasm.
And I wasn't too far along either. I shit you not, this was beyond anything I've ever dreamed. Once she saw the round swollen head of my dick glistening with juicy goodness. Her body receded for a split second, silence filled the cabin, when she
"AH...OH...OH, OH MY, OH MY." She squealed jerking and pumping her waist into the air repeatedly, "OH...YES, OH...YEAH, YEAH, YEAH, OH MY GAWD," she ecstatically and hysterically yelled with climactic jubilation.
Her mid drift wrenched forward, spiking and shaking with exuberance. A smile sprung over her glowing face while she watched my stride grow faster, thumbing around the plump girth of my head and stroking up, then down the length of my shaft.
Her entire body still convulsing, twitching from every muscle. She continued to ride the wave by running her index finger tenderly across the purring tip of her clit. The tense rod in my hand drew closer to boiling over.
She wanted to feel the warmth of my ejaculate spill onto her thigh-high stockings. She extended her legs out to meet the end of my cock and I couldn't resist or disappoint. The force of my orgasm left me feeling euphorically lightheaded. A compelling result that won't soon be forgotten.
Climbing into the backseat to join the remarkable beauty who shared this eventful night with me. Leaned into her lovely face and kissed her lips passionately. "I love it when you kiss me like that," she professed.
"Like what?" I questioned. "Like, you've missed me for weeks," she shared. "I love you, let's go home, Babe." I kissed her forehead, returned to the front seat and we headed back home.
The End
... If you happened to enjoy this piece, be sure to check out some of my other works on my profile ...
fiction
About the author
I live moment by moment, creatively writing from an ensemble of memories, lessons and experiences.
All images are from my personal collection
Reader insights
Be the first to share your insights about this piece.
Add your insights