The Perfect Sex Toy
Finding the Best Fit FOR YOU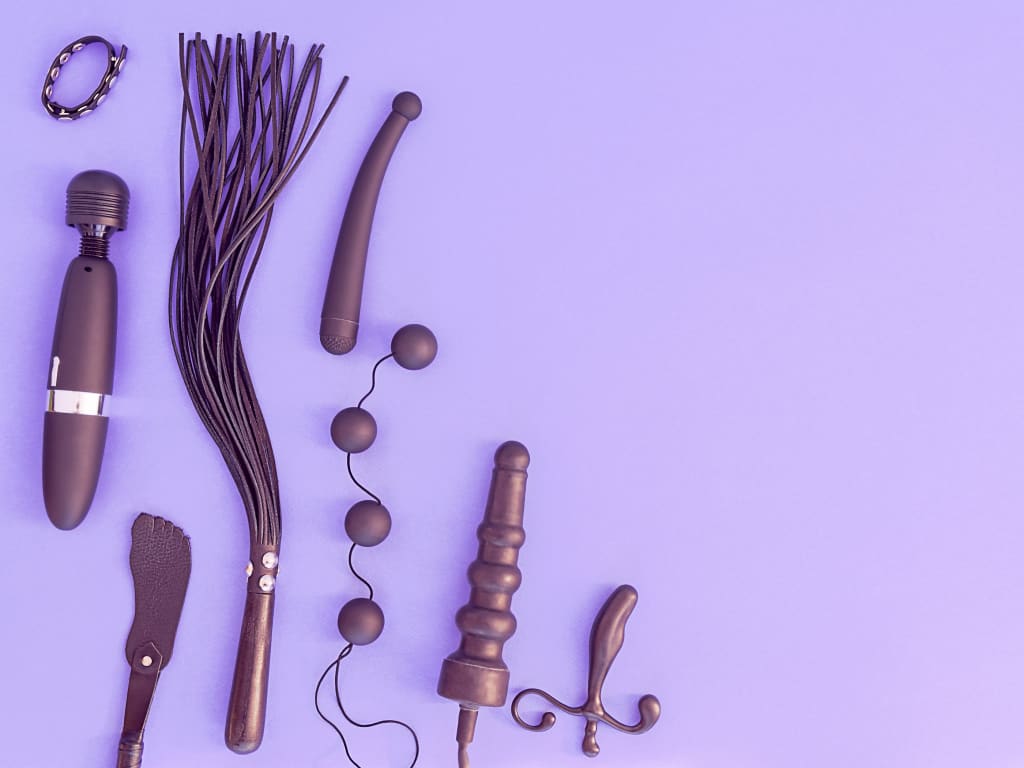 Going to a sex shop can be scary. It's hard to know which shops are quality and which are a little... back-alley. Then once you do work up the courage to finally walk into one, the options can be totally overwhelming. Lube and lingerie, pills and porn, dildos and DVDs... Sex shops offer all sorts of goodies for you to choose from, but it's difficult to make a choice in the first place. I work with people every day who struggle to find what they want, so this is a quick guide to help you all out when looking for the perfect toy.
There are so many things to consider when looking for a toy. First, you want to think about what you want the toy to do. Do you want it to vibrate? Do you want something for clitoral stimulation? A g-spot massager? A p-spot massager? A multi-stimulator?? Knowing what you want your toy to do narrows the options significantly. If you decide you simply want a non-vibrating dildo, you only have to look at dildos. If you want something clitoral, then you can focus on small vibrators, also called bullets. If you want a stroker that suctions to the wall, then you can read the package and see which strokers come with a wall mount. Never be afraid to ask the sales associate for help. 9 times out of 10, they're excited to be there and to help you find a toy.
There is a toy for everything. Some toys are anal plugs or anal beads. Some are simple vaginal wands. Some are remote controlled eggs that you put in your panties or in your vagina. Some are multi-stimulators that target the clit and g-spot at the same time, or even the clit, g-spot, and anus all at once. Think about your body and what sexual actions excite you the most. Do you really love receiving oral? Maybe you want something to suck on your clitoris? Do you mostly enjoy straight penetration? Try a vaginal wand. Are you completely unsure? Start simple and go from there. Get a toy that's big enough to stimulate the g-spot, but also good to stimulate the clitoris. Try a little bit of it all.
Once you know what you want to the toy to do, you want to think about material. Do you want a hard plastic? Silicone? Jelly? Material is one of the most important things to think about when choosing a toy. Your sex toy is going in your body. It's touching intimate parts that can be prone to infection. When looking at material, you want to find high quality material. Jelly is very squishy and soft, but it's incredibly porous and harbors a lot of bacteria. It also breaks down quickly and needs to be replaced every three to four months. A lot of jelly toys also contain phthalates, which can cause cancer. (Nobody wants to say they got vagina cancer from a sex toy...) Hard plastic will last for well over a decade and carries strong vibrations. The biggest downside is the fact that it's hard against your body; it doesn't have give. Glass, metal, and stone are also wonderful choices. They will last for the rest of your life because they are nonporous and very easy to clean. Most people will choose silicone, though. Silicone is soft and high quality, usually. Food-grade silicone needs to be replaced every two to three years, while medical grade silicone needs to be replaced every 10 years, depending on how well you take care of your toy. Usually the packaging will indicate what kind of silicone the toy is made out of. Remember: these toys are going in a very intimate part of your body. Treat your genitals WELL.
Another thing you should consider is power. Rechargeable toys are going to be significantly more powerful than battery operated toys. They also tend to be higher in quality and will last longer compared to battery operated toys. If you are someone who requires a lot of power to orgasm, then I would suggest considering a rechargeable toy, or one that plugs straight into the wall. Anything that plugs into the wall will have the most power, followed by a rechargeable, with a battery operated toy being the least powerful. Everything nowadays is rechargeable, so why shouldn't your sex toy be as well? Save a butt ton of money on batteries and spring for a rechargeable sex toy.
Okay, so now you have an idea of what you want for a toy. You know you want clitoral stimulation, a rechargeable toy, made out of silicone. But now, there are so many brands to choose from... Maia, Sensuelle, Fun Factory, Jopen, Broad City, Calexotics, We Vibe, Adam and Eve, Womanizer, Aria, G-Jack... The options are absolutely endless, and after awhile they all look the same. Again, don't be afraid to ask the sales associate what brands are good and what brands are crap. Most sex shop workers become total toy snobs while working in the industry, and they can rattle off a handful of different quality brands for you to look at, within your price range.
It's important to note that a quality sex toy is not cheap. A lot of people come into the store hoping to spend $20 for the best vibrator ever. The reality is, quality vibrators range from $40-$300. If you know for a fact that you want to make the investment in a quality toy, have at least $50 saved up. The quality sex toys will last for more than a year, while the crappy $20 ones may only work the first time you use them.
If you're merely interested in a toy, but aren't 100 percent sure about it yet and don't want to invest a lot of money in it, you can find quality, cheaper alternatives that will still help you get an idea of whether or not you'll like the idea. You can try out a cheap cock ring for $5, a small g-spot stimulator for $15, a little anal plug for $15. You don't have to drop serious cash if you're just questioning. Calexotics is one brand that has a lot of awesome first time toys for a decent price. Most of them are battery operated and simple to use.
Before you leave the store, ask the sales associate to open the toy and test it for you. Show you how the toy works. They should know how every toy works and usually should not have a problem doing this for you. Make sure the toy works before you leave the store, because you cannot return sex toys.
Also remember to invest in a toy cleaner. You want to make sure your toys are clean when you use them, especially if you use them with different partners. Toy cleaners come in spray and foam version. I recommend foam because it goes further than a spray will.
No matter what you buy, you should be happy with your purchase. Sex toys are for your pleasure, and you should be excited to go home and put your toy to use. Take the time to research various brands and read reviews. Ask different sales associates, and even your friends. It can be awkward to talk about, but in the end, you'll be happy you got the ball rolling.
An even quicker guide to good brands:
Maia is my personal favorite. All of their toys are made with medical grade silicone and they are great toys for people on a budget. The toys are powerful, but not kick-you-in-the-butt powerful. The rechargeable toys have a one year warranty.
Sensuelle prides themselves in motor capacity. Anything you get from them will be incredibly powerful, but also high quality. These toys also have a one year warranty. Some toys are made with hard plastic and some are made with high quality silicone.
Anything you get from Womanizer is going to be phenomenal, but expensive. They have a two year warranty and they are rechargeable. These toys use air-flow technology to stimulate the clitoris.
Calexotics is one of the most well known brands. They have cheap, first time stuff, and also high quality long-term toys. Anything you get from them will usually treat you well. Prices vary drastically in this brand.
Fun Factory is one of the best brands on the market. All of their toys are rechargeable, made with medical grade silicone, and have a 2 year warranty. These are spendy toys, but WELL worth the purchase. Each toy has over 15 different functions and is incredibly powerful.
Reader insights
Be the first to share your insights about this piece.
Add your insights