The Only Good Fucking is a Hard Fucking
An Erotic Flash Fiction Story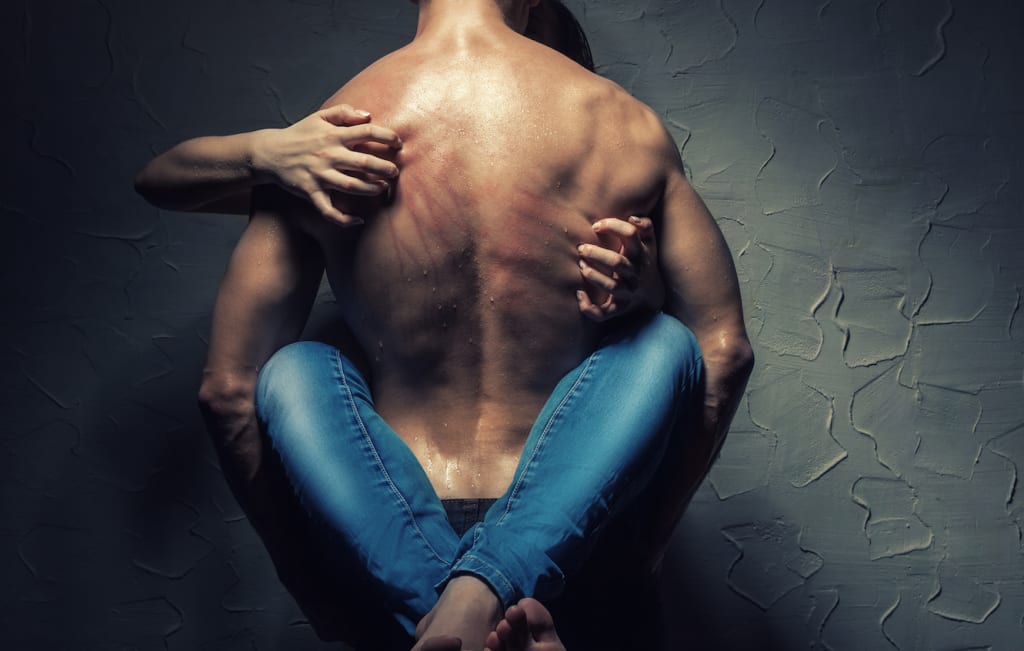 Sometimes I like making love. Sometimes I love it. To be held and kissed, and gently and slowly screwed to climax is divine. Sometimes there's music and candles, and all that jazz.
But sometimes I want to be fucked. And if I'm going to be fucked, it better be hard, and it better be nasty.
You better push me up against the wall and kiss me roughly, like you want me bad and you can barely control yourself. You better rub me through my clothes, you better squeeze my breasts and grasp my arse tight, you better run your hands all over me.
Slide your fingers into my hair, tighten them, and tug hard enough to make me gasp, hard enough to make my cunt pulse. Press your body into mine so I can feel how hard you are for me. Shove my thighs apart and thrust your hand up my skirt.
Pull my hair again, bite my lip, press my knickers into my cunt as you rub me, make me feel how wet I am already. Make me pant and gasp and press my body back against yours.
Tear my shirt open with sharp tugs until it falls lose around me. Rub my tits through my bra and groan against my lips as you kiss me hard. Slide a hand up my back, pop my bra open, tug it half off my chest so you can feel my bare skin and play with my nipples. Make me moan and tremble. Make my legs go weak.
Spin me around and pull me into you with your hands on my chest. Grind your cock against my arse, squeeze my tits and pull my nipples, then press me up against the wall.
Rip my skirt up to my waist, tug my knickers down to my knees. Grasp my arse, maul it, slide you hand between my cheeks and push your fingers into my sopping cunt. Fuck me with them. Rake your fingertips over my g-spot, make my knees buckle, make me cling to the wall to stay on my feet.
Whisper in my ear, call me names, call me your slut and your bitch. Press me harder up against that wall, wrap a hand around my throat as you fuck me with your fingers. Squeeze me tight enough so I know I'm yours.
Make me gasp for breath, then drop your hand and down and pinch my nipples. Go lower, slide it down my belly, lower still, get your hand between my legs and spread my lips. Find my clit with your fingertip and rub it in time with your fingers inside me. Kiss my neck, bite me, tell me what a beautiful whore I am.
Take me to the point of climax, but then drop your fingertip from my clit and slide your fingers out of my cunt. Cut my groan of frustration short by wrapping your arms around me and picking me up so roughly it makes me squeal in surprise.
Haul me over to my dressing table, drop me in front of it, sweep everything off the top with a swipe of your arm, send all that makeup and feminine mess clattering across the floor. Press me forwards and push me down so my chest is on the table. Smack my arse hard to show me who's boss. Make me cry out it stings so much.
Take me. Pull your hard cock out of your jeans, grasp my waist with one hand, and guide it into me with the other. Don't go easy. Find my hole and shove it home, shove it all into me. Make me scream. Make my legs give way.
Hold me up by my waist and fuck me. Go fast and deep and hard, don't give me a chance to recover myself. Run your hands all over me, do it like you can't get enough of my body, but do it rough.
Use me. Fuck me as hard as you want. Slam into my cunt, make my head bounce off the mirror in front of me. Make me mewl and writhe and shout out your name. Laugh at me for losing control like that. Smack my arse so hard I scream.
Spank me without rhythm, keep me guessing when the next strike will fall, add a hint of fear to my pleasure. Stroke my body, squeeze my arse, pull my hair, make me moan, keep spanking me until I'm throbbing, give me pleasure and pain until I can't tell the difference anymore.
Grasp my cheeks and spread them, so you can see your glistening cock pounding in and out of my engorged, dripping cunt. Tell me how good it looks and how good I feel. Tell me what a beautiful bitch I am, tell me I'm your favourite whore.
Reach under me and find my clit. Slide a fingertip quickly back and forth over it as you fuck me. I know you're not making me come for my pleasure, you're doing it because you like the feel of my cunt spasming around your prick when I climax.
Keep fucking me and stroking my clit, bring me off to a screaming, Earth-shattering orgasm, and don't stop with that glorious pounding for one second. Ride me faster, make me come harder, so hard I almost pass out. Don't stop.
Use my body until you're done with me. Get rougher, get louder, turn me into a shaking, quivering mess of pleasure, pull your dick out and roar as you come over my body. Send great jets of your hot jizz over my buttocks and up my back and onto my face as I look back at you.
Lean down when you're finished and take me in your arms. Tell me you love your precious whore. Tell me I can lick your dick clean as a reward.
Want to read more stories like this?
If you've enjoyed this story, then you might like to try one of our erotic short story collections on Amazon. They're explicit and detailed, and feature group sex, sex with strangers, sex with lovers, lesbian sex, oral sex, anal sex, voyeurism, and domination and spanking. Some are wild, some are even wilder.
Click on the link below to read a sample:
erotic
Hi, I'm Dan.
I'm one of the Strawberry Hall writers. We're a group of friends who write erotic romance and erotica together. You can find our published work on Amazon here:
Receive stories by Dark Cherry Collective in

your feed