The Hottest Winter Bods in Women's Sports of 2021 Pt. 4
A Fab Five that's All the Way Live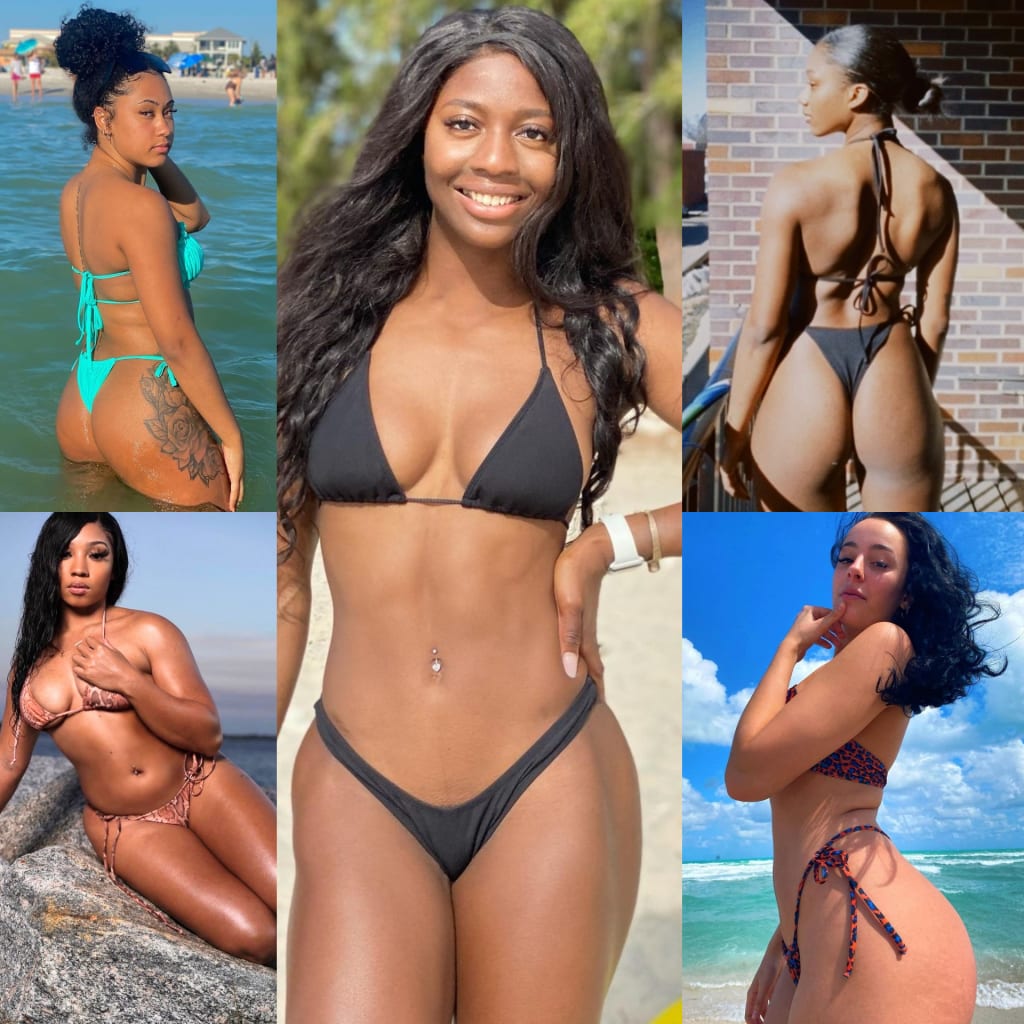 Teanna, Khaddi, Janell, Tonysha & Caitlin
Remember folks, winter officially ends March 20, 2021, so we got a few days left to celebrate The Hottest Winter Bods in Women's Sports for the year. Will we bring it back for the summer for a second year? Maybe. Heck, maybe we will honor the best bods of spring as well. We kind of started this because the sports world seemed all but dead during the summer because of the global pandemic. We had to create sports content. Nonetheless, these are often our most read pieces of material so here goes another edition of the The Hottest Winter Bods in Women's Sports of 2021. Enjoy as you usually do.
Janell Williams
When it comes to the most beautiful women of all of sports, that you may not know just yet, Janell Williams has to be in your top 10. Scratch that, she's in the top three. The volleyball star at Western Michigan is currently leading the Broncos in hitting (.305) and blocks per set (0.91). Her team is in the top spot at 12-3 in the Mid American Conference West Division, Williams also had success during her sophomore season in 2019 as she was named Mid American Conference West Defensive Player of the Week once during the season.
Tonysha Curry
This 5-10 guard had a productive season during her senior year for the Stetson women's basketball squad. She shot a career best 46.9 percent and also posted career highs with averages of 6.5 points and 6.7 rebounds as a role player for the Hatters. She scored a season high 16 points making eight-of-nine shots against Bellarmine. She also posted a double-double when she had 12 points and 10 rebounds against Lipscomb. Curry grabbed a season high 12 rebounds against Alabama-Birmingham and blocked three shots in another game against Bellarmine.
Khaddi Sagnia
You didn't think we would get through a whole season without including Khaddi Sagnia in this series did you? The iconic pro long jumper from Sweden has had a strong year in track and field, She won her fourth national indoor title in the long jump with a leap of 6.64. She took a first place win at the PSD Bank Indoor Meeting in Helmut-Körnig-Halle, Dortmund, Germany as well. She won with a mark of 6.82, which registered as the fifth best jump in the world during the 2021 indoor season.
Turning 27, next month, this super talented beauty is entering the prime of her career and should be on top in her sport over the next half decade.
Teanna McCuaig
This multi-event specialist is lighting it up with her stunning posts on Instagram as of late. A junior at Wayne State, Teanna McCuaig has shined in the classroom being named to the Great Lakes Intercollegiate Athletic Conference All-Academic Team. The native of Sparta, Michigan, graduated from Kent City High School (2018) where she was a three-sport athlete, competing in volleyball, basketball as well as track and field. She was an All-Conference performer every year of her high school career while serving as the captain of her track squad.
Caitlin Cooper
There is a quote on her Instagram that reads " There is nothing wrong with a woman loving herself." We wanna say that we love her too. Caitlin Cooper is six-foot-four middle hitter from Plano, Texas, who competes for Troy University's volleyball team. She is tops on this season's team in blocking at 1.07 blocks per set. Off the court, few athletes grace social media with better beach photos than Cooper. Her 14,500 Instagram followers are amazed by the photogenic charm of their favorite college volleyball player.