The Hottest Winter Bods in Women's Sports of 2021 Pt. 3
Winter ain't over just yet, people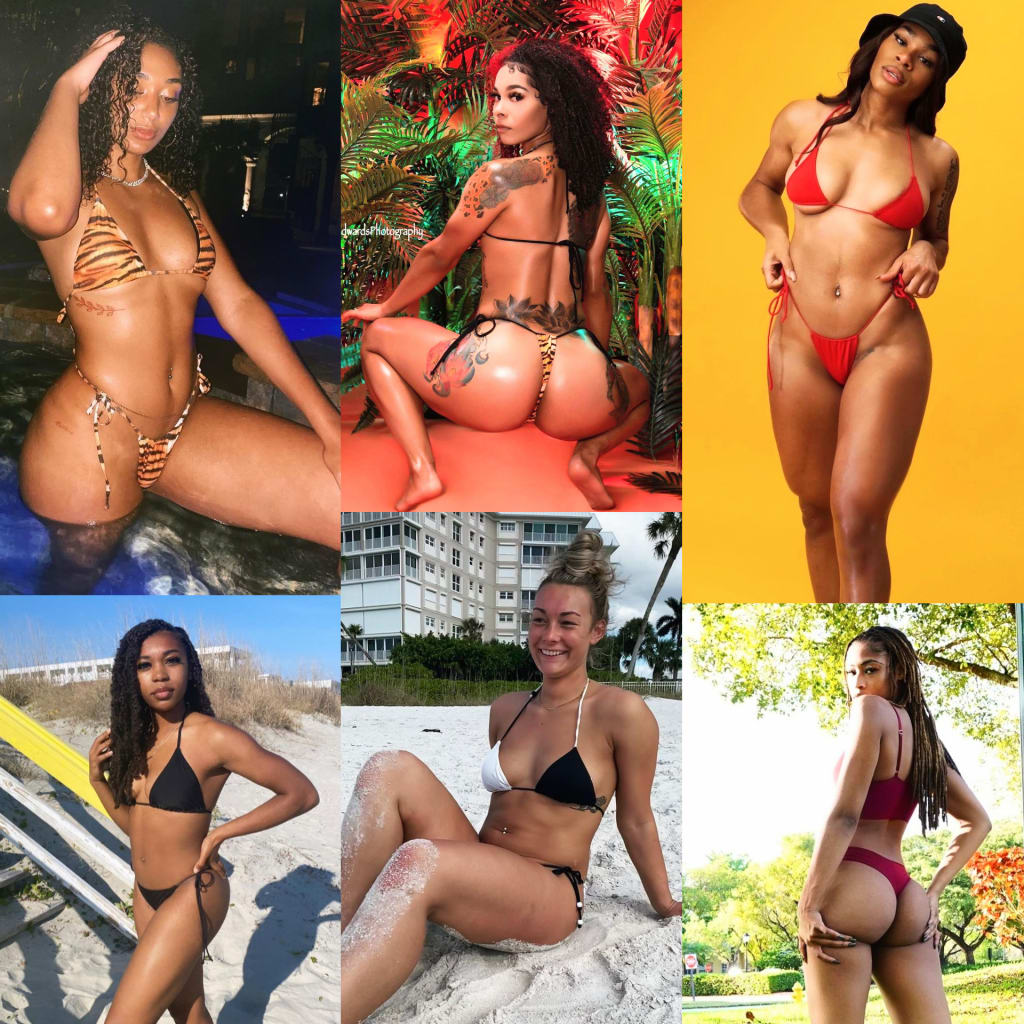 Alexis, Kayla, Ashley, Jewel, Brenna & Zuri
People think that March automatically means that it is spring in the United States. That is not true. Spring officially starts March 20. With that being said we will grant you a third edition of The Hottest Winter Bods in Women's Sports. This may be the best one yet. We will let you be the judge.
Ashley Worford
Ashley Worford is a native of Ypsilanti, Michigan, who kicked off her college career at Western Michigan and is currently at the Kansas.
Over her career she's had some good moments including a relay win in her first ever collegiate meet, in the 1,600-meter relay at the Western Michigan Ice Breaker during the 2018 indoor season. She won in the 1,600-meter relay two more times that year before leading Western Michigan to a second place finish in the event at the 2018 Mid-American Conference championship meet.
Since arriving at Kansas she has participated in a handful of meets, with her best result coming in a second place 1,600-meter relay finish at the Bob Timmons Challenge during the 2019-20 season. Fans can look forward to her social media presence as one of the most promising fitness models in social media.
Kayla Horn
Kayla Horn was a basketball player at Morgan State for the final two seasons of her collegiate career during the 2017-18 and 2018-19 seasons. She was recognized as a student being named to the Morgan State All-Academic and to the Athletic Directors Honor Roll. The five-foot-six guard, who is a native of Romulus, Michi., spent her first two collegiate years at Central State and Kansas City Community College. In high school she doubled as a basketball and track star.
Zuri Smith
Zuri Smith is a six-foot-three former volleyball star at Florida Atlantic. She was the Conference USA Defensive Player of the Year and was Second Team All-Conference as well in 2019. Smith averaged 1.19 blocks and 1.70 kills at the middle blocker position. Prior to attending Florida Atlantic, Smith was on the roster at West Virginia in 2016 and Colorado in 2015.
Jewel Ash
Jewel Ash is a track athlete at Charleston Southern. As a freshman, this year, she ran her team's top time in the 400-meter dash during the indoor season. Ash and her teammates rolled to a second place finish in the 1,600-meter relay at the Brant Tolsma Invitational. Along with being a state champion sprinter, Ash was also a cheerleader in high school. She was her high school program's team MVP every year of her career.
Brenna Cavanaugh
A native of Bentleyville, Pennsylvania, Brenna Cavanaugh is a hurdler and jumper at Eastern Michigan. She got her first ever collegiate win in the long jump at the Doug Hansen Open when she was a freshman. During this year, her sophomore season, Cavanaugh had a third place finish at the University of Akron Quad. She also placed second in the long jump at the Bowling Green State Sid Sink Invite. The sophomore is a major in occupational therapy and has achieved high honors in the classroom as an Academic All-Mid American Conference selection.
Alexis Ratliff
Alexis Ratliff is a 6-6 middle blocker and opposite hitter for Navarro College, which is located in Texas. After starting her career at San Diego State in 2019, Ratliff has found a home at Navarro. She currently leads the team with a hitting percentage of .426 and in blocks per set at 1.14. She is also third on her team in kills at 2.69. Ratliff has high level athleticism in her genetic makeup. She is the daughter of former NBA All-Star and two-time All-Defensive Team member Theo Ratliff. She s a native of Atlanta, Georgia. On the high school level, Smith led her AAU team to a national championship.
The Hottest Winter Bods in Winter Sports of 2021 Part One
The Hottest Winter Bods in Winter Sports of 2021 Part Two