The Hottest Spring Bods in Women's Sports of 2021 Pt. 3
The Young & Ambitious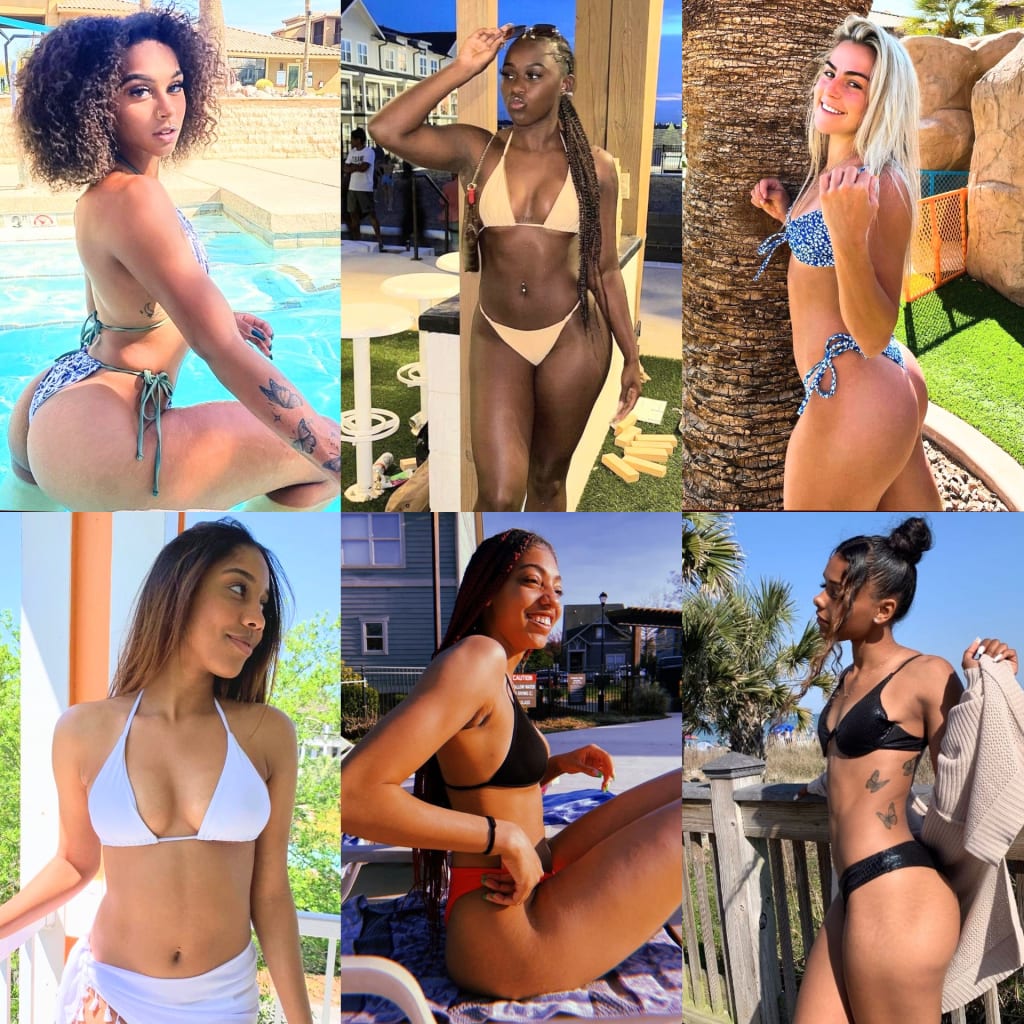 Keira, Chelsey, Haley, Sara, Tamari & Sydney
Part three of The Hottest Spring Bods in Women's Sports of 2021 is here. Check out the some of the most amazing women in all of sports!
Sara Idris
At six-foot-one Sara Idris is a forward for the North Florida Ospreys women's basketball program. The Alpharetta, Georgia native is a junior who started her collegiate career during the 2018-19 season. Her best game that year was a nine-point, 11 rebound effort against Trinity Baptist. She missed her sophomore season with a medical redshirt before returning this season in a limited role. Her team finished with a 14-11 record during the 2020-21 season.
Chelsey Cole
Chelsey Cole is a powerhouse of a woman who jumps for Texas Tech. During the 2021 indoor season she won the triple jump at the Texas Tech Red Raider Invitational. She had her best jump of her career during the Texas Tech Invitational with a mark of 13.01, that placed her third. While in high school she was a six-time All-American in track and field. The sociology major comes from a family of athletes. Her dad was a baseball player and track athlete in college. She has one brother who was a college basketball player and another that ran track.
Keira Christie-Galloway
A native of Ottawa, Ontario, Keira Christie-Galloway is in the midst of her first season at Arizona State after starting her career at Iowa State. During the indoor season, she placed fourth at the Championships at the Peak meet in the 60-meter hurdles. In her outdoor start, she placed third in the 100-meter hurdles at the 2021 Willie Williams Classic/Dave Murray Distance Carnival. Christie-Galloway placed second at the GCU Antelope Invitational last weekend. During the 2019 outdoor season she was the Big 12 champ in the 100 meter hurdles after she claimed the 60-meter hurdles title during the indoor season of the same year. As a freshman she qualified for the 2019 NCAA Outdoor Track & Field Championships in the 100-meter hurdles.
Sydney Clemens
Sydney Clemens is a sprinter and hurdler at Coastal Carolina. The Greensboro, North Carolina native is in her first season after an accomplished high school career. She was an All-American in the 100-meter hurdles in 2017 and 2018 prior to her collegiate career. During her first indoor collegiate season she had a fifth place finish in the Sun Belt 60-meter hurdles championship race. She has competed in the 100 meters, 200 meters, 100 meter hurdles and long jump so far during her freshman season.
Tamari Key
This six-foot-five center is one of the best defensive players in all of college basketball. Tamari Key helped to lead Tennessee to a 17-8 record. She blocked a team best 2.88 shots per game. Key swatted a season high 10 shots in a contest where she had a triple-double. The sophomore scored 23 points, grabbed 10 rebounds along with her 10 blocks in a win over Florida on Jan. 31. In the first round of the NCAA Tournament, Key scored 13 points and blocked a game high three shots.
Haley Cavinder
Haley Cavinder is a flashy high scoring guard who stars for Fresno State. This season the five-foot-six sophomore guard scored 19.8 points per game. Playing alongside her twin sister Hannah, they joined forces to lead their team to a 17-11 finish. Cavinder scored 32 points in a win over Nevada in January. She had 14 other games where she scored no less than 20 points. Cavinder was also tough on the boards. She had two games this season with a high of 14 rebounds. Against San Diego State Cavinder showed her prowess from three-point land. She knocked down six-of-eight shots from long range scoring 27 points in the process.