The Hottest Spring Bods in Women's Sports of 2021 Pt. 13
Spring is near its end, but Beauty is forever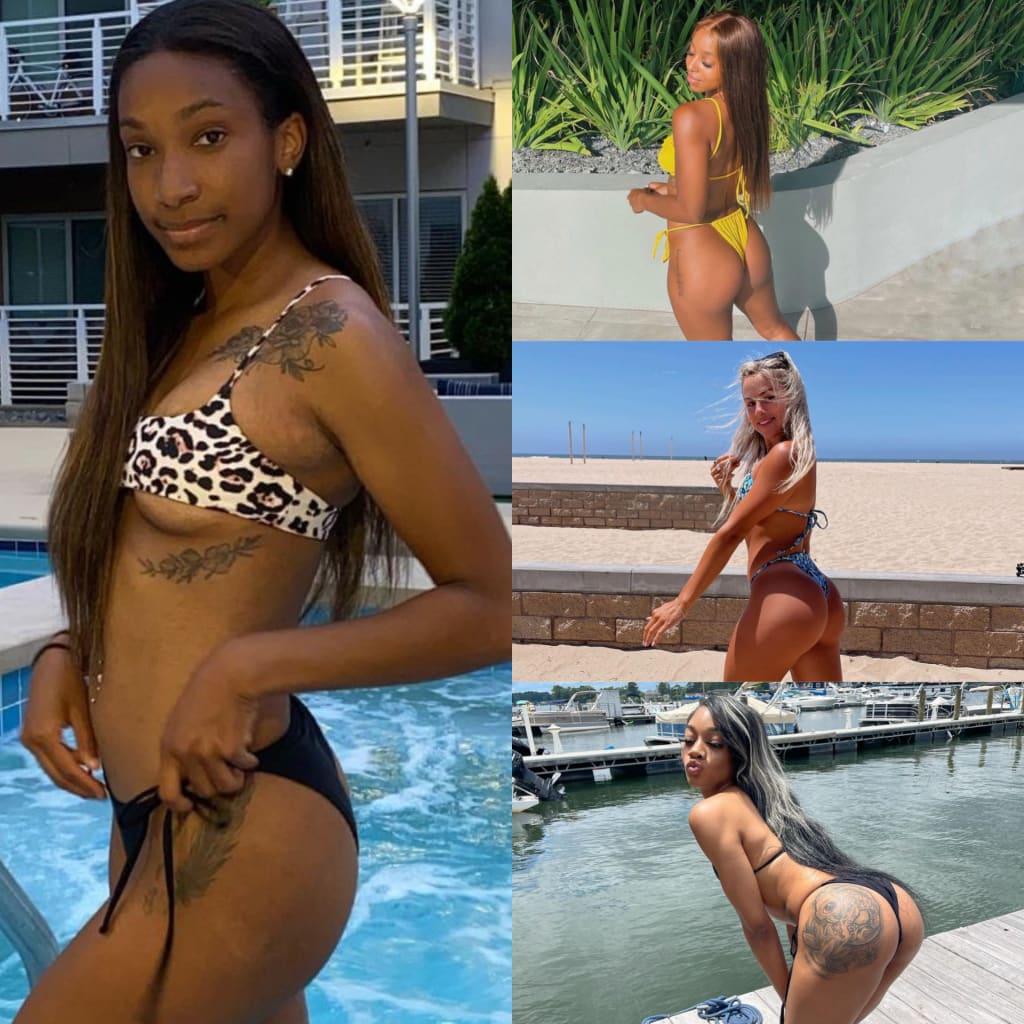 Cierra, Lexie, Hanna & Ja'La
Cierra Pyles
Ohio State's Cierra Pyles is a talented jumper who just wrapped up her best collegiate season to date. She was the runner-up in the triple jump at this year's Big Ten Outdoor Track & Field Championships with a career best jump of 12.71. Her second place finish played a pivotal role in guiding Ohio State to a win the Big Ten Championship over second place Indiana.
Pyles also had runner-up finishes during the outdoor season at the Maryland B1G Invite and Ohio State Jesse Owens Invitational. During the indoor season Pyles earned her first collegiate win in the triple jump at the UM B1G Simmons-Harvey Invitational with a jump of 11.66.
During her freshman season in 2019, where for the first time Pyles helped Ohio State to an outdoor conference title with a fifth place finish in the triple jump. Pyles has also competed as a hurdler during her career as a Buckeye.
Lexie Brown
Lexie Brown is best available free agent on the market, but while we miss seeing her on the court, she has other things going on. Brown has recorded a podcast called "Just Call Me with Lexie Brown." She also has merch, for the ladies at least. There are really cool Lexie Brown t-shirts available on www.500level.com. Before we go forward, can we please get something for the men?
Okay, let's move forward, we have featured Brown on our summer and winter hottest bods series, so she is no stranger to our readers. We just never really went through her linktr.ee until now. Along with the t-shirts, she's even got three kinds of custom slides for sale on ISlideusa.com. There is also an interview from the 2019 season she did with the Get With It podcast which was done by Slam Magazine for the WNBA.
We want to see Brown back out there defending and popping threes very soon but until then, get like her 185,000 followers on Instagram and see some of the most beautiful posts of an athlete that exists. Oh and she did one of the most fun Bust It challenge videos which got over 500,000 views on Instagram Reels.
Ja'La Henderson
Once upon a time Ja'La Henderson was a five-time All-American competitor in track and field for Wyoming. In college she dominated as a jumper in the Mountain West Conference. As a senior in 2019 she won conference championships in both the long jump and triple jump during the indoor season. Henderson won the triple jump crown in her last outdoor season.
She swept the triple jump in the Mountain West indoor and outdoor seasons in 2018 and as a freshman in 2016, Henderson won her first conference championship in the long jump. These days Henderson is playing a little hoops in the Buns and Basketball league while also working as a model, actress, oh and even a dental assistant. With such a diverse present, it is safe to say that Henderson did a solid job in educating herself and preparing for life after track and field.
Hanna Cavinder
Hanna Cavinder had a strong freshman season in 2019-20 for Fresno State. She averaged 15.7 points, 3.8 assists, 2.3 rebounds and 1.8 steals per game. She followed that with an even better sophomore season where Cavinder averaged 17.4 points, 3.7 assists, 3.4 rebounds and 1.6 steals. Her shooting percentage improved from 43.9 to 47.3 percent. She had a 32-point game when she shot 13-20 and drained four-of-five threes. During the season Cavinder had nine games with at least 20 points. She also had seven games with three or more steals.
Cavinder, who has 236,000 followers on Instagram, shares the spotlight with her twin sister Haley who led Fresno State with an average of 20 points per game.