The Hottest Spring Bods in Women's Sports of 2021 Pt. 12
Wonderous Women Who Win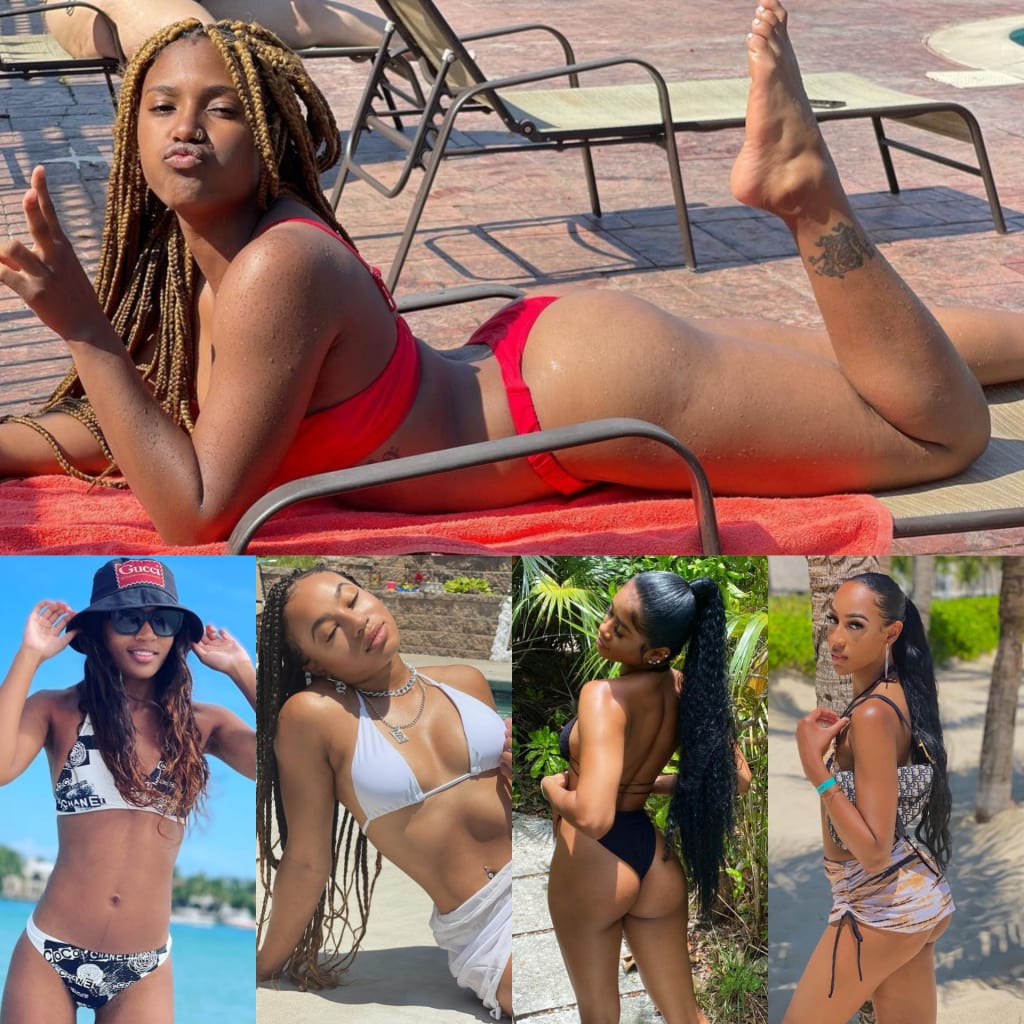 Angel, Tyler, Kayla, Alana & Lawrencia
Angel Gazaway
A native of Cincinnati, Ohio, Angel Gazaway became a state champion in the 300-meter hurdles during her last year at Princeton High School. Now at Eastern Michigan, Gazaway is majoring in business marketing. During her first collegiate season she showed her versatility as a competitor in the pentathlon at the Mid American Indoor Track & Field Championships. At that same meet she also qualified for the finals in the 60-meter hurdles. During the outdoor season in 2019 she had a sixth place finish in the 100-meter hurdles at the Mid American Conference championship meet. Gazaway duplicated that finish in the 60-meter hurdles at the 2020 indoor conference championship, which contributed to Eastern Michigan's overall team win. In 2021 Gazaway had her best open finish in a runner-up spot during the 100-meter hurdles at the Golden Grizzlies Mini Meet.
Gazaway proves to be an interesting follow on Instagram as she has footage of her talents as a violin player on her IGTV section.
Kayla Thompson
Kayla Thompson is another Ohio native who has become a championship hurdler. Thompson is from Stow, Ohio, where she was a top competitor at Munroe High School. Thompson blossomed on the collegiate level at Northern Kentucky. Over the next four years, she put together a future Hall-of-Fame career on the track and off of it as well.
As a freshman in 2018 she placed third in the 60-meter hurdles at the Horizon League Indoor Track & Field Championships. She followed that up with a third place finish in the 100-meter hurdles at the outdoor championship meet. During the 2019 outdoor season Thompson won her first and only Horizon League championship when she edged out Cleveland State's Monica Johnson with a 14.37 to 14.38 finish in the 100-meter hurdles.
The champion wrapped up her collegiate career with two more silver medal finishes in the 60-meter hurdles in 2020 and this year. Along with a decorated career in the sport, she also became an activist on her campus as the president of the NCAAP chapter at Northern Kentucky. This year she won the Bobby Fong Award which is given to a Horizon League athlete that represents core values, integrity, respect and stewardship.
Tyler Sroufe
Tyler Sroufe is a native of Atlanta, Georgia, who competed as a volleyball player at Virginia Commonwealth. She majored in political science and is currently in law school. Over her career she registered 1,663 assists and 437 digs in 333 sets played. Over her time at VCU, the team won two Atlantic 10 regular season championships and made it to the NCAA Tournament twice. The team's best season while she was there was in 2017 when her team finished 30-3 overall and 14-0 in the conference.
Alana Walker
During the final three seasons of her career, Alana Walker led Northwestern in blocks. Born in Chicago, she was able to shine as a college volleyball star in her hometown. In her final game she had seven blocks to lead her team to a win over Maryland. Back in 2018 she had arguably her most dominant game when she had a .900 hit percentage with nine kills on ten attempts. Walker has a strong social media presence with 162,000 followers on Instagram and almost 210,000 followers on TikTok. Her dad is Antoine Walker who is an NBA champ, All-Star and NCAA champ as well.
Lawrencia Moten
Lawrencia Moten is also the daughter of an NBA player. Her father Lawrence Moten played for the Vancouver Grizzlies after a strong career in college at Syracuse. Lawrencia had her time as a college basketball player with stints at Chipola College, Buffalo and Hartford. These days she shining as an up and coming sports reporter. She is articulate, knowledgeable and very charismatic as a basketball analyst.