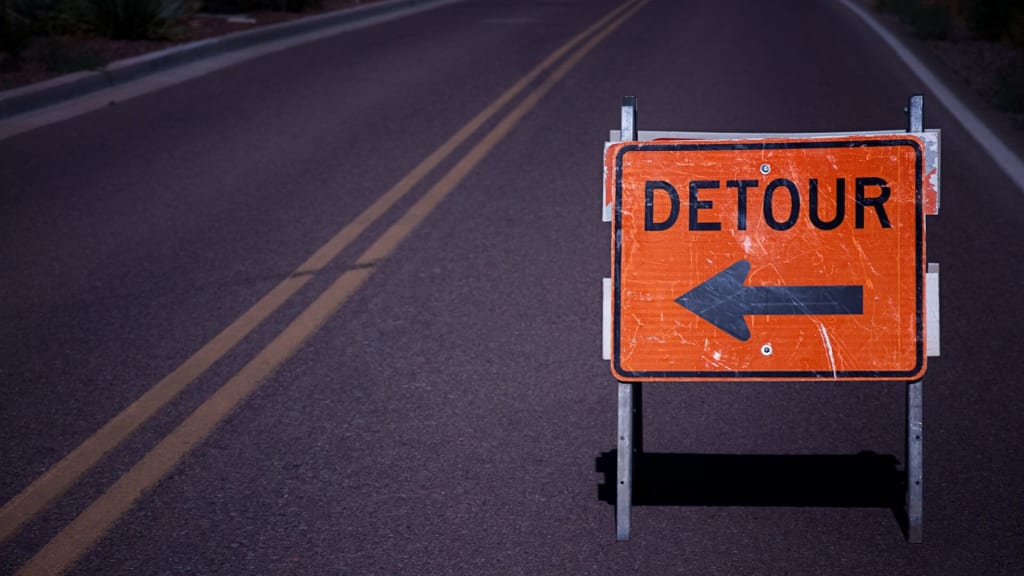 As usual, I was running late for my meeting, which was to be held a good 40 miles away, when I arrived at Tony's Garage to pick up my car. Tony was as pleasant as ever. I envied him for never being rushed. On days like today, I would give it all up to live in Tony's unstressed world. "Hey Dave," yelled by Tony brought me back to reality. "Your car's not done, I haven't had a chance to recheck your tires." My first thought was Damn It. But I told Tony I would take the car anyway. I needed to feel the wind rush by my face and my 1963 Austin Martin convertible was the perfect vehicle for such an indulgence.
As I drove out of Tony's place, I was beginning to relax. I could feel the stress melt as each mile drifted by. Then I noticed that the traffic was slowing. A detour! Where the Hell am I? As I drove I realized I was getting lost and there was no one in sight. I reached for my cell phone, but before I could dial the office I heard an ungodly screech emanate from my front passenger tire. I limped the car to the side of the road and jumped out. Tony was right. The tire was ruined. As I paced, debating what to do and who to call, I noticed a car approach.
The bright red Mercedes pulled up directly behind me and a small framed woman emerged. As she approached I realized the wind had picked up and was blowing her curly auburn hair delicately around her face. I don't think I have ever seen such a warm and pleasant smile. As she approached, the sunlight shown behind her and through her dress. Was it my imagination? I thought I could see the outline of her pussy through the sheer material. When she reached my car she looked down at the tire and removed her sunglasses. Her blue eyes, which were exactly the same color of her silk dress, sent a strange shiver of excitement through my whole body. Who was this woman? She had an aura of sexuality like I have never witnessed before. What was it about her? I could feel myself getting hard. She smiled as she noticed the bulge in my pants. I introduced myself and without saying a word, she shook my hand. The touch of her hand made my cock harder and it was now straining to be released.
Before she put her sunglasses back on I thought I saw a yearning in her eyes. She seemed to need me. She smiled as she bent over to take a better look at my tire. My curiosity was confirmed. As she bent down I could see that she was as excited as I was. Her pussy glistened with her juices as my cock began to feel uncomfortable in my pants. She glanced over at me and was aware that I was staring at her most private and moist area between her legs. She smiled this amazingly flirty smile as she rubbed her hand down her stomach to her pussy. She slowly pulled her dress up to reveal her extremely gorgeous mound of auburn hair. She gave a little moan as she tickled her wet clit with her finger. My cock was throbbing so much I thought it would rip my pants. Just then I watched her finger disappear into her pussy and when she slowly pulled it out it was dripping with her juices.
I couldn't speak, or maybe I didn't want to. I fell to my knees in front of her and I licked and sucked her pussy. As I licked her she was running her fingers through my hair and moaning as if she had needed this for a long time. Her breathing was rapid and I knew she was on the verge of cumming so I licked her clit harder as I also let my tongue probe in and out of her pussy. Just then there was a moan and tremble through her whole body and I tasted her warm hot juices in my mouth and some dripped down the front of my chin. She tasted wonderful.
Without a word she guided me to stand and rest against the side of my hood while she slowly unzipped my pants. When the zipper gave way my cock was released from its torture of having been inside my cramped pants. She immediately began stroking my cock with her hand. Her skin was soft and smooth and she stroked me like I have never been stroked before. She slowly knelt before me and took my cock in her hot wet mouth. Her tongue was incredible. I have had blow jobs before, but this was unlike anything I had ever experienced before. As I felt the tension mount she was sucking and licking faster and faster and my cock was so hard that I had to fight off the urge to cum so quickly. I wanted to savor this moment. I watched her as her mouth fucked my cock. She was beautiful. I couldn't hold on any longer. I took a deep breath and then I released my hot sticky seed into her mouth.
I was in awe as she rose and looked me in the eyes. I felt as though she was about to say something when I heard a tow truck pull up in front of my car. A big burly man jumped out of the truck and asked if we needed some help. I couldn't answer. I only stared at this incredible woman next to me. As she walked toward her car my mind was racing a mile a minute. Get her number, write down her license plate. At least get her name.
I yelled to her before she got into her car, "What's your name?"
She smiled and said, "Jana," then drove away.