The Belt
Originally published in Flash Fiction Aficionado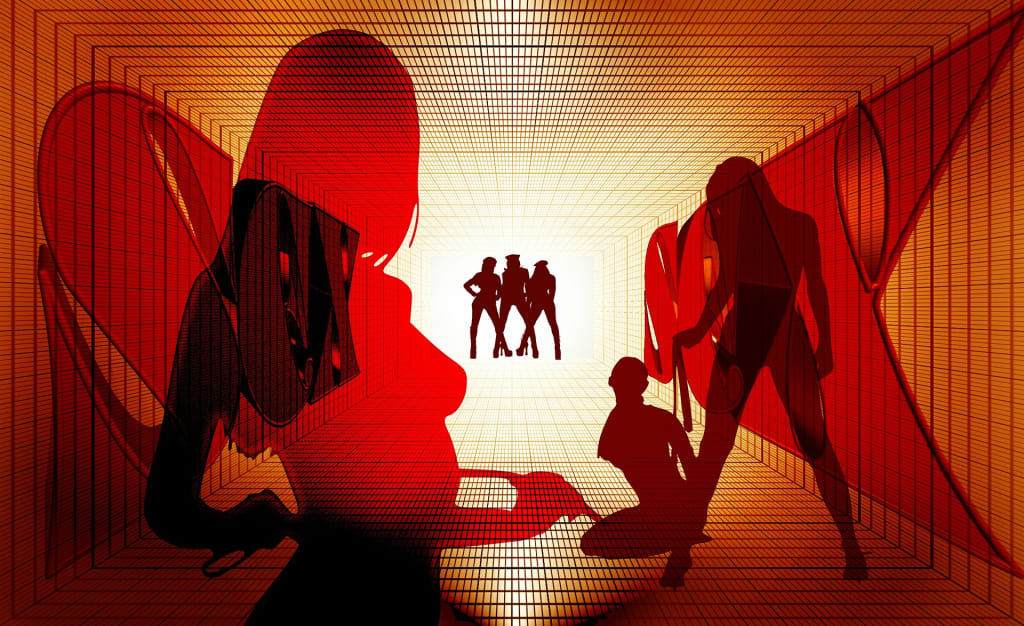 Samantha didn't know what she was getting herself into when she decided to work at Mama Tina's House of Ecstasy. She just needed to make enough money to pay her rent for the next couple of months while she waited to hear back from Coppin State's Nursing Program. You see, it was her Gramma Fran's greatest desire that Samantha become a nurse since it was one of the many goals she didn't achieve herself. In the eyes of Gramma: no career was of greater import than nursing. Now that she was gone, it was up to Samantha to keep her dreams alive.
Only, this wasn't what Gramma had in mind for Samantha. She wanted Samantha to go to nursing school after high school. Instead, Samantha moved in with David, her long-term boyfriend. It was there that Samantha was first introduced to struggle.
To bring money into their house, Samantha got a job at Mama Tina's. It was, after all, the only legal brothel in the state of Maryland; and with only one high school diploma between them, someone had to pay the rent. David didn't want Samantha to work in a brothel. She was his woman and his alone. In his mind, she was alive to be touched by him and only him. Working in a brothel required her to be felt by many men in many ways. Men who were richer than he was. Men who looked better than he did. Men who only wanted to use her worse than he did. As it turns out, Samantha was one of Mama Tina's most profitable employees.
Many men who visited her House of Ecstasy requested one hour with Samantha. She was easy to "get to know," and she never fought them for what they wanted while they were with her. No matter WHAT they wanted, she would give it to them, and they loved her for it. Her first week there, she brought home $2,000, cash; and the money only got longer from there.
David never really learned to get used to it; and, the transition was problematic... and abusive. He would often sit outside in front of Mama Tina's House of Ecstasy and videotape the men going inside. Then, when she got home, he would play back the tape and quiz Samantha on all the details of all the sex she'd had with the each of the men she identified. If she refused to tell him, he would smack her with the back of his fist or bludgeon her over the head with the handle of a cane. If he were furious, he'd beat her along her back with a wooden coat hanger. It became his way of showing dominance in their house since Samantha paid all the bills.
All that, the screaming interrogations, the nighttime stalking, came to an end one night in the VIP room of Mama Tina's House of Ecstasy. When it was all said and done, David lay dead on the floor. The belt that killed him was still around his neck, while Samantha sat huddled in the corner, shaking.
David had become increasingly paranoid in the days preceding his death. It started when he noticed that Samantha wasn't telling him about her days at Mama Tina's as he demanded. For about two weeks, he noticed that Ali Carpeto, one of Baltimore's most notorious gangsters, made regular trips to Mama's. At first, it didn't bother him; however, when the trips became more frequent… twice a day in fact, he knew it was because he wanted Samantha.
***
Samantha wasn't doing anything she didn't normally do to earn a buck; however, Ali wasn't like her other johns. He was kind and patient with her. Their first time alone, he asked her what caused her to get into this kind of business and actually listened to her as she described her financial situation and her goals.
Once they finally slept together later that night, the sex was mind blowing. Ali was mesmerized by her moves and she with his. As she straddled and rode him like a Shetland pony, his eyes rolled into the back of his head with every stroke of her hips.
After eighteen visits together, over eight days, their encounters became more than sex. Ali would caress and treasured her body in ways that David never did. In return, she showed him how to cross his pleasure threshold, sucking his dick with Pop Rocks hidden under her tongue. The first time she did it, the feeling was so electric that he squealed in delight.
In the months that she'd been working for Mama Tina, Samantha never enjoyed the sex with her johns. That is, not until she met Ali. His bodyguards always stayed right on the outside of the VIP room when they were together, which gave her a feeling of security that she'd never felt with David. Not to mention the money Ali spent was amazing. $5,000 was spent on their first night alone.
***
The night he died, David had had enough of Samantha's dishonesty. In his mind, she could turn tricks to pay the bills, as long as she was honest. The moment she stopped telling him about the johns was the moment she began cheating on him. When she arrived home from work, David was standing in the kitchen. She walked up behind him and he grabbed her forcefully. With his other hand, he pushed her head towards the boiling hot grease on the stove. Samantha screamed as the intense heat from the grease coated her face. David shouted at her to tell him what she did with Ali. Even still, Samantha refused to tell him anything. David took this refusal as the sign he needed and let her go. He screamed that if she wanted to be a whore, she should live somewhere else.
Samantha ran from the house, back to Mama Tina's. There, she called Ali and explained that David tried to kill her with the grease. Ali's voice calmed her as he told her to stay in their room at Mama's until he got there. Only, when he did, he wasn't alone.
Samantha knew to expect Ali's bodyguards, Rocco and Bone, to be escorting him; however, it was the sight of David, bruised and bloodied, that frightened her. She scurried backwards into a corner of the room, questioning why David was there and what happened to him. It was at that moment that Ali forced David to his knees and assured Samantha that he would never threaten her life again.
With the flex of Ali's wrist, Rocco took off his belt and wrapped it around David's neck. Bone held his hands as David fought for every breath until the end. When it was over, David lay dead on the floor. The belt that killed him was still around his neck, while Samantha sat huddled in the corner, shaking.
Rocco put his belt back on and Ali motioned for Samantha to take his outstretched hand. She did and as they left, he whispered in her ear:
"He was weak. A real man will take you away from all this. Now, you belong to me… and only me."
And she did... from then on, she BELONGED to him.