The Art Of Pegging
From Talking To Doing The Deed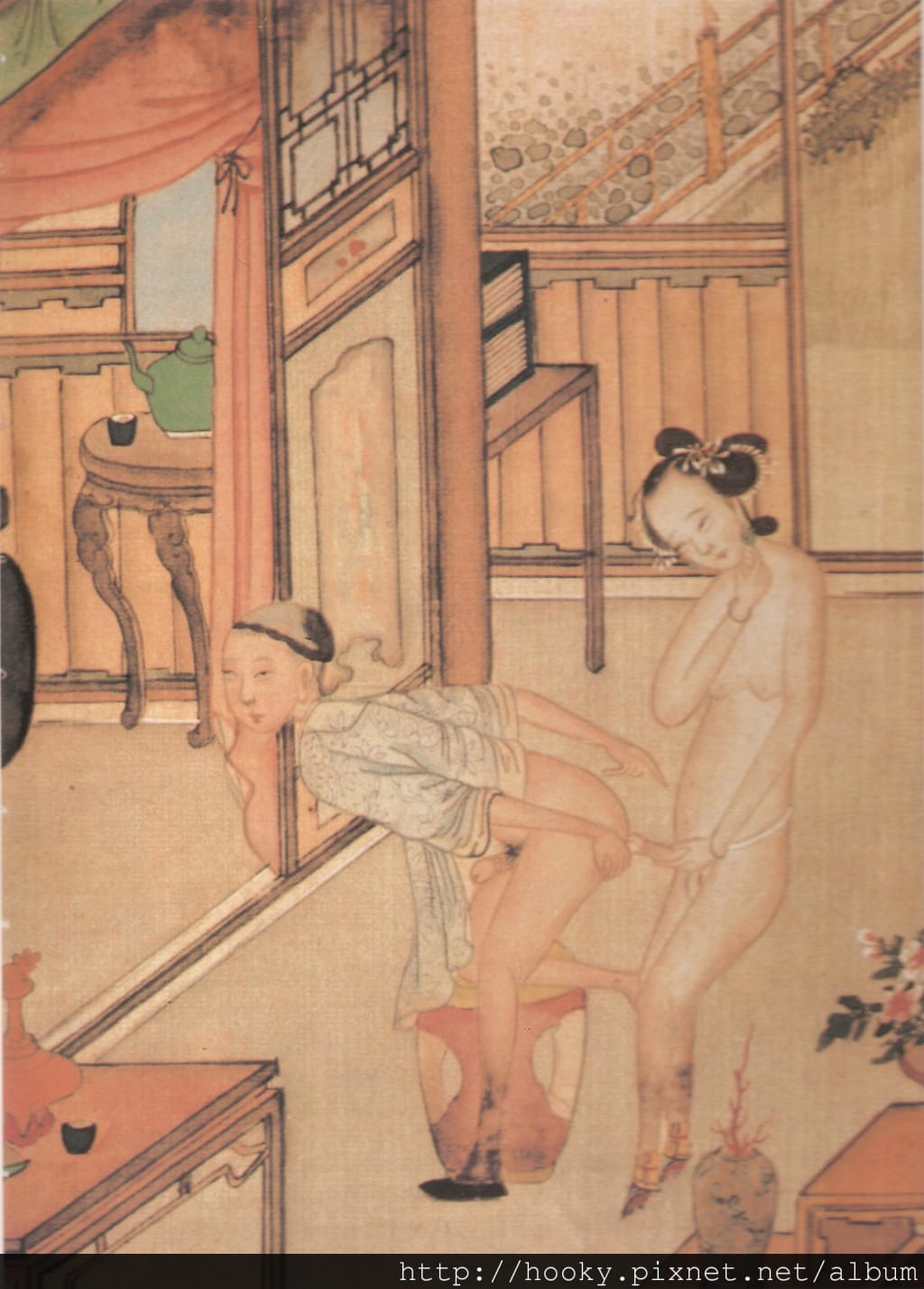 Pegging or the act of a woman penetrating a man anally with a strap on dildo, has become more popular. More and more couples are exploring the world of strapon sex but it is still a taboo subject for many regardless of how much they desire to do it!
You need to be on the same page with any sexual practice you want to try with your partner. Bringing up pegging is enough to make some blush but I want to let you in on a little secret.
There is a good chance that one or both of you have thought about it before.
The prostate is a very sensitive part of male anatomy and it is capable of giving him some amazing orgasms. Plenty of guys claim that a prostate orgasm is like none other.
If you have been with your guy for very long and are open about sexual practices then talking about pegging shouldn't cause them to ridicule you or anything like that. Pick a time when you are both relaxed to bring up the subject. You can approach it by saying that you want to be more adventurous in the bedroom and ask him how he feels about your desires.
If you want to start playing around in this area, a well lubricated finger during a blowjob may make him cum around and get more comfortable with the idea of being pegged. In fact this may be a great way to bring up the subject of pegging initially if you try to initiate some light anal play in the bedroom.
Dispelling Ignorance

One of the worst things I have heard when it comes to pegging is men being uncomfortable with it out of fear that it signifies they are gay. This is ridiculously stupid. Men that are comfortable with their sexuality are a big turn on. There are plenty of straight guys out there that love being pegged. Sex is supposed to be fun and fulfilling for everyone. If your guy's main reason for not wanting to do this is fear of gayness then you should rethink who you are sharing your intimate moments with. Not being into pegging because it doesn't do much for them is another issue.
For The Guys That Want To Ask Their Lady To Peg Them

On the other hand if you are a guy reading this and want to know how to get your girl to peg you then you need to think about how to approach it. If you already have anal sex with her then it isn't too far off the board to say "hey since I get to have you why don't you try having me?" If you have a good and open dialogue she should be willing to listen to you and the idea might get her more hot and aroused than you ever thought.
If your female counterpart is a bit submissive then you need to find ways to inspire her confidence. Tell her how much the thought turns you on for example or that you like it when she is dominant. After a few times of being dominant and getting more confidence, plenty of even shy women start to enjoy the power exchange.
Harnesses
There are a ton of different harnesses out there that run from really simple and cheap nylon straps to full thick leather. If you are going to peg very often, it is worth investing in something comfortable and of good quality. Oh and make sure the size is right. Plenty of companies make plus sized harnesses.
Vac-U-Lock System

This popular system by Doc Johnson has some advantages because there are so many dildos to choose from. My biggest complaint about this system is the lack of silicone attachments. Sure there are some but they are few and far between.
Leather Harnesses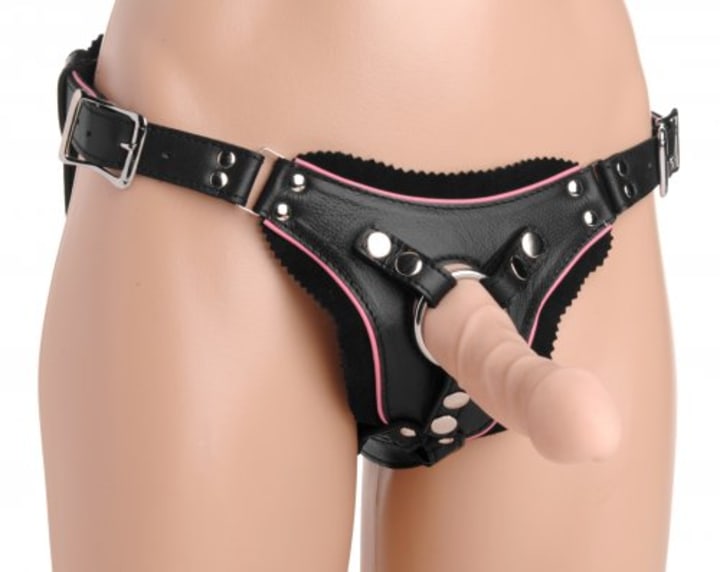 There is a lot to be said about leather. It looks and feels hot to a lot of people. If real leather is not your thing but you like the look then there are now vegan leather options out there that are worth trying out.
Underwear Or Boy Shorts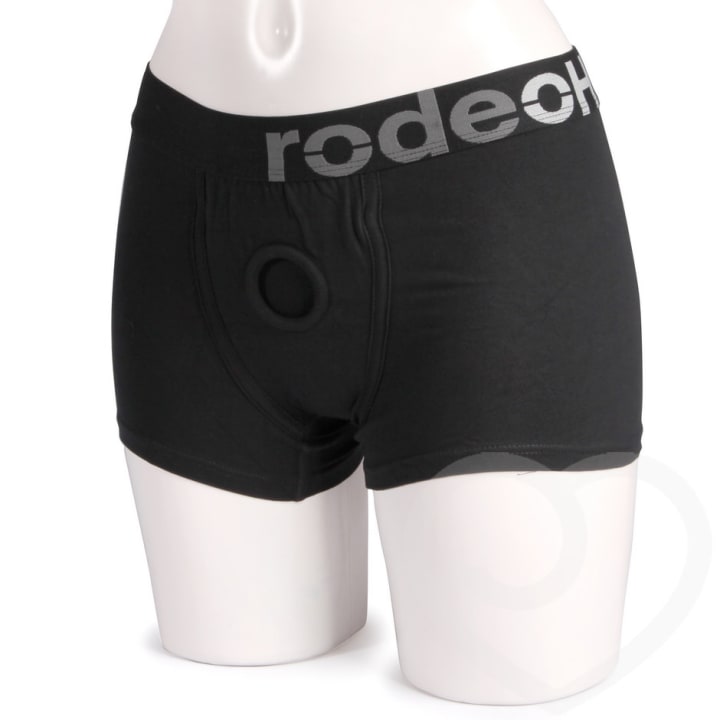 There have been some innovative harnesses come out. The underwear style ones are really comfortable for some people and easy to wear. Of course underwear styles might wear out a bit sooner than a strappy harness but a little comfort may be worth it to you.
O Rings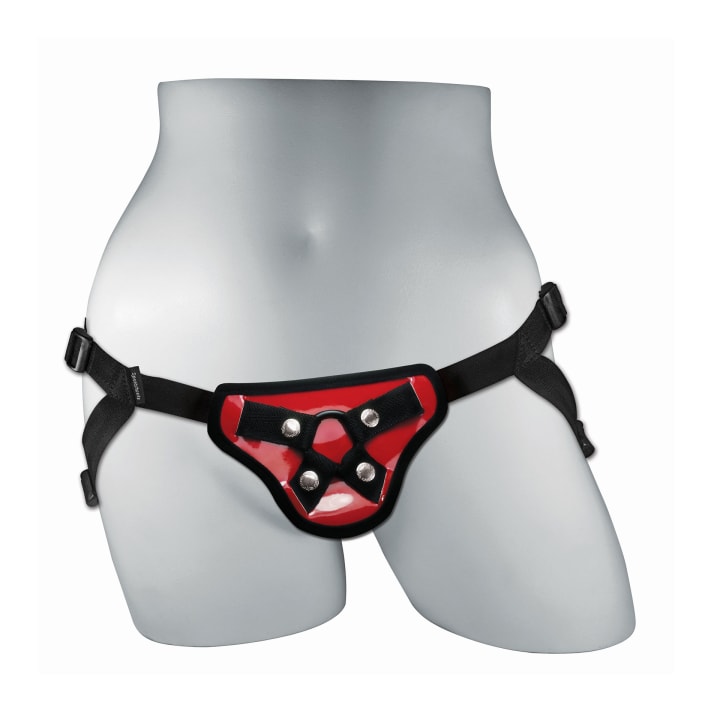 A good set of O rings will help you use a lot of different toys with some harnesses. These are really inexpensive and if you buy a strap on kit they often include some.
Dildos
Silicone is a good type to start with and it is super easy to clean. Smooth dildos are generally best for first timers. As you advance further you may want to experiment with different types.
This dildo costs a bit but you can choose from two different sizes as well and it is made of high quality silicone. For those that want a dildo that can fill up both parties these can offer some satisfaction. There are two sizes available and priced accordingly.
Size Matters

The size that a guy is comfortable with is likely to be small at first unless he has been using plugs to get used to the idea of anal. Starting out with a small 5 inch silicone dildo is probably a better idea than going with a throbbing 8 inch cock. If you are not sure then buy both and switch out for the larger one if things are going good or just for those times when you want to take it to another level.
This is a really popular one but be prepared to spend some money. These are made of exceptionally high quality silicone and you can get them in different lengths, colors, realistics, and even add in vibration. The variety is only part of what makes them popular. A lot of people assume that these can just be held in by your vagina while pegging but the truth is that they are much easier to control and use if you add in a single strap harness for better support. This line features a G-Spot stimulating end that also has some delicious nubs for stimulating your clit while you are doing the deed.
Vibrating Dildos

You can get dildos that have wires and controls for speed that fit a strap on but the long wires going to the control is not appealing to some. A small wireless vibrator that fits up in the dildo means you don't have wires getting in the way of your fun. This is a major part of the appeal of a Feeldoe.
Getting Comfortable Having A Cock
Some women like to wear a cock around a bit before actually getting down to business for the first time. This allows you to get comfortable with the feel of having something hanging between your legs all of a sudden and you can get an idea of how everything moves so things go more smoothly when doing the deed.
Comfort For Guys

Experimenting with plugs before actually getting into pegging or even using them to warm up can help a lot. He may even grow to really like the feeling of being plugged part of the day. Just start however small is comfortable and work up to something larger. For long term plug wear with water based lubricant you may need to reapply lube a few times throughout a day because it drys out eventually and this can increase the chance of any pain or discomfort.
Mood

Relaxing is a must. Tension is just going to make things harder and possibly kill the sexy vibes and excitement. Plan out your evening with relaxation in mind.
Cleaning Out

Anal sex of any kind gets an unfair rep regarding cleanliness. Generally speaking if someone has used the bathroom that day they are good to go.
An enema or an enema bulb is common to use for cleaning out if you want to make sure that things are super clean and sexy. You don't want to use them too often though. The reason why porn anal can seem so clean is that the performers are taking the time to clean out really well.
Rimming As Foreplay
If you are venturing into pegging then you need to know about rimming. Rimming is licking the anus and the area around it. This can feel really good and cause extreme arousal for both parties. This can help to relax for the actual act. As long as your guy has took a shower or cleaned up a bit things should be good to go. Honestly if the thought of rimming grosses you out then you may want to consider if anal sex is for you.
Lube, Lube, and More Lube

The anus doesn't self lubricate so the importance of a good lube is important. Water based is compatible with anything. It is highly recommended to use a lube shooter so you can get lube where it needs to go. A few shooters of lube is definitely going to make all the difference in a comfortable experience.
You also need to lube up the toy very well and it doesn't hurt to make sure there is some on the point of entry either. If he loses his erection temporarily don't worry this is really common and doesn't mean he isn't enjoying himself.
Positions
Girl On Top Missionary
It can help for the guy to have a pillow underneath him so his ass is well exposed. His legs need to be spread wide and as always you should go slow so the angle of penetration is comfortable. This can also allow you to stroke his cock at the same time or use another sex toy on it for an even more intense experience.
Doggy
This is the classic position but for many or for extended play time, it may get hard on the knees. It is an excellent way to get a feel for this type of thing though. Simply bend him over. It can help to have a wedge style pillow or something for support.
Spooning

This is an incredibly intimate position and it can be super hot. Gently ease in a little bit and then a little further. Communication is key here. Once you are in he can also thrust if he wants to indicate you should go harder or deeper.
Set On It Boyfriend

In this position you set down and he mounts your cock with his ass plain and simple. You can also incorporate a dildo or vibe for your own pleasure. In this position he can also take some of the control and ride up and down on your cock. This can be a very hot thing to see. How many times have you rode him this way? Now you can experience it from the other side.
Finishing The Deed

While it is possible that your guy can come just from being pegged, it is most likely he is going to need something else to send him over the edge. This is one of the reasons why using something on his cock is recommended or simply having a good pegging session and then letting him have his way with you. Over time you will both find out what really gets you both going the most.
Feedback From Your Guy

After you do it the first time it can be sexy and fulfilling to talk about what worked and what didn't. Nobody is perfect the first time they try something new. What was good may become outstanding and you both may very well get more out of it if your communication is good. Of course this is true of any sexual practice. The key is to make sure that you are both enjoying yourself and having some hot fun.
Reader insights
Be the first to share your insights about this piece.
Add your insights