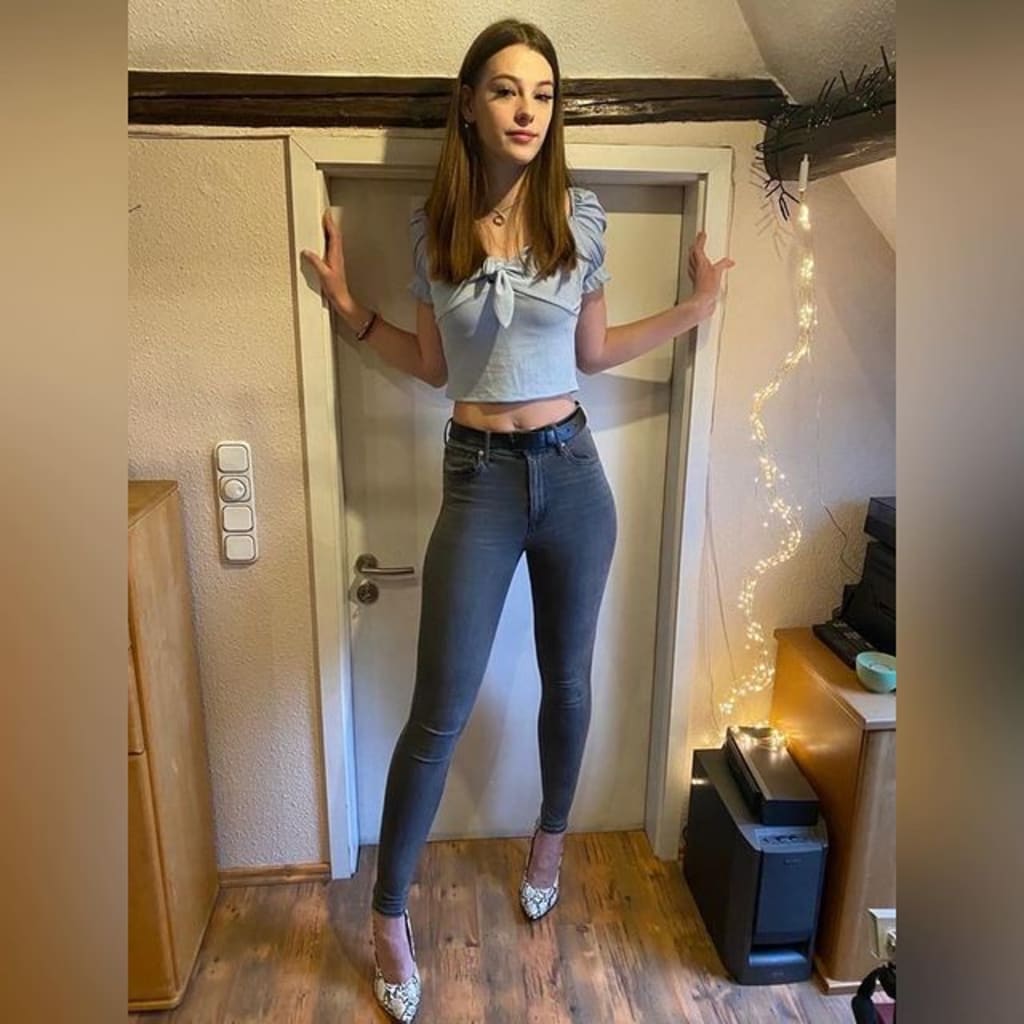 You were relaxing in your living room watching TV on a cold rainy night when you heard knocking. You got up and opened the front door to see me standing there soaking wet and shivering. I wasn't used to seeing such a tall woman. You towered at least a full head above me, but your voice sounded friendly as you invited me in from the rain.
I explained that my car had broken down not far from your house and ask if I could please use your phone to call for roadside assistance. You suggested that I wait until morning, offering to let me sleep on the couch instead of sending me back out into the storm. I was cold and tired so I gratefully accepted the offer.
You walked down a hall and returned with a towel and some bedding. To my surprise you even handed me a hot cup of coffee. It felt so good to get something warm inside me. I was thankful for your hospitality. We talked for a while before you recommend getting some rest. I agreed as you said good night and headed off down the dark hallway.
I was curious why such an attractive woman was living alone but perhaps your unusual height was a factor. I got totally undressed to hopefully give my clothing a chance to dry, then coverd up on the couch for some much needed sleep.
The the next morning you must have walked in to check on me. Apparently my blanket had fallen to the floor because I woke up to see you standing over me admiring my morning erection. I quickly pulled the blanket back up to cover myself. You apologized for frightening me and asked what I would like for breakfast. Before I could reply you told me that I had an amazing cock and said you would love to touch it.
I didn't know what to say. But your big smile prompted me to pull back the blanket. Kneeling down you gently took it in your hand and said how smooth and beautiful it was. Suddenly I felt your free hand grab my throat, pinning me down to the couch. At this point I thought it was healthier just to keep still.
You seemed to be happy simply fondling it with the occasional squeeze. After a few minutes of that, you grinned and began to playfully stroke me. You were gentle at first, slowly running your hand over the length of it, then things became more aggressive.
It was becoming difficult to breathe and I realized that your fingers were gradually tightening around my throat. A strange mixture of panic and euphoria possessed me as I watched your mouth descend to devour my friend. A moist tongue began swirling around the head and pressing firmly into the tip.
I was gasping for breath and pulling at the sheet as I felt a wave of pressure deep inside me. Holy crap I'm gonna cum!! Every muscle in my body tensed as strong pulses sent streams of warm cream gushing into your mouth. You let go of my throat as you swallowed.
I had just experienced the most intence orgasm ever. My cock was still flinching while you spent a few moments licking me clean. You smiled again and patted my inner thigh before getting up to prepare breakfast. We ate in silence, trading little glances at each other across the table. Later I made the phone call and we traded emails before I was on my way.