Talia's New Delivery
Her Secret Admirer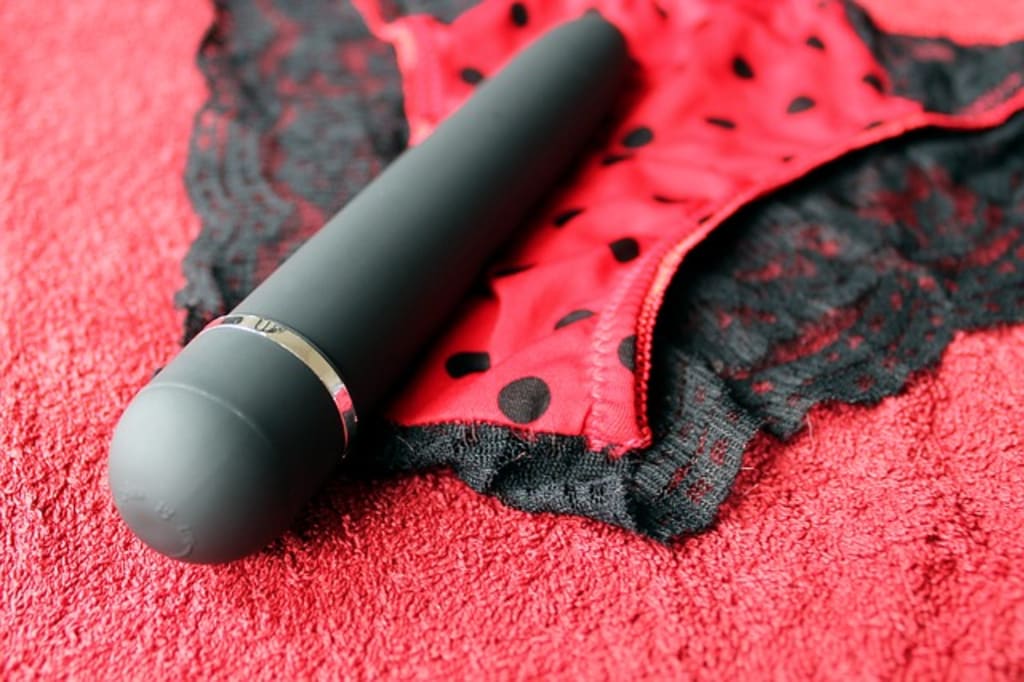 One day while Talia was working, she received a dozen long-stemmed red roses while at work. It concerned her, but she was still happy to receive them. She looked at the card that came with them, but it had no name attached, so Talia had a secret admirer. She began looking at every man around here and wondering who it could be who sent them.
She continued her work and acted like nothing new happened that day. When she got home, she walked into her kitchen and placed the roses in a vase of water and set them on the table stopping to stare at them while she questioned to herself who they could be from.
After a few minutes of wondering, Talia walked back into her bedroom and changed into some bed clothes ready for a good night's sleep. She had no idea that while she slept with her window cracked that there was a peeping tom outside. He sat every night watching her and hoping to get better views of her changing clothes or coming out from a shower.
He was not a co-worker, friend, or even one of her neighbors. He was a stranger in her neighborhood that just happened to prey on her because she was so beautiful. He meant no harm to her, but just wanted glimpses of her to make his dreams come true. He was an admirer and that was all.
A couple of weeks later, Talia was at work and received another package with no name attached and only a small note stating for her to open the package at home. This made Talia more curious as to who it could be and then she began asking other ladies at work if they might know anyone interested in her? No one knew or heard anything, but she did as the package asked and held on to it until she got home.
When she walked into her house, she felt the sense that she was being watched or followed and hurried to lock the door. She walked into her bedroom where she always kept her curtains halfway open and placed the package on her bed while she went into the bathroom to shower. While in the shower, Talia felt like she was being watched again and finished up showering.
She wrapped her towel around her body and walked back into the bedroom and over to her window where she glanced outside to see if anyone was out there and saw nothing. She walked back over to her bed where the package sat, and she sat down next to it. Wrapped in nothing but a towel, Talia began opening the package.
After unwrapping the box and going through a few layers of tissue paper, she finally pulled out something in the shape of a pink butterfly. It looked like a butterfly and had a long cord that was attached to it. She looked it over a few times and then realized that it was a butterfly vibrator. This made her tingly on the inside since she hadn't been with anyone sexually in a while.
She figured why not and laid herself back on the bed and unwrapped her body from the towel. She got comfortable and then spread her legs bending them upwards until her feet were flat on the bed. She had no knowledge at first that she was being watched until she heard someone outside her window smirking.
Talia got up and walked over to her window naked and glanced out while seeing a man standing away from the window watching her. She politely asked if he was her secret admirer and he shook his head yes at her and figured that she could give him a little show. So, Talia walked back over to her bed and got comfortable again with her legs spread wide facing the window for him.
He could see her pretty trimmed vagina and cute little puckered brown hole. He stood and watched as she placed the butterfly over her vagina and clitoris before turning it on. She laid back and slowly turned it on low to where she could feel the small vibrations which sent tingling sensations throughout her body.
She let small moans slip from her pale pink lips for him to see that she is enjoying it. Her body began to squirm a little as she moved it to a medium charge and the vibrations got a little stronger. Her hips gyrated and pivoted for him to see and she could feel her vagina getting wet as her juices began to moisten her vaginal lips and soak her clitoris.
Talia gave him a little show and she enjoyed it as well. After several minutes of medium level and her body wanting more, Talia turned the vibrator up to high charge and felt the vibrations from her feet up to her head as her body began to move more and her vagina leaving wet spots on her sheets.
She was at the point of grasping at her sheets as her body lifted up off the bed and exposed her vagina more to the stranger outside who was loving to watch her enjoy herself. It had gotten to the point where Talia couldn't hold back anymore and with her swollen pink vagina she exploded into an intense orgasm.
It was so intense that she was grasping at her sheets as her body raised further off the bed. She wanted him to see her orgasm in full intensity. She didn't know whether to close her legs or keep them open, but she could feel the flood gates of her vagina open and flood her sheets with juices. She was hardly able to control herself and even reach for the control of the pink butterfly.
When she was able to reach it, she grabbed it in her hands and turned it off allowing her body to calm down from her orgasm. As she removed the butterfly from her vagina, the stranger could see her juices flow from it and how soaked it was. Talia laid there for a minute calming down since it was so intense that she could hardly feel her body.
After a few minutes, she was able to get up from her bed and show the stranger her juice-soaked sheets and then walked over to the window calling the stranger to come closer. Once he was at the window, Talia reached down and pushed her fingers up inside her soaked pink hole and then brought them out dripping with her juices and reached out allowing the stranger to suckle from her hand which made him very happy.
After he tasted her, Talia told him thank you for her delivery and the roses and then walked away towards her bathroom to clean up. After she was dressed, and the vibrator washed off she walked over and stuck it inside her dresser drawer and turned off the lights heading for bed while the stranger walked away a happy man.