Swinging Is Not Just for Kids ;)
A Young Married Couple's Intro into an Alternative Lifestyle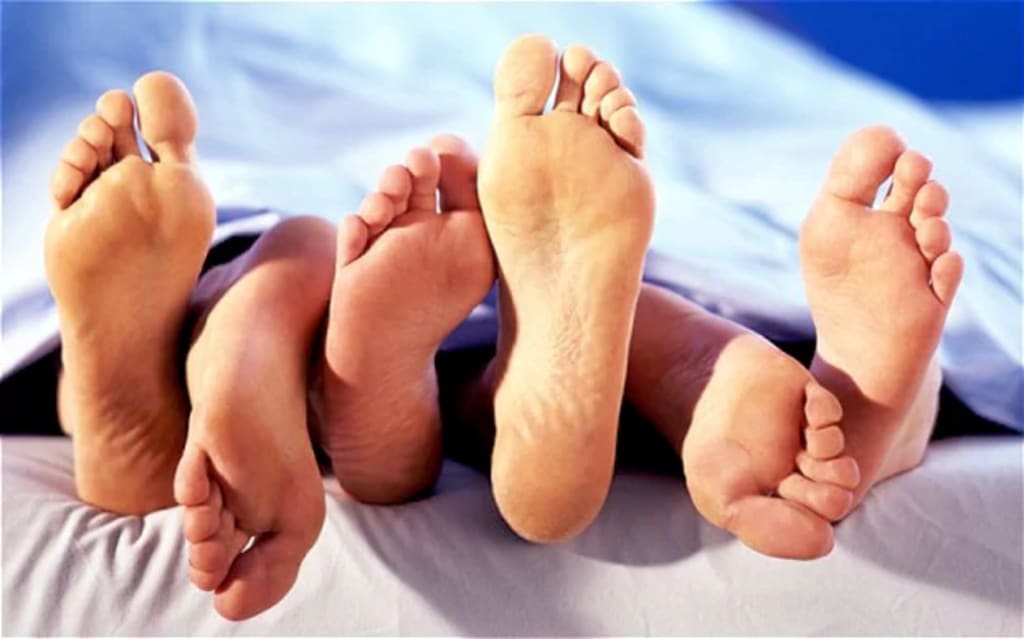 If you ever told me that I'd be begging for another orgasm from a woman I met an hour before, I'd say you were crazy! In fact, being on the receiving end of another woman's very skilled tongue, was never in my plan.
My birthday falls in mid summer, and my husband and I always try to go on a date just us, no kids, no friends, maybe stay in a hotel and just unwind. This birthday was no different. We asked my in-laws to watch the kids over night, we went out to eat, checked in to our hotel, then my husband suggested we try my very first strip club. Yep, I made it to my mid twenties before going to a strip club of any kind.
The music was pumping, almost alive around us. The smoke was heavy, the women grinding and working it up on stage. It was still early so there wasn't really a crowd, but I was in awe. My husband found us a table and we soon found ourselves ensconced in conversation with a rather beautiful blonde who had many interests similar to ours. She gave me my first lap dance and it was pretty magical! After the lap dance, we sat and watched a couple routines with her and her two boyfriends (I'm still not sure how that works out). While watching a rather busty redhead, Angel suggested we try this club in town. It was a sex club, a BYOB type of affair where the only rule is "No means No." We had been discussing bringing another level to our sex life, so we decided to give it a shot. The only thing we were expecting was maybe a little voyeurism, but what we got was an open door to fully live out every fantasy we've ever had.
This club happened to be on a shady side of town so we almost didn't go in and to be honest, I looked every bit of my rural upbringing in my blue sundress and heeled sandals. They almost didn't let us in! In fact, the only reason we were allowed was because it was a pajama night. The converted warehouse was covered in black and red and a bar lined the wall nearest to the door. A huge dance floor, some go-go dancing cages, a few stripper poles, a DJ, and a few TVs showcasing only the best in anal porn is what we walked into. I could tell right away why they didn't want to let us in. We either needed to be naked, or wearing our best lingerie, my non-matching panties and bra were not going to cover it! However, seeing the couples grind and make out and just be so open and free turned me on like I couldn't believe.
We were pretty intimidated at first, and I suppose it was obvious because it was not long before a couple approached us. They were an older couple, clearly veterans at this game. We struck up a conversation about who we were, why we were there, what we were looking to get out of the night. It was our first time! We didn't even know for sure that this place existed. As it turns out, they were looking for a "full swap" (there are so many terms in alternative lifestyles). This couple gave us a guided tour of the back rooms. Imagine red covered walls, white sheets covering full size mattresses lining room after room, a huge swing in the common room outside a room with a glass wall. In short, the craziest thing I had ever seen!
We went back to our table near the dance floor and shared a few shots. It wasn't long before she asked me to dance, followed by loss of clothes right there on the dance floor. I had never felt so free and incredibly turned on in my life!!! Soon, we headed to the back rooms and decided to play. One of the most beautiful moments of my life included two men and another woman. It was absolutely sensual. I had never done any thing like that. I hadn't even hooked up with boyfriends on the first date! Here I was with the love of my life, the one person I had promised myself to forever, having sex with another couple. Three hours later, we emerged, mostly only because it was closing time.
Since then, we have met other couples, we've been back to the club many times and have so enjoyed ourselves. I would not trade our sexual freedom for anything. It is amazing what opening one door can do for your relationship. Since embarking on this journey, we talk more (and not just about sex), there is an intimacy to our relationship I had never dreamed of, he is my best friend, my lover, my husband. And we are swingers.
If you and your partner are thinking of swinging, I will warn you, it is not for every couple. You must be able to talk about uncomfortable things sometimes. You must be on the same page on every step of the way, but it can be the most rewarding thing you have ever done for yourself.