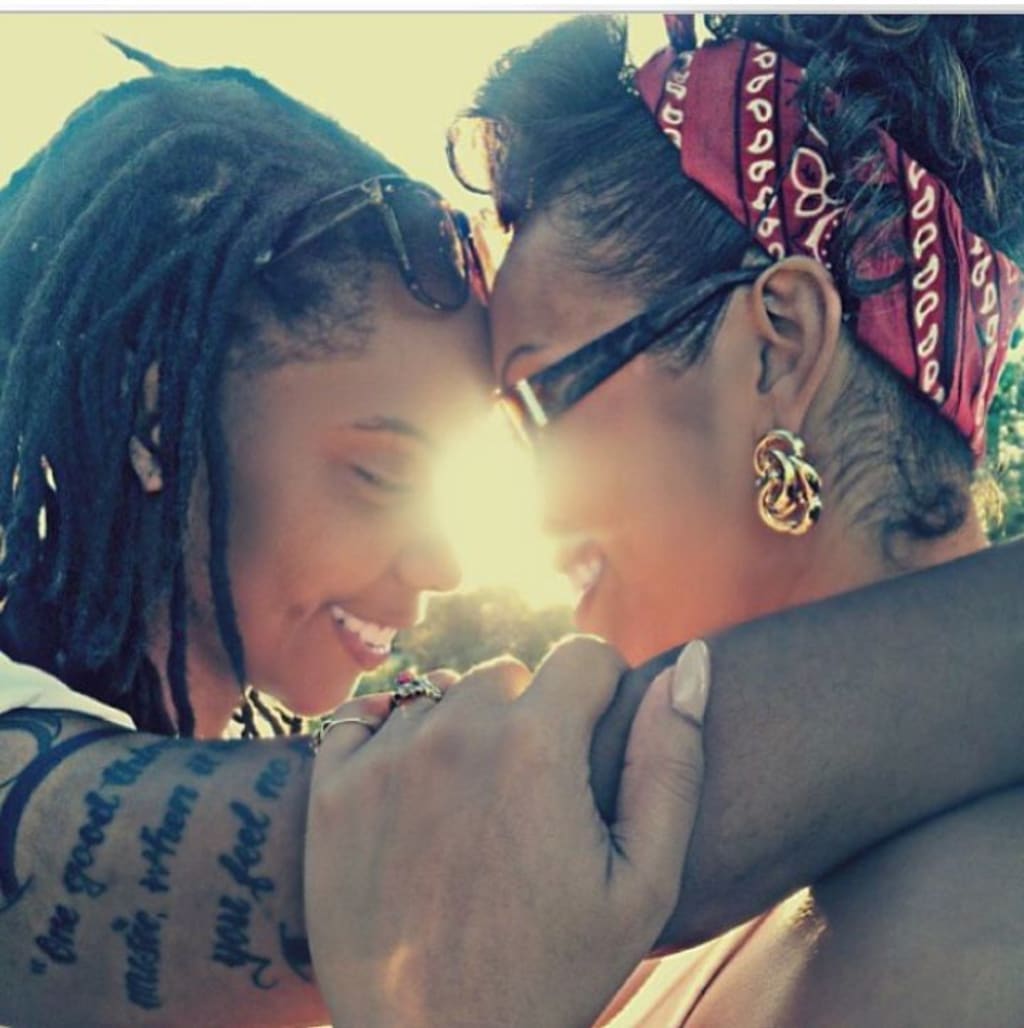 Natalie was 32yrs old, owned a bakery on 27th Avenue & Winchester Road in a beautiful but quiet rural part in the city of Ambrose, Georgia also known as Coffee County.
Monday through Friday she worked that shop and business was indeed booming. It was all so fast paced there were times she forgot what day it was.
Her husband was her high school sweetheart, but no kids were in the picture yet. She and Jonathan had been trying for so long but never a good timing.
It was a regular day at the shop and Natalie had an order of 12 dozen cupcakes for a school fundraiser she had to have finished by 3pm that afternoon.
Natalie was in the back putting some cupcakes into the oven when she heard a customer up front. "Just a second, I'll be right there", she yelled. As she walked out to assist the customer she was not expecting it to be who she had seen.
In the bakery standing across the counter was her ex Sierra. They both were shocked to see each other.
Sierra was Natalie's high school girlfriend and we're still together through culinary school. They were so much in love but when Natalie met Jonathan in her sophomore year at culinary school all that began to change.
"Hello Sierra, long time no sees", she said. "Hey Natalie, how you been"? "I see business is going great for you".
"I am doing well and thank you, it took a lot of hard work but yes my dream has taken its toll into becoming a reality". "I'm just trying take this little shop and emerge it into something bigger", said Natalie.
They both continued to stare into each other's eyes. "So how are you and Jonathan doing"? asked Sierra. "Still together"?
"Yes, we are still together, married actually", replied Natalie.
"Any kids yet", asked Sierra.
Natalie responded, "No, but we've been trying".
Sierra's face shifted as she changed the subject.
"Well reason here is because I'm having a ladies night. I have taken most of my recipes and put it into a book, so most of these women are single moms or cooks themselves. Everyone's looking to better themselves these days so I'm sharing what knowledge I have with these amazing women.
So I stopped by into the bakery to get an order of 12 coconut rum and 12 chocolate truffle cupcakes. I heard they are the best so here I am".
Natalie smiled. "That's a big order on short notice but for you I can make an exception", she said.
"Great", said Sierra. "Why don't you come as well and you know maybe share some of your baking expertise, it will be fun".
"I don't know", said Natalie. She was indecisive, it sounded like a great idea. It gave her more of a reason to expand her customer base.
"Okay I will come, said Natalie. She mentioned she would also bring the cupcakes with her upon arrival.
"Sounds great", Sierra said excitingly. She paid for the cupcakes and headed on out the store.
Natalie shook her head thinking about what she just got herself into.
She went to the back and continued working on her previous order.
Later on that day she would finish up Sierra's order for the get together. Natalie went home, showered and dressed, her husband already called to inform her that he would be working late. Her heart raced as she got closer to Sierra's apartment complex.
When she arrived another one of the ladies had opened the door to let her in. In the midst of them all was Sierra. She looked on over at Natalie and smile, "C'mon over we won't bite", said Sierra.
"I brought the cupcakes", said Natalie. She looked up and all the ladies ran over to grab like 3yr olds at a kid's party. The ladies moaned at the taste of the cupcakes. "These are so good", one lady expressed. Sierra tried one and dropped to her knees.
"Oh my they are good, but of course we all know who you learned this from", she proclaimed. Natalie made a face, "There is actually a secret ingredient of mine that I added to them and no I'm not sharing", said Natalie.
The ladies devoured the cupcakes one after another.
They laughed and spoke all night. It was getting late, some had work others had kids to get back home to.
"Well ladies, I hope you had lots of fun said Sierra, I know I did but of course it's late so we will commence our weekly meeting next week Tuesday. Hope everyone gets home safely, please text me once you are home".
As the ladies exited they thanked Natalie for her sweet treats and also snatched up a few of her business cards. She enjoyed seeing the smiles on their faces.
Everyone went home, Natalie gathered up her supplies.
Sierra came into the living room, "See I told you it was going to be a fun experience, and of course I know you noticed some familiar recipes I used in my book", said Sierra.
"What can I say, you had a great teacher", Natalie implied.
"Jonathan working late"? Sierra asked.
"No, he's actually in New York on a business meeting till Friday", said Natalie.
"Oh well my home is open to you, I know it's late so if you'd like you can spend the night", suggested Sierra.
"That would be nice, I am super tired", said Natalie
Sierra guided her into the guest bedroom, gave her a blanket and two extra pillows. "You made a good impression on everyone with those delicious cupcakes" as she walked out the room.
Natalie sat up on the bed fiddling her fingers; she looked around at the beautiful room decor. Everything was laid out perfectly, you can tell no one has ever stepped foot in this room. She showered and slipped into her pajamas for bed.
The sheets felt so soft like silk, she closed her eyes and began to fall into a deep slumber.
There was a sudden knock at the door, in came Sierra wearing this blue nightgown that showed off her gorgeous legs. Her hair was tied up into a high bun, "Would you like some company tonight"? She asked.
"Its cool with me", replied Natalie. Sierra got under the covers and turned facing the nightstand. The house got quiet; all you could hear were the leaves of the trees outside bristling and the ac unit blowing within the household.
Sierra tossed and turned unable to sleep.
She watched as Natalie slept, her pretty complexion lit up the dark room as the moon hit the window.
Sierra moved closer to her and wrapped her arms around her soft brown skinned body. She caressed her arms, running her fingers through her hair. She reminisced about how they used to sleep like this back in college. The nights where they made endless love to each other.
Natalie startled, woke up from her sleep, looking at Sierra, "What are you doing"? She said. "I couldn't sleep", said Sierra. "I hope you don't mind me cuddling with you."
Natalie turned facing her and replied "I don't mind".
"I wonder at times what would have happened if we were still together and never broke up", said Sierra. My feelings for you have not changed even after all this time.
"Sierra, please stop we broke up because things were not what they used to be, we were constantly arguing about any and everything and to make matters worse it was during finals and we were more focused on graduating", said Natalie.
Sierra touched on Natalie's cheek, leaned in to kiss her, but Natalie moved back. "What are you thinking that you would just kiss me and something would happen between us?" "This was a mistake with me coming here".
She quickly jumped off the bed grabbing her clothes off the floor to put them on.
"Natalie, please don't go I need you here", said Sierra. Sierra ran up to Natalie grabbing her arm.
They looked into each other's eyes. They became close once again, staring into each other's eyes. Natalie leaned in and laid a kiss upon Sierra's lips. They stared at one another again only to fall into a passionate kiss. Everything from their nights in college suddenly submerged. Natalie pushed Sierra back onto the bed as they continued to kiss, caressing on each other's body.
Sierra slipped her hand inside of Natalie's pink lace panties, feeling the smooth baby skin upon her fingers. She played with her clit flicking her fingers back and forth as Natalie moaned, tongues still intertwined.
Natalie played with Sierra's nipples; they were hard and still firm and perky like she remembered. She removed Sierra's hands from her panties. Lifting Sierra's top she began to suck on her nipples slowly. Natalie grabbed both her breast as she sucked on one and fondled the other. Sierra moans filled the room. They kissed and caressed each other even more.
Sierra was on top grabbing onto Natalie's panties she slipped them off. She kissed down Natalie's body making her way down to her pussy, teasing her by nibbling on parts of her thighs.
Sierra looked up at Natalie as she flicked her warm tongue against her clit. She sucked on it, while she slipped her fingers inside. You could hear the wetness that was inside of Natalie as Sierra played with her.
Natalie looked down at Sierra as she ate her out so nicely. She grabbed onto the bed sheets, toes curled. Nobody ate her pussy like Sierra not even her husband Jonathan.
Sierra had a way of using her tongue so well, it made her body cringe and she didn't want her to stop. Natalie climaxed constantly squirting over and over on the sheets. "Squirt for me baby, you know that just turns me on even more: said Sierra.
Natalie moaned and moaned tugging on Sierra's hair, moving her body to get away from the pleasure she was receiving. Sierra held on tight to her by her thighs not letting her go. "Please stop", pleaded Natalie gasping for her breath.
Sierra got up kissed Natalie giving her a taste of her own juices. Natalie fondled Sierra's breast once more. She slipped her fingers down to Sierra's pussy and rubbed her pussy in a fast motion. Sierra moaned, she got wet and began to drip upon Natalie's leg. "Oh my god I'm coming baby, Sierra screamed. "Yes, do it just like that, I miss you so much, she continued.
"I've missed you too", said Natalie.
Natalie got up as Sierra lay on the bed and she proceeded to sit on her face. Gliding back and forth on her lips Natalie rode her face slowly.. When things became more intense she grabbed onto Sierra's hair and grab on tight.
She pressed her pussy lips against Sierra's lips, tilting her head back to look into Sierra's eyes that were piercing back at hers. "I think I'm going to nut baby", she said. Sierra grabbed onto those ass cheeks and held Natalie in closer. The more she caressed that clit with her tongue the more Natalie's juices flowed into her mouth.
Natalie's legs gave out on her and she begged Sierra to stop.
Natalie laid Sierra down and returned the favor by pleasuring her just as she did. Natalie devoured Sierra's pussy as if it was her last meal.
Flicking her tongue against Sierra's walls, tasting all of sweet cream filling. Sierra gasped grabbing onto her tits twisting on her nipples. Natalie put her two fingers inside of Sierra and let her taste her own juices. Sierra licked in between her fingers not leaving a single drop behind.
They cuddled in each other's arms naked under the sheets. They couldn't keep their hands off each other going several rounds throughout the night.