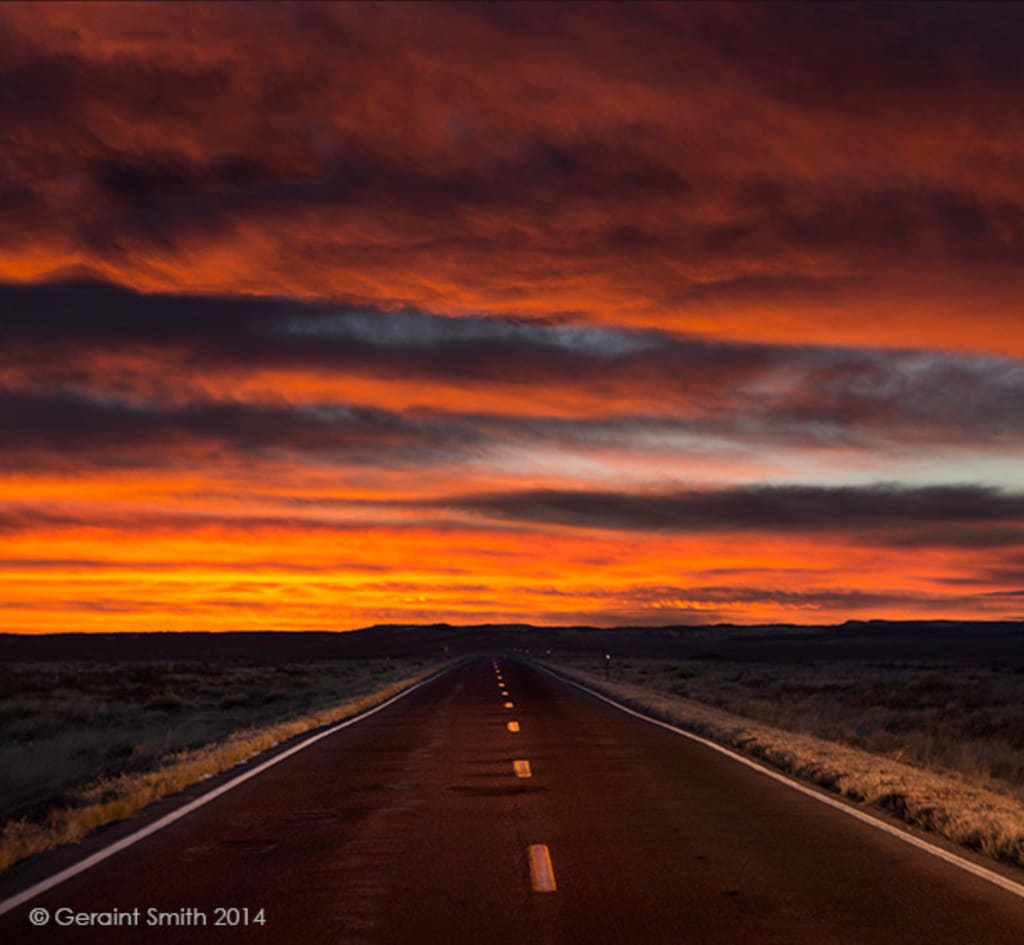 I had been driving all night. For once, it was not for the job that I had given up years before. We were on our way to Yellowstone, a chance to take in the unfiltered beauty of this country together.
The car was a rental. Nothing special, not much to look at. Just a plain silver sedan in a sea of similar vehicles on these roadways. But it served its purpose well.
With the window cracked, I could feel the cool autumn breeze rolling gently over my shoulders and neck. The scent of the fresh, crisp air wafting in from the slight gap in the window was refreshing to say the least. My eyelids drooped, but it wasn't much further now.
A hazy and warm September sun had just begun to sink into the horizon. Its lazy, golden glow shone down along the long stretch of roadway. Within its luminescence it delivered the breathtaking sight of the trees in their final stages in preparation for hibernation for the winter. Brilliant hues displayed like fire across the valley. Trees of every shade, from warm cider, to the brilliant red tone of a lounge singer's lips, to the happiness of a fresh golden crisp apple. Between them, and in stands of their own, the proud, defiant emerald of evergreens present in all directions, all lining the long dark stretch of man's creation into this world.
By my side, where she belongs and where she has been for weeks now, is the most amazing woman I'd ever met.
She looked so small, curled up nearly sideways in the passenger seat under a blanket. She had given up her part of the journey hours ago and fell into the unrelenting embrace of sleep.
Her beautiful dark ruby hair fell lazily across the side of her face; her eyelids, softly closed. Her soft pink lips slightly parted, revealing the small gap in her front teeth that was in of itself, perfection. It was all her, and it was all hers, and I could find no flaw. Her chest rising as she inhaled a slow deep breath, and exhaled it with the same care... even in her sleep, she was breathtaking.
My mind began to drift as my eyes once again found the road.
I remembered the absolutely ludicrous reason why we started talking. The first line she said to me that's really grabbed my attention, the line that could never be repeated to future grandchildren. I still get a chuckle out of that. My woman. Always full of surprises, and always able to pry that smile out of me no matter how I felt.
I remember the day we met. Our first kiss in London. The feeling so pure, so right, that I knew this would be the one. Following an unforgettable week in that crazy city; I recalled the first time we made love. Not even a hint of nerves. Beautiful, incredible, animal; and everything right with the world.
My mind dredged forth the pain of leaving after that week. The sorrowful feeling that there was now a hole within me as I spent my time alone back in the States. The night that I spoke to a god that I no longer had words for, with tears in my eyes; I begged him that he would help us find our way and that he would make sure we would be alright together. That the universe will align and everything would work out as it should.
Somehow, through battles with family, strafe with friends, even the occasional step with each other, whoever runs this show made sure that it all ended up pointing in the right direction. It brought us to this day. I will be forever grateful for that.
I reached over across the center console and placed a hand on her knee. She stirred a bit, one of those ridiculous unicorn slippers popping out from under the end of the blanket. Her eyes flashed open for just a moment, revealing the kindest, yet most lively set of beautiful green eyes I have ever witnessed. She smiled softly, tiredly, mumbled something I couldn't quite make out, and placed her hand over mine before drifting back off to dream about whatever it was she dreamed about.
I awoke to the movement of the car coming to rest, sleepily opening my puffy eyelids and seeing before me the man who I had given up everything to be with. I never thought I would end up with a shaved headed, bearded ex-gang banger, but here were are. His surprisingly blue eyes piercing my soul once more and I felt the warmth grow between my legs again. Every single time.
No words were needed as we exited the vehicle, him grabbing the bags and making his way to the front desk. I lit a cigarette and took a long drag, feeling the nicotine hit me in the warm sunset, on that lonely motel car park.
I smiled, as he made his way back to me, taking the half smoked cigarette from my hand as I put my arm around his waist. We made our way to room 43, as indicated on the key fob. As soon as the door was opened, he threw down the bags and took me in his big strong arms. I called him my Viking because of his large stature, he made me feel safe and protected in his loving embrace, his beard tickling my face.
He pulled away from the kiss, my soul buzzing from the intimacy and I looked at him quizzically. He gave me a cheeky smile and put a finger to my lips. He reached down for the largest of the bags, opened the zip and poured the contents onto the bed. I gasped.
"I always wanted to do this." He said as the last wedge of cash cascaded from the bag, creating a mound of paper notes, that I couldn't even begin to count. This was exciting, this was new, this was what I wanted more than anything.
With that task done, he took me in his arms once more, frantically removing my clothing, leaving long lingering kisses all over my shoulders, neck, collarbone and finally, breasts. I helped him with his zipper and removed his shirt revealing the many tattoos crisscrossing his chest and arms, this turned me on even more and I could feel myself getting wet.
When we were finally naked, he lowered me down onto the bed and took me on top of the pile of money. Fuck it was good. Slow, passionate and oh so fucking sexy. I wanted him more than I had ever wanted any man before. The pace increased as we sprawled atop the wads of paper, spreading them over the floor; but we didn't notice.
The climax came, sudden and overwhelming, leaving us both panting and gasping for breath. The final shudders echoing throughout our bodies as we joined each other as one and left Earth for that sweet, sweet moment of release.
He is all I ever want, I thought as I lay back, utterly spent. He grabbed a few handfuls of money and spread them about, grabbing my breasts and reveling in the moment.
"You know we aren't going to get away with this, don't you?" I looked at him, my face getting serious this time. He just rolled his eyes and pulled me towards him; where we lay for the rest of the night. Satiated.
About the Creator
Mother of one, designer, maker, chef, babysitter, friend, sister and trying to get into fitness at the age of 30. I love reading and writing fiction and hope to get a novel published one day. I am inspired by books, movies and real life.
Reader insights
Be the first to share your insights about this piece.
Add your insights