Submissive Little Cam Slut
His longtime crush is a cam model.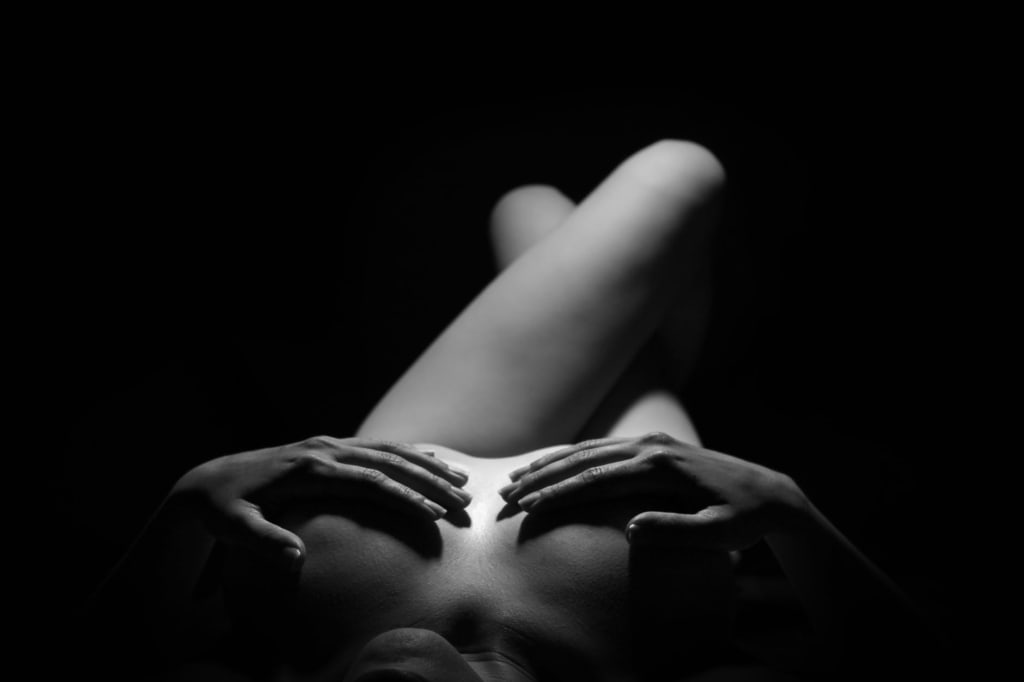 Eric checked himself in the mirror yet again. He was getting some lunch, to catch up with his old friend, Julia. He had known her since high school, and had been in love with her for just as long. Even though they were just friends, and nothing more—Julia had certainly never thought of him that way—butterflies still rose in his stomach at the thought of seeing her.
He met her at the restaurant, where she looked as stunning as always. She wore a light blue sundress that showed off her beautiful curves. Eric tried not to notice the hint of cleavage peaking out of her low neckline, but his cock stirred at the sight of it anyway.
She smiled at him. "Hey!" she said, giving him a hug. "It's so good to see you!"
Eric closed his eyes, and breathed in her lavender-scented perfume. How could she be so sexy without even trying?
"It's so good to see you too." Even if it was just as friends. He had accepted a long time ago that she would never want to be more than that.
They went inside the restaurant, a cheerful bar and grill serving hamburgers, chicken tenders, and other bar food. A hockey game was on a flatscreen in the corner, and the walls were covered in sports memorabilia. It was pushing Eric's budget, but it was worth it.
"I'm so glad you were able to move back here after college," Julia said. "It hasn't been the same without you. How's the fellowship going?"
"It's all right," Eric said. "A bit exhausting, and it barely covers my living expenses, but the work is interesting at least." He had to do some freelancing on the side to make ends meet, but that made his free time all the sweeter. At least, that's what he told himself every time he collapsed into bed at the end of a long work day.
"Well, don't worry about that today. The food is on me."
"No, no don't do that," he said quickly. "I'm not that much of a charity case."
"I insist," Julia said. "What's the point of having disposable income if I can't treat friends, now and then?" She gave him a sweet, genuine smile.
"You must be doing well as a ghostwriter," he said, smiling back. "What sorts of books are you writing nowadays?"
"This and that," she said vaguely. "But it pays the bills, with a little extra for fun."
The waiter came, and Julia ordered a margarita and the New England Goddess salad, one of their specials. Clearly, she had more than a little extra for fun. Eric only ordered a burger and water. He didn't want to exploit her.
Julia raised an eyebrow. "Also ring him a side of onion rings and some potato skins for an appetizer, please." She smiled at him and then at the waiter, who promptly left to fill their order.
"You didn't have to do that," Eric said.
Julia sipped the glass of water the waiter had brought her when he came to take their order. "I know. But I also remember how you ate in high school. There's no way a burger is enough to satisfy you, no matter how much you like it."
"Yeah, but I don't want you to get bankrupted over me."
She smiled her sweet, sexy smile. "I'm not going to get bankrupted, trust me. Business is doing really well."
"It's really convenient that you have to sign non-disclosure agreements with your writing so you don't have to talk about it. For all I know, you're buying me lunch with drug money."
She laughed, and Eric couldn't stop the warm, happy feeling that came with making her laugh. "That's true. You don't know," she said with a mysterious smile.
Eric wondered what she could mean, for the rest of the meal. Julia played it off like a joke, but he wasn't quite sure. After all, she was a recent college graduate herself. And yes, she was able to get scholarships that covered a lot of her tuition, but like everyone else he knew, she had to take on a mountain of debt.
There was no way ghostwriting could cover all of that. It was part of the gig economy like anything else. Devoid of benefits and security, and easy to end up working below minimum wage. Julia was always smart and had been researching good business practices since high school, so she probably fared better than most. But $50 on a meal was incredibly extravagant.
Eric found out weeks later how she was able to do it. His two roommates were gone for the night, so he had the apartment to himself. He left himself have a night off from work to relieve some of the pressure building inside him. He had been horny for weeks now, and getting back in touch with Julia didn't help. Just being near her made his cock hard. Yes, he definitely needed to care of himself if he ever wanted to think straight again. He pulled out his cock after his door was shut and locked—just in case his roommates came home early. It was already hard as he stroked and moaned softly.
On his computer, he searched for naughty school girl porn, and hesitated when he saw one of the results: "Teacher makes school girl his fuck toy." The thumbnail showed a woman in a pleated plaid skirt, and a white cropped blouse that was ripped down the middle. She was on her knees with her hands tied behind her back, and a gag that forced her mouth open to accept any cock. Eric realized he was panting, as he stroked himself harder and faster at the sight of the submissive little fuck toy.
But, he made himself click on one that was more vanilla. It disturbed him how much he wanted to dominate women, and how turned-on he felt looking at them tied up and even them getting spanked. He groaned. Just thinking about it gave him so much pleasure. He didn't want to indulge those thoughts, though. Didn't want to think about what he would become, if he was like that.
The video he chose was sexy. A naughty school girl seduced her all-too willing teacher to get out of detention. But it didn't satisfy him, and by the end of it, he was still horny and wanting more. As he scrolled through video listings, an ad popped up for live cam models. As if he could afford those. He was about to click out of it when he caught sight of one of the women advertised. There, in the corner of the ad, was Julia—giving her sweet, sexy mile to the camera, her boobs on display. Holy fuck. As if in a trance, Eric clicked on the video. Okay, maybe he could afford it, just this once.
The promise of seeing the woman who haunted his fantasies naked in front of him was too tempting. It was wrong. She was his friend. But he was so fucking horny, and she was so beautiful and sexy. He clicked on the ad. The first 10 minutes were free.
Julia was one of the featured cam models with one of the highest ratings. And she was currently online. He clicked on her stream and saw her on her bed, wearing a pair of lacy shorts and a sheer bra. She smiled at the camera. "Hi," she said. "I haven't seen you before. Welcome."
Eric realized she was talking to him and flushed. She must have just started her stream, because he was currently the only one watching.
"Any special requests?" She asked. "What are you into?"
Shit, what was he supposed to do? He had never done anything like this before. He didn't want to creep her out. He should just click off. This wasn't right. She was his friend.
Julia smiled sweetly into the camera. "It's all right if you can't think of anything right now. How about I start by taking my top off? Let me know if you have any requests. I'm happy to submit to you."
Jesus fuck, the thought of that made him so hard. Then Julia took off her top, revealing her pale, perky breasts. Eric let out an audible moan. Jesus she was so sexy. He wanted her so badly.
He realized he could use his anonymity to finally say what he really wanted to. He typed out: "You're beautiful."
Julia blushed. "Thank you," she said. "I'm glad you like me."
He more than liked her. He started rubbing his aching cock, needing to relieve some of the pressure building up in him. A few drops of pre-cum leaked out of the top, as pleasure radiated through his cock.
A message popped up in the public chat. Someone else had joined. Eric felt a pang of jealousy. He wanted Julia all to himself, but he knew that wasn't an option. A private session would cost too much for him.
"Hello, little slave," the newcomer typed.
Eric's lip curled, but Julia grinned. "Hello, Master."
"Show me your pussy."
"Yes, Master." She took off her shorts, revealing her shaved, pink pussy.
"Good little slave," the viewer typed. "Rub that nice little pussy of yours."
Julia reached down and rubbed herself. Eric stroked his cock harder, practically panting at the sight of her.
"That's a good little slave," the viewer typed in. "Rub that sweet pussy until you're nice and wet."
"Yes, Master."
Eric's cock twitched at that. It wasn't just seeing Julia pleasure herself that turned him on, but also her submitting to someone. Being an obedient little slave. Damn, that was so fucking sexy.
"Show that sweet little ass of yours," the viewer messaged.
Julia moved so her round, soft ass was in full view of the camera, and then twisted around to look at the public chat. "How do you like it, Master?"
Eric liked it very much.
"Spank yourself, slave," the other viewer ordered.
Julia spanked herself with a loud smack, causing her butt to jiggle slightly with the fore. A nice, red mark appeared on her pale ass. Eric's hands itched to spank her himself.
"Again, slave. Keep going until I tell you to stop."
"Yes, Master," she panted. She spanked herself over and over, her butt cheeks becoming bright red. Eric was jerking off harder now, too entranced by Julia's submission to even feel ashamed anymore. Then with a burst of pleasure, he came, hot semen spurting out of him and covering his stomach. He leaned back and closed his eyes, as he recovered. That had to be one of the sexiest things he had ever seen. As he came to his senses, the guilt set in. What was wrong with him? How could he get off seeing his friend get degraded?
He used his T-shirt to wipe off his seed before tossing it into a nearby laundry hamper. Then he dared look at his computer again. To his relief, the website exited him out of the stream. His free 10 minutes were up. He logged out of his browser and reclined in his bed, closing his eyes. Exhaustion took hold of him and even though he felt guilty, he drifted off to sleep imagining Julia's naked body in his arms.