Struggling with My Girlfriend
Ricky Johnson is trudging away at a fast food job that is just killing him. Eliza Ibarras comes in.
Scene One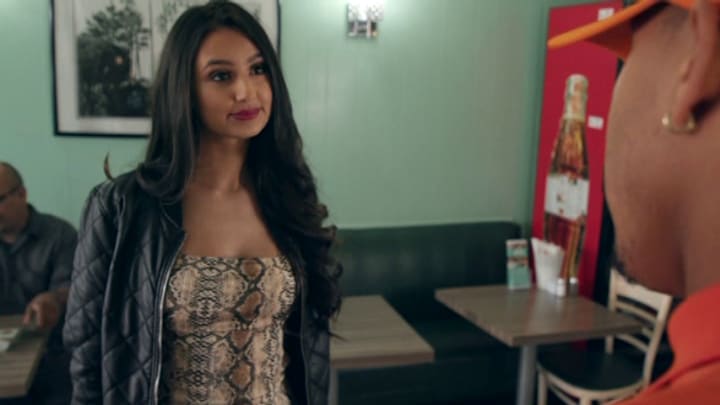 Ricky Johnson is trudging away at a fast food job that is just killing him. Eliza Ibarras comes in. They know each other from college and she gives him a look that makes him hop the counter and quit. They are home and she is riding his face in a flash. Suddenly overcome with the need to pee, Ricky stumbles upon Eliza's busty mother (Ava Addams) in the bathtub. She wants to see his cock and no matter how much he tries to resist, she won't stop sucking it. They nearly get caught so he has to ("Has to" Rog, fer real?) go back in slide into Eliza from behind. The beautiful young brunette is stunning and loving every inch of his cock until he has to run out for a condom. What he is really doing of course is running to Ava's room to bang the busty mom in doggy. There are some really nice shots of her big knockers shaking under her body as he desp strokes her pussy. This time, Ricky is gone too long and Eliza catches him with mom. She grabs the credit cards and storms out, leaving Ava to finish him off. He fucks her until he unloads all over her big tits. Declaring him the "best fuck" of her life, Ava gives him a huge wad of cash and gives him her friend's number.
Scene Two
Even with his unexpected windfall, Ricky faces mounting bills and is getting desperate. He uses the number Ava gave him and ends up interviewing with Dana DeArmond for a position with her company. She gets down to business quickly. Testing out his cock to see if he measures up. It certainly fits well in her mouth. Dana tests out Ricky's oral skills and finds them to her satisfaction. Her pussy is ready for his cock and it slices right in. Dana looks fantastic and takes a very energetic ride on his big cock. The ass shots here are fantastic. Dana is perfectly curvy and bends over to take him deep from behind. There is a great facial at the end of this very solid scene from one of the best in the business.
Scene Three
Casey Calvert hires Ricky to be her date at a dinner party thrown by her snooty ex. She decides to give Ricky a handjob under the table and then takes him to her ex's bedroom where he has to do the deed he is being paid for. He has no problem with that and pulls her on top him for 69 before mounting up from behind. Her ex walks in on them, but for some anal in RCA that looks really good. Casey wears his load on her face at the end of another solid effort that only makes Casey want it more. He dishes out the dick really well and Casey loves every inch. She even mounts up some great looking RCA. They finish with a load on her face at the end of a solid effort.
Scene Four
Chloe Couture is about to go off to college and her mother thinks she needs to pop her cheery before she goes. The cute young blonde freaks out and storms out of the room, wanting nothing to do with sex with a stranger. He tells her they can just talk and then tell her mom they did it. That lasts for a minute or so before Chloe decides she wants Ricky to help her with her BJ technique. She is a little surprised by the size, but picks up the pace quickly. Chloe gives really good looking head and gets so turned on that she bends over and asks him to fuck her. Chloe adjusts quickly and starts pushing back beautifully. She is getting dicked down harder and better than she would have at a frat party and Ricky is teaching her some hot new tricks. He fucks her hard and unloads all over her cute little face.
porn star
About the author
Lanas here to help you with all your writing needs.
Here You will find tips and tricks about tecnology, sex stories and sex education!.
Reader insights
Be the first to share your insights about this piece.
Add your insights