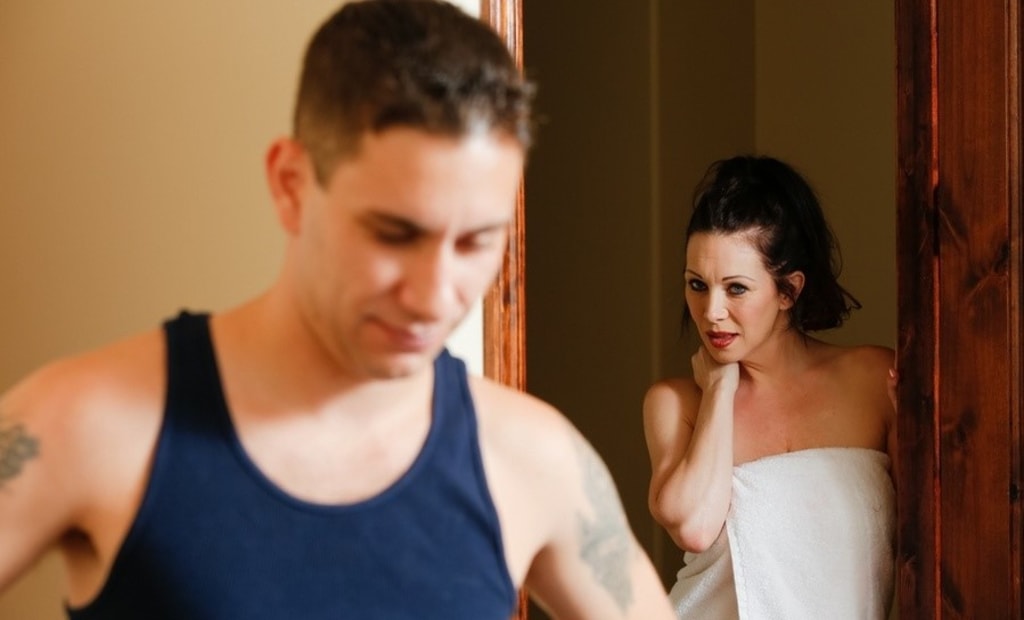 Rayveness in hot, awkward action!
Searching far and wide you can find some pretty unusual stuff on the internet. The same goes for pornography as well. While I wouldn't consider going near anything like midget porn or sadomasochism, you can find unusual on the lighter side of porn. For example a website dedicated to blow job videos or foot job videos. Maybe that isn't unusual for some, perhaps the opposite; maybe it's tame?
I stumbled across a website called 'Nuru Massage' which has sexual scenes based on and around a massage scenario. To fully appreciate what a porn scene from Nuru Massage entails it's probably best I explain what it entails. Nuru is actually an erotic massage technique which originates from Kawasaki, Japan. The massage requires one or multiple masseuses to rub their bodies against the client's body. When both the client and masseuses are nude they're covered in a colourless and odourless massage oil. The word 'Nuru' originates from the Japanese language and has the meaning 'slippery/smooth.'
Supposedly throughout the massage, the masseuses will try and get the widest possible contact to deliver strong tactile sensations which are said to relieve stress. The Nuru massage will often finish with some sort of sexual act. As it is similar to prostitution, the business is only legal in certain places like Nevada (USA,) the Netherlands and Austria.
The 'Nuru' massage website however has another quirk to their scenes in that sometimes they have a taboo relationship with the client. It's odd little injection which makes the scene even more erotic.
I won't lie it's a pretty expensive do to join this website and seeing how they only do one genre of porn (Nuru) it might not be worth your while. For a years subscription it's £95.40 which works out at £7.95 a month. This is pretty standard in terms of porn site membership but other companies offer access to all the sites they own normally. This membership will allow you to stream & download the videos while if you do a monthly contract you'll only be able to stream. This 30 day subscription costs £14.95 but is more affordable than most sites. You can get a streaming only trial of £2.95 for 3 days which works out at a pound which is also pretty reasonable.
The scene I'm reviewing from their website stars gorgeous brunette Rayveness and studly hunk Brad Knight. They star in a Taboo scene which is pretty interesting and makes for some erotic happenings. Rayvaness will have been around the age of 43 when this was filmed and she looks stunningly gorgeous. She's a bit of a unique commodity in porn as she has kept her natural look and not had her beautiful breasts enhanced. It's certainly paid off for her but she did announce her retirement back in 2011; she must just do the odd scene here and there.
Brad Knight is 32 years old, a regular pornstar and is actually quite into 'MILFs.'
Truth is the Richmond, Vancouver native is trained in a massage technique himself called 'Shiatsu Massage. So it does sound like a scene like this is kind of made for a guy like him.
The scene begins with Brad walking in on his stepmom who is topless in the tub. It appears she's not shy and invites him in to talk. Sounds like Brad has had a tough time on the football field as he tells his stepmom he thinks the opponents 'had it in for him.'
Rayveness takes the opportunity the flirt with him and states 'Had it in for you? With those guns?' referring to his big arms.
It's good acting from the pair and pretty convincing too. Awkwardly Brad keeps referring to Rayveness as Mom but she corrects him stating 'stepmom.'
This little quirk adds to the realism I suppose but it does remind me to those really tacky 'Family Therapy' videos.
Rayveness suggests something to get rid of some of the stress and tension from Brad's body; she asks him to meet her in the bedroom. Brad walks into the bedroom to be surprised by a black plastic sheet all over the bed (surprised he doesn't think he's going to get murdered at this point.)
His stepmom tackles him from behind and purposely has her towel fall off revealing her naked body. Brad is understandably a bit uncomfortable but is clearly attracted to his stepmom so goes along with what she's doing. He ends up naked on the bed receiving a Nuru massage from his stepmother although she refers to this as merely a 'massage.'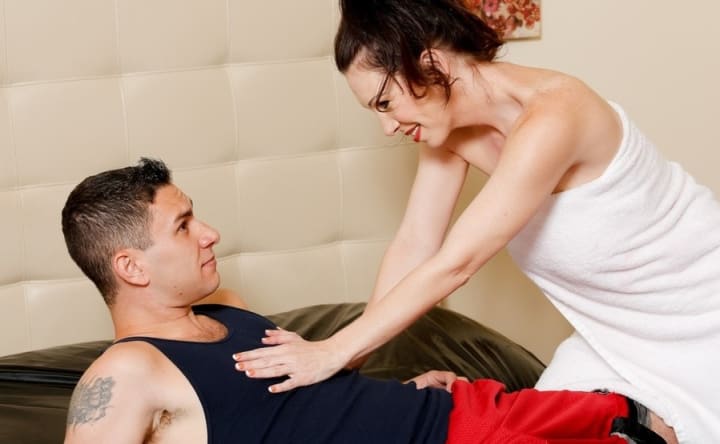 The beginning of the sex is mainly Rayveness rubbing her naked oily body against Brad. I suppose this is a fetish for some people as she rubs his backside and balls. She also does her best with the scene getting visibly excited and rubbing her pussy against her stepson.
Brad finds out this is more than a massage when Rayveness starts gobbling his monster cock; much to his delight of course. Throughout the sex Rayveness keeps the acting going stating 'someone has to look after you when your father's away.'
It's hot stuff and Rayveness natural beauty at such a mature age is pretty alluring to viewers. The sex is good; watching Rayveness' pasty rump work over Brad's cock is a delight I think most men will enjoy. It's a little bit different from your average porno but I think most will enjoy. I give this 4 out of 5; great to see Rayveness still in action with a unique concept and some decent acting.
4 out of 5
Give it a watch as you should enjoy it.