Stepmom's Gym Grind
Starring Kit Mercer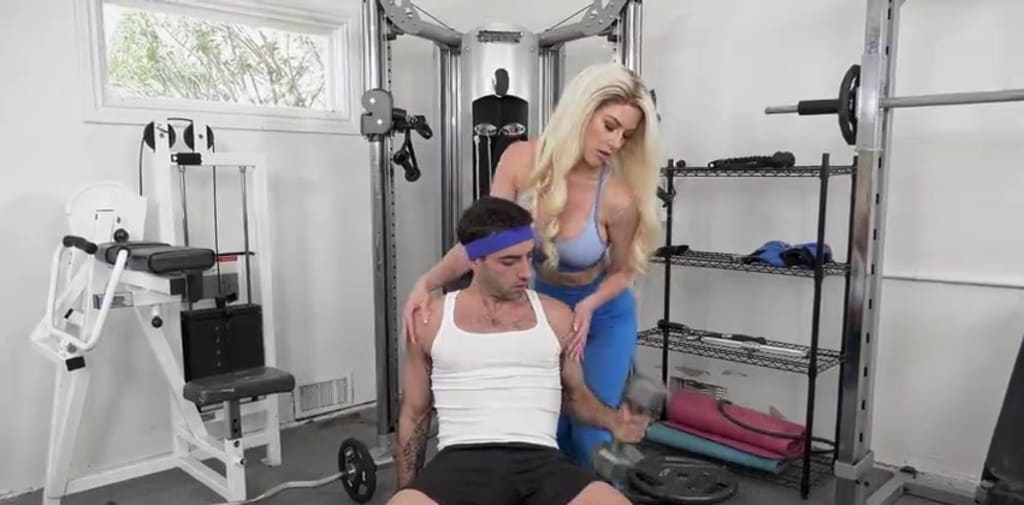 It's strange to me how producers of pornography can make scenes and still make them seem like new. I suppose you can put this down to the skill and experience of the director who is in charge of it. I've been watching porn scenes by a director called Bree Mills lately who really is something else. I don't even think it's fair to call her material scenes as they are more like full films that could rival main stream acting. It shows the heigh which porn is trying to reach commercially; that said I don't think the business will go broke any time soon either. That said while this scene I'm reviewing today is good it's not on par with Bree Mill's work. While she's quite artistic most porn directors stick with simple acting and production skills. This scene is from the 'FamilyXXX' website which is taboo material as well but not to the quality of the 'Pure Taboo' website.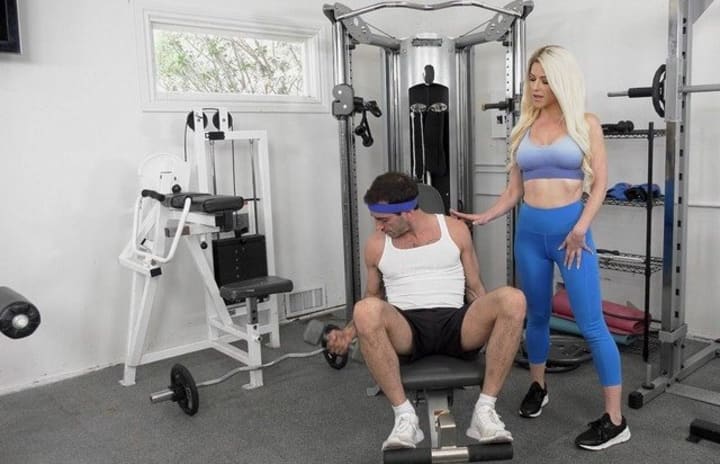 If you're looking to join 'FamilyXXX' it doesn't seem to have reduced it's prices like the rest of the porn sites on the internet. If you're looking for a three day trial it will cost you $4.95 which seems a bit more than the standard rate. Usually sites charge a dollar a day for 3 days. For a monthly rolling subscription it's $29.95 which was the standard rate until everybody seemed to reduce their prices. For a 3 month membership you're looking at one payment of $54.95 which works out as $18.25 a month. If you're looking for a longer term commitment with 'FamilyXXX,' a 6 month membership is billed as one payment of $74.95. That works out at $12.50 which sounds cheaper but obviously it's a massive one off payment. For a 12 month membership there's currently an offer on which is one payment of $60 which is obviously better than the 6 month deal. This works out at $5 a month and is renewed every 12 months. It's obvious to see that 'FamilyXXX' is an expensive pornsite but does the price match up to the quality?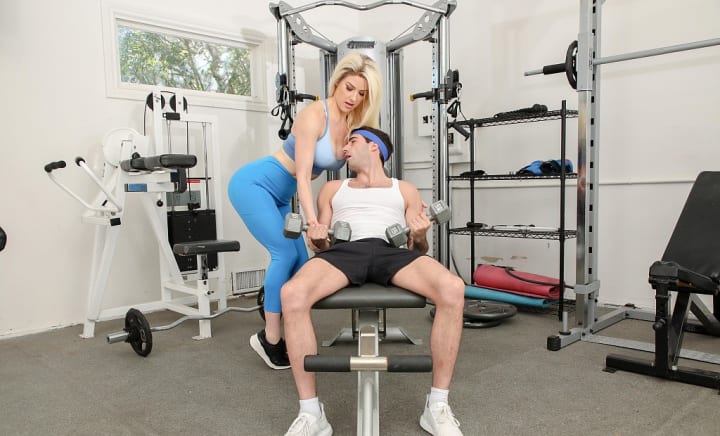 This scene is entitled 'Pumping Iron and then My Stepmom's Pussy' and certainly delivers on that front. Said stepmom who gets a good 'pumping' is the gorgeous Kit Mercer from California. Debuting in 2019, this 35 year old with enhanced curves of 32DDD has gradually slipped into the MILF category. A former marketing manager; her parents were surprised when she decided to quit that career as she was so successful at it. Kit sited many personal reasons for the transition but stated the main reason was because she 'loved sex.'
Before Kit got into porn she claimed to have slept with over 100 men so it's obvious that she likes a fumble. She states her favorite position is cowgirl and doggy but says there's got to be passion with a person for the sex to work for her.
In this scene she turns up to her husbands gym in the household to flirt with her stepson. Kit is a bit of a naughty stepmom it appears as she turned up to her son's room to 'fuck' but he wasn't there she tells him. I presuming they've done this before or the pair have been on the peaking point of doing it. Kit is very seductive here; talking in a hushed, raspy voice while wearing a sexy gym/yoga outfit. Her stepson tries to ignore her stating that he's working out; this doesn't dissuade Kit though who is determined to show him a better way of working out. It's good stuff as Kit moves seductively round the gym equipment trying to distract her young stepson from his activity. She caresses him as he does his 'seated curl' exercise saying stuff like 'That's right baby, you get your pump on.'
I won't lie if Kit Mercer was doing that to me it would drive me absolutely wild and it does make for a good scene. Her confidence on camera while acting would make you think she's been doing this longer than 2019 but I suppose so performers just 'have it.'
As Kit caresses her stepson more intensively it appears his resolve is giving in and he's eventually smooching his stepmom. Unfortunately the guy isn't credited but he does a good job as the reluctant stepson and also looks the part. It looks like there's an age gap between the pair which makes the scene all that more believable. Kit gives her stepson a nice, sloppy blowjob here which looks fantastic visually. Overall though the sex is really good and although there's a bit of a weird soundtrack at the beginning of the scene most of this works.
Kit's mature scowl as she's getting fucked too is pretty hot and feeds the idea that she's a seductive temptress. Almost a perfect taboo scene, I don't know if this justifies the price of the site but this was quality to watch. I give this scene 4 out of 5; you'll want to see more of Kit Mercer afterwards.
4 out of 5.