Spiritual Encounter Turns Sensual
My friend gives me a spiritual massage that becomes unbearing romantic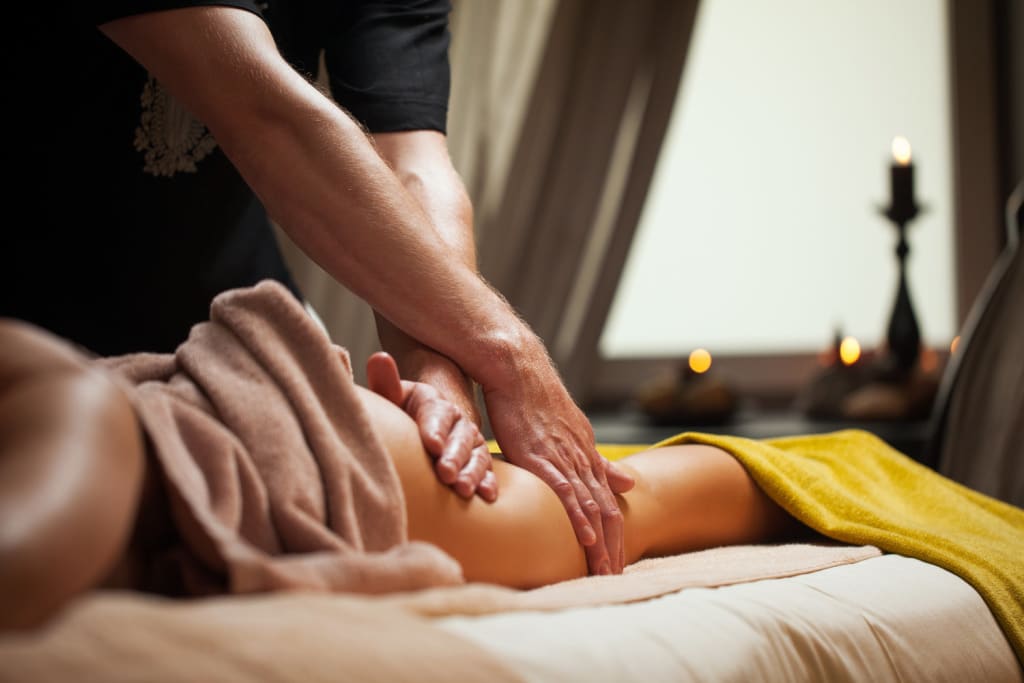 I have this friend named Andi. She is about as hippie and gen Z as she can get. She is obsessed with Sage, astrology signs, chi, the works. It can be a bit overwhelming at times but she is the most real girl I have ever met. We had been talking for a bit and she mentioned how she was working on being a spiritual massage therapist, helping people connect with something bigger then themselves. I would always roll my eyes and nod along sarcastically.
One night, I'm at her place sitting next to her on her bed. We're listening to music and vibing. She brings up her massage work gig again and I again roll my eyes and say sure sure whatever in a playful manner. She then gets a look in her eyes and says "you wanna try it? Can't knock it til you try it"
I look back at Andi. She's a petite Asian/white woman. She has the most real nature small breasts and a small yet fantastic ass. That night, she wore tight jeans and a loose blouse. Sexually speaking, we had never crossed that line. The closest we got was grinding at a college party. But I was like sure why not. I feel tense. I immediately just face plant into her bed. Full of jokes I am. She laughs and instructs me to go into the living room. I do and she pulls out a rubber foam mattress from the closet. She puts on the most spiritual music I have ever heard and pulls off her shirt in one quick swoop, revealing the thinnest white tank top I have ever seen. "Take off your shirt and lay down" she says.
I do and lay face down. She begins and it's a very oil-rich massage. While I didn't feel like my aches were stretched, the entire encounter was incredibly enjoyable as she glided her hands up and down my back. Soothing my shoulders before moving to my arms. It felt great, I dunno about spiritual but great.
About 10 minutes in, I shifted and she gently guides me to flip over. She then proceeded to snuggle up next to me and glide her fingers up and down my chest, oily and with intent. She then looks at me deep in the eyes and pressed her forehead against my forehead. Something begins to handle and our breathing gets heavy. Her hands move lower and lower until she ever so slowly reaching down my chest and into my pants, grazing my member.
She begins to reach down and run her fingers up and down my shaft. I instinctively move my hips higher to give her better access. She undoes my pants and they shake off to reveal my erect organ with her tiny hand wrapped around it. Strangely enough, we never kissed. Just breathing deeply into each other.
She moves atop of me and proceeds to add more oil to now intently stroking me up and down, twisting along the way. I felt like the luckiest cow as she milked me. I looked back to see her grinning, enjoying herself. I can't tell you how many times she brought me to edge and took it a step further. She made the most wonderful noises, things I have never heard before but made me harder than diamond.
She continued for nearly 20 minutes. I think she was determined to convince me of this massages' worth. I tell you, it felt like a Rollercoaster or a boat bobbing up and down in the waves. Her beds were incredibly soft and she knew what she was doing. Different grasps and strengths and speeds. She made me feel like a man and like puddy in the same moment.
And then in an instance, she stroked me just three times at a high speed and it was all over. I couldn't contain myself and I erupted. She somehow grabbed the base with just enough force to prolong the eruption. Spurt after spurt after spurt. Absolute euphoria.
We look at each for a moment and just burst out chuckling. She comes down and lays beside me asking how that was. Honestly, it was fucking magical.
I can say I saw her face and now I'm a believer.
Reader insights
Be the first to share your insights about this piece.
Add your insights