Shelly's Fantasy-Part 4
Shelly Meets my Neighbor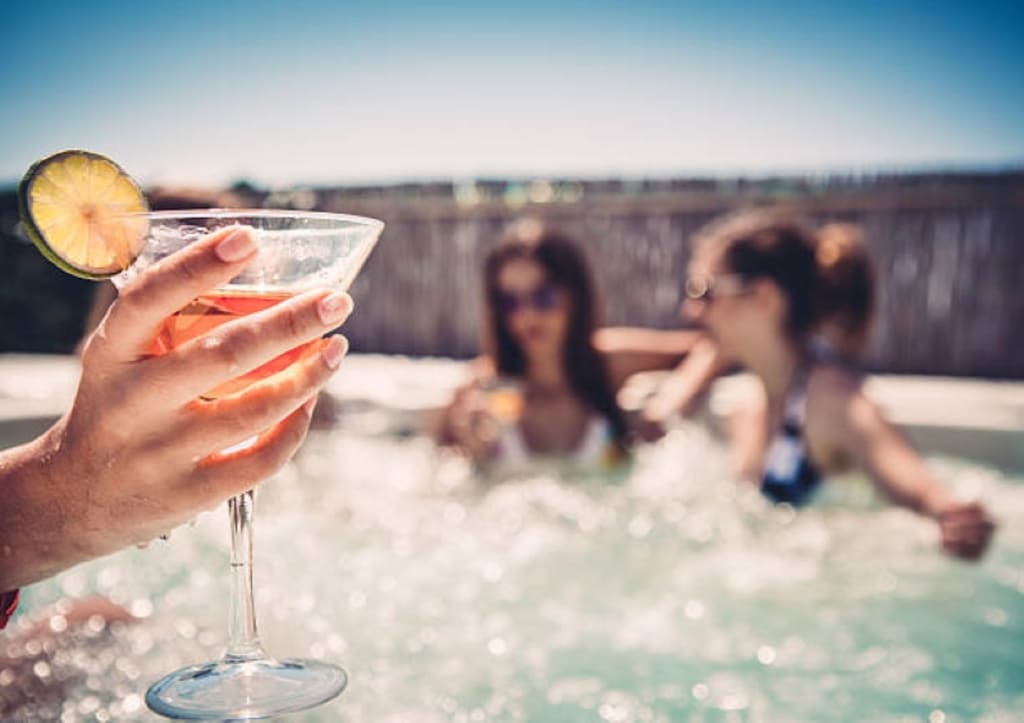 Hello, I'm Max. If you're just tuning in I've been telling you about the adventures I had with my old college sorority sister, Shells which is short for Shelly. Shelly is an adorable blonde, with an athletic frame, the sweetest ass, and heaving breasts that are slightly too big for her frame. Shelly, as it turns out, is a voracious woman with appetites that cannot be contained when she's with someone she trusts.
On her first trip to visit my home in over five years, my neighbor Sam, or Samantha, was there visiting after bringing home my two dogs after a long day at work. She came over and walked them for me on days I arrived later than normal. We were drinking and carrying on about my trip to Portlandia with Shelly when by surprise she came strolling in wearing not a stitch of clothing. Sam and I were still getting to know each other and she had no idea I was into women or had a girlfriend that was an exhibitionist and loved being nude around other people, especially strangers. Seeing my neighbor sitting there, a glass of bubbly in her hand, as Shelly joined us on the couch was hot.
Sam was flushed, the nervous embarrassment I guessed. I couldn't help but notice that she kept staring at Shelly's perky, 36D cups. It was a little cool in the house, judging by the goosebumps around Shelly's nipples, which were erect and reminded me of a round gummy candy. I was trying to explain to Sam, our new relationship, and feeling flushed. I found myself getting a little excited, my new lady on display so brazenly, being adored by someone else. Most people may get jealous but it was intensely arousing.
"O.K.," Sam said, breaking up the awkward giggling. "So, should I give you guys some space?"
"No," Shelly laughed, "It's alright as long as Max is cool."
She put her hand on my bare leg, sending a shock of energy up my thigh. I secretly wished I could be so open with my body as Shelly but had never found myself that free with myself. I couldn't help but notice the giddiness Sam showed. We were like three girls experimenting in college. It was like late nights in the dorm room, playing strip poker when we didn't have dates.
"Shells likes showing off. When she told me she was leaving to drive down I dared her to wear just her boots and an overcoat. I didn't know you would still be here," I explained.
I told her I was sorry if things were weird and she was good-humored. I told her about our weekend and how I'd always had a crush on Shells. How I remembered the fantasy she shared from one night of making rum drinks in our dorm. How Shelly had taken off her clothes and been our naked bartender that night, waiting on myself and the other two in our dorm. She was always the hottest of the four of us and possessed a rocking body that even Karen, the one that was militantly straight, admitted she wanted to run her tongue over.
"Oh my god, she did not!" Shells exclaimed, surprised by the revelation.
"She did, she even said she'd cheat on her boyfriend if it was you," I told her.
Shells smiled wildly, her mind obviously racing at what the possibilities were. Karen was a good looking girl, built like a surfer, and was into doing yoga. She had an amazing bubble but that was always fun to slap. Most of the guys in school thought she into girls, except for the future senator that would become her husband.
"Oh wow! A senator's wife wanted to get some of that," Sam said, playfully high fiving Shelly.
I went and got another bottle and as things got more relaxed I noticed Sam continually staring at Shelly. They were sitting a little closer together so I hopped over on the couch with them, still wearing just my tee shirt and letting it ride up my thighs until my ass was partly on display. Sam looked over Shelly, seeing my legs, which were shapely and better than average, on full display. She winked at me, telling me that maybe she had more in common with us than I had guessed.
"So, why does she get naked and you don't?" she asked. "Wouldn't you have more fun if the two of you ran around together?"
"Yeah, baby, why?" Shelly asked, biting her lower lip, playfully stroking my arm. She tugged on the hem of my shirt, tugging it slightly higher.
I wanted to have fun with Shells as much as she did but with Sam here getting naked made me nervous. I could handle people knowing I was involved with another woman, I could even handle Shell's appetites and needs, including those I needed to fill for her to be happy. Could I just parade around nude in front of just anybody? My hands were shaking, trembling slightly, as I stared Shells in the eye, reading her expression. She was quietly urging me on, trying to get me out of my clothes.
"I don't know…"
Sam hopped up and pointed out the obvious as she poured another glass for each of us. Was she plying us full of booze in the hoops of joining us or was she just an alcohol loving party girl? I didn't know what her endgame was as she displayed her interest. She was, however, correct. I was in my own house and could do whatever I wanted. What would it hurt? I slammed my fifth glass before finding the courage to speak. Then, it escaped me. What little self-control I had was seemingly fading.
"You two trouble makers just want to see me get naked, huh? Is that what you want?"
They both yelled in unison, "Yes!"
I stood up, in the center of the room, and grasped the hem of my tee-shirt as I started sliding it up my body. My heart raced as I got it to my waistline, my pussy on full display. I got to the bottom of my breasts, showing just the lower curves, stopping below the nipples. Oh my god, I thought, was I going to do this? Finally, I pulled it over my head and shimmied it off. I heard Shells start clapping and Sam actually yelling, you go girl. I moved it the rest of the way over my head and twirled it around in the air before flinging it at the girls like a stage stripper.
"Alright, you to vixens. Now you've got me naked," I sighed, grabbing my glass and pouring another drink.
I sat down next to Shells and she kissed me, her tongue invading my mouth as she pulled me closer to her. Feeling our bodies together, her tits mashing against mine, I let out a soft coo sound. Shells ran her hands down the front of my body.
"Now, it's a party!" Sam excitedly laughed.
"Yeah, I can't be a party if we're the only ones naked," I said.
Jesus, what was I saying? Was I trying to get my neighbor to strip? I liked Sam but this was taking being neighbors to an entirely different level. Shelly looked at me, a surprised but excited look on her face. She looked back at Sam, kind of playfully as she held my hand. Sam was attractive and was in great shape. She ran every day and I knew was into yoga. I had heard her talk about working out at the local gym. It was tempting, getting to check her out.
"You should join us," Shelly told her. "It'll be fun. We can all go get in the hot tub, have another bottle or two. I'll order pizza later."
Before I knew it Sam stood up and started taking off her clothes. Her body was fabulous. She was tan all over, not a single tan line in sight and other than just a slight bit of belly fat had a flat stomach, large and natural breasts, and muscular legs from all the running. Just like that, there we were, having a naked afternoon between three girls. I relented to it all and grabbed us all hard lemonades from the refrigerator before we danced our way to the hot tub.
The water was warm and soothing and felt great on my flesh. Sam and Shelly playfully splashed around on either side of me. We drank, listened to music and passed the time talking about what it was like to be with a woman; something about which Sam was very curious. I was admittedly enjoying all the frivolity. Even talking to Sam about what it was like to be with a girl didn't bother me and the subject of discussion had lead Shelly to start playfully touching me beneath the bubbling water. Shelly kissed me again, softly, our tongues darting around.
"See, it's like that?" Shelly told Sam.
Sam bit her lip, sexily. She was getting obviously turned on by Shelly's and my playfully touching and kissing. I could see from the movement in her arm that she was touching herself beneath the water.
"Maybe you should kiss her," Shelly whispered in my ear.
"What?"
"It doesn't mean anything other than you're kissing a friend. I'll still love you…"
I could feel the anxiety in the pit of my stomach. I loved Shelly but the scene was all so hot that I found myself wanting to explore, wanting to kiss Sam. Really, I had never been a slut or playgirl but with all the booze that flowed, the girlish sexuality had my libido in overdrive. Sam was sitting there, her eyes fluttering slightly as her hand movements became more pronounced. I bit my lip, I wanted to kiss her.
I felt myself sliding closer to her, leaning towards her moist, glistening lips. Her scent overpowered the chlorine in the pool. Peaches, she smelled like warm peaches. I put my hand up to her cheek, causing her eyes to open. She looked startled at first, before relenting and her lips puckering. Her hand reached out and cupped my breast, our lips meeting sensually together before we lost control. My hands moved over her body, caressing her, pulling her to me. I felt Shelly behind me. Her tongue ran down my neckline as her arms wrapped around me. Shelly's fingers found their way to my pussy, gently rubbing my slit as she found my clit. There, I found myself, pressed between two beautiful women at once. My senses were on overload as I felt my body begin to quiver.
I thrust myself onto Shell's fingers, taking my hand and holding hers tighter against my crotch. I lost control, the two beautiful women touching me, kissing my body, Shell's fingers inside me as I began to buck against them. When I came I threw my head back against Shell's shoulders. She wrapped her arms around me tighter, holding me against her, keeping my head from dropping in the water as I slumped limply into my lover's arms.
"Oh, my god…" I sighed, my orgasm leaving me exhausted.
"I knew you girls would be fun to hang out with," Sam sighed, leaning her head on my shoulder.
After a few minutes of us all panting heavily, the heat of the water and the joy of the alcohol leaving us spent, I kissed both the girls and asked the million-dollar question.
"Well, what do we do with the rest of the evening?" I asked them.
"Well, since Shells likes to show off…" Sam said, "How about I order a pizza and we do one of those internet videos of her answering the door for the delivery guy."
I heard the suggestion and looked to Shells for a sign of approval. She sat there, nodding her head, a smile etched on her face. The only question left, was pepperoni or sausage?
About the Creator
I have always enjoyed writing and exploring new ideas, new beliefs, and the dreams that rattle around inside my head. I have enjoyed the current state of science, human progress, fantasy and existence and write about them when I can.
Reader insights
Be the first to share your insights about this piece.
Add your insights