Sexiest Jeans Ads
Featuring everything from bare cheeks to the insinuation of group play, the sexiest jeans ads have mastered the art of double-entendre.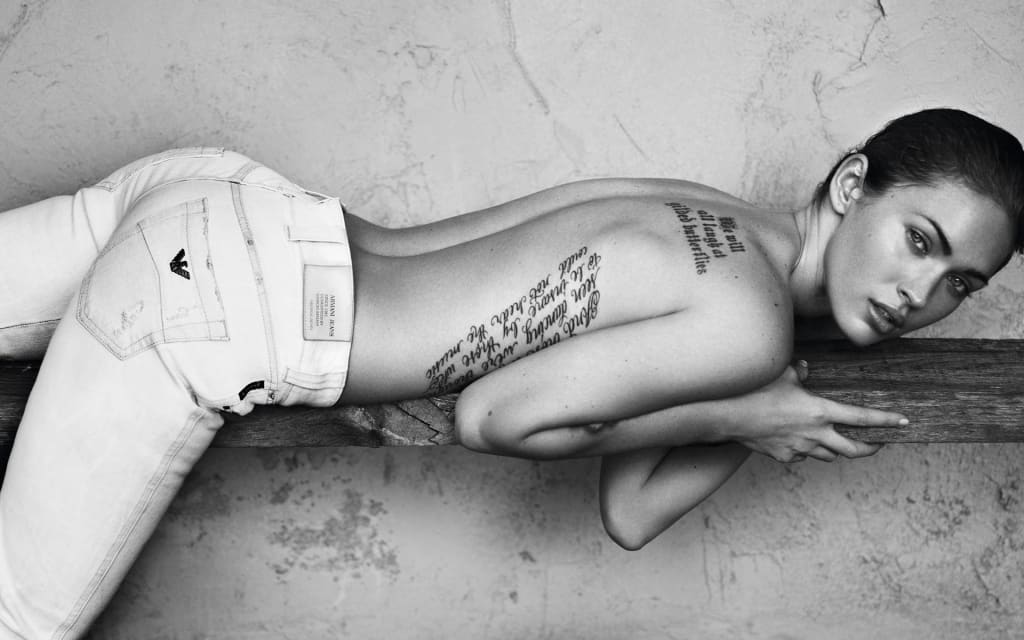 Slipping into a pair of snug jeans has always been something of a double-entendre. Originally styled for comfort and durability, denim has outfitted sexual gourmands with the most effective come-on since transparent pantyhose. Thanks to the magic of stretch-resistant fabric, most jeans have reduced the rigors of foreplay to a quick once-over. Truth-in-Advertising never had it so good.
Traditionally, jeans have served as walking commercials for the high-priced spread. But as time went on, the ads started talking for themselves. From Calvin Klein to Diesel to Jesus Jeans, these ads are racy, sexy—and some even turn us on. As jeans have evolved in style, the sexiest jeans ads have gotten everyone's attention with their calls to action—featuring everything from bare cheeks to the insinuation of group play.
The post-war "blues" of the 40s unsnapped every eastern seaport and kept patriotism burning in vital organs other than the heart. By comparison, the early 50s were strictly bush league for the growing legion of jeanophiles. Starched jeans replaced the Kleenex-stuffed D-cup as America's leading cocktease, emphasizing heretofore virgin territory with the press of a hot iron. Dry humping soon replaced baseball as the national pastime. Teenagers discovered that jeans functioned nicely as giant condoms. No one who wore jeans went without.
Everything hung loose in the permissive 60s—so much so that jeans played an important part in the sexual conquest of the soon-to-be-liberated masses. In response to a doctrine of getting in touch with ourselves, garment accessories provided better access to parts unknown. Double-zipper fronts were installed for those who like to catch theirs "on the fly," buttons sufficed for the erstwhile pigeonholer, and hiphuggers introduced thousands to the luxury of interlocking parts. Even rear flaps garnered fleeting popularity from the rebellious youth who frequented sit-ins—a device which, some say, coined the slogan: "Right on!"
Styles gradually changed to suit a variety of amorous moods. Sumptuous old jeans became standard attire for many a passion play acted out between 1970 and 1975. Bagginess was added to accommodate contortionists, and back pockets disappeared as widespread use of the Pill rescued men from having to carry a wallet.
The 80s saw a rise in the height of their waistline. The high-waisted jeans were often accompanied by crop tops, showing a little skin, while still leaving much to the imagination. High-waisted jeans accentuated the ass in a way that had people ripping them off the shelves, and each other.
Today, getting the right pair of status jeans is as important as choosing a bed. You need something that looks the part and fits the occasion. Selling the right pair of jeans is equally as important. Sex sells. And in the case of the sexiest jeans ads, designers don't hold back when trying to get the attention of their demographic and consumers.
Diesel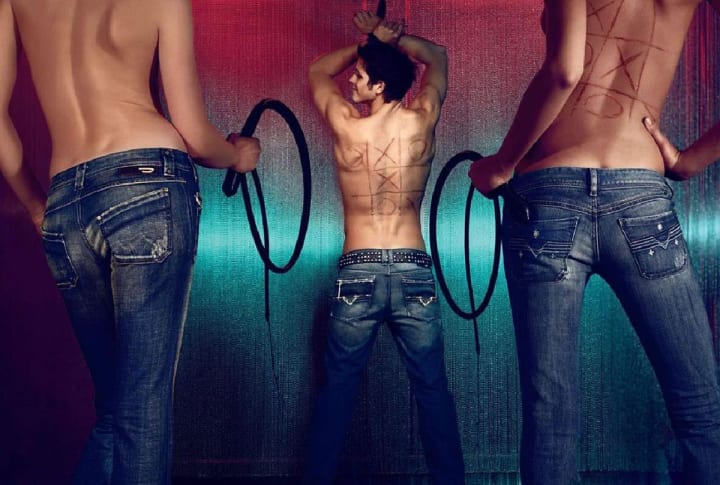 Tic Tac Toe is more fun with whips and handcuffs, as an advertisement for Diesel jeans promotes. The sexy denim ad features three individuals who are participating in a racy game of the age-old pen and paper game. Holding whips, the two individuals at the forefront are shirtless, with one bearing the scars of a completed game. In the center, a new game has started on another shirtless individual, who is enjoying the game. Having a vibe of BDSM, Diesel opened a door to a usually underground world in their advertisement. The clothing company, which is most popular for its denim line, has grown to include various clothing lines, including Diesel Kids. Diesel is often recognized for its surreal ads that often include social consciousness as a theme.
Guess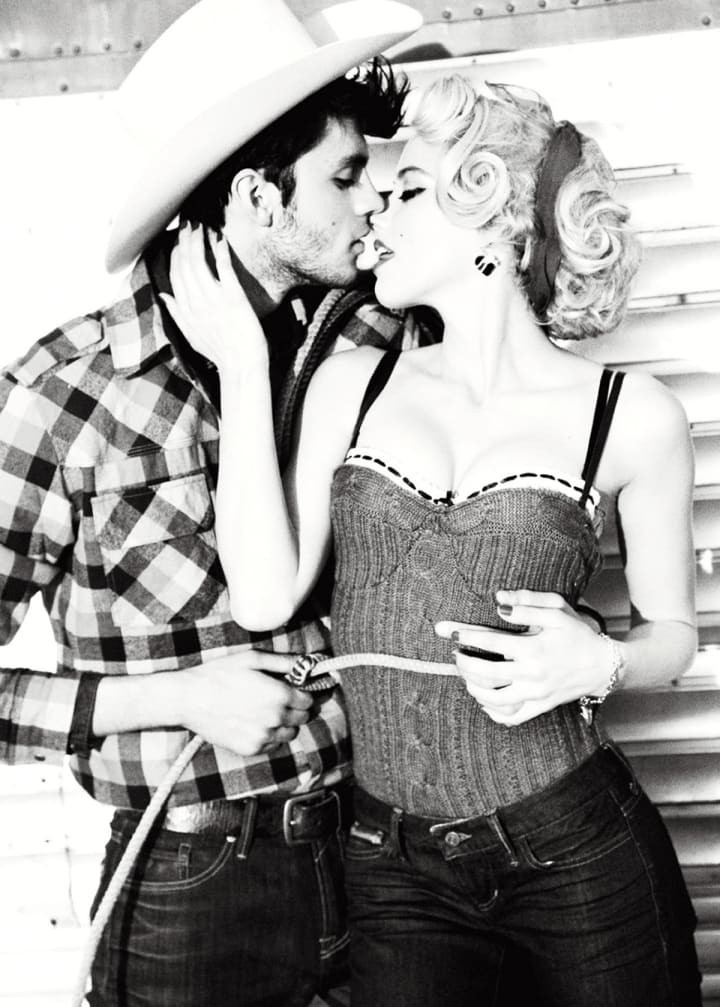 Guess was founded in 1981 by Paul and Maurice Marciano. Four years later, they launched their first bout of iconic black and white advertisements. The above photo, photographed for a Fall 2011 campaign, features Amber Heard. Lassoed and almost locking lips with a scruffy cowboy, the blond beauty, complete with curls, is showing off the snug fit of Guess jeans. The 2011 campaign was meant to have a sexy retro feel that was captured by the infamous fashion photographer Ellen von Unwerth. Other well known people who have been featured in the monochrome ads for Guess are Anna Nicole Smith, Claudia Schiffer, and Kate Upton.
Alexander Wang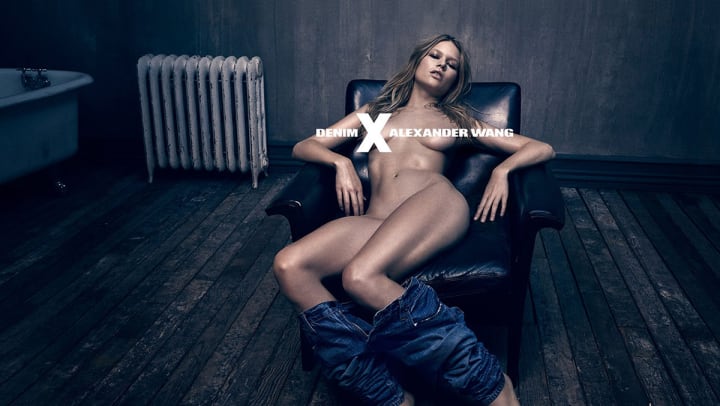 Fashion designer Alexander Wang presented his first collection of women's wear in 2007 on the New York catwalk. An ad collection for his denim line caused a stir when Denim x Alexander Wang put out a 2014 campaign featuring a scantily-clad Anna Ewers. One of the images from the campaign, featured above, includes the fashion model in a virtually empty room, save a heater, bathtub, and leather couch. Ewers is posing naked with nothing more than a pair of jeans around her ankles and the company's logo appropriately placed over her chest. Other images include a shot of the model's hand between her legs with her pants around her thighs, and Ewers biting her shirt with the logo again strategically covering her bare breasts. The campaign has been scrutinized for being too sexy and controversial.
Calvin Klein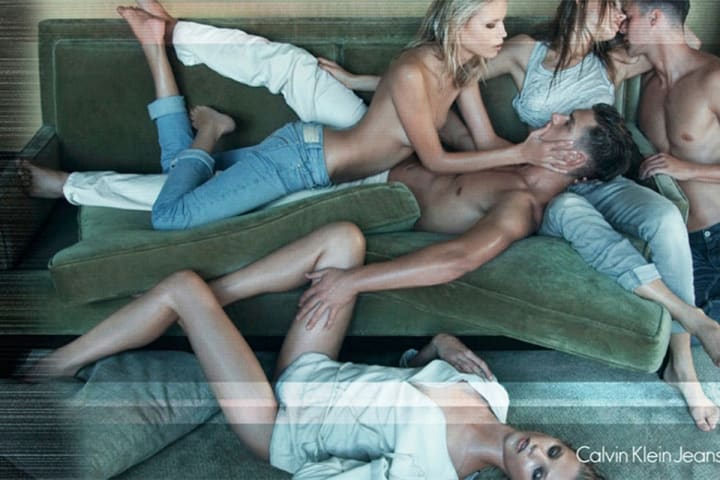 Calvin Klein, an American fashion mega brand, was founded by the fashion designer for which it gets its namesake. The fashion company includes lines for golf, home, jewelry, everyday wear, and denim among others. The fashion empire is known for its sexy ads year after year—ads that have featured Brooke Shields revealing her stomach in the 80s, Mark Wahlberg, and a shirtless and tattooed Justin Bieber posing with a topless Lara Stone. One of the sexiest ads Calvin Klein has put out portrays a possible group encounter. Two men and three women are entangled on a disheveled couch, with hands touching multiple bodies. The sweaty group is dressed in either jeans or shirts, and all appear exhausted while enjoying the close company of one another.
Jesus Jeans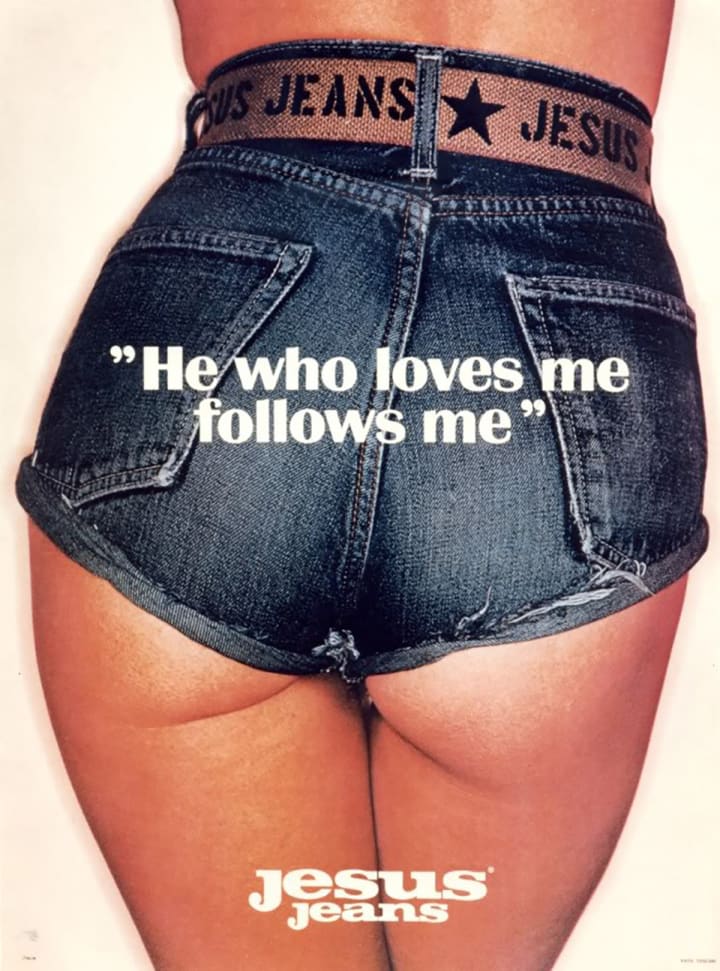 An Italian based brand that first hit the market in 1971, Jesus Jeans hasn't been in production since 1992. However, despite being out of business for over two decades, Jesus Jeans has lived long since its closing as a result of their racy ads. Shot by Oliviero Toscani, the ads featured high-waisted denim shorts that showed off curves and butt cheeks. Tag lines include, "Those who love me will follow me," using verses from the Bible as a way to promote their product.
Versace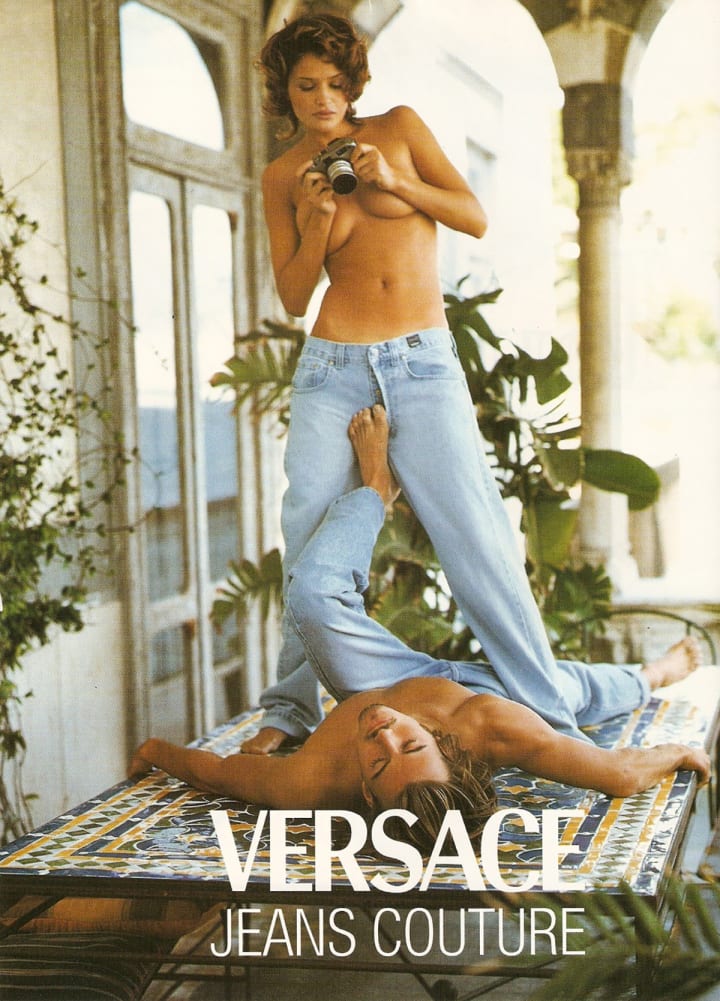 Versace, the luxury clothing company, was founded by Gianni Versace in 1978. Ready-to-wear clothing and leather accessories make up the main collection, but the company also includes Versus Versace, Versace Collection, and Versace Jeans. While the company has many sexy ads, one of the most recognized is a campaign from 1997 featuring Danish supermodel Helena Christensen and Swedish model Alex Lundqvist. Photographed by the iconic man behind the lens, Bruce Weber, the advertisement features a topless Christensen standing over Alex Lundqvist as he lays on a mosaic table. Christensen is photographing the shirtless male model, who has his foot planted firmly on the denim-wearing crotch of the beautiful brunette. The ad is sexy in terms of the subtleties that are featured. You can see Christensen's breasts without them blaring you in the face, leaving some to the imagination. You can see that Lundqvist is shirtless without his abs making you feel bad about yours, which are still covered under a few extra layers of...ya know.
Dolce and Gabbana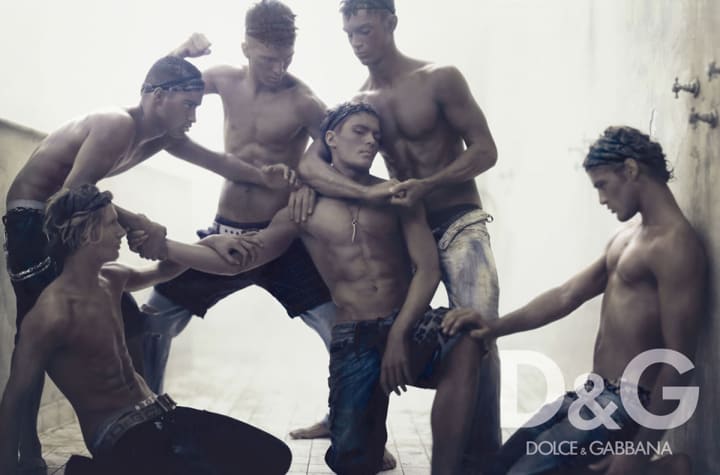 The ads for Dolce and Gabbana usually promote "the more the merrier," as many of them include groups in compromising situations. Founded in 1985 by Italian designers Domenico Dolce and Stefano Gabbana, they showcased their first women's collection in Milan. This city is known as the fashion capital of Italy, and it's where the company's headquarters reside. The luxurious fashion house is known for its racy ads, including one that received backlash as it portrayed a man restraining a woman as several other men looked on. Not as risky, but perhaps more progressive, is the above image from the 2006 Spring/Summer campaign. The ad features six shirtless men with hands on one another. The men, with six packs and muscles, are wearing Versace denim shorts. The emotions in the ad appear to be conflicting, as it looks as though some are ready to fight and some are looking to console. Still, the six sweaty men are all intertwined in one way or another.
Levis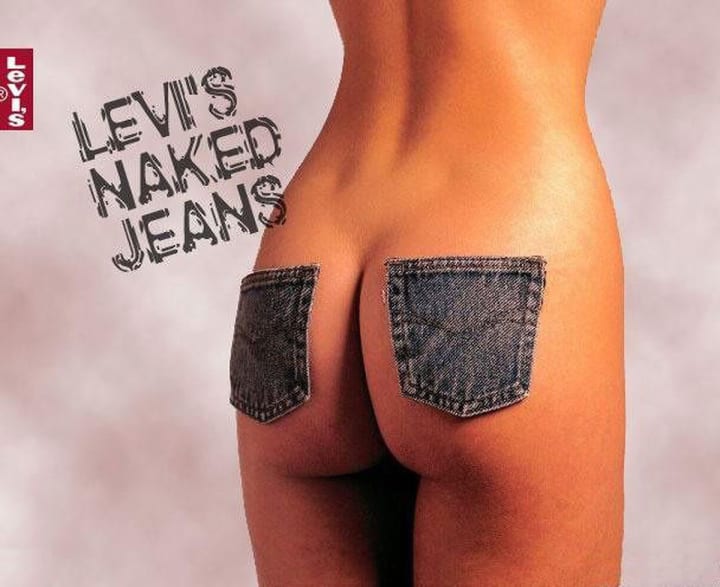 Levi's, a generally conservative worldwide company, broke a barrier when they advertised for their Naked Jeans line. These featured—you guessed it— nudity. The campaign featured legs and butts with seams and pockets on the bare bodies, as if they were right on the skin. The campaign was meant to promote their new, tight line of jeans that were designed to accentuate all of a female's curves and shape. Levi Strauss & Co. is headquartered California, and to many, the company is as iconic to American culture as baseball.
list
fashion
erotic
About the author
A group of inappropriate, unconventional & disruptive professionals. Some are women, some are men, some are straight, some are gay. All are Filthy.
Reader insights
Be the first to share your insights about this piece.
Add your insights