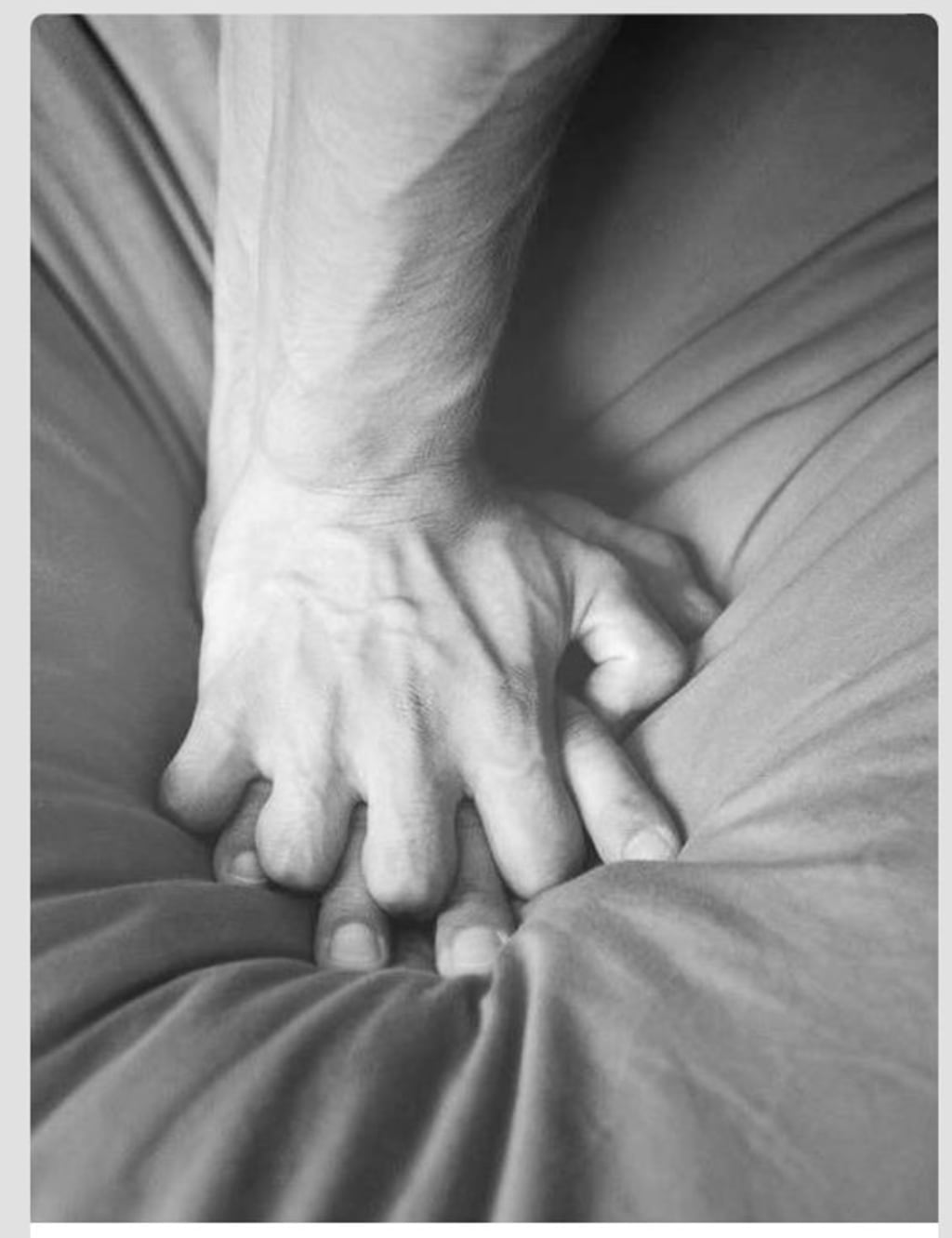 Source
I lie there on my bed bored, cold, and alone. My phone is shut off and I start to sift through my mind of old guys I used to talk to; how I fucked up potential relationships or even friends with benefits. Suddenly, a guy comes up and grabs my wrists pushing them down into the bed.
"Not a fucking word." He demands.
Every square inch of me is on vibrate and I get a warm chill that I've never felt before. He blindfolds me, and tilts my head as he starts kissing my neck. He pulls down my boxers from the back exposing my cheeks. I expected him to enter me almost immediately based on his approach. He doesn't, he teases and delivers the perfect mixture of aggression and tenderness.
He grinds on my bare ass with his boxers still on, and runs his fingers up and down my back. He do tilts my head back and licks my neck, a move that throws me off and causes chills. Being blindfolded, every single touch on my body causes euphoria. I feel a pause, and what I assume his underwear coming off, I can only make out the sounds of undressing.
The moment he pauses, I feel anxious and needy. I physically crave that closeness and I hold on to the moments prior, his warmth, his body on top of me...
He continues. He uses his knees to spread my legs as he starts kissing my back. I feel a pause as I hear lube being applied, but no condom opening. I grin widely; I'm feeling extra filthy tonight.
There's this gay porn shoot that is one of my personal favorites. They're roommates and the guy has a glass of water and he spills it on his roomie's white tank top. I can't remember the name of the porn stars but I feel like this fantasy is playing out. I'm not quite sure how to feel; excited, eager, horny?
When he enters me, he starts with the tip and I bite the pillow to ease the pain. He slowly starts moving in and out, gently at first. Once he enters all the way, he starts picking up speed and moaning softly. I let out this growl/purr, a weird combination of vocal sounds that I've never made before I surprised myself and giggle.
He pushes me down further into the bed as he aggressively thrusting. He almost moans my name but I put my hand over his mouth before he can; I'm not sure why but I fucking hate my name being said/moaned during sex and I didn't want to ruin the mood.
I wanted to make up for it and be a better bottom, so I tried to arch my back more. It was difficult since he was big and since it'd been two years since I last had sex, I felt out of sorts.
"Wait. Can we take shots?"
"Sure. But keep the blindfold on? It's kinda sexy."
"Deal."
He grabs a bottle of vodka and I hear him pour three shots and take them all at once. I hear him pour three more and a pause as he delicately hands them to me.
I take one.
Then another
Then the final one.
The alcohol hits me almost immediately. I start to grind on top of him and kiss his neck, I hear him moan and he gets dominating again. He flips me over and starts pounding away once more, but this time I don't feel the pain as much due to the booze, so he doesn't hold back.
When he cums, I feel warmth inside of me like a lightbulb that has been on for about thirty minutes (not scorching hot, but a perfect warmth). He lets out this moan, his body is fully on top of me and he keeps thrusting even after he's finished.
I put on my boxers and go to take a shower, he tries to join me but I decline, I like to tease.
In the shower, I rinse every inch of my body off, I let the warmth of the water caress my skin and every sud of soap soak into my skin. After I'm done, I put on a towel and sneak back into the room. I blindfold him and keep his boxers on.
I climb on top of him and start to grind/dance. He starts to moan in pleasure and grabs my hips pulling me closer to him. We start to make out and I feel it. Everything inside of me ignite all at once.
I feel complete and total release and the night is just getting started...
erotic
I guess I just took the term, "Gay Rights" to a whole other level.
Receive stories by Elijah Taylor in

your feed