Ribbons Buttons Bows and Cupid
Heart's Desire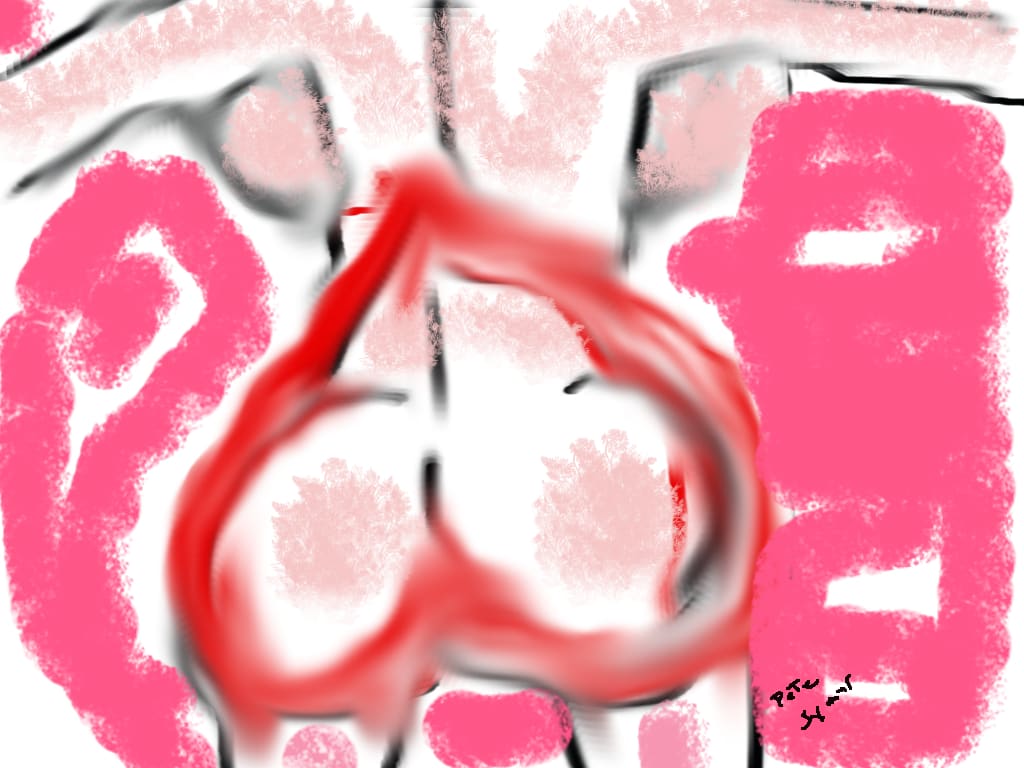 Janine was more than a handful. Yet I never wasted a bit of her. That is the best description I can give of her breasts. Numbers are not for me. Janine was comfortably fluffy. A soft, well turned out sales rep at our company. Even at twenty four the office speculation was baby fat, well dressed, and well out of my league. Her perfect heart shaped behind was often well camouflaged by the long boxy coat of her prim business suit. It was the height of fashion at the time. It also hide her remarkably thin waist that was belied by the generous cleavage above the blouses worn under said coat. But it was her power sell uniform. Her hair was black and pushed high in the air bringing her closer to god. Once achieving such lofty heights it cascaded with great dispatch beyond her soft shoulders while making curtains for a face as pretty as could be on their way to earth. Fleshy dimpled cheeks surrounded a knowing smile that brought irresistible dimples to bear. A hint of freckles on her nose and cheeks showed the time spent on yachts and extended tropical vacations. The freckles were faded as Janine now cultivated her more porcelain skin hue. Finally her years had grown into that luscious body. She also had the most active sex drive I had ever encountered in a woman of her age. Her libido would put the more mature ladies who lunch lasciviousness to shame. She was fearlessly impetuous, getting it whenever and wherever she wanted it and had the filthiest mouth under the right circumstances. She would gleefully describe what she wanted, or do a salacious play by play of what she was getting as well as what it was doing to her. Add in a generous helping of moans, grunts, demands, and commands through the pre, post, as well as all throughout coitus maximus, well you get the idea. With Janine it was maximus or bust rolled up between long shapely legs. It was here my dirty talk during sex began.
Today was special. Did I mention I had spent more than I should have on a bauble I was presenting to Janine this Valentines Day. I was also about to spend more than I should for dinner tonight. Business was good, I was going to have my fantasy Valentine girl with me tonight, so I was all in.
I was waiting for her at the lounge across the street from the office. Since it was Valentines day it would be safe. Only I was foolish enough to meet a company amour so close to the company inkwell. But the holiday meant that people with real lives outside of work would be off to those lives early. That meant that only the forlorn solo Valentine cast offs would be at the lounge waiting to find out if they too would get lucky that night with another Cupidinesque reject. Lugete, o Veneres Cupidinesque. I could tell when Janine entered because all the male heads snapped in unison to the sound and direction of the front door and all eye remained there. She knew how to make an entrance as well as how to cross a room to maximum feminine effect.
Her hair bounced with each high heeled step and her chin was reduced under her full red lipped smile. Since it was cold her winter wrap did the best it could to conceal the curves it encased, but her shape beneath was undeniable.  When she sidled up to the stool next to me and steadied herself with a hand on my thigh all the men knew I was the lugubrious lottery winner for the night. She opened the coat a few buttons to make herself comfortable. Her endowment demanded this while her ego enjoyed the hungry eyes of the men pleading for just one more button. I knew I would be begging later. My eyes feasted as her ample bosom forced themselves through the leeway made by the opened coat buttons and I caught a brief glimpse of a valentine red brassiere peeking through tasteful strained black blouse with shimmering white buttons. She ordered a glass of Pinot Grigio as did I. Tonight was not a night for medieval power drinking. I wanted all senses as unclouded as possible to enjoy the cornucopia Janine's buttons were now bridling.
As a gentleman I offered to help her off with her coat while we imbibed, but she said she was still chilled from the outside and the warmth felt good. She punctuated that with another brief caress of the inside of my thigh. Cupid was drawing back his bow early and Janine was plucking at my quiver.
We finished and bundled up and headed out into the frigid February air. There was a light snow falling and the city rush hour traffic was finishing up. There were many couples out on Michigan Avenue and we strolled to our dining destination. I noticed Janine sneak a peek through the jeweler's window where she had stopped many nights before to admire the glittery glamour pieces in their velvety boxes. I was relieved that she did not stop for a closer examination. Good thing. I felt the presence of the gift box from the Valentines bauble Janine had admired through the window many times before. Our steamy breath trailed us and mingled in secret behind our backs as we walked on.
At our destination the staff were a flutter serving the couples that had chosen to grace this establishment with their presence. This place was definitely as out of my league as Janine was, but I was dressed in my best and with her on my arm no one paid me no never mind. The staff was upon her, offering the removal of her coat long before they had a clue of the treasure beneath.  They removed her wrap slowly and I enjoyed the spectacle revealing the Venus I had delivered to dress up their place on this eve. They even grudgingly offered to take my coat as well. I gave it up and we were seated.
She was in her element now. Candle light, fine linen, glistening crystal, and the finest of china. Still she out shone them all. Violins and clinking of utensils mingled effortless as did Janine in this environment.
Up until then I had never been convinced about oysters being an aphrodisiac. But as I watched those fleshy morsels slip between her red lips I felt my fleshy morsel rise to the situation. Janine's salad became a bedding of moss to place her round and plush rump upon for a feast, Each sip from her water goblet refreshed and invigorated me with thoughts of diving into her moist and special places. The precision and delicacy of her hands bringing sustenance to her full red lips only sustained my passion more. Before desert when she cuddled next to me in our booth and slipped her hand behind my tie, loosening a button to slip her hand in to rub my broad and hairy chest. I never wore a t- shirt when going out with Janine. The way she would purr as she ran her hand across the hair on my chest was compensation enough for any momentary winter chill.
She must have felt the jewelry box in my suit jacket but made no remark. She was not a woman accustomed to waiting. She knew how to receive what she wanted. She always did. Her polished red nail began to circle my nipple with just enough pressure, while I suspect her other fingers were fondling the box. She leaned in close and brushed her lips along my ear lobe.
"We must stop at the office on our way out." she breathed seductively in my ear.
The prospect of a romp in my edit suite with this goddess put me right over the top. I pulled out the gift and said , "For you my Valentine."
Pure poetry, right?
She practically squealed with delight as she removed the wrapping followed by a reverent hush.
"Oh I must have it on me now." She exhaled and turned her back to me in the booth and lifted her flowing black hair to reveal her perfect porcelain neck. I proudly adorned said perfection with a deep red velvet choker with a dangling ruby. She was now a complete rhapsody in black and red with a crescendo of ribboned ruby above heaving bosom.
Dinner complete we returned to our office. Her bags, of which she always had plenty after a rough day out shopping, I mean selling, needed to come to my place this evening. When we arrived the alarm was set, which was good because it meant for once no one was working late. Rare indeed. Extremely good because I needed Janine now. As our footsteps echoed through the wood floored glass block walled hallway we noticed the President's office door was open. It was usually locked. Janine took my hand and led me in.
"I must have you in me now."  She obviously had read me like a Penthouse Forum.
It was a large opulent office indeed. The corner office where one would squirm when unexpectedly called on the carpet by the boss. Also where good things, like bonuses, well dones,  and promotions were delivered. Tonight was going to be a very extra special deluxe good thing. The large windows were not quite street level, but not high enough to be obscured from the late night pedestrians. Good thing I was planning on only partial disrobement of Janine as I took her on the large wooden Presidential desk. She seductively leaned back on her arms offering me a full frontal panorama of her full shelf rack barely contained under blouse and jacket. Much more pronounced with the arch of her back over the boss-mans desk. The ruby rested smugly where I wanted to go.
"You never take me dancing anymore." Janine pouted to keep her demanding pampered persona in play.
As I eased her tight black skirt up and under her bouncy bouncy rump I looked deep into her dark brown eyes and rasped, "Right now my tongue needs to slow dance with your clit." My arms gently swept away any desk objects that would impede the reclining Janine.
By the time my tongue had traversed the inside of her thigh my nose could tell that her sweet pink pussy was ready for that slow dance too. No time for the red panty removal drill that I had rehearsed in my mind all through dinner. The wet fabric easily stretched to the side and my tongue traced the delicate lips while demurring to part that dewy furrow until I had traced the edges like a panther circling it's prey. When a guttural, "Are you going to make me beg for a lickin'" issued from Janine's dreamy upper lips I knew it was time. When my tongue dove in up from taint, parting her cunt with a long languid swipe and resting curled on her clit her gasp must have been heard all down the Avenue. I gave her Cupid's quiver a tongue strumming and slurp slapping until her scissoring thighs told me a lofty passion pinnacle had been achieved on the first flight of my Cupidesque ministrations for the evening.
I rose up slowly from between Janine's thighs and was was satisfied with my handy work. What  greeted my eyes was a now a disheveled Janine not the buttoned down sales rep of daylight. Her hands had not been idle while my tongue had been a worshiping. Her jacket was splayed open, her fingers had roughly pulled blouse buttons loose, and miraculously, despite the heft of her breasts had raised the startling red brassiere up and over her heavenly tits and had worked her now prominent nipples up to give my tongue a standing ovation. The ruby looked less smug resting up under her chin now. I pounced on my dark haired, big titted Cupids rumpus room wreck and greedily kissed and sucked red lips, brown nipples, and abundant perspiration glistening boobs which were now topped with a deep red velvet trinket resting nicely between them. Venus had been ravished yet again.
Janine said those magic words. "Fuck me in the ass my big arrowed cherub."
I bent her over that big wooden desk and helped steady her on quivering and soon to be bowed knees. Her coat and blouse fell as a shawl up and around her shoulders. Her breasts swelled out on either side of her pressed hard to the wood. She was the avatar of a desk bound office angel. Rather than remove, I took the scissors from off the desk top and cut the remaining soaked and stretched fabric that kept me from the sweet dual offerings of that heart shaped sacrifice that was now deliciously bent over the black walnut desk. I began to lube my arrow with long deep strokes into her very wet, hot, and ready cunt. She was aflame. She quickly came again with a flourish and she cried.
"Take my ass now daddy!"
My cock was shimmering, slick, and stiff. Slippery enough to begin the final foray between Janine's cherubic ass cheeks. I slowly breached her rosebud hole. It gave minor resistance then submitted nicely as her ass swallowed my dick with the pressure and sturdy grip that only a butt fuck can deliver. The cut red panties and the shape of her waist and flanks framed her white buttocks in a heart shaped vignette. My thick stiff arrow began to pierce that heart shaped visage deep and fiercely. Banging this gorgeous fleshy daughter of desire over the rich mans desk.
Her black hair flowed over the blue desk ink blotter. As her cheeks brushed against the blotter I could see residue of her makeup rubbing off on it as well as stains of her saliva as she drooled and grunted her approval.
"One more please daddy."
Thrust
"One more please daddy"
Thrust
This would issue from her sweet foul mouth with each foray into her heart shaped gift of buggery to me. I burst my hot flowing desire into her tight white butt with a yowl that would make any mythological cherub blush and collapsed over my soft and panting raven haired wench on that plush black walnut desk.
Now I know I have already offered that Janine was out of my league,  but did I neglected to mention Janine was my bosses daughter.
Happy Valentines all of you cupids and cupidettes out there.
P.S.