Reasons Fifty Shades of Grey is Successful
Fifty Shades of Grey came to life on the big screen, but what made it such a big hit?
Fifty, Fifty, Fifty. It's all anyone could think about leading up to the film, and it seems that the craze still lingers. Eager women everywhere are squeezing their thighs shut in anticipation of seeing their fantasy come to life on the big screen. From movie trailers, cast interviews, and a lot of female gossip, there is no way to escape the Fifty Shades frenzy that has taken over. So what are women expecting out of the spicy hit novel turned film? Reviews are mixed that's for sure. While some women would have seen the movie even if Seth Rogen had been cast as Christian Grey, others were gung-ho about boycotting the film altogether (or at least until it hits DVD). What I don't understand is why there must be so many Fifty Shades Of Grey haters. As a reader and lover of all three volumes, I would like to give a big "fuck you" to all the women who are making us Grey fans feel guilty.
Are you mad because we actually read a book? Or is it that we got turned on by reading soft porn? Please don't tell me it's because we found the consensual BDSM relationship of Christian and Anastasia refreshing and flat out sexy as hell. Whatever your reason is, get a grip, get laid, and leave our tingly vaginas and soon to be satisfied husbands alone.
Okay, enough of the bullshit, let's get to the facts. What do I know about the movie so far? Since I have seen and studied every Fifty Shades Of Grey trailer made, I know they are following the book's main events in great detail. While I was originally against the casting of Dakota Johnson as Anastasia Steele, I have slowly been won over. From her coy demeanor, revolting wardrobe, and famous spank-worthy eye rolls, I am now convinced Dakota has nailed the part. Now for my beloved Christian Grey, that is yet to be determined. Of course, Jamie Dornan is fine as hell, but can he be the drool-worthy alpha male we need him to be?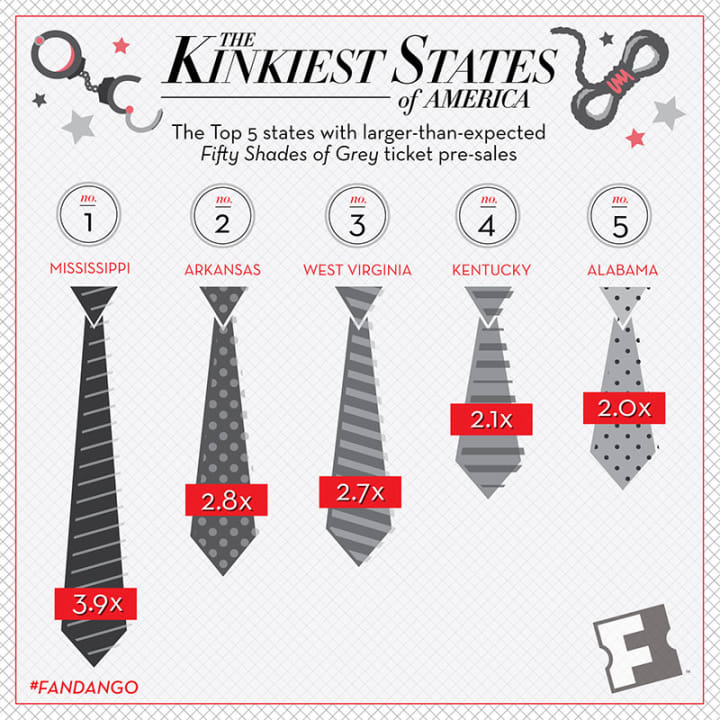 When I polled the fine women of social media, almost 90 percent were against Jamie as the lead role. While I too would love to see Channing Tatum or Charlie Hunnam spank, flog, and tease while wearing his famous low- cut ripped jeans, I am keeping my hopes high that Jamie will deliver. As for the rest of the cast, who really gives a shit? Sure, I've envisioned my own Kate, Elliot, and even bodyguard Taylor while reading, but I am sure whoever casting director Francine Maisler chose will do just fine. To be honest, I am more concerned on how much nudity and penetration they are going to show.
Which brings us to our next discussion; how well will the adaptation be with only an R-rating? In other words, if we won't see Christian's flawless cock then what will we see? From what I've read and heard, the movie will not be a page by page adaptation when it comes to Ana and Christian getting it on, however there will be plenty of and I quote, "unusual behaviour, strong sexual dialogue, as well as graphic nudity."
The truth is Fifty Shades of Grey is so much more than just a steamy novel turned movie. It is a sexual revolution. Not only has the series opened up women's eyes to an entirely new world of sexual exploration and satisfaction, but it has also allowed the act of sexual pleasure, including the use of toys, to be more socially acceptable. Just the other day I was strolling through Target when I came across a FSOG pleasure kit, which included lube, a blindfold, a feather, bath oil, and massage wax.
Sure, you can buy a few of these items at popular stores, but sold all together with an advertisement linked to S&M sex, is definitely new to the market. Robert Rheaume, president of Jimmyjane adult products said, "There is an appetite for kink and it seems like the public has given us and others permission to bring these products to the market. Everyone in the industry is looking at Fifty Shades of Grey as the tipping point that will push the mainstream to cross over into this category."
About the Creator
A group of inappropriate, unconventional & disruptive professionals. Some are women, some are men, some are straight, some are gay. All are Filthy.
Reader insights
Be the first to share your insights about this piece.
Add your insights