Ravaged by the Wolf Shapeshifters
Part 3 of 3. Things get real. XXX Erotica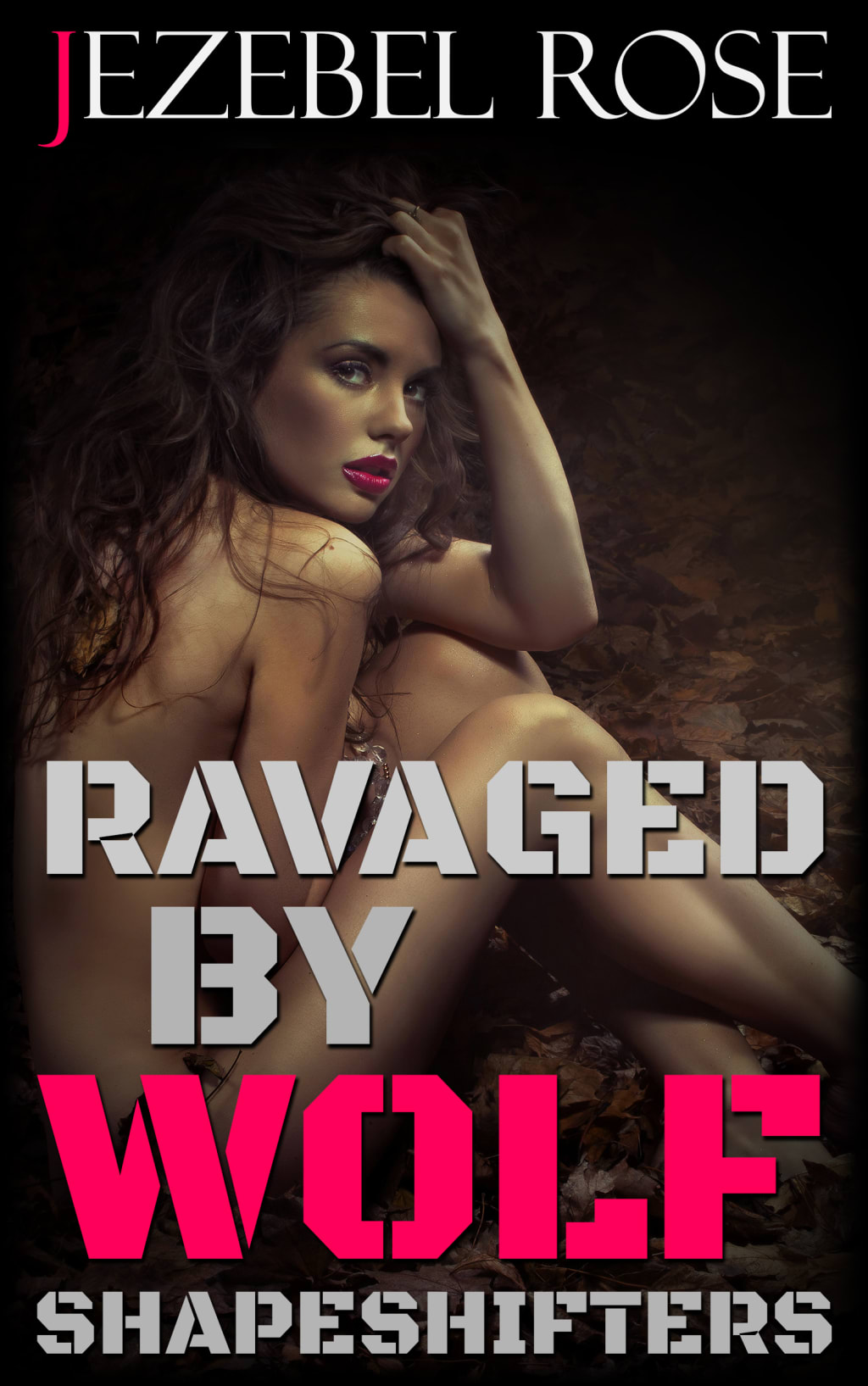 www.Jezebel-Rose.com
Back home from grocery. Thank you to anyone for the tips! If any! I'll get right to it. I have dirty thoughts to continue. Here we go...
Sire moved his face from my crotch and rolled me onto my back. Cain pulled my dress up and over my head as I lay on the dewy grass. I looked up to see the underside of Cain's massive cock and swinging balls. If I could be wetter, I got wetter.
Sire crawled over to my thighs and began to devour my pussy. He ate of my vagina like a caged animal long starved by a cruel master. His tongue drilled my hole while his mouth expanded to cover my entire slippery mound.
Cain took over with a suction on my cunt that was industrial, and I felt my lower half build toward orgasm.
I needed Cain's cock inside me. I wanted his seed planted deep inside my womb.
Cain placed his claw-like hands underneath my thighs and lifted my legs high into the air. My ankles approached my ears. Sire howled as he watched his pack leader pump his massive cock into my wetness. The walls of my cunt poured their lather on the invading shaft in a wild fury, readying his giant dick for plowing.
"Oh, my love!" I screamed.
Cain fiercely pumped my pussy while he pinched my ass cheeks from underneath. He thrust like a machine; his intense animal desire palpable against every inch of my skin. My pussy stretched to its capacity to accommodate his beastly member as his growls filled the air.
After endless minutes of fucking, Cain removed his cock from my pussy and flipped me onto my hands and feet. He stood and spread his legs wide to make room for Sire. Sire proceeded to insert his dick into my pussy from behind. It was invigorating to have my vacant cunt filled with another colossal dick.
As Sire pumped my vagina, I felt Cain spread my ass cheeks wide before poking the head of his cock against my tight, little asshole. He spit globs of saliva onto my rectum before forcing his entire shaft inside my ass in one hard thrust.
I cried in agony, but I felt a sense of complete fullness that I'd never known. My clit reacted to the intrusions by throbbing hard out of my slit. I felt a squirt of juices from deep inside my vaginal canal, and I ground my face into the ground as the two men fucked me hard in both holes.
After several minutes, the ramming was too much for me to take. I drove my gaping mouth into the grass and tasted the earth as my body exploded in cascading orgasms. All of my extremities shook, and I could no longer support myself. My belly and breasts collapsed against the earth, but the wolfmen did not stop.
"Fill her," Cain ordered.
With that, I felt Sire's cock expand twice its size inside me, and it stiffened to steel. His warm gush of seed-filled my pussy. My vaginal walls tickled from the coating of hot cum. I forced my pussy closer to his hips to make sure every drop of his precious load burrowed deep into my sex.
Cain retreated from my asshole, and the men rolled me onto my back again. Sire pinched my labia shut so that a thin film of cum coated my slit.
"Keep her shut," Cain said. "Make sure our seed plants."
Keeping my lips closed, Sire pressed his face between my thighs and lapped the excess spunk from my mound. He retreated and made way for his pack leader.
Cain parted my cunt lips with his rock-hard cock and began fucking the cum-soaked walls of my pussy. He lowered his chest so that he could kiss me wildly as he thrust inside me. I wrapped my arms around his firm, bare back while he fucked me.
It felt as if Cain would never finish fucking me, and I indulged in a second and third orgasm. He fucked me like an animal. My nostrils flared to collect his strange, beastly scent. It pleased me to taste his essence inside my nose.
With the loudest growl yet, Cain's body sprouted fur, and his eyes glowed amber. He emptied the thick contents of his balls and shaft deep inside my pussy. I felt his surge of cum race toward my womb, and I could no longer control my body. It convulsed. I had never experienced such ecstasy.
The full moon glowed above us, and the fog turned to steam from the heat of our love. We rolled on the grass for a long time before falling asleep in a mound of flesh and passion.
In a few months, my belly swelled with my shifter spawn. The surge of hormones engorged my breasts with sweet milk. I hadn't spoken to Shanna or other full humans since I mated with Cain. I lived with the pack in a grand stone castle hidden in the woods.
One evening, as I lay naked in our large marital bed, Cain latched his mouth onto my breast and began to feed. My body shivered from the surge of warm milk leaving my hard nipple and spraying into my mate's hungry mouth.
"This is our ancient ritual," Cain said. "Your milk is sweet and nourishing. It strengthens me and our pack."
My pussy grew wet as he sucked my breasts dry. The feeling in my breasts was how I always imagine a man felt as he shot his load from his hard cock—I orgasmed, in a sense, from my breasts. As Cain ate from me, I reached my hand toward my mound and drove my fingers between my tight lips. I furiously pumped my pussy with them.
As my pussy was on the brink of orgasm, Cain mounted me. He continued suckling my breast as he drove his cock deep inside me. The first pierce of his cock pushed me over the edge into orgasm. A gush of juices flooded toward the head of Cain's cock as he continued thrusting it into me.
Spurts of milk shot from my nipples; one nipple emptied into my wolf mate's accepting mouth while the other leaked from my firm breast and dribbled down to my swollen belly.
Soon, Cain emptied his cum inside me. His skin sprouted with his silky coat of wolf fur. His eyes glowed, and his load warmed my hungry tunnel.
Being the pack leader's mate was a position of great respect, and servants waited on me after my lovemaking. The young female shifters massaged my aching body, kneading my naked flesh with their delicate fingers.
Since Cain took me, I have never gone a day without pleasure, both physical and emotional.
~I have to say, this story ended just right. That was exciting! I literally had to take a break near the end and... well, you know. Take care of "business" if you catch my drift! If I put a smile on your face, or perhaps a wicked grin, I made my goal! It keeps me encouraged to write something even... darker.
Let's see how far the rabbit hole goes, shall we? Leave me a tip if you want to join me in this adventure down the hole into the depths of hell itself, and beyond!
I'm going to bed my friends. I hope you had a great day, or now, a great night...
erotic
About the author
Want a custom story just for you? Send me an email with all of your taboo desires: [email protected]
2,000+ ALL STORIES WRITTEN: https://www.smashwords.com/books/byseries/36593?ref=JezebelRose
Erotic Audiobooks: www.Jezebel-Rose.com
Reader insights
Be the first to share your insights about this piece.
Add your insights