QB's Girlfriend Gangbanged for His Birthday
And she LOVES it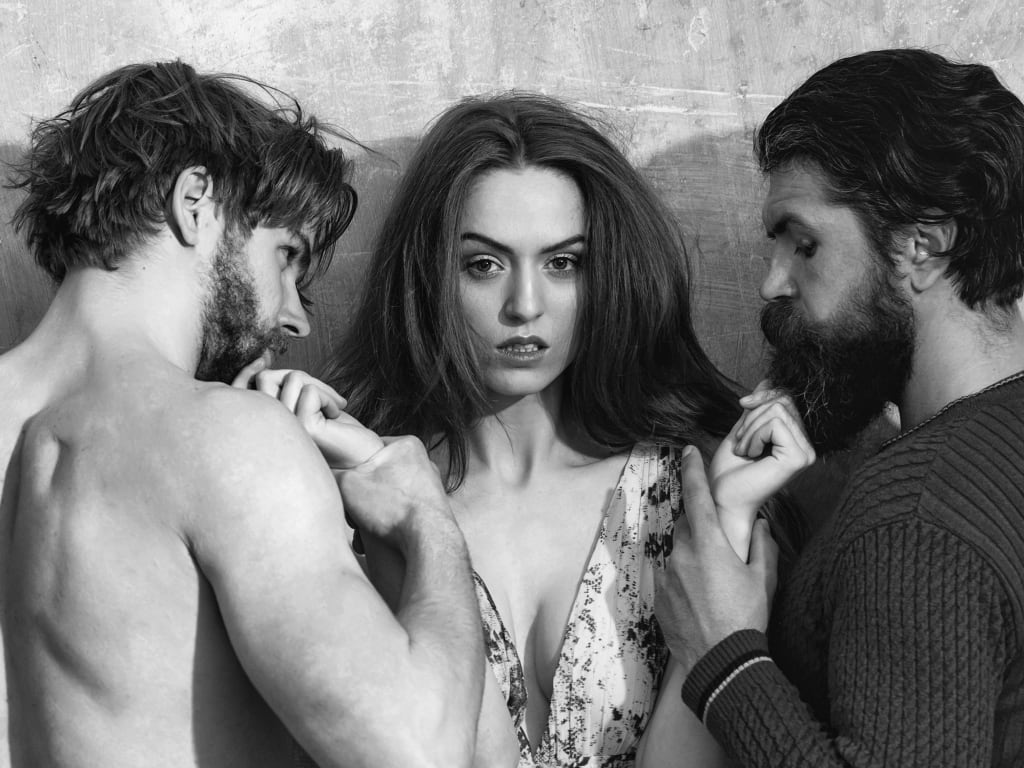 photo source: https://depositphotos.com/184894712/stock-photo-pretty-girl-in-arms-of.html
This is a work of erotic fiction by Elle A. Wild.
I looked around for security as I made my way into the university sports complex and in the direction of the football team's locker room.
I didn't want to be caught sneaking in, but if worst came to worst, I could probably get out of any real trouble. After all, as the team's bigshot quarterback, my boyfriend Brady mostly got what he wanted around there.
If he wanted to see his girlfriend on his birthday, it was hard to imagine anyone making too much of a fuss.
I could hear the banter of the locker room as I approached, and I quickly adjusted the sexy dress I'd bought and worn just for him. Then I paused outside the doorway.
"Knock knock?" I called in.
There was a chorus of 'Come ins' — these guys didn't care what lady might want to enter their domain or what state of undress they might be in at the time. I stepped inside.
The locker room smelled like men — that musty sweaty smell combined with body wash and aftershave. I tried not to look at Brady's half-naked teammates as I made my way to his locker.
In just boxers and no shirt, he was ready for me, a smile on his face at having heard my voice.
"Jess, Jesus!" He gestured at my outfit. "You look incredible."
He pulled me in close, pressing me to him and grabbing my ass in both his large hands. Lucky for him, I didn't mind these public displays of affection. Actually, it had always turned me on a bit.
"I just wanted to drop by for your birthday," I said. "I got you something."
"And she looks gorgeous," he said.
I laughed and appreciated his appreciation of all the work I'd put into my outfit, including the lingerie that peeked out just above the top of my dress.
"I bought you something too," I said. I held out a gift box, and he unwrapped the Beats headphones I couldn't afford but had bought him anyway. (That's what credit cards are for, right?)
"You shouldn't have! God, you are the best." He put the headphones in his locker and began to make out with me, stroking strong hands up my sides.
Then he pulled back to pull the top of my dress forward so he could get a sneak peek at the lingerie I'd worn for him.
"Hey, that's for later," I said, swatting him playfully.
"I'm not sure I can wait."
He pulled me over to a nearby bench and began to kiss my neck, nibbling the tops of my breasts, and sliding one hand under the bra to thumb one of my nipples. I squeaked.
"Babe," I whispered. "We're not exactly in private…"
"That's okay," he said. "I kind of want to show you off, if that's okay…"
He bent to slide his tongue under my dress and over my nipple, and I gasped.
"Besides, we're like family here," he said. "We share everything."
I thought I caught a devilish glint in his eyes, and it sent a spark of electricity straight to my pussy. I wondered how literally he was talking here.
He slid the straps of my dress off my shoulders, pushing it down to reveal the black see-through bra. Then he slipped his hand under the pooled fabric at my waist and into my panties. I shivered as his fingers touched my soft skin.
"Someone's excited," he whispered, acknowledging how wet I was.
"Shut up," I whispered back.
"You don't have to be shy," he said. "Would you like to suck my cock? For my birthday?"
I felt my eyes wide, and then I glanced around the room. Yes, the men were still going about their dressing and undressing, but that didn't mean they weren't also watching…
I felt myself blush as I moved my hands to his boxers, rubbing his erection through them first before pulling out his hard cock — my favorite cock in the whole world.
I knelt on the floor in front of where he sat on the bench, and I began to graze his shaft with my tongue. I heard a couple of cheers from behind me and smiled, a bit embarrassed, up at Brady who looked like he was loving it.
"I think the guys are excited for a show," he said.
"Well, I wouldn't want to disappoint." I licked around the head of his cock and then pulled him into my mouth, using both tongue and lips as I bobbed up and down.
"Mmm, Jess," he groaned.
There were murmurs of appreciation in the room around me, and I realized I'd become a bit of a live adult show. It was all new to me — naughty and surprisingly exciting.
"Come up here," he whispered. Brady pulled me onto his lap, moving my panties aside so that he could slide his cock inside me. I moaned.
"Ride me," he whispered. And I did.
We kissed as I rode him, rocking my hips back and forth and up and down. It's not that I became less aware of the audience, but in those moments, Brady and I were more important.
I was focused just on the sensations for a while — how his cock filled me perfectly, and how my clit ground up against him.
"Babe," Brady said. "There's a live show for you too." He nodded behind me, so I turned and looked.
Several of his teammates were standing their with their own cocks out and in their hands, stroking themselves. Some part of me felt like I should be offended, but instead, I was into it.
I'd never had a room of men jerk off to me before…
"Turn around," Brady said.
He helped me reposition myself, still on his lap but facing away from him so that I could take in the show myself.
Brady unhooked my bra, letting it drop to the floor so that I was topless for them, and then he reached around to play with my breasts as I continued to ride him. I moaned.
I could have been upset at him for doing this without asking, but he knew — it wasn't hard to tell — that at that point I was ready to do whatever he suggested.
"Like what you see?" a teammate of Brady's asked when he caught me staring at his big hands around his impressive cock.
I felt embarrassed but said, "Yes."
He was a handsome guy — big and muscular, dark skin and long dreadlocks.
"Do you want to touch it?" Brady whispered to me, referring to this guy's piece.
"Oh…" was all I managed to say in my surprise.
"You can," he said. "Hey Marcus," Brady called out to this handsome teammate of his. "Jess may want to touch it."
Marcus lifted an eyebrow and walked over, his cock still in his hand. "Do you want to touch it?" he asked, his voice deep.
I reached my hand out for it and began to stroke him, feeling the silky skin move through my hands as Brady's cock continued to move inside me.
"I know you enjoy using your mouth," Brady said. "I'm sure Marcus wouldn't mind."
Marcus laughed. "I would not mind."
It was all a little surreal as I moved to take this other man's cock in my mouth, all the while, I continued to reverse cowboy my boyfriend. Marcus tasted different than Brady did, and that was a pleasure of its own.
I went for it — stroking, licking, sucking on his cock until I felt it begin to spasm on my tongue. And I could feel how wet it was making me — taking a second man on while my boyfriend fucked me.
"God," Marcus groaned. "You're gonna make me cum."
"You can cum in her mouth, can't he baby? She loves to taste and swallow."
He wasn't wrong. And as I felt this other men's cock twitch and spasm, finally shooting strands of cum onto my tongue and down my throat, I felt like I could've almost cum myself.
I looked up at Marcus and swallowed, then wiped my mouth delicately with my thumb. He groaned and shook his head.
"Damn, Brady, you got yourself a good one."
Brady laughed. "I know," he said, kissing me on the cheek. Then he whispered into my ear, "Do you want more?"
It still felt strange to admit, but, "Yes."
"Who's next?" Brady asked of the room.
A second guy who had been stroking himself walked over to me and presented his cock to me. I took it in my mouth as Brady stood, his cock still inside me so that they could properly spit-roast me.
I'd never done anything like this before, and I couldn't believe how hot it was.
My pussy kept giving Brady's cock little squeezes as he took me from behind, helping my mouth to blow this other guy whose name I didn't even know.
"Jess," Brady said, leaning over me in an attempt to whisper in my ear. "Do you want someone else to fuck your pussy?"
"What?" I was surprised and confused. Why would he suggest that?
"It would make a great birthday present to get to watch," he said. "If you want."
I couldn't believe it. My insides fluttered with newly found 'bad girl' desire. "Okay," I said.
Brady squeezed my ass with one hand and slipped out of me, my pussy suddenly empty. He took off my special panties that had been previously just pulled aside and put them in his locker.
I didn't see the man who Brady must've tapped in to take his place.
All I knew was Brady was suddenly sitting off to the side watching, a look of arousal on his face.
This new man took me harder and faster, and the sounds trying to leave my throat would have been cries of pleasure but they came out muffled by the cock in my mouth.
"Baby, you are so fucking sexy," Brady said.
I smiled at him with my eyes and then fell back into moaning. God, I loved him. This was weird, but I loved it and I loved him.
"Do you want him to cum inside you baby?"
I managed a muffled "Mhm" and nodded my head slightly. The thought of another man's cum dripping down my leg was too much to say no to.
I felt the man speed up at my agreement, which in turn, pressed the other guy deeper and faster down my throat.
The man behind me began to groan first, followed quickly by the guy in my mouth. Soon, they were both cumming in such a sexily homoerotic moment, and I took all of it with pleasure.
Finally, they both stepped back, breathing hard as I swallowed and felt cum drip down my leg.
A few other guys were still standing nearby stroking themselves. I gestured to them.
"If you need somewhere to put that, I have some tits for you," I called out, sitting back down on the bench.
I didn't quite know where in me that had come from, but I suppose after you've taken several guys, what's a few more loads of cum on you.
I glanced at Brady and he winked at me as the men made a circle around me, jerking their hard and wet-tipped cocks in my direction.
Soon, I had fresh streams of cum on my left breast, then my right, then some that got my neck and chin.
When they were finished, it looked like I'd had some sort of vanilla ice cream incident.
Brady got out of his chair and came over to me then, lifting me to my feet and kissing me. "Let's take a shower," he said.
Brady escorted me to the shower, lathered me up, and washed me, kissing me the whole time.
"I can't believe what a beautiful birthday gift you gave me," he said.
Then he brought his hand to my pussy and slipped his fingers inside me. With his palm on my clit and fingers massaging my g-spot I came quickly, crying out, and wrapping my arms around him.
"Jesus," I said. Then, "Oh, babe, you didn't finish!" I reached out to take his cock in my hand.
Brady shook his head. "Don't worry," he smiled. "I have all night with you."
---
Enjoyed this story? I think you'd be into my new hotwife series on Amazon... Book 1 is here.
About the Creator
Elle A. Wild is a city girl who loves writing character-centric sexy stories that surprise even herself.
Elle writes from a perspective of female empowerment and pleasure, and if you're not into that, well, she's probably not for you.
Reader insights
Be the first to share your insights about this piece.
Add your insights