'Property Sex!'
Starring Adria Rae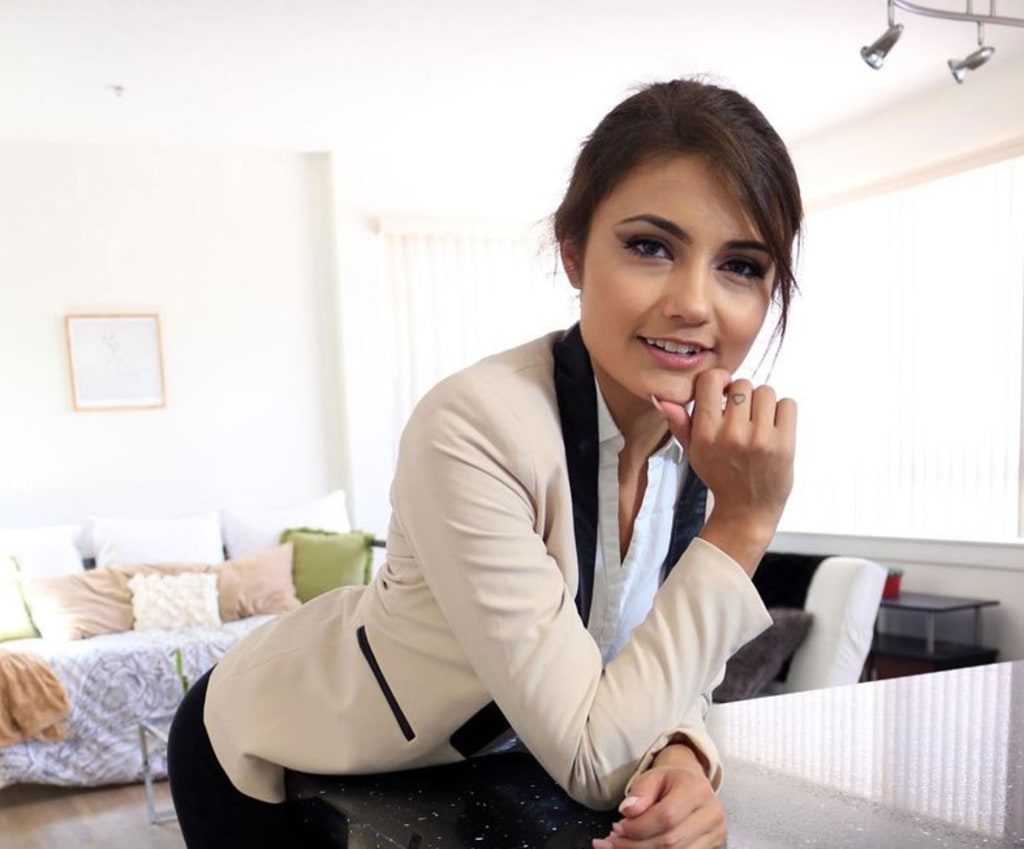 Adria is the type of view you would want in your office.
I've been scouring the world wide web to find you the best porn footage from the darkest corners of the internet!
OK so that might be a bit dramatic but I have been having a look to find you some quality adult entertainment at a reasonable price. While browsing I've come across stuff that initially I wouldn't even consider looking at. Yet my curiosity does tend to get the best of me and if there's attractive girls involved then I just can't seem to help myself. Production companies are getting more creative at coming up with a video product that both entertains and arouses. Often the two go hand in hand as if it arouses then you're bound to find it entertaining. I stumbled across an unconsidered fantasy from a website called 'Property Sex.com.'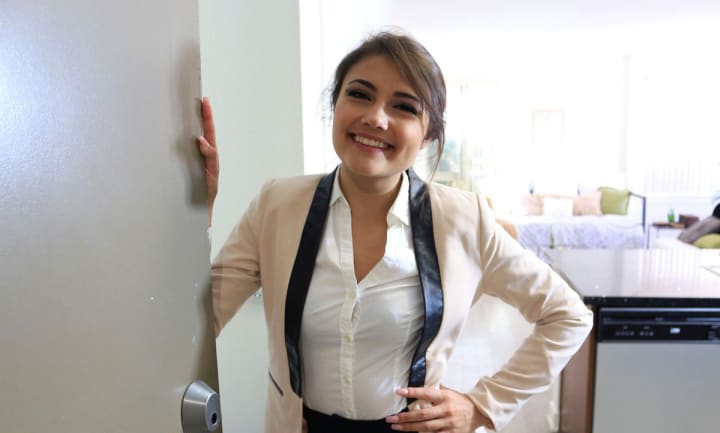 It's not something I've ever thought about; sex in a bank sure but not in terms of meeting a real estate agent. Probably because I've never had the money to buy a property out right but now that I've seen this website I might have to reconsider my fantasies. The layout of the website is pretty cool and is done in a way as if you were actually looking for a property. It reminds me of something off the video game 'Grand Theft Auto' where they have spoof real estate websites. It's cleverly done and the plethora of women and girls on there starring in their scenes will encourage you to browse.
One drawback though is most of the scenes seem to be 'point of view' filmed which as readers of my articles know I'm not a fan of. Although this format is forgivable if it is filmed well with an attractive actress. Just to give you a quick overview of how much a membership to property sex.com will cost you; for a yearly subscription you're looking at £89.99 (which works out as £7.49 a month.)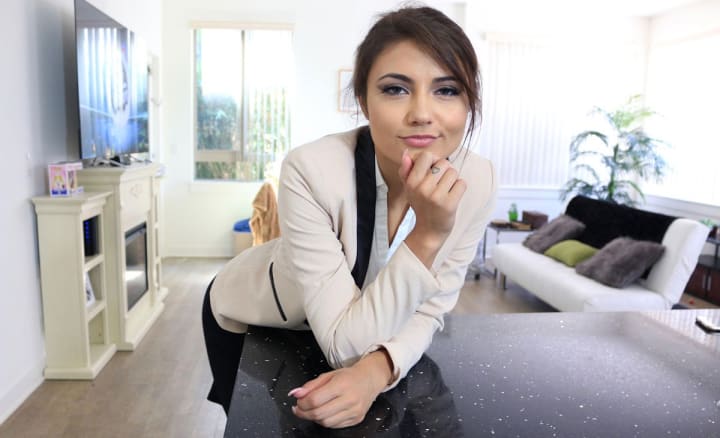 If you're looking for a charge with a bit less commitment, the rolling monthly charge is £24.99 which is a bit 'pricey' for one website.
You can get a 6 month membership for £69.99 which works out at £11.66 a month or if you just wanted a 2 day trial period that would cost you £1.00 a day. I think there are plenty of better offers out there where membership offers access to multiple sites providing you have the cash.
The scene I watched today is titled 'My Old Sweet Heart' and stars 23 year old Adria Rae from Nevada. Adria will have been 20 year old when this was filmed as it was done back in 2016. Adria has been described as having a prickly sense of humor and being mercilessly sarcastic. While she is in the gym 7 days a week she'd rather be at the driving range as she is a keen golfer. Her male co-star isn't named in this scene but he is a decent actor/performer.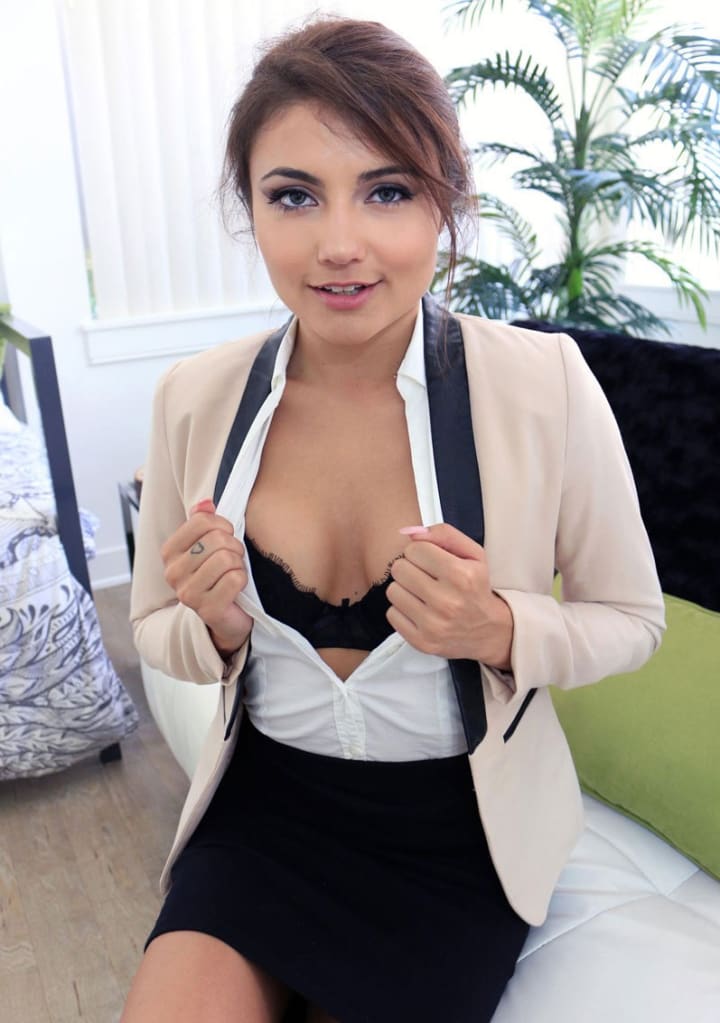 The scene takes place in the POV perspective as a potential buyer sets up a meeting to see Adria about possibly renting/buying an apartment. When he turns up Adria answers the door looking gorgeous in her office clothes. It appears the pair know each other from high school and had a dramatic date at the prom. Just Adria's general mannerisms could make a viewer fall in love with her. She's just very cute and her bright white smile is enough to make a guy blush. It comes out that the guy looking at the property had actually left the prom with another girl and stood Adria up. The reason he was coming to the property today was an opportunity to reconcile with the gorgeous brunette. It seems like that might be on the cards as Adria is even willing to cancel an appointment she has so the pair have time to catch up with each other. It's all very natural and believable if a bit too 'nicey nicey.'
Personally I like my porn a bit more 'grimey' but you can't fault the pair for a convincing performance.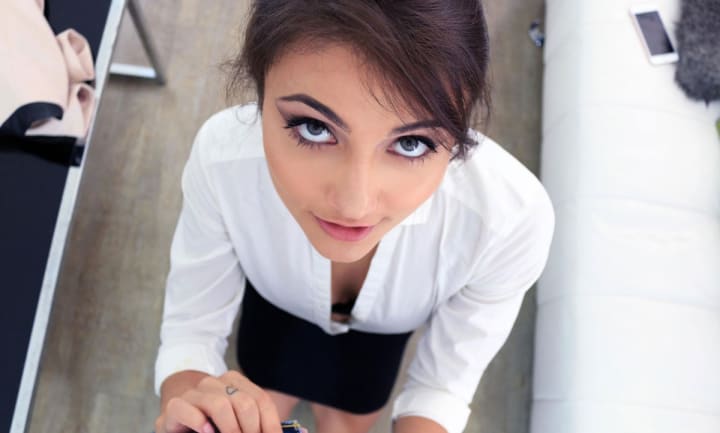 Even while Adria is on the phone, the guy starts pulling at her shirt. It looks like Adria is a bit naughtier than her appearance would suggest as she seems to like it. As soon as she is finished on the phone she starts blowing him and choking on his cock.
Its entertaining stuff and only gets better as the scene progresses. Adria has a nice, slim teen look and her backside is phoenomenal. I quite enjoyed watching her in the reverse cowgirl position and I was shocked how experienced she was at such a young age. Like I said before it's a bit 'romantic' so you might want to consider watching this one with your girlfriend. Although there's a good bit where the guy starts pulling Adria's hair when he has bent over in doggy. The reality of it is killed a bit when the guy adjusts the camera when he's filming the reverse cowgirl but not enough to kill the scene. I give it 3 out of 5; good for the genre of scene it is but a bit too 'nicey' for my tastes.
3 out 5
A pretty decent porn scene from a good website.