Porn Stars with the Most Spectacular Boobs
Some porn stars are "booty" models. Others are known for having great breasts. The following ladies are the porn stars with the most spectacular boobs in the industry.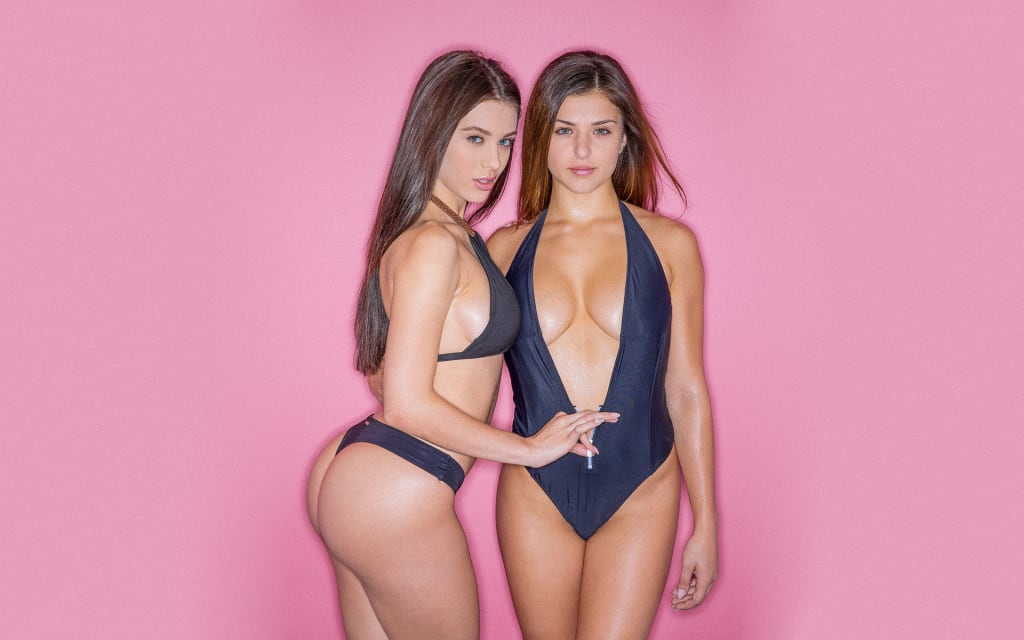 If there's one thing that the porn is known for, it's boobs. It's an industry that is filled to the brim with tits of every size and shape. Big boobs, small boobs, natural breasts, fake breasts - no matter what kind of boobs you like, there will be adult actresses that have what you crave.
Currently, multiple porn agencies have given out award nominations for ladies who reportedly have the best breasts in the industry. These leading ladies are the top picks in the porn industry, thanks to their spectacular boobs.
Leah Gotti has score highly on a number of lists involving epic porn stars, and it's easy to see why. The beautiful brunette has got amazing legs, an equally epic ass, and also ranks highly among porn stars with the most spectacular boobs in the industry. Many people would also say she's one of the prettiest porn stars in recent years.
If you love "big boobs porn," then you'll find Leah Gotti to be a top tier performer. She's got tits porn stars would be envious of, and a sultry stage persona that wins over just about anyone who sees her work.
Lana Rhoades is a straight up legend among adult film stars, and not just because she's got boobs porn stars love to play with. She's strikingly pretty, has been featured in every major group from Playboy to Penthouse, and has some of the most piercing eyes we've seen in the biz.
Her modeling skills are epic, and her online personality has become popular to the point that she's quickly approaching mainstream celebrity. She's done amazing work with both her booty and boobs, so give her a look if you haven't already.
Follow Lana on Twitter here: @LanaRhoades.
Nicole Aniston needs no introduction—but we're gonna give this adult film legend one, anyway! She's one of the hottest porn stars with the most spectacular boobs in the business, and has gained notoriety for snagging award after award for her insanely hot videos. She's got legions of fans, each of which can tell you a different reason about why they love her.
That being said, she's also got an awesome personality. She's vegan, regularly calls out misogynists, has a great sense of humor, and does what she can in order to bring joy into the life of her fans.
Follow Nicole on Twitter here: @XNicoleAnistonX.
One quick look at Lena's videos will tell you exactly why she's on this list. Lena Paul's perfect boobs are what most porn stars wish they could flaunt, and that's why she's one of the top porn stars with the most spectacular boobs on video. However, she's not just a pair of terrific titties; she's got a gorgeous face and a super-svelte figure, too!
That being said, Lena Paul has a lot more to offer than just looks and seduction. She's a political activist with a heart who regularly speaks out against injustices, wherever she sees them—and that's pretty badass!
Follow Lena on Twitter here @lenaisapeach.
If you're a fan of exotic ladies who have beautifully curvy figures, you'll quickly understand why Skyla Novea is one of the hottest porn stars with the most spectacular boobs to have been filmed by Brazzers. Skyla's talent has been seen on shots of every type, including sultry anal scenes and even one DP shoot.
Online, Skyla Novea is a sweetheart who shows plenty of love to her fans. She's got amazing personality, great taste, and adult film accomplishments few can compete with. Once you check her out, you'll quickly understand why.
Follow Skyla on Twitter here: @SkylaNoveaXXX.
With her seductive stare, her gorgeous chestnut-brown hair, and her perfect complexion, Abigail Mac has what it takes to be a mainstream model. She's gorgeous - and that's not even counting her perfect tits.
The stunning MILF porn star is known for her incredibly toned body, as well as her beautifully perky breasts.
If you want to get a glimpse at her fit physique, check out Abigail Mac's Twitter at @MsAbigailMac.
Alison Tyler is a multitalented entertainer who's part porn star, part author, and part fitness writer. Her writing is amazing (and hot), and her porn scenes are also equally incredible.
While some girls might be lucky to have her hair, most could only pray to be as busty has her. The AVN recently nominated her for their awards for Most Spectacular Boobs - and we can totally see why.
You can learn more about Alison Tyler through her Twitter account, @MissTylerXXX.
While most of the porn stars who were nominated by the AVN tend to stick to mainstream erotica, the ever-seductive Anastasia Pierce did not. This fetish model and porn star is most commonly known for her latex-clad photo shoots, her sexy fetish play, and of course, her massive breasts.
If you love superhero play, roleplay, and domination, Anastasia Pierce is the porn star you need to follow. Check her out on Twitter, @AnastasiaPierce.
Veteran porn star Angela White has been in the adult film industry since 2003, and has quite a few accomplishments that are rare both in and out of the industry. She's ran for political office in Australia, has starred in over 150 videos, and also has become legendary for her beautiful boobs.
She's been given awards like the Foreign Female Performer Of The Year, as well as the honor of being a Fleshlight Girl. This blue eyed beauty is a must-see. Check out her Twitter, @AngelaWhite.
Punk rocker gone wild Anna Bell Peaks is every guy's "bad girl" fantasy. She's got hot pink hair, breathtaking tattoos, and a winning smile that makes you fall in love with the first time you see her. Petite yet curvy, Anna Bell Peaks has gotten tons of acclaim for her gorgeous, perky breasts.
If you're a fan of buxom punk girls with a wild streak, you will love Anna Bell Peaks. Check out her amazing Twitter, @AnnaBellPeaksXX.
This all-American brunette has the vibe of the girl next door, but still keeps that wildly sexy, flirty streak in ever photo she takes. She's sexy, curvy, and a model in every sense of the word.
Oh, and she has massive breasts. If you love girls who are wild, busty, and sexy, check out her Twitter, @AugustAmesXXX.
Bobbi Dylan is one of those porn stars that you really have to love. As a blue-eyed fetish model who knows how to work her hot body, it's easy to see why so many fans are loyal to her. Bobbi Dylan's biggest claim to fame, aside from her super sexy, hot scenes are her amazing tits.
Seriously, Bobbi Dylan's breasts are amazing. No wonder why AVN has gotten her nominated for Most Spectacular Breasts this year. Check out her Twitter, @BobbiDylanXXX.
This petite pixie cut porn star has a mischievous smile, a gorgeous behind, and an incredibly perky set of breasts. Bree Daniels is known for her natural red hair, her sexy scenes, and for being awarded Penthouse Pet and Hustler Honey.
She's a little spunky and a little punk rock. If you love slender but busty red heads, you need to check out her Twitter, @BreeDaniels1.
In many ways, the beautiful, slender blonde known as Brooklyn Chase has that classic porn star vibe that never fails to do the trick. She's stunning, has an incredible personality on camera, and also happens to have an amazing pair of boobs.
She's polished yet dirty, wholesome yet naughty, and an overall sexy star with a pair of the most spectacular boobs ever seen. Basically, Brooklyn Chase is the gorgeous cheerleader you wish you were able to date in high school - and that's why she rules.
Take a look at her Twitter, @Brooklyn_Chase.
Christiana Cinn (pronounced 'Sin'), is one of the newest up-and-coming porn stars to get recognition for a killer rack. This tanned babe is known for having exotic features, a sexy pout, and an incredibly busty physique.
If you're a fan of Kardashian-like girls, Christiana Cinn will definitely be your new favorite porn star. Check out her films, or check out her Twitter, @ChristianaCinn.
Courtney Taylor has that wild porn star look that lets you know, subtly, that she's going to rock your world. Behind that innocent pout is a wild child who wants to turn you on, and boy, does she know how to do it.
She's curvy, she's hot, and her boobs are awesome. Check out her Twitter, @CourtTaylorXXX.
Darcie Dolce is one of those girls who is a literal talent powerhouse. She's a gorgeously edgy porn star who's known for her ink and beautiful breasts. She's known for being a Penthouse Pet and being one of the few porn stars with spectacular boobs that branched out into other fields.
Along with being a porn star, she's a standard model and a DJ. Check out her accomplishments via Twitter, @DjDarcieDolce.
She's petite, she's spunky, and she has just that perfect amount of pinup flair! Dillon Harper may be tiny, but her breasts are known for being mesmerizing. If you're a fan of mesmerizing boobies and a beautifully round booty, Dillon Harper is your new favorite porn star.
If you're a very big fan of girls who look like they're perennially 18 and have super perky breasts, check out Dillon Harper's Twitter, @DillonHarper.
Edyn Blair is one of those porn stars that earned her clout for being an amazing star on set. She's sultry, sensual, and her physique is top notch. Her booty is amazing, as are her breasts. While AVN may have given her a nomination for Most Spectacular Breasts, we're going to go the extra mile and say she's one of the most spectacular porn stars in the industry.
Once you check out her Twitter @Edyn_Blair, you will fall in love with her looks.
Jaclyn Taylor has that striking mahogany hair color that screams sophisticated yet delicate. She's got amazing facial features and piercing eyes. Better still, she's got an incredible set of enhanced breasts that are totally amazing on film.
If you're a fan of beautiful models with gorgeous augmentation, you need to check out @TheJaclynTaylor on Twitter.
For many guys, you can't think super sexy MILF without having Jessica Jaymes come to mind. The porn veteran has been known for making films for decades. She's been a Hustler Honey and has gained tons of awards for her work.
Her breasts might be one of her biggest assets, but if you ask us, they're closely tied with her booty. She's just awesome. Check out her Twitter, @JessicaJaymes.
With her cute smile and her wavy blonde hair, it's hard not to see Katie Banks as a college coed with a wild streak. She just basically channels that kind of sexy energy, and that might be why so many of her fans love to see her in films involving that element to her.
Her DD bra size, though, is what got AVN to nominate her among only a handful porn stars with the most spectacular boobs. Check out her Twitter to see more - @KatieBanksDD.
Kendra Lust has always had a special place in guys's fantasies. She's the perfect archetype of the "friend's sexy mom." She's fit, she's sophisticated, and she makes porn look classy.
She's got gorgeous brown hair, a sleek phsyique, and beautiful eyes. Her best physical aspect, according to the AVN, would have to be her huge breasts. Many would agree. Check her Twitter, @KendraLust, to see why.
Winner of VIXEN Angel of the Year, Kendra Sunderland has the looks of a high fashion model with the seductive persona of a porn star. Her slender body is flawless, and she always manages to keep that perfect balance between innocent and wild.
Amazingly, she also loves to interact with her fans. Needless to say, guys go a little crazy over Kendra Sunderland. Check out her Twitter via @KSLibraryGirl to see what she's up to now.
Many fans already know Lauren Phillips as the porn star with amazing tits, a thin waist, and the ability to take on any sexy roleplay you could ever imagine. The incredibly busty redhead has gotten a lot of fans solely based on her films featuring her breasts alone.
If you love seeing redheaded porn stars who do all sorts of crazy fetish scenes, you'll adore her. Take a look at her Twitter via @LaurenFillsUp to find out why.
This devastatingly beautiful porn star is known for a lot of things. Lily Lane has gotten a strong rep for having a beautiful behind, strikingly gorgeous ink, and that gorgeous black hair that makes you want to run your finger through it.
That being said, she's also got phenomenal augmented breasts that you need to see to believe. If you want to check out a taste of her awesome porn films, go to her Twitter @LilyLanexxx.
A former Japanese gravure model, Marica Hase has crossed over the lines to become one of the most famous busty porn stars in Asia. Nowadays, the petite yet busty Japanese beauty is getting the attention she deserves in the United States, too.
She's slated to take over the porn industry, and we understand why. After all, AVN doesn't typically nominate foreign porn stars with the most spectacular boobs abroad - and they had no issue nominating her for the award with the same "Spectacular Boobs" namesake.
Once you check out her Twitter, @marica_1029, you'll see why.
Melissa Moore apparently got her first foray into the porn industry while working in a restaurant. Her "innocent all-American teen" look was a hit with producers, and the rest is history. The cute brunette is known for having perky tits that are the perfect size.
If you want to find out more about this porn star's wonderful personality or catch a glimpse of her breasts, check out her Twitter @OhMelissaMoore.
This sultry Latina knows how to bring out that pinup bombshell look in the best way possible. She's curvy, knows how to be super sexy on film, and also has gotten a solid following because she's so unique in her brand of seduction.
Want to take a look at why Missy Martinez got nominated among other AVN porn stars with the Most Spectacular Boobs? Check out her Twitter, @MissyXMartinez.
Natasha Nice is just a little bit naughty and a little bit nice - and that makes her all sexy. The curvaceous brunette has the innocent look of the girl next door, but knows how to work it on camera with gorgeous natural tits.
If you love busty brunettes who look like the girl next door, you need to check out the lovely Natasha Nice on Twitter - @BeNiceNatasha.
A little bit goofy and a lotta bit sexy, Natasha Starr is a porn actress and online personality that just knows how to win people over with her gorgeous looks and striking personality. She's sexy as sin, and is known for her beautifully perky breasts.
If you want to interact with her, you can! She's always showing new ways for fans to have fun with her via her Twitter, @NatashaStar69.
Olivia Austin is everyone's favorite MILF. She's slender, has stunning natural breasts that are way more than a handful, and has that whole "naughty soccer mom" vibe to a tee. We're in love!
She's flirty, has got baby blue eyes, and also knows how to work her assets in ever film she's in. You've gotta give her Twitter, @OliviaAustinxxx, a look.
This exotic model has stellar features, an incredibly fit body, and a slew of followers who just adore what she can do on film. Romi Rain, in a word, is a lot of guys always fantasize about. She looks like a fashion model, but those breasts definitely scream "porn star" in the best way possible.
She's been nominated by the AVN for being a porn star with the Most Spectacular Breasts, and we're inclined to agree. Check out her Twitter, @Romi_Rain, to see why.
Roxie Rae is that one blonde bombshell who has no problem being a crazy fetish star on film. In fact, she was, at one point, Miss Foot Night.
Even though her bubbly and sweet personality shows through in every video, it's hard to deny that she's a straight up vixen on video. Her fetish modeling work is superb - and her breasts are definitely spectacular.
If you want to check out this sexy babe's work, which ranges from foot fetishism to wilder stuff, check out her Twitter at @Roxie_Rae.
Samantha Bentley, who hails from the UK, is a former porn star who still gets loads of nominations for having amazing boobies. She's got that rock star vibe, but among the film industry she's most well-known for starring in porn, being a Penthouse Pet, and having an amazing set of breasts.
Right now, Miss Bentley is transitioning from porn star to mainstream actress and DJ. Her SoundCloud is awesome, she's been on a number of major TV shows, and she looks incredible. Follow her on Twitter via @TheBadBentley.
Super svelte, toned, and inked Sarah Jessie has that perfect combination of college coed charm, inked goddess, and MILF goodness. Her awesome body is somewhat of a legend in the adult film industry, especially her awesomely round breasts.
She does fitness, posts modeling photos, and also reaches out to fans. Check out her Twitter, @SarahJessieXXX.
Those crystal blue eyes! That red hair! It can only be Welsh porn superstar, Sophie Dee! The natural redhead has become a legend for her seductive acting, her ability to fit into any fantasy, and just being a cool personality online.
Right now, she really is active on Twitter and has been chatting it up with her many fans. Check out what she has to offer @SophieDee.
Stevie Shae, as a porn star, is kind of hard to nail down. She's got that rocker vibe, but at the same time, maintains the sweet innocence you'd expect from the girl next door. She's fun like a "sexy best friend" trope, but at the same time, she's sultry. In a word, she's just plain sexy in her own unique way.
Stevie Shae's diverse vibes make her a favorite with many porn aficionados, especially when they see her breasts. She's got some of the most spectacular breasts in porn, and you can check them out via her Twitter @StevieShaexxx.
Tasha Reign definitely reigns supreme when it comes to having followers from every walk of life. Her adult films always manage to entice, titillate, and arouse - and when you see her gorgeous body, you'll totally understand why.
That being said, Tasha Reign has also become a major internet personality and top quality writer, too. You can reach out to her via Twitter, @TashaReign, or just read some of her newest work.
Tia Cyrus has that wild, rebellious flair that makes her a must for any person who has a soft spot for free spirits. Her body is slender, beautiful, and busty...and that alone makes her a favorite among many porn fans.
But, it's worth noting that her irreverent attitude and awesome sense of humor really shines through on Twitter. Once you check out @Tia_Cyrus on Twitter, you'll see why she's such a popular porn star among guys who love personality.
She's elegant, stylish, and oh, so sexy in a sophisticated way - it's Valentina Nappi! Hailing from Europe, this exotic beauty has the look of a high end fashion model and the libido of a wild child in bed.
Her sex scenes are intense, and if you're a fan of serious passion, you'll fall in love with her content. Oh, and she's regularly cited as one of the porn stars with the most spectacular boobs in Europe.
If you're a fan of elegant, pinup-worthy women who have big natural tits, perfect bottoms, and absolutely amazing sex scenes, then you need to check out Valentina Nappi's Twitter, @ValeNappi.
About the Creator
Socialite and dating guru Mackenzie Kennedy knows all about the inner workings of people and society as a whole. It's not only her lifestyle - it's her passion. She lives in Hoboken with her pet dogs, Cassie and Callie.
Reader insights
Be the first to share your insights about this piece.
Add your insights