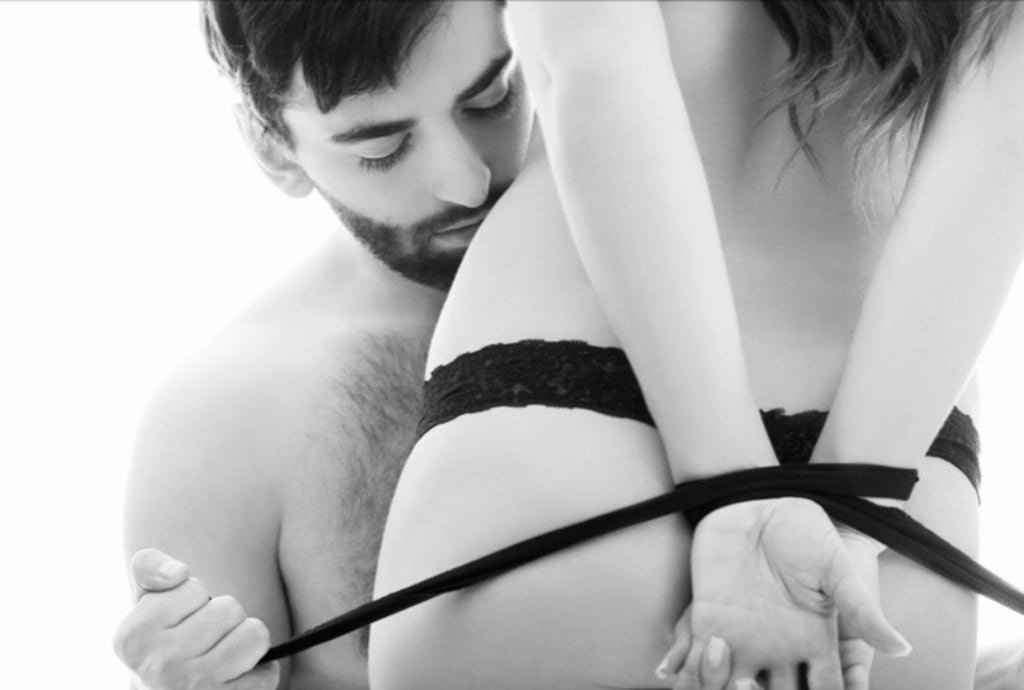 There were a few moments in Harrison's life where he felt like he won the lottery. The first time was when he found the first investor in his company. The second time was the day he reached a profit of one million dollars, and the third was the day he walked into Nordstrom department store on Las Vegas BLVD, looking for a suit and he was greeted by the most beautiful girl he had ever seen.
Riley was a 23 year old student who was working at the store and had been assigned to him as his personal shopper for the day. Despite the fact that he only needed one suit, he began going back to the department store on a regular basis, always requesting Riley for everything he needed. She was very friendly and was clearly very educated about fashion and loved what she did. She knew exactly what was in style, what worked for Harrison's needs, but she also never tried to over-sell anything. She was very honest about trends as well as brands that weren't worth the money. Every single time Harrison had an excuse to call up the store and book an appointment with Riley, he did so.
The fourth and most recent time Harrison felt like he had won the lottery was the day he went to Nordstrom, looking to replace a suit that had been lost with his luggage, and saw Riley wasn't wearing a bra underneath the black tank top she was wearing.
He found himself staring the entire time they shopped together and had to force himself to look away, but damn it was hard, almost as hard as her nipples were getting from the A/C that blasted throughout the store.
Harrison knew he wanted her and he also could tell that she wanted him. So, like many other things in his life, he decided to take a risk.
And boy, had that risk worked out well in his favour he thought to himself as he smiled, walking out of the store. Not only had he fucked Riley after months of pining for her, but he had a date with her tomorrow, where he definitely planned on fucking her again.
The following evening, Harrison pulled up in front of Riley's building, excited to see what she would be wearing, having given her access to his account at the store.
Waiting outside his Tesla, Harrison watched the doors of the condo Riley lived in, waiting for the door to open and her to emerge. After waiting a moment, she finally came out, wearing a light blue strapless chiffon dress with a deep sweetheart neckline that showed a bit of her cleavage. It was longer in the back, going down to the back of her knees, but shorter in the front, showing off her stunning legs. The dress wrapped around her body, fitting her like a glove. She had styled her short burgundy hair in a messy up do that seemed to suit the entire outfit well. She looked absolutely gorgeous and Harrison couldn't help but smile as she walked out of her building, her heels clicking on the concrete sidewalk, approaching him.
"You look incredible," Harrison told her.
Riley instantly blushed. "Thank you."
He opened the passenger door of his Tesla for her and offered her his hand, helping her down into the seat of the Roadster. After she was comfortable in her seat, he closed the door, then ran around to his side, getting behind the wheel and buckling up.
"So what sort of event are we going too?" Riley asked Harrison, as they pulled away from the curb of her building.
"It's called the Green Awards," he explained. "It's to acknowledge and honour companies and CEOs who are running their companies in an environmentally friendly way."
"Oh cool," Riley responded, sounding genuinely interested. "Are you nominated for anything?"
"I am," Harrison answered. "I have been nominated in the tourism category as well as transportation."
Riley suddenly realized she had never really known exactly what Harrison did outside of shopping at Nordstrom. She knew he was clearly very wealthy, but they had never gone into serious detail what he did to earn his wealth.
"What sort of tourism do you do?" she asked him.
"Helicopter tours," he answered. "I own one of Las Vegas' largest and most eco-friendly helicopter tour groups. We specialise in Grand Canyon, Hoover Dam and night time tours of the strip."
"Oh my gosh," Riley said, staring at him as he drove. "That's so cool. When did you start that?"
"I started when I was 25 after I got my pilot's license. I started the company and found some investors to help me buy my first helicopter, and it's been booming since then."
"That's incredible. I had no idea that's what you did," she admitted.
He grinned and looked over at her. "I guess it just never came up." Looking back at the road, he said, "I'll have to take you for a ride one day."
"In a helicopter?" she asked.
He nodded. "Have you ever been in one?"
Riley shook her head. "No, I haven't."
Another grin formed on the corner of his lip. "Good, you'll have a great time."
They continued talking as they drove down the strip, finally pulling into the valet parking at The Wynn hotel. Two different young men opened the doors of the Tesla, Harrison got out, handing one his keys while the other one helped Riley out of the passenger seat. He, like Harrison, was clearly stunned by Riley's beauty, staring at her even as she walked around the car and joined Harrison. Harrison held out his arm and Riley took it, following him into the hotel and casino.
Once out of earshot of the two valets, Harrison leaned down and whispered in Riley's ear, "Someone besides me has got it bad for you tonight."
Riley looked up at him in confusion. "What? Who?" she asked.
He nudged his head back to where they had just come from, indicating the valets.
"He did?" she asked, glancing back at the parking lot.
"Can you blame him?" Harrison asked. "You look absolutely stunning."
Riley looked down, blushing.
The event went exactly how Harrison expected it to go. Completely and totally boring. The only exciting thing to happen was his company had won both awards it had been nominated for. When his name was announced, he stood, shaking hands with his colleagues at his table and leaned down, kissing Riley on the cheek each time. He looked forward to hanging the awards in the main office on Monday, but for now, he was happy when the awards finally ended and everyone was able to get up from their seats and enjoy dancing and the open bar.
After a few glasses of champagne, Harrison took Riley's hand and led her onto the dance floor. A live band was playing slow music so Harrison wrapped his hand around Riley's waist, pulling her close and they swayed side to side to the tune of the music.
"Are you having a good time?" Harrison asked her.
Riley nodded. "I really am. I was kind of worried at first that you only wanted me to come along to be your arm candy," she admitted.
Harrison grinned. "Well you definitely are the most beautiful woman in the room, but that's not the only reason I invited you."
Riley looked down at her feet and blushed again, the same shy blush she gave Harrison when he mentioned the valet looking at her.
"Hey," Harrison said, taking her chin in his fingers and pulling her face up to look into her eyes. "I mean it when I say that. You are so gorgeous, Riley. Every man I've spoken to up at the bar has commented on how beautiful you are."
Riley tried to look away from him again, but his fingers held her chin tight so she couldn't pull away.
"The only thing is," he told her, as his hand moved up her back, "I'm the only one here to gets to take you upstairs to the room I booked for the evening." Riley's eyes widened as she felt his fingers on the zipper of her dress. "I'm the only one who gets to take you out of this dress."
He held tightly onto her zipper for a moment, teasing her, then let it go, putting his hand back on the small of her back.
"You got a room here?" Riley asked him.
He nodded. "We don't have to use it. I got it just in case though."
Riley bit her lip. "Can we go use it now?" she asked him.