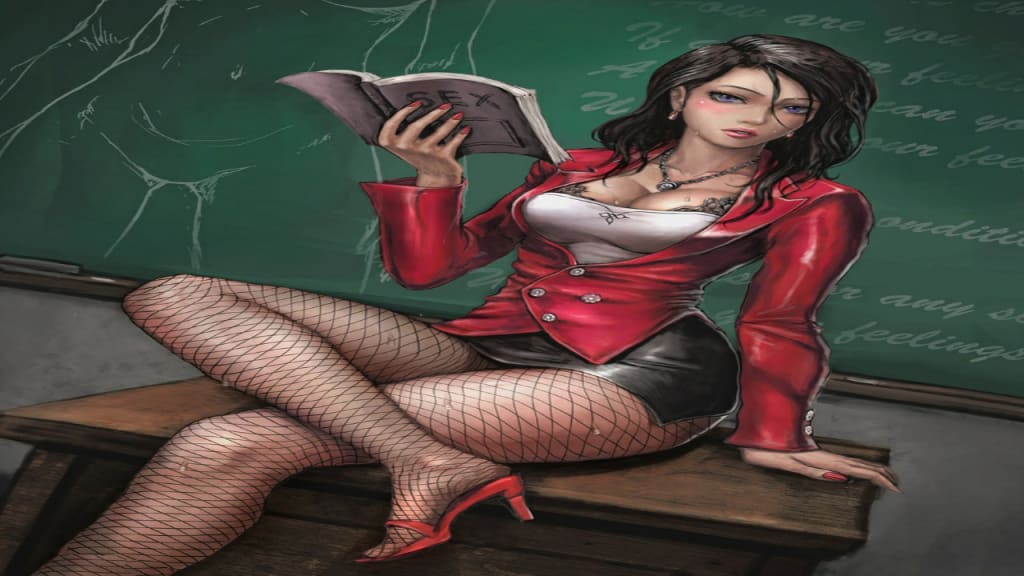 Drawing by Neongun
Back in my High School year, I got accepted as a softmore at 18 years of age, fresh and legal. Just a few months after I left my native country. I always dressed real nice and was very good at math, especially at Algebra 1 , 2 , Geometry, and a little bit of Chemistry. Ms Bertha, my fine teacher used to treat me differently compare to the other students.
I meant she was unpleasant with everyone else, but always had a different stare, a different tone in her voice when it comes to me. I was that respectful, gentle kid who wouldn't hang out with the school trouble makers, so I wondered maybe that what it was, maybe that was the reason of the different treatment, but later on I found out it wasn't just that .
Ms Bertha wanted some of the homework and projects sent to her email address every weekend. I used to be that type of student if I enjoy a subject I will always do the homework and finish it on or before its due date, but for Ms Bertha I would have done anything even if I did not like the subject. I just enjoyed watching her running those beautiful full lips, and I loved it when she got to pick her markers off the floor while wearing her tight little skirt. She knew what she was doing, but it was only an extra credit for me, her favorite.
She always came to teach looking like a snack, and got me thinking Damn " why doesn't my free lunch look this good " . She was such a tease, but still was never the type of teacher anybody could play with unless you were her favorite, then she'd laugh at your joke.
In my eyes, Ms Bertha was the prettiest between them all. The other women teachers were all beautiful too, but Bertha had the prettiest eyes, plus her soft voice could had been used as zzzquil. I could listen to her telling a story all day. Her big double D's were a distraction 👀but I still managed and tried my best to keep my focus on the subject . She would had them right infront of my face when checking my notes, that's not the reason I chose to sit front row of her class though, but I did not regret that seat.
Sometimes Ms Bertha bought me lunch and gave me a ride when I missed the school bus. We talked all the way home, and I got a little nervous while keeping my cool, trying not to stay the wrong thing, but I felt like we had a little chemistry or would have had something more coming between us.
Her Chemistry homework was one of my favorite things to do. Every Friday we had a fresh new assignment, a different project to work on then to send her the files via email before its due date after the weekend. One day I had what I would called " my most embarrassing moment ever ".
A moment more embarrassing than when my Grandma nearly pinched my ear off in the middle of the church for acting up.
More embarrassing than when ESPN found out about that live recording video of their now Ex employee Paul Pierce with his dancers just living life lol
Seriously, even more embarrassing than that time I opened up my Instagram in front of family members and first thing popped up out of nowhere was a "Cucumber Contest" at a pool party ( don't google that )
The Internet is getting crazier day by day, but it is still very entertaining . Just make sure your young children only watch utube kids.
Back to the most embarrassing moment part.
I accidentally sent Ms Bertha a video from my personal files . A video of me eating a mango in a way that I would eat the box with juices all over the place. A video that I made to send to a girl, but didn't think I still had it saved. SMH so embarrassing ,and I only realized what I did, not until Ms Bertha replied "Good skills ".
At that moment I was thinking Damn, did she really send that. Yes she did . As the matter of fact, Ms Bertha then sent me a picture in her red new little v strings that she couldn't wait to wear. I went from feeling so embarrassed to feeling like I just graduated with the school highest GPA .
Even though I've always wanted Mrs Bertha , I promise this wasn't purposely done. Let just say she lowkey wanted the same thing, she wanted to teach me a different lesson.