Online SW options:Subscription platforms
Part 1 of breaking down the details of all your options regarding online sex work: Subscription platforms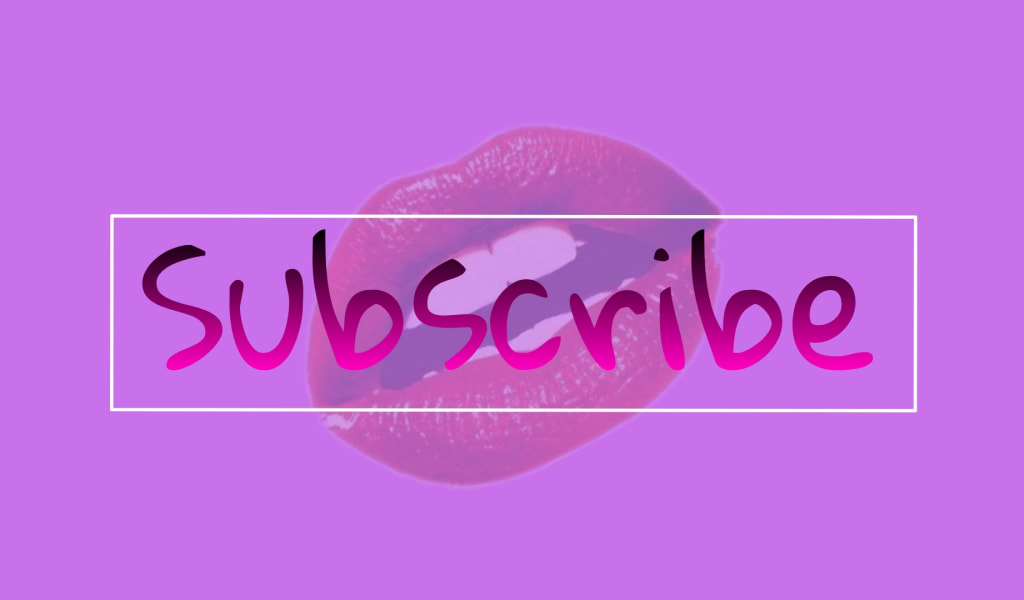 [Photo created on PicsArt]
I made a previous post discussing the different options for online sex work. There is way too much information to share about each to include every detail in one post, so I will be breaking down each type of online sex work into individual posts. To start out, let's talk about the most popular option, Subscription platforms.
As mentioned in the prior post, subscription platforms are one of the most well known forms of online sexwork out there currently. If you know anything about online sex work, you have most likely heard of a popular subscription site named OnlyFans.
Subscription platforms are websites where people can pay a fee to view your page, where you will be posting varying types of adult content. The most commonly posted things on these platforms are photos and videos. Typically the fee is paid monthly and direct interaction between sex worker & customer is limited.
While it is not the most common use of subscription platforms, they often also offer the option of sending out PPV (pay per view) messages and providing a safe, open line of communication between the sex worker and client.
To be entirely transparent, subscription platforms are my least favorite type of online sex work both as a worker and as as a consumer. Of course, for some, it is the best option. It is all about figuring out which pros/cons matter to you the most.
Pros: What are the benefits of using this type of platform as a sex worker?
- It is super easy to keep up with and manage your fans and your content. Everyone and everything is in one place.
- You don't have to build your own website. Everything is already programmed, created, and put together. Your are able to put most of your focus towards building your client base and creating content.
-There are many people who already know about these sites, and therefore it is likely that people are going to feel more comfortable spending their money on this site, with less fear of being scammed.
-You can distribute your content more easily. While direct messaging is something many workers offer on their subscription platforms, it is not a requirement. You can post one photo on your wall and all of your clients will get to see/enjoy it, instead of having to individually send out that photo to multiple people.
-It is much easier to file taxes using this option, because they send out a self-employment tax form during tax season. With some options you have to figure out all your numbers on your own and hope you get it right, and you have to find the correct way to put this information in to your taxes. The forms they send out are much easier to use and allow for a lot less room for error.
Cons: What are the negatives using these platforms as a sex worker?
-You will earn less money, per customer, than most other options. The average price range for a monthly subscription to these platforms seems to range from $5 to $30. I have seen less, but I have not personally seen them cost more. Doing other forms of online sex work, you could be earning that much for just a few pictures
- There is so much competition because of this being the most commonly known option. There is always going to be someone with a cheaper subscription, more interesting content, or just the right color of something you don't have. Sometimes YOU will be the person with those things, but when you aren't it's going to take a lot of work to convince people that you are the one they should choose.
- There are a lot stricter rules when it comes to the type of content you post. In my experience, kink and fetish are the top money makers of this world. Subscription platforms limit the option to partake in a lot of this, and therefore may cause you to miss out on money you could be making.
- These sites take a percentage of your earnings. The average amount they take is around 20%.
- Some of these sites really lack when it comes to their policies and treatment of their workers. There have been many people that have had issues with sites refusing to release their money. There also have been a lot of confusion when it comes to blocking customers who are being problematic.
-You have to be able to advertise to make money from subscription platforms. Most subscription sites do not have an easy way for people already using the site to find your profile, so in order to gain subscribers you have to share your link with people. The most commonly used place to advertise is Twitter, but there are other options as well.
What are some websites I could use for a subscription platform?
- Onlyfans: Onlyfans was not created to be a platform for sex workers, but it was quickly over taken by them in the start of the pandemic. Many people use this site and love it, but it is definitely the one I have had the worst experience with and have heard the most negatives about from my fellow sex workers. Onlyfans takes 20% of your earnings.
-Frisk chat: Frisk chat is a site made for sex workers, created by sex workers. This is a newer site to me, so I do not have much of an opinion on it yet. However, I have heard mostly good things from others regarding this site. Also, I have strong hopes that it will be a good platform due to sex workers having created it. Frisk also offers several other options when it comes to online sex work, all on the same website. Frisk takes 20% of your earnings.
-Patreon: Patreon was also not intended to be for sex workers, but it has become a large platform for them since the downfall of OnlyFans. I have never personally used this site, but I can definitely see several benefits of using it, and have hears good things. I think one of the best things about this platform is that it is not heavily associated with sex work, and therefore it is able to be used a little more discreetly by worker and client alike. Patreon takes between 5% & 12% of your earnings.
There are several other websites that you can use, including but not limited to FriendsOnly, Ifans, and AVNstar. I do not know enough about these sites to feel comfortable commenting on them, however there are lots of writers who have shared their own experiences with them.
How do I know if subscription platforms are right for me?
When it comes to choosing the best option for you, the most important thing is to go through the pros/cons and decide if those are things you will be okay with. I have found that the most successful people on subscription platforms are people who already have a decent sized audience on social media and are willing to advertise to that audience. It is also best to be creative if you are going this route, because someone who paid for a month worth of your content isn't going to want to see an identical post every single day. Variety is super important on these platforms. Another huge factor is knowing if you would do well with this option is knowing what kind of time/energy you have. You need to make sure that you will have the time for frequent posts and advertisement.
If you feel like you learned something from this post, and would like to continue learning, make sure you subscribe so that you get to see the information I have, as soon as I am able to share it.