One Pussy Today
One Pussy Tomorrow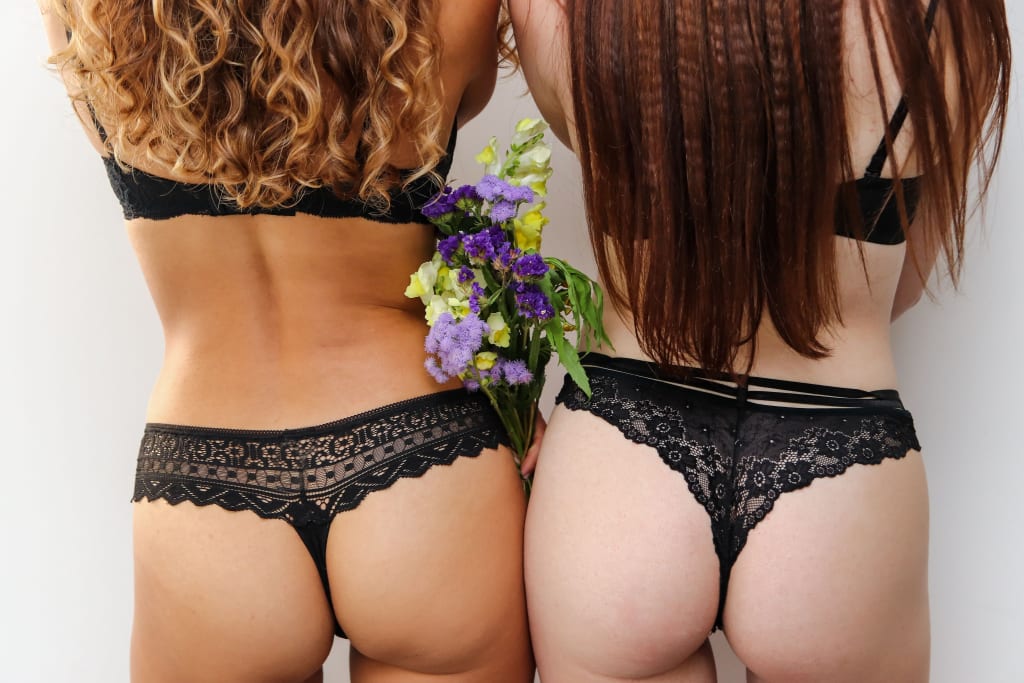 Photo by Dainis Graveris on Unsplash
What about yesterday? It's also part of the story. I prefer one pussy at a time since every pussy has to be adored like a god, and no one anymore believes in more than one god. It's not the same, I imagine some of you thinking or even saying. Just think about it a little more! Unless you don't like pussy, pussy is everything. I repeat. Pussy is everything. Pussy also means yes since you can't say no to pussy, and if you can, then you're a prick.
The flowers are a nice touch, but who really cares about such a bouquet when it's supported by two undressed women. They're not naked, I imagine some of you thinking or even saying. It's your fault that I digress so soon. They're naked if you see the wine glass half-full. But some of you may only see their half-empty beer. On cannabis, their underwear, both, become see-through. I only see stunning smooth skin. I have to stop now. I told you that two at a time ain't easy. Little Maurice is taking over. My brain is so weak when it comes to pussy.
Will I Adore My Pussy Today?
It's a little after midnight. Sleeplessness is taking shape and its dominance over me becomes similar to that of the pussy. I should be sleepy, but tonight I'm not. Perhaps it's a premonition of some kind, insomnia, or my unconscious giving me a foretaste of immortality and pussy.
The sky offers many stars to the eye, but my eyes cannot perceive my star; my pussy. Only the late morning will reveal a glimpse of my pussy, and later the early afternoon will display all of my pussy. My pussy is the morning and the afternoon, since without my pussy they are nonexistent. A well-known song emerges in my head: You are my pussy, my only pussy, you make me happy…. I sing it to myself and I'm so blissed out.
Midnight gives its blessings to all the lovers, burglars, night-shift workers, night enthusiasts, and sleepers, but I'm blessed with the thoughts of the sleepless, intimations of the fearful, and the power of induction and pussy.
It's just before one a.m., and I'm still awake, observing the sky. Myriad stars brighten it, and a full moon enlightens it. Each star possesses planets, and most planets have satellites, but the only satellite that I can see is my pussy. Moist and magnificent, the pussy presents its full profile, which illuminates the obscurity with a light that originates in my pussy.
It's almost two a.m., and I yearn for my pussy. I need my pussy to warm my boner and dissipate the darkness. I desire my pussy to envelop me. I want to drown in the sap of my pussy. However, my pussy still lights the other side of the bed and leaves me with little sap, a pubic hair or two, which prove to me that my pussy still exists.
It's close to three a.m., and my eyes are wide open. I begin to lose control, my fear grows, and I start to tremble. I ask myself a question, which triggers much perspiration: Will I adore my pussy today? With the help of induction, I admit to myself that I had my pussy yesterday and throughout the near past, but it isn't proof that I'll have my pussy today. My mind introduces a few possible reasons. If some insane creature of our kind decides to press the red button, it's very probable that I will cease to exist, and if I survive, my pussy will disappear from the observing eye for at least a year. Another prospect is my pussy leaving me for another prick: a nearly total annihilation of my pussy, and death to my prick. Another pussy joining my pussy or replacing my pussy can also bring forth gratification or oblivion and the impossibility of seeing my pussy.
It's nearly four a.m., and I'm still awake, afraid and searching for other possibilities of no pussy. Suddenly, I realize that my initial induction was true: I will adore my pussy today; my pussy will awake in less than an hour. But the slightest possibility of no pussy still remains. The idea of not seeing my pussy while being still alive activates in my mind the function of self-destruction.
It's a quarter to five, and my pussy will awake very shortly. I hold the blade in a trembling hand, prepared to make the final cut, but exactly in that instant — the moment that separates pussy from no pussy and life from death — my pussy makes an entrance. I see a gleam of light — the coming of my pussy is real.
It's a little before midnight, and I adored my pussy today. Yet a question persists in my mind: Will I adore my pussy tomorrow?
fiction
Medical writer who prefers to read and write fiction and some nonfiction, though the latter may appear at times as the former. anthi-and-m.com
Receive stories by Patrick M. Ohana in

your feed