One night with her.
This is a story about a submissive, her master and her masters wife.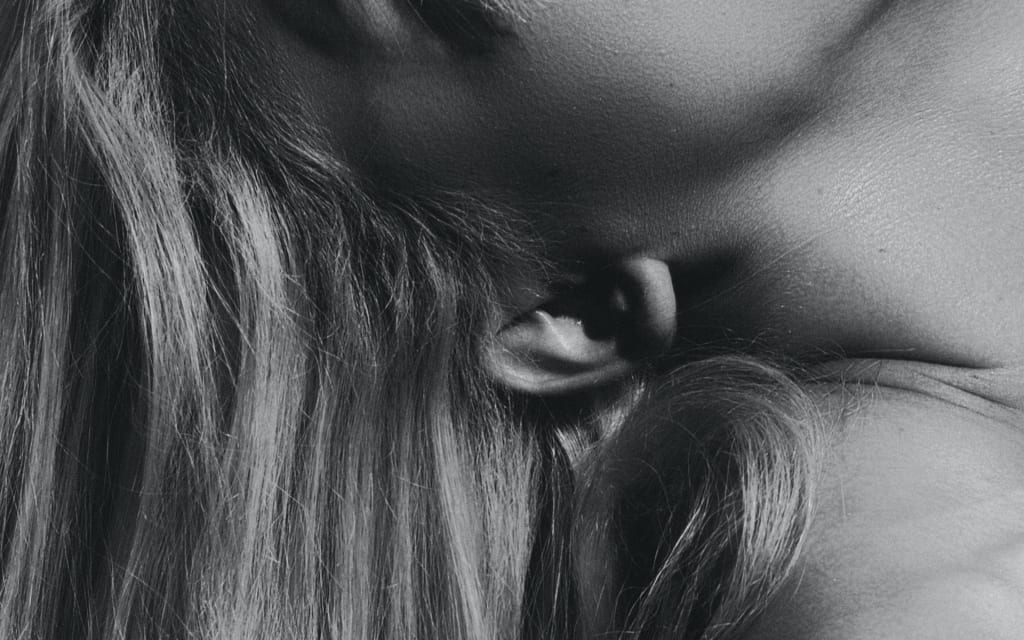 I knelt at the side of the bed. A position I found that came naturally to me when he requested it. He hadn't even waited for me to follow his command before leaving the room again. I could hear his footsteps fading as I patiently awaited his return. My hands softly resting against my thighs and my head down, gazing at the pattern on the carpet. After what felt like an eternity I hear his footsteps coming back, this time he wasn't alone. Two sets of footsteps slowly coming towards the bedroom. Muffled voices reaching my ears. I recognised his voice instantly but the other voice was new to me. A woman. His woman. My heart stilled as I remember the joke I'd made just days before. He had mentioned that she had never been with a woman before and I'd joked back that I could change that and give her a night she wont soon forget. The bedroom door was pushed open and they entered. He told her to ignore my presence for now, explaining that he wanted to try something new with her. They moved to the foot of the bed and he grasped her arm, pulling her into him as his arms encircled her. One hand moved to her neck, holding her head still as he moved in to kiss her. The other hand gliding down her back, grabbing the hem of her t-shirt and pulling it up. He stepped back from her and pulled the t-shirt over her head, his eyes on me the whole time as I watch them. He pulls her close again and whispers something in her ear that I can't hear. She turns to look at me and then nods, she looks a little nervous but also I can see the excitement. He walks over to stand in front of me, running his hand through my hair and making me groan softly. "Stand" he commands, and I rise instantly.
My eyes locked onto his as I waited for my next command. She was sitting at the end of the bed now, watching him with me. His hand gently stroking across my throat as he tilted my head up a little more. My breathing shallow now as I try to anticipate what will come next. He growls softly in appreciation and then moves away. His hand leaving my throat quickly and making me groan. He walks back to his wife and tells her to lay back as he unbuttons her pants and tugs them down. His hands grazing softly against her skin as he moves them lower. He glances at his wife and then turns to look at me, beckoning me over with a wave of his hand. I slowly close the space between us and once I'm stood next to him he stands and moves out of my way. He nods towards his wife lay nervously on the bed and smiles before saying "Make her nice and wet for me baby girl." I nod eagerly and climb up onto the bed, kneeling between her legs and lowering my head slowly, giving her chance to tell me to stop. She doesn't say anything, just leans her head up a little to watch me as I start to kiss her left thigh. I take my time switching between her left thigh and the bottom of her stomach. My hands gently squeezing and caressing her hips. She moans softly and I move to her right thigh, repeating what I'd just done. She grinds her hips up off the bed. I smile up at her as I move to taste her. Feeling her body shudder as I slowly lick her pussy to taste how excited she already is. I push my tongue gently inside of her and twirl it around a little. Waiting a few seconds to see how her body reacts for me. Then gently swirling my tongue around her already swollen clit. Her body shuddering with each touch from my tongue.
I keep working slowly to tease and tempt her, her juices already flowing nicely and letting me taste her over and over again. I glance up at Daddy and whisper softly "Daddy, can I make her cum for me?" He shakes his head at first and tells me to carry on but not to let her finish. I watch him gazing at us as he reaches down to unzip his own pants. The bulge already there looks to be getting uncomfortable. I lean my head back down and start licking, sucking and nibbling her again. Making sure to be gently so as not to tip her over the edge. I raise my one hand and place it on her lower stomach, holding her down gently as my other hand moves to my own lips. I suck two fingers eagerly, getting them wet before gently pushing them inside her as I swirl my tongue around her clit again. Gently rubbing her inside I suck a little harder, feeling her tense and shudder around my fingers making me moan out loud. I glance back up at daddy and he's stroking himself, hard and fast as he watches his wife squirming on the bed for me. He steps closer to the edge of the bed and grabs my hair, twisting it around his fingers so he can pull my head over to him. I moan and he pushes the tip of his rock hard cock between my lips, telling me not to stop with my hand. He pushes further into my mouth as he holds my head still, not letting me pull back at all. His wife is groaning and squirming more now, I can feel how close she is and I'm worried I won't be able to stop her before she loses control. Daddy gazes down at her as well and must realise how close she is as he thrusts hard a few times into my mouth and then pulls out and groans "Now baby, now you can make her cum." I smile and move my head back between her legs, stopping just before my lips are touching her and whisper "Thankyou Daddy." My fingers moving faster inside of her now as I suck her clit again. I feel her whole body stiffen up and her thighs clamping down around my head as she loses control for me. I keep licking and sucking, making sure to get every drop of her juices.
As she starts to calm down and her thighs loosen from around my head I feel Daddy behind me pulling my head up, he twists me so I'm facing him and kisses me hard. Tasting his wife's juices all over my mouth makes him groan. He murmurs softly against my lips "Such a good girl" and then points to the floor where I was kneeling before right next to the bed. I nod and move over to kneel back where I was when they first entered the room. His wife glances over at me, smiling and still panting from losing control. I watch Daddy as he moves between her legs and thrusts deep inside of her. Moving hard and fast. Making her grip the bedsheets and cry out for him. His eyes are locked on mine as he groans "Be ready baby girl, I want to use your dirty little mouth to finish in." His wife loses control quickly this time, all the built up tension from my teasing making her so very sensitive. I can see Daddy struggling to hold back now, I lean up higher and open my mouth ready for him. His eyes closing as he grunts "Fuck, yes baby girl, that's it." He pulls out of his wife and turns a little so he's facing me. I suck right down to the tip hard and fast and then hold still with the tip buried deep inside my throat. Daddy grabs my hair and starts thrusting, hard and fast. His grip on my hair tightening as he gets closer to the edge. After a few thrusts he holds still, closing his eyes and enjoying the feeling of being on the edge. I hold still for a second and then suck hard just once, tipping him over the edge. His hands holding the back of my head to keep me still as his body shudders with pleasure, moaning softly as I taste the first load hitting the back of my throat. Swallowing every drop hungrily and continuing to suck gently until he pulls out. Still panting as he whispers "Good girl." He lays down to catch his breath and turns to his wife and asks "So, how was that?" I'm still knelt down next to the bed, my head now leaning against Daddy's thigh as I patiently wait to hear his wife's answer. She pauses for a few seconds, considering her words, "Unexpected, but so good." I smile tiredly as I close my eyes, satisfaction washing over me as I listen to them talking for a few minutes before I drift off to sleep.
erotic
About the author
I enjoy writing erotic stories, some of which are from my own fantasies and some from other peoples fantasies. I enjoy taking a rough idea of a fantasy and bringing it to life with my words.
Reader insights
Outstanding
Excellent work. Looking forward to reading more!
Top insight
Eye opening

Niche topic & fresh perspectives
Add your insights