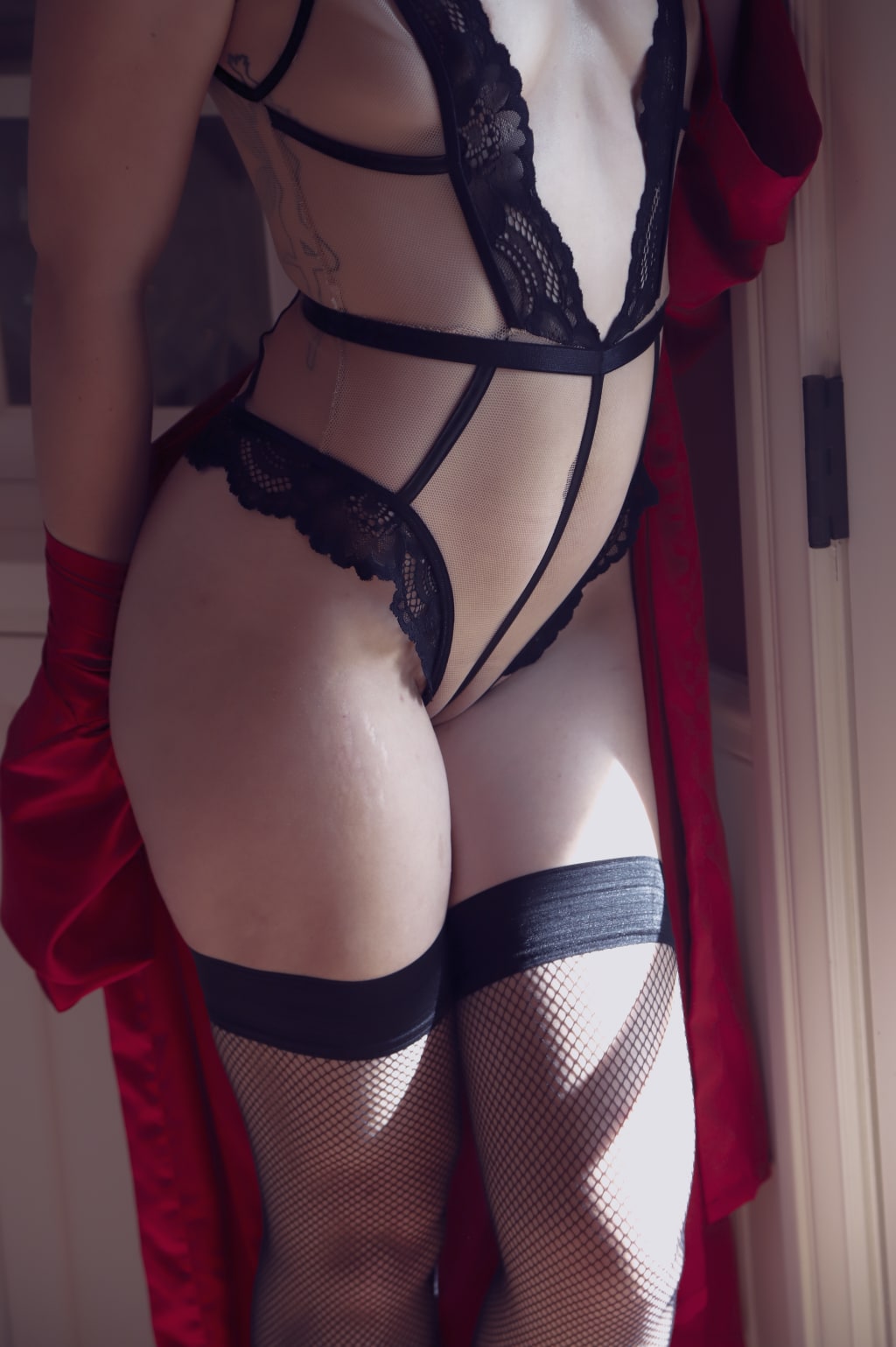 -It had been two days since the night in the field. She hadn't been able to get him off her mind. The way it all happened was surreal. Now, it's all she could think about. The feel of his hands on her body was enough to fuel her. The memory of how his lips caressed her skin…but now, the fuel had run out. She needed more.
-She picked up her cell phone and stared at the screen for a moment. The reflection of her face on the blank screen staring back up at her. It had been silent for days, it seemed. Was he playing a game of forget-me-not? Or had something happened? Or was it sincerely that life had continued for him while she lay day dreaming? Whatever the case, she didn't care. That coy shyness she had once had, had melted away in his arms that night. Tapping the screen of her phone, she woke it up and, without hesitation, sent the text:
(You. Me. Park, tonight.)
-Staring there at the font cursor blink back at her she panicked. Maybe that was a little too blunt. A little too forward. 'Oh well,' she thought as she clicked the screen closed. 'No going back now. Besides, I think bluntness is appropriate considering what..happened.' Sighing, she turned to her messy, un-made bed. She had spent the majority of the last two days there. Daydreaming, mesmerizing, remembering his fingers inside her. Teasing herself til she couldn't take the memory anymore and would cum all over her own fingers.
-For two days it went on like this. For two days she spent, touching herself in her bed, remembering all that he had done to her. The real thing is what she wanted, him whom she craved. She was sick of remembering. So she turned to fantasy, instead.
-She climbed into her unkempt bed and removed her pants and panties, revealing the thing he had so well celebrated. She was already wet with the thought of him, running his tongue down her body. There was one thing she had to do…she couldn't stand it anymore.
-Grabbing her 9" vibrating dildo, she stuck it in her mouth and closed her eyes, imagining him standing in front of her on her bed. She pretended the hard plastic dick was his, running her tongue up and down the shaft and gagging herself, watering her own eyes. Soaking it with drool, she pressed the button 'on'.
-The vibrations started in her hand. She smiled to herself as she pictured him there, rubbing her body with his strapping, rough hands. He had spent most of his adult life working with his hands, so they were calloused and stained. 'Strong hands…' and she let out a sigh as she continued on with her fantasy.
-Closing her eyes, she lay back on her pink pillow, relaxing her body so she could immerse herself in the memory of her own invention- influenced by factual events, of course. For a moment, she hesitated. She thought for a brief second, maybe she would wait. Wait till the next time they see each other. That felt as if it could be days, years even! The magnitude impression he left upon her boiled over into her reverie.
-There he was, in all his splendor, the man she so desired. Dressed head to toe in white, he appeared as an angel sent from the heavens to embrace her. He truly was a dream within a dream. The way his short hair fell in curls upon his forehead.
-Extending a hand out towards her, her dream asked in a low whisper, "Will you cum for me?" She could feel her face turning red, hot from the blood rushing to her cheeks. Even in her mind, he had made her swoon. It was just the effect he had on her, making her dizzy with glee.
-As she took his hand, she inserted the dildo into her. It slid in with ease and no resistance- she was accepting and willing. Pushing the button three times to turn up the vibration she let out a small moan. It…wasn't the same. But it was pretty damn good. There was nothing that could compare to his big, hard, beautiful dick that she so yearned to have inside her again. This would have to suffice, for now.
-Thrusting the dildo back and forth, somewhat violently, her body began to shake and writhe. In her mind's eye, he had taken her, spun her around, and forced her down to her knees. With one sure shove of his hips and he was inside her. Striking her ass with his hand, she clawed her nails deeply into his back. She had hoped one day to scar him with her nail indentations. One day… 'Soon…I hope.'
-There was no stopping it now. With the thought of her defacement of his back, she could feel the pressure building deep within her. Her legs began to shiver and her thighs got hot. Everything was hot; her cheeks, her hands, her pussy. Faster and faster now, she shoved the dildo deeper within her. Imagining him putting himself deep within her, never holding back, and fucking her with every fiber of his being.
-She wanted to be the one for him. The one who would make him cum in an instance. The one who knew just how to please him like no one else could. The one who he was reserved for. She wanted him to love her with every ounce of strength he had. To hold her when the days were colder and the nights longer.
-With this projection of his forever love and devotion, she felt the water within her start to rush out. She didn't care if she had to change the bed sheets, this is what she needed. With one last thrust, her body arched and her toes curled. In her dream, he smiled. That was enough for her to have a full release. A release of all the tension, all the feelings she had pent up within her.
She felt the gap between her thighs soak wet and the localized heat that she had felt now stretched throughout her entire body.
- It was almost as if she could feel him here, his warmth pressed against hers, wrapping her into him. She wanted to fall deep into him. She pined for him, now. How long had it been since she had sent that text? That oh so forward text that had sent her mind reeling, if only for a moment. Had it been seconds? Minutes? Hours? How long had she been laying here, designing her personal trance? Wrapped up in blankets that she wished were his arms?
-Ding! The text alert sounded off from her seemingly empty phone. Her heart skipped a beat. Was it him? Was she to be lucky enough to be graced with his light yet again? Peering down at the black phone screen, she was scared to look. If it wasn't him, she would be disappointed. If it was him, she could only imagine what his answer would be. Hopefully, she hadn't scared him off with her frank will.
-Picking up her phone, she woke the screen from its slumber. And there it was. The words she was hoping to read but had not been sure that she would see. From the person on her mind the most. The person she wished to be drunk in, once again.
(Park? Tonight? With you? I wouldn't miss it.)
-She reeled with excitement. Tonight was the night. The night she would see her love again. Tonight would be the night that solidified everything. Tonight would be the night..she told him. Of his intoxication to her. Of her unbounded adoration towards him. All she wanted to do was see him. To see him smiling at her, for her. Solely.
-Ding! There it was again. That lovely tone. The tone that said "he's writing for you".
(I miss you.)
-That's all he wrote. She felt dizzy and hot again, but not to any fault of her own. She was absolutely entranced with him. She couldn't wait for the hours to pass so she could leave her house to go to the park down her street. The park where they had played for hours as children. It would all mean something different now.
-'At least, I hope it does,' she thought and turned to the mirror to prepare herself. She had to make herself into the vixen she wanted him to see. Little did she know, he already worshiped her body, her soul, the very air that she breathed in. She was all he wanted. They were all they wanted. Unbeknownst that it was not unrequited.
-The only thing left to do was say the words.
About the Creator
an up and coming erotica author. Having a wide array of inspiration, SinKitty eloquently depicts stories that one can immerse themselves within. Check back for more stories!
Reader insights
Be the first to share your insights about this piece.
Add your insights