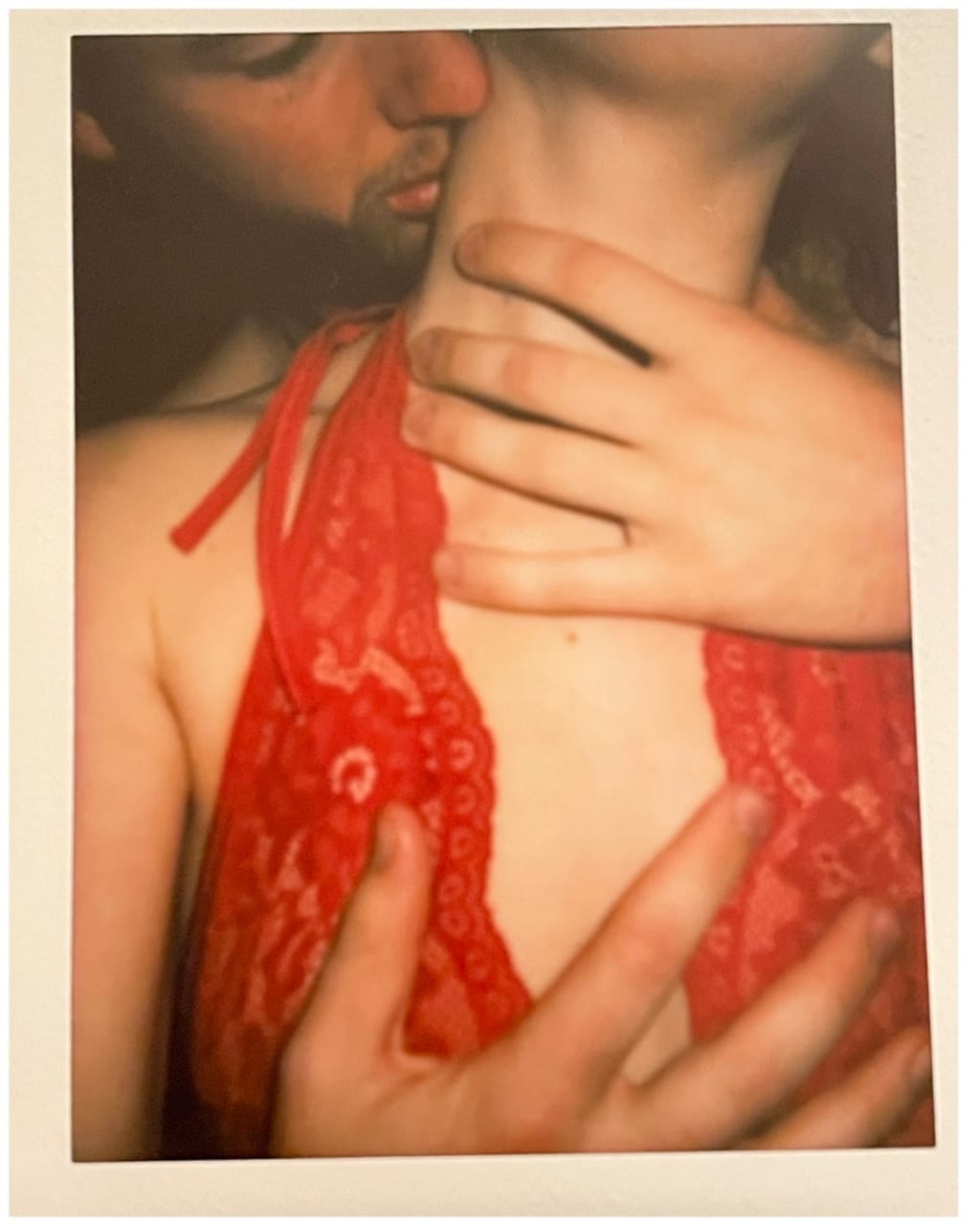 - 'I've never been good at this,' she thought to herself as he extended his finger to unbutton her blouse. On the outside, she was confident, unbridled. But on the inside she was just dying, begging to surrender. Was it the heat of the June night as they sat in that flowered field? Or was it the taste of his breath on her lips that motivated her actions? Maybe, it was purely that it was meant to, supposed to, destined to happen. That these two beings would cross paths and fall into one another. That all that had been said and done before wouldn't matter as long as they were one.
-'I've never been good at this,' his voice resonated from within him. It's something that never had quite gone away. From his time as a child, to the adulthood he somehow came to navigate- he felt as if everything he had done thus far had been all for nought. Until she came into his world. Until she breathed life back into him. Until she made it so that no one could break him, again. She made him feel...invincible. As if he could do whatever she asked, whatever he needed to do to make her smile. And oh, what he would do to see her smile.
-Slowly, he unbuttoned her blouse to reveal the perfectly shaped breasts she hid underneath. With one hand, he caressed her breast and cupped it. With a gentle squeeze she let out a perfect moan. The one he had been aiming to produce since he first saw her standing on that vacant bridge so long ago. When he first realized that she was his reason for existing. -She wondered for how long he had been amping up to do this. To take her here without any knowledge as to what would ensue. Or did he know? Was this his plan all along? To get her alone and ravage her till she was unable to speak?
-'Whatever it is,' she thought as he leaned in to kiss her neck. 'I don't care.' She leaned into his kiss, letting go of all the inhibitions she had come with.
-Taking her pale body in his hands, he knew he would have no issue in celebrating her body. Praising it. Venerating it. It was as if he had been made especially for her. There was nothing else he wanted to do more than to feel the weight of her body on top of him. To taste the saccharine of her skin beneath his tongue. To let her rain down on him in sweet surrender. -How long he must have waited. How patient he had been. She knew she had strung him up to bide his time, idly. He had been so understanding. Her life was not the easiest. It had not been as sweet as the passion he was exhibiting. She had seen things, heard things, done things that she had not been proud of.
-He didn't care. He saw her for who she was...who she could be. All he wanted was to taste her and venerate her figure.
-'I...I can't take it any longer!' his psyche rang out. He couldn't wait. He had spent years waiting for her to finally see him. And see him she did.
-"I want you to feel me," she said as she grabbed his hand and ran it down her torso, her belly, to the base of her skirt.
-"I want to feel you." She guided his hand underneath her skirt, looked him in the eyes and proclaimed, "I'm not afraid anymore."
-These were the words he never thought she would have uttered. Now here she was, declaring them for him. He had to have her, here and now.
-His fingers grazed the inside of her thigh making her shiver. Pulling her closer to him, he gave her a small warning, "don't...move". She took a small breath and let it out, nodding her consent. His fingers reached for her tiny panties and moved them to the side. There was no one else in the world but her. He reached her pussy now and my god, "you're soaking!" he exclaimed. Blushing, she seized hold of his hand and slid his fingers up her pussy. She held them there as she nibbled the base of his neck. This was it. It was time. Time to make her feel...seen. -Wiggling his fingers deep inside her wet pussy, he felt her walls begin to tighten. At the same time, he felt his pants become taught. He grabbed her right hand and moved it to the base of the zipper on his jeans. She paused for a moment and stared, mischievously, into his eyes. He had never seen this look from her before. He knew something was about to happen, but he couldn't say what. He only knew what was obvious- she was incredibly turned on...and it was all for him. That look in her eyes, it was contagious.
-"I'm sorry," he uttered.
-"Sorry," she was confused. "Why are you sorry?"
-"I just...can't take it anymore," and he looked at her once. Again, to see the desire in her eyes for him; once more before he devoured her.
-"Don't ever be sorry," he heard her murmur. She had lost all reticence. There was nothing more she wanted to do than to be lost in his body.
-It was within this new found confidence that she acted. The smell of his skin motivated her to move closer to him. She pressed her body against his body and took one last breath of the sweet air in. And then she kissed him- the first of what he hoped was many. -Staying there, in her sweet embrace, was the only place he ever desired to be. There was no holding back now. She was his. He longed for the taste, for the smell, for the feel. He had to have it. Had to have her. Instead of getting lost in her kiss, he wanted to explore her body.
-"Lay down," he instructed. He wanted to wander her skin, caress her thighs, taste her water. She obediently did as he commanded. She was giving up all for him,'Let him do all he wants with me'.
-As she situated herself in the grass below them, all her mind could think about was his hard dick beneath his pants. How she longed to take it out. She wanted to taste it. As she went to open her mouth and confess, he covered it with his hand. He held it there, disallowing the words she so wished to say from expressing. She bit his fingers, playfully, and he held his hand there, stronger.
-He began at her neck, kissing and nibbling as he worked his way down to her perfect breasts. Sucking and tracing her nipples with his tongue. Her skin tasted like the honeysuckle that surrounded them in that empty field. It was a pleasant and gratifying taste that he had imagined for so long. He knew her pussy would taste even better. -Inserting his head beneath her skirt, he removed her panties to reveal her flawless flower. It smelled like her, sugar and summer rain. His tongue had a mind of his own. He rotated it around her clit, feeling her legs tremble on the sides of his face. He bit her clit gently and slid his fingers up into her pussy. She couldn't take all those feelings at once. She felt her involuntary body move beneath her. As her back arched, he felt a rush of water on his face. She gasped, embarrassed and grabbed his face in her hands, removing it from between her legs.
-"Why?" he asked, as if he had done something wrong.
-"It's just that...I've never had that happen before. It's embarrassing."
-He chuckled a bit. "There's nothing to be ashamed of. I love feeling you explode all over my face," he reassured her. "Now, I'm going to smell you all night...and that's the sweetest smell I've ever had." She smiled, coyley, and removed her hands from his face. "Do as you wish," and she lay her head back down on the grass below her.
-He knew it was time. Time to feel what he had been yearning for for ages. Since he had first smelled the perfume of her skin. He couldn't hold it in any longer. He had to have her.
-Removing her skirt, he paused. Looking in his eyes, confused, wondering as to what she could have done to cause such a reaction. He saw the lack of certainty and assured her, "I just want to savour this moment," he smiled and licked the inside of her thighs. "You taste like everything I had imagined you would...but more. It's like, I never want to be without this flavor again." She giggled a bit and that set him off.
-"I've waited so long, since the first time I saw you standing on that bridge. Wearing your flower dress you love so much. I just...can't wait any longer..."
-"Then," and she gripped the base of his pants zipper with her thumb and forefinger, "...don't." With that statement, his self control went out the window. All he knew was he wanted her.
-Unzipping his pants, she reached under his boxers and pulled out his hard dick. It was bigger than she had imagined and she smiled. This was it, the moment she had been wanting. Putting both hands on either side of his shoulders, she rotated him, flipping him on his back, so she could hover over him. He knew what was coming; he almost couldn't contain himself.
-She glanced at him, beaming from ear to ear. He had never seen her look this way- so excited, so longing. And it was all for him. With no hesitation, she put her mouth on the head of his dick. She ran her tongue in circles around it and opened her mouth wide so as to fit it all. She sucked as she ran her mouth up and down the base of his shaft, to his throbbing head. Sucking deeper, she gagged and wiped the tears from her eyes. She tasted the pre-cum he supplied her with and giggled a bit, though the sound was muffled. His moans were her motivation, the feel of his warm, hard dick in her mouth, her reason for existence. She wanted to feel every inch within her.
-Coming up for air, "Please..." she started.
-"Please?"
-"Please... will you fuck me?" and in her eyes he saw her pining. That look, the look of absolute longing, and it was solely for him. Of course he could serve her. That was his reason for subsisting: To Make Her Smile.
-He grinned widely and flipped her from on her knees to her back. She was naked now, laying there, blooming for him. Climbing on top of her, she grabbed his thick,pulsing dick and tugged gently, back and forth, rubbing it with her hand. He thought of going slow. He thought of extending the moment all he could. But there was a ravaging within him, some animalistic instinct that took over. Without a word of warning, he slipped his rigid dick into her warm, wet pussy. She let out a gasp as he started to thrust in and out, feeling her move beneath him. He began to strike faster and harder as she moaned out. Her moans were incentive for his action. He wouldn't slow. He would never stop. Unless she asked him to...
-She wouldn't dream of asking him to stop. She wanted to continue on this way for the rest of eternity. To feel him deep within her, making two souls one. She knew that this was how she intended to spend the rest of her days: Being fucked and loved by him.
-As their bodies vibrated with one another, he felt it coming. She felt it, too. They were one in the same. They were completely in sync. She felt a rising from deep within her. A warmth spread upon her whole body and she dug her nails deep into his back, gripping the skin through his shirt. Leaving marks she didn't care she had made. She wanted the world to know he was hers and that she was his. "Bite me!" She exclaimed and cried out as he bit down hard, leaving a mark for all to see. They felt their bodies rush and her back took up a deep arch. They let out a passionate cry in unison as she felt him pump her deep with his hot cum. They lay there for a moment, breathing each other in. Slowing their heart rates to beat as one.
-He breathed in and removed his dick from within her. Smiling, he watched as his load of cum fell from her jewel. -"I've waited for that for years," he respired. She smiled. she could still feel her body intertwined with his as his cum fell from her pussy, down her cheeks, to the ground below her. She slid her hand into his and squeezed, letting out a satisfied sigh. -Rascally, she posed, "Um...wanna go again?" as she climbed on top of him, desperate for more. That look in her eyes, it was his. Only for him did she reserve it. The look he had been aiming for, it was all his.
-He smiled and kissed her gently, running his hands from the base of her back to the warm, wet place he had just been moments before. He was hungry for more.
-"Go again?" he questioned. He pulled her deep into his warm, strong body, holding her there while he played with her sweet pussy, once more.
-"Darlin',
I'd fuck you forever."
About the Creator
an up and coming erotica author. Having a wide array of inspiration, SinKitty eloquently depicts stories that one can immerse themselves within. Check back for more stories!
Reader insights
Nice work
Very well written. Keep up the good work!
Top insights
Easy to read and follow

Well-structured & engaging content

Excellent storytelling

Original narrative & well developed characters

Heartfelt and relatable

The story invoked strong personal emotions
On-point and relevant

Writing reflected the title & theme
Add your insights