Naughty Stepmom
Lexi Luna in a sweaty scene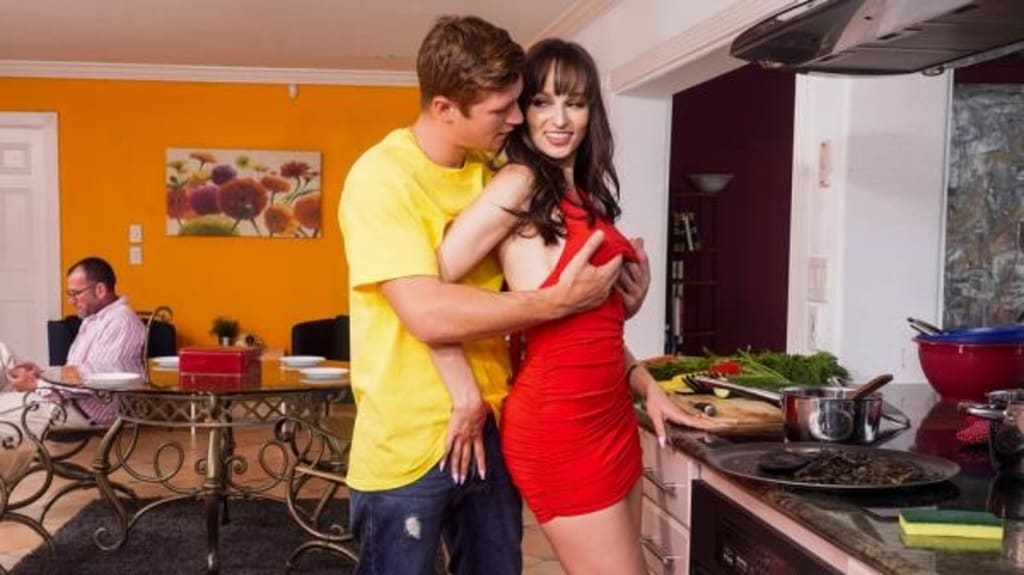 I've got to be honest, Brazzers latest scenes haven't been great so I was quite relieved when they hired Lexi Luna to do another shoot. It might be a case of them pumping out too many and therefore too similar to each other. There's still a certain quality to their product though which seems to be a result of high production input and bigger finances. Whatever the case this latest scene released about a day ago seems to have that gleam of quality to it that we were accustomed to. Entitled "My Stepmom's A Fuck Up," starring Lexi Luna and Oliver Flynn. There's another guy who plays Oliver's father and Lexi's boyfriend. He's middle aged and does a good acting job but unfortunately he's unaccredited.
Keeping your man happy.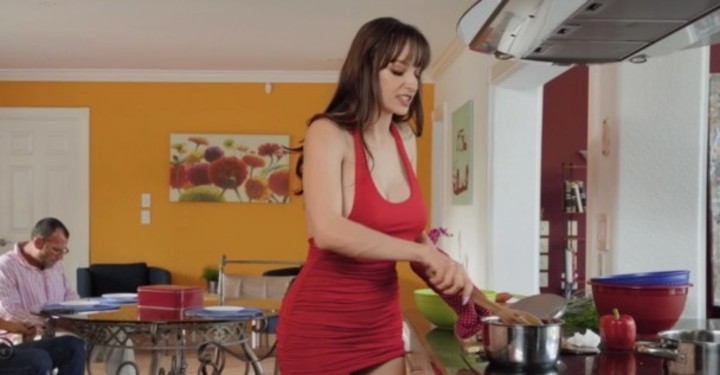 I've never seen Oliver Flynn before but he's from Chesterfield, Michighan and has a young stud vibe about him. The scene begins with Lexi struggling in the kitchen as she prepares food for her boyfriend and his son. This is the first time she's met her boyfriend's son and is trying to make an initial good impression. While the guys sit at the dining table, Oliver's father explains that Lexi could actually end up as Oliver's stepmom. The title of the scene is a bit misleading but I take it Brazzers were trying not to make all their scenes too similar. It presses all the same buttons for those who are a fan of the stepmom niche scenes. So I take it that was behind their thinking.
Making a mess...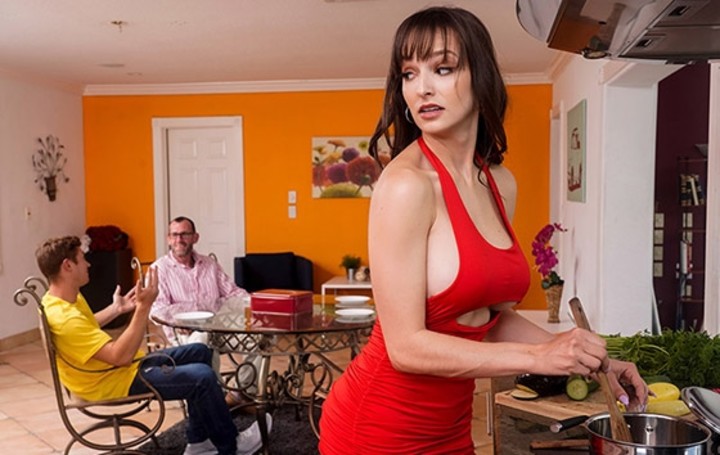 As Lexi makes food, her boyfriend gets a bit impatient and sends Oliver over to assist her. Oliver gets a bit touchy with Lexi who doesn't seem to mind the attention but she assures Oliver she'll manage. Yet she manages to burn some of the food in the oven to which Oliver's Dad gets increasingly angry. He sends Oliver back over who again gets to grips with her again. While explaining that she's been stressed, Oliver gropes her breasts to which she giggles, "What are you doing, mister?"
The scene plays on the fantasy that her boyfriend is only meters away. It's not something I'm a fan of as it seems unrealistic. Yet a glamorous Lexi Luna cooing over a young guy makes for good entertainment.
Getting sweaty with stepson.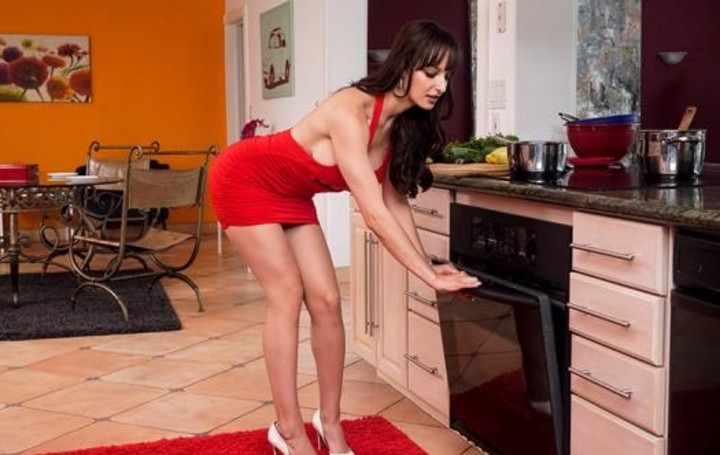 While Oliver's father is pre-occupied with his phone, Oliver proceeds to pull down his stepmom's g-string and eat her ass. Lexi covers her mouth as she rolls her eyes with lust and bends over the kitchen counter. She really gets into this scene and seems to be getting off throughout. Oliver's father shouts over checking how they are getting on but is oblivious to what is really going down. It's a bit dumb at times but the action is that hot that you might be able to forgive Brazzers for a dumb concept. He finally leaves the room allowing the pair to really get down and dirty. Lexi doesn't stop the acting during the sex and gives all the audio queues for this type of stepmom niche. I'm not a great fan of pussy eating but Lexi's body is that toned it's a pleasure to watch at times.
Making a meal of it.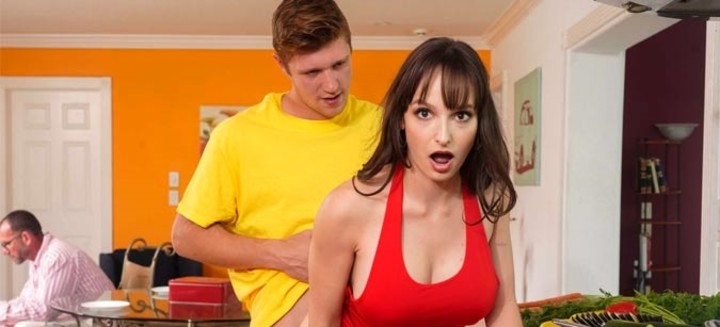 All the sexual positions are good and Lexi is absolutely wailing throughout. Oliver starts spanking her behind at one point while he's got her bent over the kitchen counter which is hot. Lexi is absolutely dripping with sweat by the end and even gets saliva in her hair. This doesn't stop Oliver from giving her a smooch though and the action is pretty dirty. I hope we see a lot more of Lexi Luna who's been in some great scenes as of late. Her previous stepmom title for Brazzers called "Stepmom Gets Soaked" was fantastic and I'm presuming that was the motivation behind this scene. I want to give this 5 out of 5 but the silly concept might be a bit stupid for many. The sex is great so I'm going to give it 3 out of 5; a very dirty, sweaty scene.
3 out of 5.