Naked Outdoor Photography
Part 1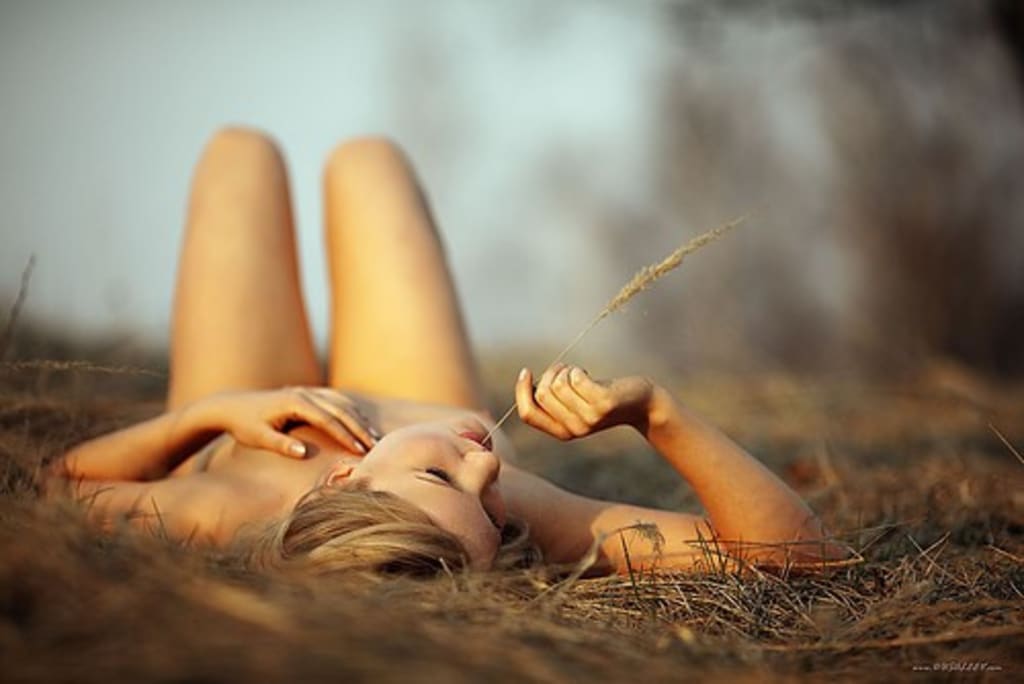 This is all about my first Naked Outdoor Photography experience. I learnt about this through my partner who has been doing it for around twenty years. I was always intrigued by what he got out of it and what it was like to take such risky photos.
The way the photos are shown is through a naked public dare website. The website involves various dares, which the photos are then based around. Some of the dares include rocks, staircase, tractors and animals. For the dares to be accepted, you must have yourself either topless or naked in the photo and the dare to be visible. For example, if you were doing the animal dare you would need to have the animal next to you or behind you. The main rules though is that you need to be outside and must include a story about the picture and how is was taken.
Although there are some dares that you can do anywhere and at any time, there are also some riskier dares which would take planning and careful thought. This would be because of the higher risk of getting caught associated with some dares. Each dare has its own rules to follow in order to get them shown on the site. Also the website itself has some rules that you must also follow. One example of the rules is that the images are not allowed to contain any sex acts. This website contains full adult nudity but specifically states that it is harmless and nonsexual images.
My partner and I have been together about 9 ½ months. Until now we have never tried these type of pictures, either indoors or out. This was mainly because I am not very confident in the way I look. My partner has always supported me with the decisions I had made about this.
However, I had been debating with myself whether to try and have a go at taking a dare picture myself but I am one of those people who will find an excuse why not to do something.
So, I have spent the last nine and a half months finding excuses why not to do it but yesterday that all changed. My partner had emailed the people who work the website with a few more of his dare photograph's, as he was doing this we realised the house was empty. However, I didn't think anything of it until…
Until my partner suggested taking my first ever naked photography dare picture. I was very hesitant at the beginning and immediately said no, although in my head I was saying to myself it can't be that bad and we will have the comfort of our own home if anything did happen.
However, I was still denying myself the opportunity to take the photo. Although my partner was very supportive of the decision I had made and we, well he moved on. A couple of minutes later I finally decided to go and take the photograph.
My partner had suggested the easiest dare for me to start with would be the front door dare, this would involve the participant standing either by a door or having the door open to public view. We both thought this would be relatively easy because we would have the comfort of our own home to take the picture in. So, once I had decided to do the image, I sent my partner downstairs to take a few "test shots" whilst I got myself ready.
This meant undressing and putting on his dressing gown (I prefer his to mine). I made my way downstairs to the back door. At this point I was extremely nervous, just in case someone ended up coming home. My partner tried to comfort me and told me I could choose the photograph to send in to make sure I was happy with it.
After a couple of seconds of me panicking and wasting time, I finally decided to just stand at the door fully naked and let my partner take the shot. For the end of January, being fully naked at my back door was never something I considered doing because it was so cold!
Once my partner had taken about seven or eigh photos, I quickly put his dressing gown back on. During the process of my partner taking the photos, I didn't get much of a thrill but I understood why people enjoyed completing the dares. Also, during this time I think I turned my partner on quite a bit which was also helping me!
After choosing the image and cropping it down to size, I allowed my partner to send it into the website to get approved, which I found quite thrilling in itself.
This helped us with the sex time that we had later because I had been able to give my partner the thrill of having me naked, also giving him the thrill of me doing something that is one of his favourite past times.
I'm sure as I get used to taking the dare photos, there will be more exciting stories ahead for you all to read.