My Top 10 Sex Toys
My Recommendations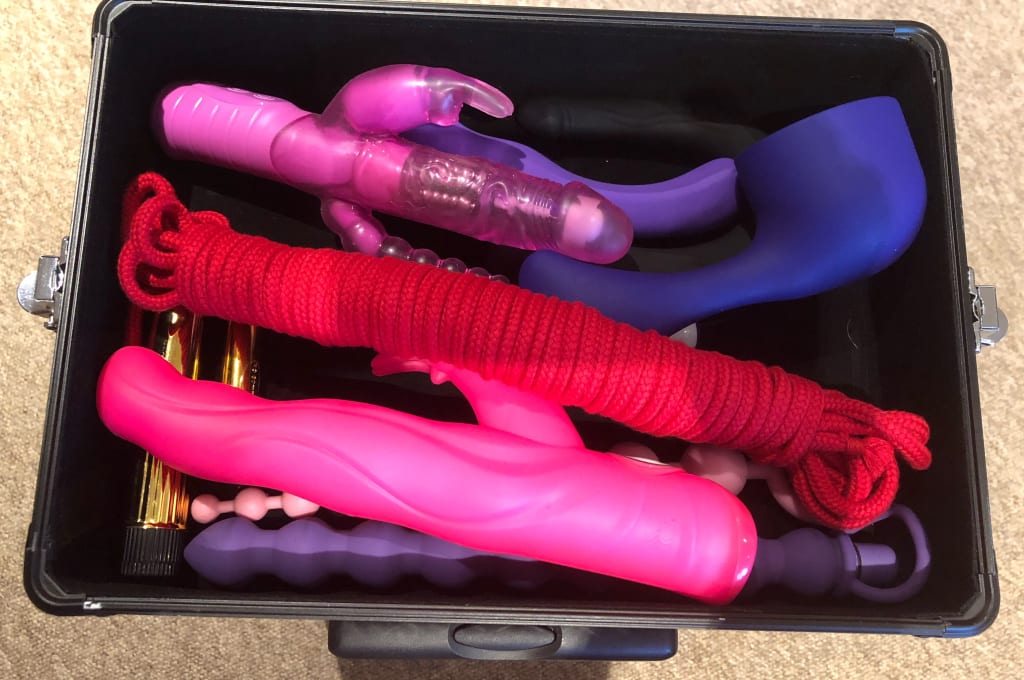 I obviously talk about sex toys quite a bit.
So here are my top 10 favourites:
Magic Wand
Can be used both alone and with a partner, never fails to give an orgasm, and is a common toy used to get a girl to squirt which can be very fun and messy.
Suede Floggers
Love my suede floggers, the ones I have are handmade by a friend. They are beautifully weighted, allowing me to create a nice rhythm whilst flogging. Also because they are light, so no matter how hard I strike, they do not hurt or mark. They are very sensual when dragged over the skin. They create a very satisfying sound and I generally much prefer them to my leather floggers.
Neon Wand
Want that extra spark in the bedroom (literally)? Then go for a neon wand. The low settings are subtle enough that most people can experiment with them without pain, and they can be used on any part of the skin, just avoid the eyes. The sparks and colours can be very satisfying. I especially like the tripper attachment as it brings a lot more sensuality to the play.
Wartenbug Pinwheel
This small, inexpensive toy literally sends shivers down my spine when used in the right place. As you may have guessed, I love my sensation play, and when this was used on me for the first time, it really changed my world.
Blindfolds
Can be used in multiple scenes in (and out of) the bedroom. Really heightens the senses and builds anticipation. Even if you are just looking to add bit of romance, then a blindfold could be just what you are looking for.
Spanking Paddle
Simple, easy, little toy to get out in the bedroom. Mine is dual sided, a soft side for sensation and playfulness, and harsh leather which gives a bit of a sting for the more kinky side and even can be used to give a telling off.
Soft Handcuffs
These I use to restrain people (or myself) to a St Andrew's cross, can also be attached to a bed or other items. The reason why I prefer soft restraints is because they provide the required restraint and maintain that control without causing damage or leaving marks. Hard handcuffs can be dangerous, but I will cover this in another post later
Wax Candles
I'm actually yet to try my new wax candles (hint hint to my partner who I hope is reading this) but they are relatively cheap to buy, come in a multitude of colours, and can be very erotic. Can be used romantically or as part of sensation play and are just something a little bit different. I like things that are different. I believe that is what keeps things exciting.
Jiggle Balls
A fun little item that can add a bit of excitement as these can be worn during everyday activities, i.e. going shopping. They can build anticipation during the day, even use remote control ones so your partner can wind you up during the day. Also increases your pelvic floor muscles' strength, so a winner all around really.
Strap On
I've only recently ventured into using a strap on—however, I do have to say it was a really erotic experience and I will definitely be doing it again. I suppose it's kind of a role reversal and gives the woman a sense of control, which is odd for me as I'm generally submissive. Also allows the guy to try something new. Not forgetting strap ons can also be used on women 😛
My aim is to have posts about all of these toys, so they will start appearing shortly—keep an eye out.
Kink
x