My Night with The King!
Now you've gone too far, Paula! Or have I?!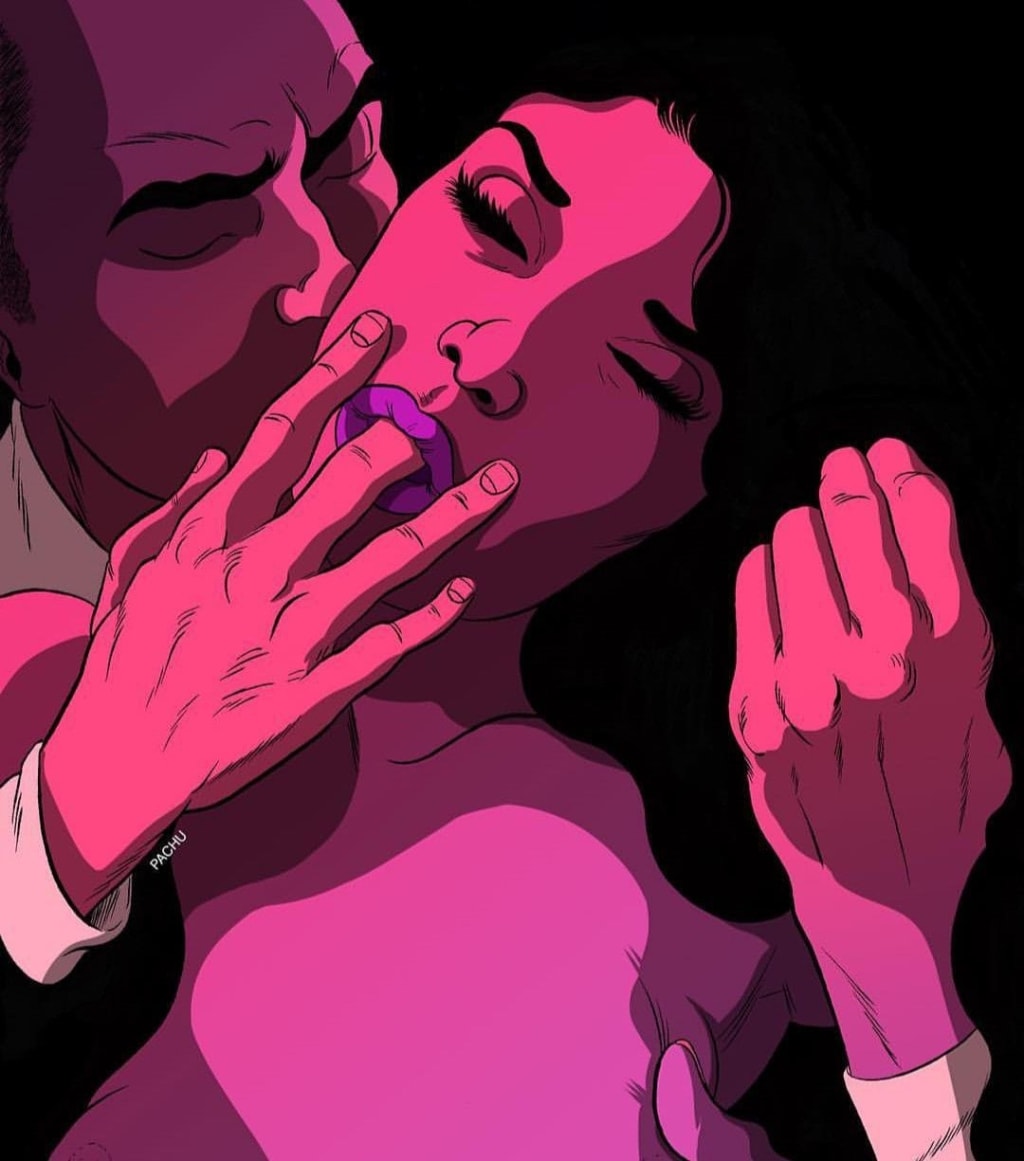 As this perfectly handsome man transpires from the escalator into my world, he appeared like the male Phoenix from the Ashes, and my beating heart ceases. He is no ordinary man. This Alpha would have been better placed on Mount Olympus, peering down on us mere mortals. An image comes to mind of Zeus occasionally sending thunderbolts hurtling to Earth to remind mankind of his power. He approaches, and my physiology kicks in with a renewed force, and my heart beats once again.
He leads me to our room in a gentlemanly fashion, and I follow willingly, almost with a feeling of The Lamb to the Slaughter.
The excitement begins to build deep within me, and the butterflies that had previously been having a party in my stomach have been sedated by his very presence. The walk to the room is slow and heavy with the expectation on my part. Have I been too bold in my request to have such a man?!
We arrive at the room, and as he unlocks the door, he looks me dead in the eye and asks, "Are you ready for me?" My body is temporarily paralysed, so all I can muster is a nod of my heavy-with-lust head.
We enter, and the door shuts firmly behind us. The sound of him locking the door echoes through my whole being, and I and whisper to myself with bated breath...
"I am alone with The KING!"
He throws the suitcase on the bed and I wonder to myself why he needs a suitcase, we are not spending the night together surely. As he begins to unzip the suitcase, he looks at me and smirks.
Oh! My question has been answered as he displays a range of black and red leather floggers, paddles, and whips. I try to gulp, but my throat is so very dry; something resembling a hiccup comes out instead. He offers me a Jack Daniels and coke, and even though I don't drink, I gratefully accept. My throat is working now, and I gulp down the drink before my legs give way.
The warmth of the alcohol travels down my body and I begin to relax momentarily... "Stand up," he whispers. I stand immediately, like a naughty schoolgirl. In his hand, he possesses a beautiful collar and chain, and he proceeds to explain to me that once I accept the collar around my neck, I relinquish complete control to him. I look him in the eye and accept his terms. This will be the last time I am allowed to look at The King in the eye.
So it begins...
The only physical way his dick could enter my anticipatory pussy was by force. The sweetest force a woman's body could endure. Every sense, from head to toe, began firing at a level that was unbeknown to me. I could feel my eyes dilate and see my heart pumping beneath my glistening chest as The King pounded me into eternal submission.
Just as I thought I could no longer bear this level of pure ecstasy, and his sheer force, he wrenched it away from me and I would find myself on my hands and knees in the corner, head bowed, banned from looking at him. That was a gift only very good girls received, and I am not a good girl! I want to be at his mercy! I feel honoured to kneel before him!
The sting of his flogger catches me off guard, and beautiful pain shoots through my bare ass and travels to every other part of me that possesses a nerve ending. I feel his breath on my neck as he whispers who I belong to. I know exactly who I belong to, and I reply breathlessly as his soft touch caresses the very place he inflicted such pain a moment ago. This is the feeling of true ownership. "Forever yours," I whisper to myself.
As my body gives into his soft touch. I begin to feel his phallic power rub against my clit as to soften the blow he just induced. He enters me with a renewed vigour that I can only describe as poetry in the fiercest of motion. He flips me onto my back in one swift move, and splays my legs like times of old. He begins the sweetest of strokes, and I can feel him so very deep inside me... a place where no man has ever reached and ever will. I have ruined myself by allowing this God of a man to take me in this way. But oh what a way to destroy oneself!
With my legs as wide as they can physically go, I begin to feel a heat move deep in my flooded pussy up to my head. My eyes become blurred and I am transported temporarily to another reality as this beautiful man pounds and strokes within me. We have become one at that moment.
Such is my inability to control myself, I make the mistake and look at him directly in the eye. Even in my state of euphoria, I know what's coming next. I feel the pull of the chain around my neck as he leads me back to the corner where I belong.
While he leads me to the corner, I feel I am still in an alternate reality. Just like Alice tumbling down the rabbit hole, I too had tumbled down The King's Chasm, and it was a place like no other. I wasn't just being fucked and flogged into submission, he had literally carried me to a place I knew existed but had no way of finding.
I have always found the word "relentless" so potent and sexual, it always made me smile whenever I or someone else said it. I wanted to be fucked relentlessly, and the moment I lay eyes on him two years before, I knew he was the only man capable of such a task. His aura of capabilities oozes effortlessly from him, and matched with his depth and intelligence, sent me into a schoolgirl spin.
I learnt a lot about myself that night with The King, and it also gave me an insight into my dark and unexplored self. I believe we cannot truly enjoy and appreciate the light if we haven't experienced the darkness. Some may see my experience as abuse or feel I am damaged in some way, but to those people, I only say I wouldn't change a thing about me and what makes me tick.
The King delivered an intense experience in a completely respectful and gentlemanly fashion, and I have come away reborn!
Just as a snake sheds its skin, I left a lesser version of me on that bed in that room, lost forever.
erotic
About the author
Hey guys! 🙌🏽
My name is GF and I started blogging in February and I am in the process of setting up my own Healing Touch Therapy business.
I am very excited to part of Vocal and I look forward to interacting with you all
P
Reader insights
Be the first to share your insights about this piece.
Add your insights