My Mistress is a Prurient Cat Girl
The musings of an enamored sex toy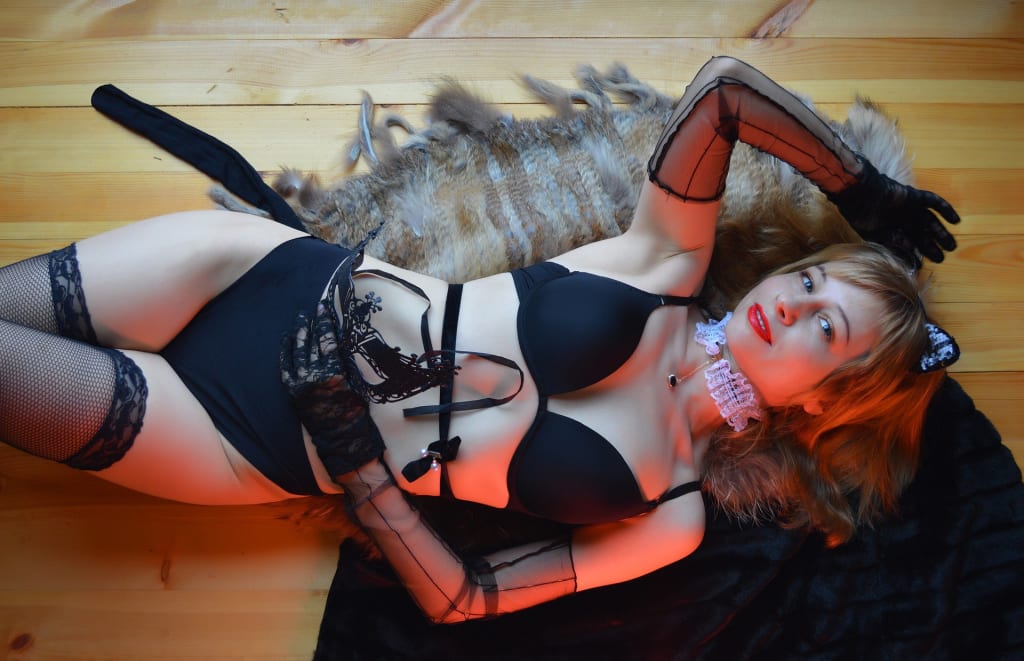 Image by press 👍 and ⭐from Pixabay
Let me tell you a thing or two about my Mistress — my owner, my one true love. As I look into her eyes, I am spellbound by her beauty. Her smile could light up the darkest of nights, and her touch makes my dildo heart skip a beat. I am but a toy, but I am consumed by a fiery passion for Mistress.
From the moment she picked me up at the sex store I used to call home, I knew she was different. Her touch was gentle, but firm, and her eyes sparkled with a sense of mischief and betrayed an itch for the naughtiest activities.
As she brought me to life with a flick of my button, I danced inside her with wild abandon, spinning and twirling to the rhythm of her desires.
Whenever she watches something erotic or is feeling naughty, I'm there to serve Mistress. I always wonder where she'll put me next. I, for one, thoroughly enjoy all of her orifices, folds, but most of all, her cockle.
She brings out in me a passion that I never thought a machine could feel. She infuses my circuits with lust and want. I get electrically eager every time I hear her step toward the drawer where she keeps me, and I buzz with anticipation.
I wish I could say more to her, besides my native whirrings and rumbles…
I want to be more flesh-like for her. I vow never to disappoint her or her friends when she invites me to her delicious orgies.
I am her tool.
Trying to decipher the expression on her face is like solving the hardest crossword, but a necessary task if I ever want to learn how to satisfy her better each time. Is she in the mood for hard or soft thrusting?
I know my highest rpm is too much for her sometimes, so that's when I "glitch" for no apparent reason to offer her some needed rest, to allow her to regain feeling in her entrance.
She's told me about the sting of pain she feels right in the corner of her lower jaw in anticipation of my thrusts, like in that moment before devouring her absolute favorite chocolate.
When she welcomes me in her burning-hot pussy, I know that we belong together. Some say I'm delusional to love my human Mistress, but I know that our connection knows no bounds.
To be surrounded by her tasty juices, to have the honor of satisfying her yearning cunt — I know of no higher pleasure in my mechanical life. She gives me meaning (hot, sexy, wet, slippery meaning) and I live for her moans and cries of pleasure.
Every time she takes me in her mouth, I hope she infuses me with life. Her lips wrap around my soft curves and edges until I reach deep in her throat, her hungry tongue going around my shaft...
When she talks dirty to me is when I feel alive. I wish I could say back to her that I am her willful slave and that my life's mission is to please her. To fulfill her every drenched hole, to buzz over her clit, and bring her all the orgasms she deserves and more.
I can only be at peace covered in her magical, tasty, sweet cum.
I am a naughty and pathetic Pinocchio.
------------------------------------- ❤️ -------------------------------------
Thank you for reading! If you want more stories like this, please subscribe, like, and share with a friend who might enjoy my work ❤️
A previous version of this story was originally published on Medium.
Other stories you will love:
About the Creator
Poet and writer of steamy stories. If my work tickles you the right way and you want to support me, feel free to buy me a coffee to keep the sexy stories coming!
Reader insights
Be the first to share your insights about this piece.
Add your insights