My Dad's Hot Girlfriend Review
Starring Jasmine Caro & Chad White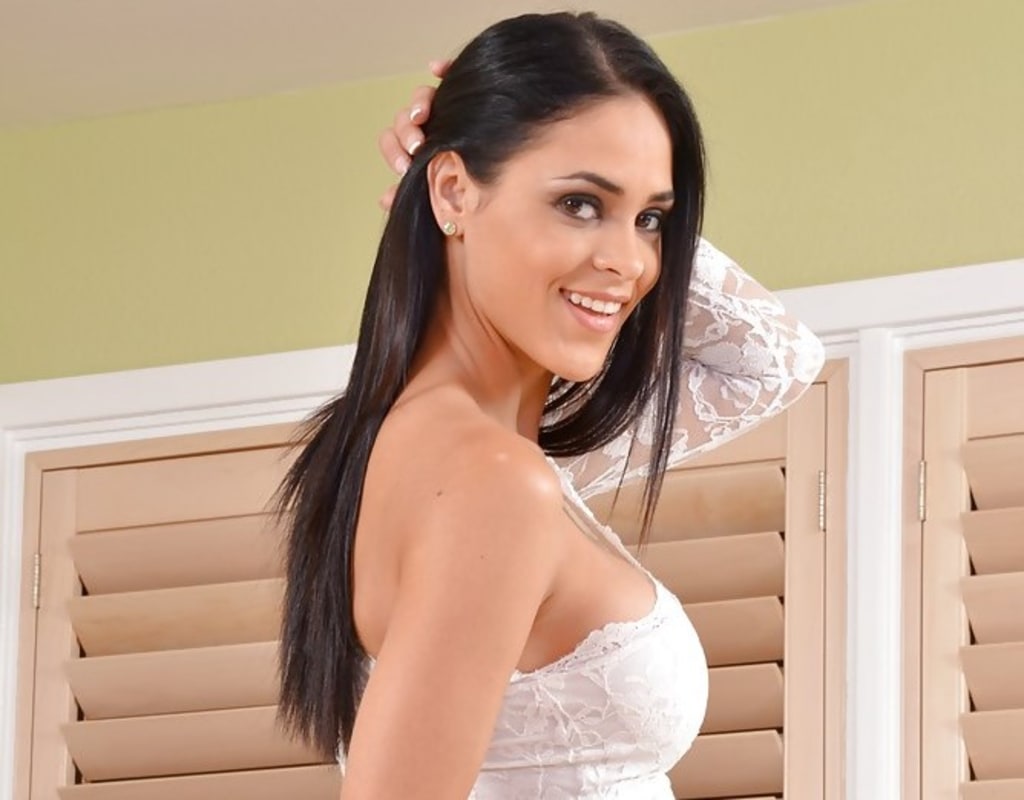 Naughty America are pretty consistent with the quality of their porn scenes; they tend to be reasonably priced to with a rolling subscription of about $29 per month. You get some quality websites included in the price as well which include 'My First Sex Teacher, My Friend's Hot Mom, Naughty Office, Naughty Bookworms, Dirty Wive's Club, I Have A Wife to name just a few. Yet one which is particularly good (if pretty taboo at times) is 'My Dad's Hot Girlfriend.'
What this website offers are scenes of older men's girlfriends cheating with their young sons. It's pretty scandalous and plays on the 'seductive stepmom' fantasy without going too taboo. There's been some quality scenes from this genre starring the likes of Dylan Ryder, Emma Starr, Rachel Starr and Jenna Haze. Naughty America seem to have a team who can really push the buttons on what the internet audience wants to see.
This particular episode I watched today stars someone who I haven't came across before though. Her name is Jasmine Caro, a 31 year old from Florida who these photos don't really do justice. When you watch her in the scene she looks ten times more glamouress than these pictures and I'm just a bit baffled why?
She has a foreign accent and I believe she has a latino background but I can't be sure. Jasmine has a sexy presence of camera but don't expect Oscar winning acting from her. Luckily she has a co-star with decent acting skills in Chad White.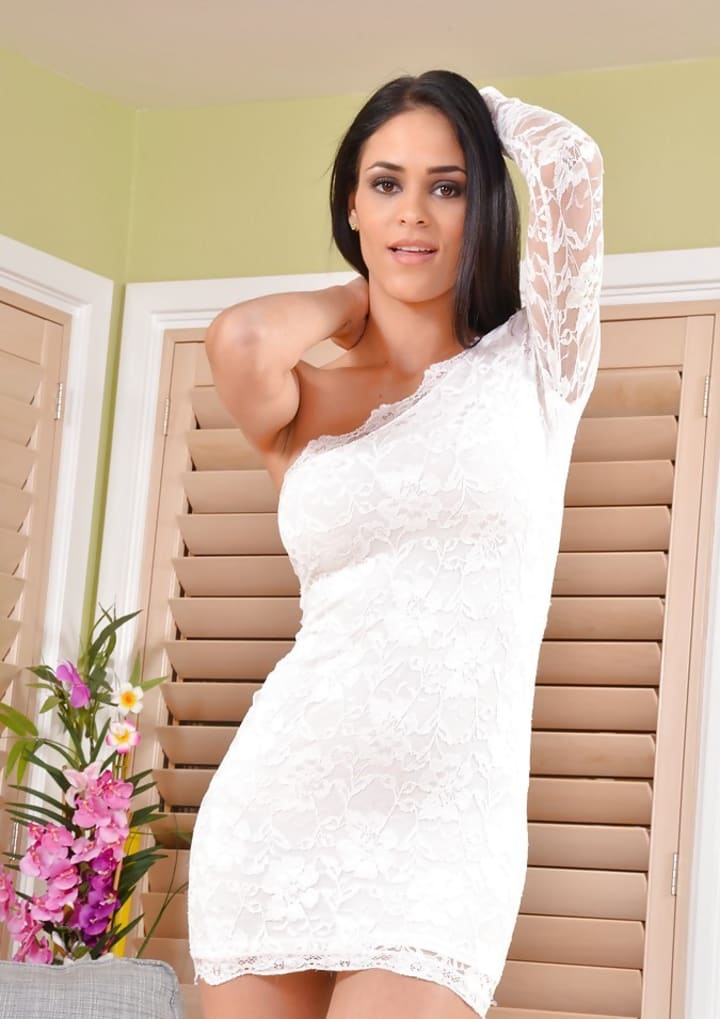 Chad plays Jasmine's boyfriend's son in this scene and does a particularly good job. The 35 year old has a tanned, body builder type look to him and uses it to his advantage. I think both men and women will be pleased with the choice of actor/ actress here.
The scene begins in Jasmine's living room as she has invited her boyfriend's son over for a 'talk.'
Jasmine is surprised he turned up but Chad is not sure why as he doesn't see any thing 'untoward' going on. Jasmine playfully informs him that she saw Chad naked in the shower the other day and was quite impressed. Chad is embarrassed but it appears he has no reason to be as Jasmine's hands start to wander on his muscular physique. Chad is shocked as Jasmine states she would like to 'try him out' implying sexually.
Chad tries his best to resist as he doesn't want to have sex with his Dad's girlfriend but it looks like the excitement might be too much. Jasmine starts kissing him and grabbing at his huge cock but Chad states that his father 'cannot find out.'
It's good stuff and these pictures don't do the seductive Jasmine justice as she looks very hot on camera. The acting stops when the sex starts though which is a bit disappointing but the chemistry is good between the pair. Chad looks eager when he's eating Jasmine's pussy and her just as keen when slobbering on his cock. Jasmine's body looks particularly sexy in both the 'doggie' and the 'cowgirl position.'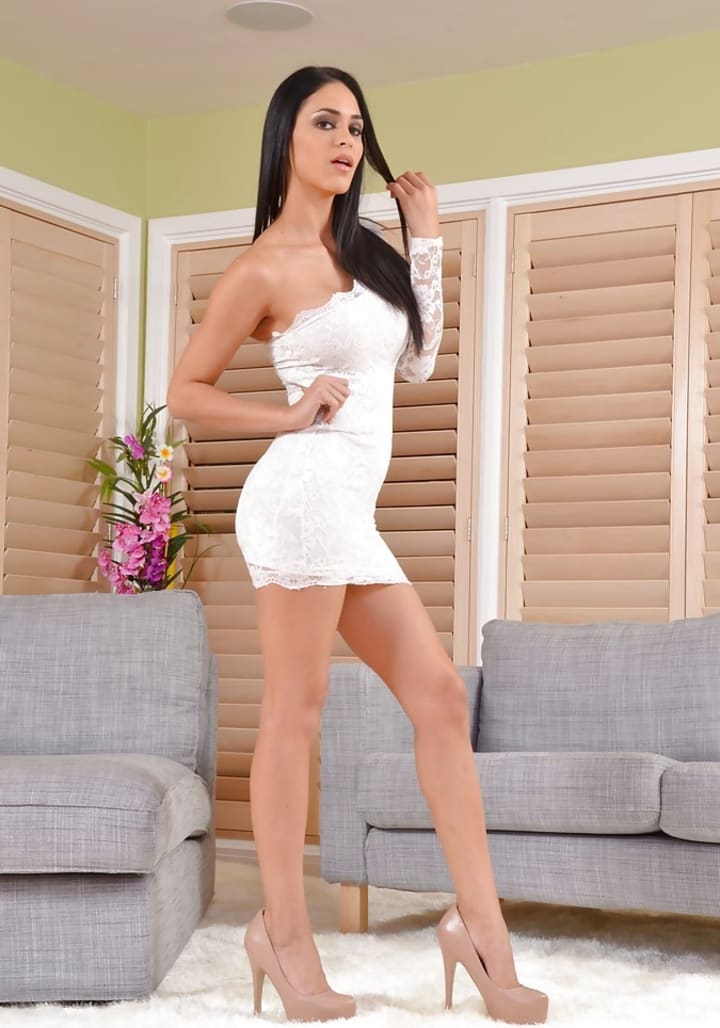 Yet I don't understand why they do that reverse cowgirl position as most the time the female looks like a 'bouncing pretzel.'
I suppose it's so the viewer gets all the angles of the female star as she goes to work on the guy's cock. The sex is good throughout and the pair eagerly start to 69 position each other (I always think that's a good sign in a scene.)
The bullet position is pretty good to and Jasmine seems to enjoy getting 'fucked' here too. My biggest critisism here is the lack of acting once the sex starts but the intercourse is great. Yet I do think for this type of scene the actor/actress should 'feed the fantasy' throughout. Maybe if you ask them they might not get paid enough but it's clear once Chad dumps his load on Jasmine's face she's ready to go home. It's not a bad scene but viewers of this series might expect a bit more; I give it 3 out of 5. Good sex just a shame about the lack of acting but still give it a try.
3 out of 5.