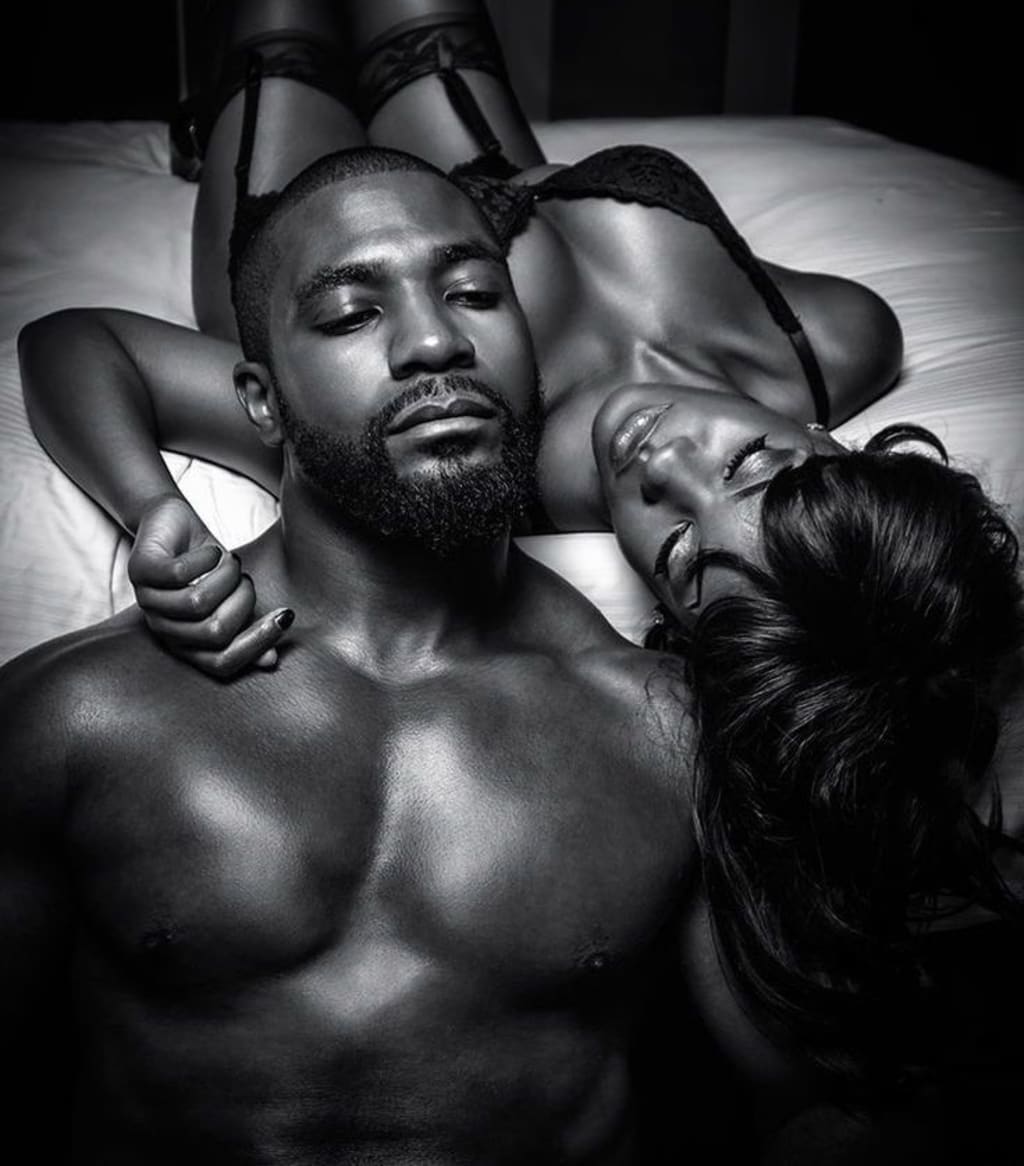 Source: Kamdora
Have you ever just wanted to suck a man's dick for nothing in return but the sight of him wincing and groaning because of your mouth?
I am scintillated by the thought of a certain dick in the back of my throat while on my knees with my back arched to look up at him enjoying it. The threat of my failing gag reflex makes it even more thrilling.
Let me show you what this throat can do, baby. Just relax and enjoy the ridges inside my mouth. Revel in the softness of my cheeks, and the willingness of my tongue to caress your phallus.
---
As Phylix undressed before me, I felt my mouth salivating in anticipation. He had promised me a strip tease during what I thought was just banter, but it was not. Phylix was fully capable, and he did not disappoint me when the time came. His muscles ripped and teased while he danced; he enjoyed the act of seduction, and I indulged in his performance.
We both forgot about those who we called 'boyfriend' and 'girlfriend,' ignoring the heartbreak that would ensue if they ever found out. We knew it wasn't right, but we wanted it anyway. And we had been wanting it for a long ass time.
The Phylix that was before me was not the one that I saw at work, and I was so grateful for that. The Phylix at work was calm, but firm. I guess you could say he was being professional; understandably, I did not see past his rigidity at first. He was just another suit on the job. It wasn't until he was a month into the job that my hoe senses latched onto him. We got into an elevator together and reached for the buttons at the same time. All it took was for him to smile at me to brighten my day and my senses.
It was not immediately lustful or physical, we just had what some people call an electric connection that made us into its puppets. My mind knew I was in a committed relationship, so in some ways, I had restraint. We chatted and laughed for a few minutes in that elevator before parting ways to go home. We didn't know it then, but that elevator would lead us to commit all the sins associated with romantic relationships.
To me, he was just another stranger. It wasn't until I got home that I realized Phylix had been on my mind the whole ride home. My boyfriend immediately asked what I was smiling about, alerting me to the grin that was plastered on my face. I did not brush off our encounter the way I thought I could; I ended up replaying our laughs and meaningful glances for the rest of the night.
To make matters more difficult, the next day at work, the head of the department announced a project that would require me and Phylix working together. I was noticeably way too ecstatic. That project was the beginning of the banter, the secret meet-ups, and the eye tag.
To us and our colleagues, our exchanges became conspicuously intimate, especially for a work space. He would smile at me across the room, and I would hide my smile by directing my gaze elsewhere. The days were spent having private text conversations and sharing inside jokes.
Despite all of this, it was not until three weeks into working together that we had our first physical exchange. Phylix and I hopped on the elevator for a meeting we had on another floor.
Nervous about being alone together, we stood in the elevator in silence. I knew immediately that I was in trouble. The attraction between us was palpable, compelling him to reach for my hand. Though we'd been flirting for weeks, he had not ventured to touch me. There was never a chance, and we never created the opportunity. In the elevator, the opportunity created itself and I couldn't ignore the desire to feel his skin against mine. When he reached for me, my synapses were overwhelmed with impulses.
The electricity between us grew as I rubbed my fingers on the back of his hand. We turned to face each other knowing what needed to happen. He pulled me closer by the waist and pushed his tongue into my awaiting mouth. I kissed him like I had never kissed a man before. I explored his lips as his hands caressed my back and groped my ass. His grip on my body implied that he had no intention of letting me go, and I willingly remained wrapped in his arms. We were transplanted back into reality when the elevator dinged. We had reached our destination.
In the meeting, I had no focus or motivation to do anything but kiss and caress his strong body. My body tingled as it craved his strong physique against mine. I was ashamed at how much I wanted him, knowing that I had a man at home. But I wanted him nonetheless. He looked at me the entire time, and I gazed at another colleague to keep the lust at bay. Both of us couldn't be completely lost in each other; we would have certainly been in trouble with HR. Regardless, I enjoyed him doting on me while we sat across from each other. He knew that I knew he was watching me, making it even more tantalizing.
We had more exchanges like this for weeks on end. Phylix would grope me in passing or he would stop by my office occasionally to steal a waiting kiss. He would kiss me on the neck when someone left the room long enough. Together, we enjoyed the tension, and I enjoyed the tease. Even more, we enjoyed the secrecy and the constant threat of being found out. It was thrilling. And for a while, it was enough.
Our text conversations became more frequent, even as I was home with my boyfriend. I wanted Phylix. It became more evident when I wished for Phylix's dick while Richie, my boyfriend, was fucking me. My boyfriend of three years was doing his absolute best, and I couldn't even be in the moment with him. Instead, I was in Phylix's bed calling his name. My pussy begged for Phylix's bulge, my neck craved his kisses, and my tongue wanted to massage his dick. I couldn't deny it anymore.
——
It had been a busy and pleasantly long day, but I needed to work overtime; there was a lot to get done. As we were working on a project together, Phylix and one of his IT colleagues agreed to stay and help me out. The other guy left Phylix and I at around 7 PM, and we were shamelessly happy to see him go -- more time for us to spend together. We buried ourselves in work for another hour before Phylix decided he was ready to give me my strip tease.
He closed the blinds in my office, locked the doors, dimmed the light and began unbuttoning his shirt. I knew it was time, and my pussy knew it too; it began pulsating in joy. I shut off my desktop, and tuned into the show. He was majestic. His body was beautiful and begged me to touch it. Barely through with his show, his shirt was off and his pants were down when I stood and walked towards him. My eyes stared into his and my fingers traced along the ridges of his abs. He lifted my chin and reached down to kiss me. It was tender. For the first time, we kissed with the possibility of more happening between us. I was on the tips of my toes, and his body was against mine.
After what felt like forever, I released my lips from his and looked into his eyes. I unbuttoned my silk blouse and threw it to the floor. My nipples were stiff through my brassiere. The pencil skirt I wore fell to the floor around my feet. I stood before him in a thong, sheer bra and a pair of high heels. He looked over my body as I got to my knees to pull down his underwear. They fell to his feet to reveal his dick. Like him, it was majestic. So fucking big that it turned me on more than I imagined was possible. His shaft pointed upward, so I pulled it toward me and put the head in my mouth. Mmmmm… I could taste his precum and the acidity of it turned me on.
I kissed his dick and sucked it with the utmost fervour and sloppiness. It was loud and moist with my saliva. Phylix, like I imagined, felt good in my mouth. He moaned my name right there against my desk, in my office. The more I sucked him, the more I wanted to devour his dick. I didn't need anything more from him then. The blowjob was not just foreplay for me. I wanted to give my mouth completely to his dick and his orgasm; I deepthroated it every chance I got. It was more important than gasping for air. His dick in the back of my throat, my arched back, knees to floor, and his eyes gazing into mine ignited something in me. Just before I thought he was going to cum, he gathered my hair into his hands and removed his dick from my mouth before reaching down to kiss my lips.
He told me to stand, so I did. I watched as he stepped out of his pants that had been gathered at his feet. With his strong hands, he picked me up. I was straddling his waist as he kissed me and rested me on the desk. I thought he wanted me on my back, but he instructed me to get on all fours. He kissed me along my back as he rubbed his dick on my clit. Up and down his dick stroked my clit, waiting on me to cum, and I did. My pussy and clit contracted to orgasm before his dick was even inside me.
I was so wet, my cum was dripping onto my desk. He used his finger to test and see if I was prepared for the onslaught of his dick. I was. My pussy was opening up for him. His dick was huge, but it made its way inside my walls. It filled me up nicely. Our moans sounded through the hollow walls of my office. I pushed my ass back at him as his dick slammed into me. My pussy was so wet that I could hear each penetration as much as I could feel it.
His dick was massive, but my pussy welcomed all of him. For that, he rewarded me with more orgasms than I ever had. We did rounds in my office that night. When I finally got home, it was 3 AM. Richie trusted me enough to not question when I told him that I was working all night.
I can't wait for more nights of working late.
------
Stay connected. Follow me on Twitter.

Rhea Rose
Sex stories that explore every desire and inspire sexual confidence.
*This is an adult space for adult consumption.*
Follow me!
Pinterest: @RheaRoseStories
Twitter: @RheaRoseStories
See all posts by Rhea Rose →