Most Sexual Rap Lyrics 
Music may contain substantially more sexual content, than any other media formats. Sexual rap lyrics are the primary culprit.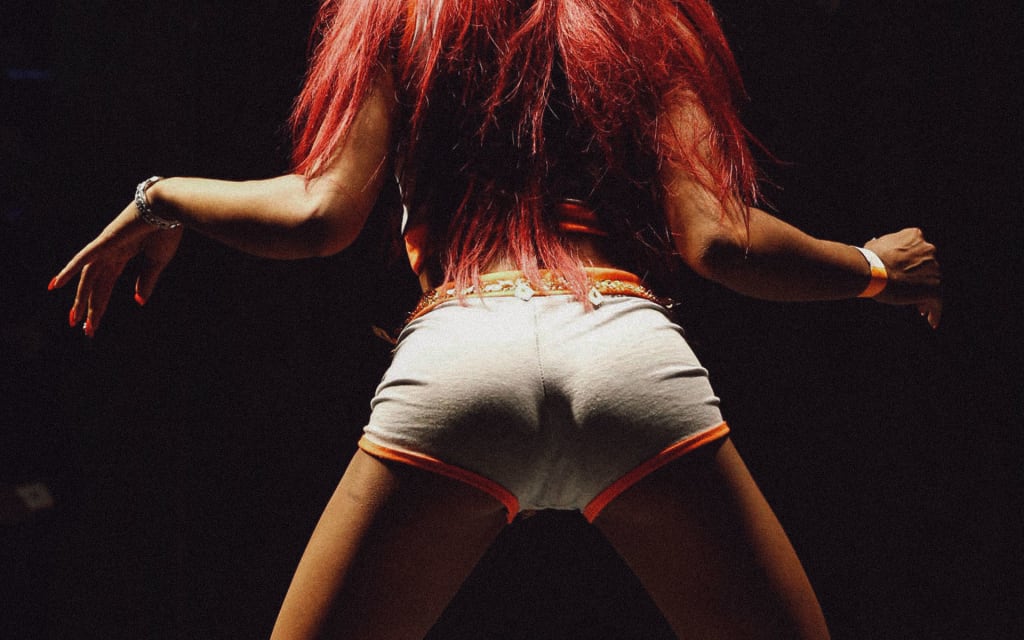 If you are a hip hop aficionado like myself, you love some good raunchy lyrics. There is nothing finer than nodding your head to the beat as visions strippers twerk in your mind, or on the screen. It would be impossible to list all of my favorites here, as there have been so many great rappers adding their own special brand of filth to the genre over the years. I have endeavored to create the best rap lyrics about sex for your consideration.
"I want to melt into her body and discover the base of her warmth"
I promise this will be the only sentimental entry. Coming in at number twenty, Mind Sex by Dead Prez. This is a very, sexy song, which cleverly enough seduces women by insisting that the sex can wait. Diabolical! The lyric in question is part of a spoken word verse at the end of the song, and in my mind, is one of the cleverest ways to express the desire to have sexual relations that I have ever heard.
"Body is soft, makin me wanna SQUISH HER. More just than a game, a bumper like a sub-WOOFER!"
This song has a special sentimental value to me. A young boy, his eyes glued to Yo! Mtv Raps!, waiting for his favorite video to come on. The rush of excitement I felt was palpable when I heard that saxophone crank up. The lyrics of this song exactly mirrored my internal monologue as I watched the bikini clad fly girls shake what their respective mammas gave them! The juxtaposition of the image of young women making their butts vibrate and the internal workings of a speaker system… tantamount to genius.
"My anaconda don't want none unless you got buns, hun!"
Big booty women didn't always have it so good in this country. Then one day, like Jesus in a leather jacket and a fedora, Sir Mix-a-lot came to deliver us from the domination of pancake ass! Praised be his name. I don't want to take this too far and say that he is like MLK to women with big butts, but he could at least be their Al Sharpton. The genius of this lyric is that it implies that men with large penises prefer large rear ends, thus creating a psychological incentive favoring a preference for buttocks of thebadonkadonk type. Sir, you are an innovator.
"She could blow more head than a whale blows water. Blow-Job Betty make your dick get harder."
I often feel guilty laughing at the lyrics of this song, which in the context of a realistic situation would be quite horrific. It is a ribald tale of a young, sexually charged woman named Betty, with a propensity for any and all activities related to the art of fellatio. She would take all possible opportunities to fellate any and all willing males in her vicinity. On one fateful afternoon, she met a young Too Short, in the prime of his youth. She promptly went to work in an oral sex session so long, and so intense, that the end result was an especially forceful ejaculation, which literally killed her. Now that is dedication to one's craft!
"Okay, back, back to the fucking basics. You got yours, and mine you wanna taste it. Open wide, no you don't want to waste it. Oh shit! All over your face, kid!"
So yeah… what can one really add to that? Eazy managed to cram a fifteen minute porn scene into one rhyme. That has to be a record! I especially like the positive message of not wasting things, even if he was referring to semen. Still, it's an important message. The fact that he cums in her face is a flawless metaphor for the fact that Eazy E couldn't aim his penis. The fact that he performs this song to a sample from the theme of Green Acres, is in itself probably some of the funniest shit ever. This song was a must on any of my high school party playlists, and I give it as a gift to the younger generation.
"I fuck a bitch face more than her waist for real and ain't no pussy like new pussy that's how a nigga feel. Bust three times, throw her the peace sign, she sleep, then my dick sleek and I ain't gotta call her for weeks."
Nas is known to be more of a poetic lyricist, than a hardcore rapper. However, when the BK musician teamed up with Bravehearts, hip hop magic was made. In 2001, the group released Oochie Wally which went on to become a club anthem over the next decade. The mix of raw lyrics and big booty girls only intensified the song. No need to be coy, if you're hitting it right, make her holler Oochie Bang Bang!
"This verse goes out to my niggas in jail, beating their dicks to the XXL magazine, Like how I look in the aqua green? Get your Vaseline."
How considerate of Lil Kim to think of the masturbatory needs of this country's incarcerated population! She gives a nice pep talk to these unfortunate young men, and encourages them to explore themselves, rather than the ass of their cell mates. The recordings of porn stars having screaming orgasms in the middle of her verse was an especially nice touch. Keeping it classy, you know? I'm sure she got a nice kickback for the product placement as well. You know how you might get some free brand name candy for mentioning it on television? Sufficed to say, her petroleum jelly needs are filled for the rest of her natural life! Genius.
"Yeah you, come here and give me a kiss. Better make it fast or else I'm gonna get pissed. Can't you hear the music's pumpin' hard like I wish you would?"
We all get tired sometimes. especially when engaged in raucous sexual activity. It's times like this, a man needs a coach! Both Salt and Pepa understand this fundamental human need, and have written a motivational speech, urging you on to give it your all and be all you can be, in the biblical sense. They are like the personal trainers of love! No matter how exhausted you get, or how painful that cramp in your leg, this song will give you the strength to push it, push it real good!
"My shit's official, I get in you like Keith Murray, bury my beef into your sweet cherry, every week if necessary."
There is nothing like a good "you should cheat on your boyfriend with me" song. This lyric is simultaneously a boast about Link's sexual prowess and a recipe for a Chinese appetizer! The song is full of such lyrical gems, but I chose this one for the Keith Murray reference. Other considerations include "I'll be in the sauna, chupin' the nalga like the chupacabra!" and "What's the deal mami? You wanna feel on my steel salami? Try me and I'll write my name all over your punani!"
"They had a fifth friend. She was straight Black-Portuguese. Pretty Palmolive-soaped skin, aloe-vera leaves. She looked like the type of chick you only see in fantasies. The type of chick you would KILL for to get between the knees!"
Busta Rhymes is quite the story-teller. I could literally see this woman in my head the first time I heard this song, and I definitely wanted to have intercourse with her. Unfortunately she turned out to be a kleptomaniac, at which point Busta had to employ certain measures in order to show this crazy broad that he had indeed mastered his degrees and his PhD's (by which I assume me means 'Pimpin Hoes Degree'). It just goes to show, you always need to be on the lookout for the ones with that ill vibe.
"Lick you like a lizard when I'm slizzered, or sober, six million ways to fold ya."
It is hard for any serious hip hop fan to think about some pimp shit without acknowledging the work of Outkast. Since the early nineties, they have mystically transported us to world of custom lowrider Cadillacs and that Southern player lifestyle. This song captures that feeling of being fresh from theshower, feeling sexy and ready to lay one's freak down. Big Boi uses a clever simile to describe hiscunillingus techniques, and then implies that he knows no less than six million different sexual positions! I wasn't aware that there were that many, then again, I'm not a rap star.
"I got the magic stick. I know if I hit once, then I can hit twice. I hit the baddest chicks. Shorty don't believe me, come home with me tonight."
Oh Fifty, you're so slick! There are many ways to interpret this cryptic lyric. I feel like the term could be a biblical reference, as if he is Moses leading Lil Kim to the promised land… with his penis. Because of this song, I often wonder what might happen if my penis could double as a magic wand. At first thought it would be advantageous, being able to cast a spell on a woman to ensure future coitus. However, I would be afraid of having drunk sex one night and turning her into a toad or something.
"It's our first time together and I'm feeling kind of horny. Conventional methods of making love kind of bore me. I wanna knock your block off, get my rocks off, blow your socks off, make sure your G spot's soft."
This song came out when I was in junior high school, and it became the anthem of my pubescent lust. The back and forth dialogue, the subliminal tracks of women moaning in the throes of passion, I was on board for all of it. Later in my life, I realized that conventional sex can get boring at times, exactly as Mr. Smith suggests. This song also illustrates the importance of communication in any sexual encounter. Love a talker! This tale of having sexual relations with a groupie in the back room of a strip club has slid its way into the record books.
"I got a condo with nothing but condoms in it, the same place where the rhymes are invented. So all I do is rap and sex, imagine how I stroke. See how I was flowing on the last cassette?"
I can say with authority that every writer has a process. The Jigga Man preferred to have sex with random fans in a secret safe house while writing his rhymes. I must say I wouldn't get much work done in such an environment, but then again I am no Hova. Using impeccable logic, he poses an important question. If he spends equal time rapping and having sex, and he is good at rapping, how good must he be at sex? It is a question that many of his fans, as well as his lovely wife could not resist digging deep for the answer.
"What's your man got to do with me?"
Hands down, the best possible response to the assertion of "I got a man!" Positive K dares to pose the possibility that although she may have a man, she could still let him hit it. He was nothing if not tenacious. This is a philosophical query worthy of Socrates himself! What does her man really have to do with Positive K? Was Positive K actually suffering from hearing loss or was it a clever ruse? At what point is one's game thoroughly salted? Positive K, surely one of rap's deepest thinkers.
"Hold your horses, I'mma show you who the boss of intercourse is. Sex, I'm taking no losses! Even groups like SWV and TLC can't see B.I.G. with telepathy!"
In this classic, BIG seems to reassure his potential lover. 'Hold on girl, I'll wax your ass in a minute! Damn! You know I'm big boned, hold up!' Like Gorilla Monsoon at Wrestlemania I, The Notorious One lays out the challenge and takes on all comers. I laugh my ass off whenever I hear this song played. It is the definitive guide to fuckable R&B singers of the era. Future historians will be able to listen to this song and know exactly who Biggie Smalls wanted to have sex with in 1993, truly an invaluable resource!
"I don't want to sound sleazy, but tease me. I don't want it if it's that easy."
Babydoll are you down? Tupac calls for the returned of a good old fashioned tease in the midst of the virtual stampede of groupies trying to get ahold of his wang. Tupac was getting too much ass in the early nineties, and he had to occasionally pump the breaks. Even one of the greatest rappers of all time can occasionally catch the vapors. Remember the part of Jurassic Park where the Tyrannosaurus Rex wouldn't eat the goat? He didn't want to be fed, he wanted to hunt! Every time a groupie came on too strong, Pac referred her to one of the Outlawz and then went to the studio to record six albums.
"Suck it off til I shake and cum nigga, make sure I keep bustin nuts nigga, all over your face and stuff slow head show me so much love. The best head comes from a thug …the dick good, thick, big and long."
Everything that comes out of Khia's mouth is raunchy and just straight filth which makes her song, My Neck, My Back, perfect for the number 2 spot. I'll admit it, I was a fan of this song when it first came out. With her blunt instructions to all the other "Thug Misses", on how to pop their pussies, to her demands of how to eat her out properly, it's a catchy song that's hard to ignore.
"I'm always sprung once I feel your tongue in the crack of my ass, just eatin me"
Coming in at number one, Put it in your mouth by Akinyele. Known for his explicit lyrics, this 1996 hit didn't disappoint his freaky fans. While these lyrics are pretty clear where she wants him to put his dick, he also seems to have mastered dental techniques, "Creamin your teeth like dentists as I'm rubbin them With an erection like injections, fuck it I be druggin them- Numbing up your tonsils, like ambesol anesthetic." With a repetitious and dirty chorus, this filthy duo will have you stuck singing about where you want it… your motherfuckin mouth.