Most Beautiful Porn Stars Ever
The ultimate list of the most beautiful porn stars throughout history.
It is a universal truth according to The Big Book of Porn, that an effective porn star must be beautiful. The second most important truth is that beauty is in the eye of the beholder. Hotness and beauty can be mutually exclusive qualities, and that's almost never more clear than in porn. Late 90s star Melissa Hill, for instance, has admitted that her looks, while more than presentable, are not such that would get her into movies…but her enthusiasm and dexterity as an adult entertainer made her a major star in her era. But what about the women who have both? Those porn stars whose beauty doesn't say "adult star" but have an actual genuine beauty like Stoya and Faye Reagan. Porn stars' beauty is more transparent than any other entertainment genre's models. The beauty is manifested in the intimate connection between voyeur and subject.
Tori Black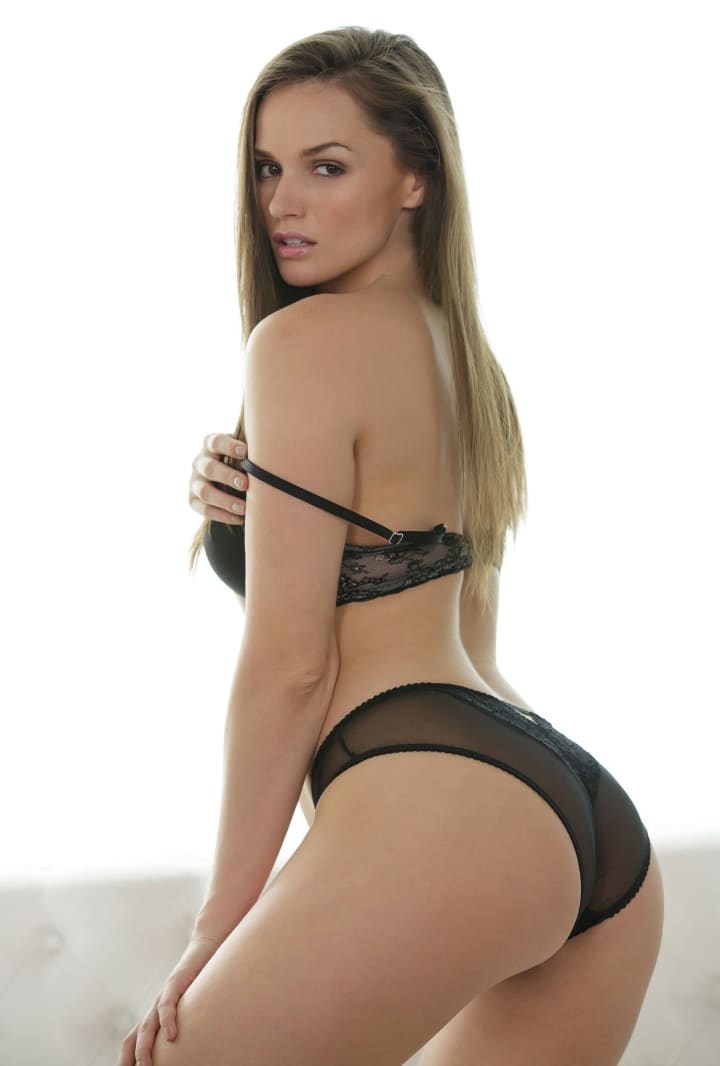 Tori Black's graceful body and modelesque face would turn heads, even on the biggest runways of Paris. Her long logs, high cheekbones, and slender body make her look visually stunning at all angles—which is why she's one of the most beautiful porn stars ever to make a skin flick. She's also a groundbreaker in the sense that she was the first adult performer in history to win two AVN Performer of the Year Awards, because of her "high fashion" appeal.
Tori Black's Best Work:
For girl-girl scenes, fans agree that her hit DVD, Tori Black is Back is her best work, due to her magnetic partnership with fellow porn legend Lana Rhodes, as well being as her first female-only DP session on tape. Acting-wise, her Batman XXX: A Porn Parody is a hilarious (but undoubtedly sexy) take on porn.
Tori Black's Status:
Tori Black is still doing porn after all these years, despite a six-year break from the business. She's now working as a Vixen Angel and as a Chatstar girl. We're happy to have her back!
Tori Black's Inspirational Quote:"We all need to be better, to ourselves and to one another."
Jenna Jameson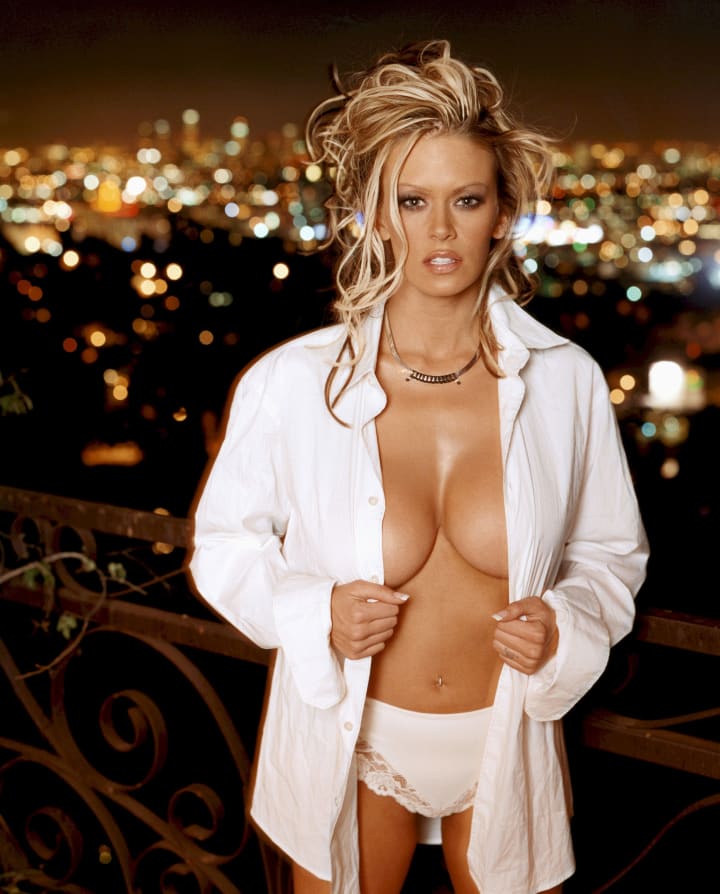 Though Jenna Jameson has definitely riled up many of her fellow porn stars with her recent political commentaries, it'd be a lie to say she wasn't one of the most beautiful porn stars ever to be filmed. Her beautiful breasts, long legs, and iconic blonde haired, blue eyed visage made her the name in adult films during the 90s, and beyond.
At her heyday, she was sultry and ushered in the days of porn stars owning their own internet porn sites. She also was one of the first porn stars to achieve mainstream fame and land parts in regular film as a result.
Jenna Jameson's Best Work:
The work that helped her gain notoriety was her early 90s hit, Up and Cummers 10. However, for most fans, her first boy-girl scene, which happened in Up and Cummers 11, was the one that will always remain in their minds. Her acting was impeccable, and it was the truest form of Jenna. Mainstream-wise, her best work had to be on Private Parts, a semi-autobiographical film on the life of Howard Stern.
Jenna Jameson's Status:
After a long career in the adult film industry, Jenna confirmed that she was leaving the porn industry in 2008, though she would still run ClubJenna. Later on, she announced she would no longer do any nude shoots, even for something like Maxim. She then took down her personal website. She currently is a mother of three and is focusing on family life.
Jenna Jameson's Inspirational Quote:"My definition of courage is never letting anyone define you."
Tera Patrick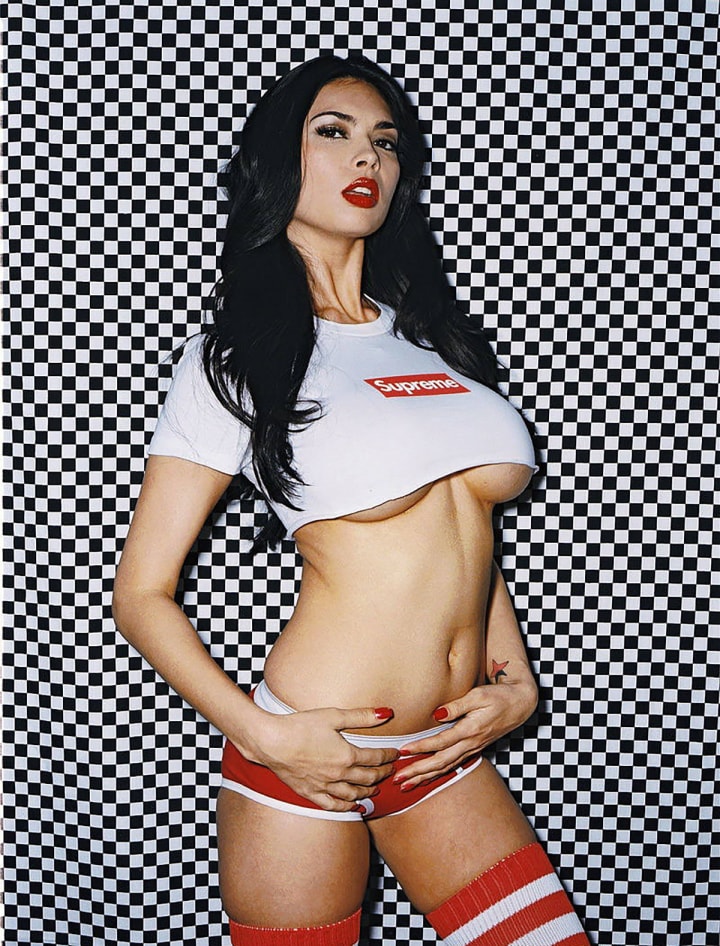 Tera Patrick's curvy body, tall height, and glamorous cheekbones made her the darling of the adult film industry. As her fame evolved, she began to personify the luxurious, glamorous look that porn stars aimed to achieve—and quickly became known as one of the most beautiful porn stars ever to hit the stage.
As a result of her beauty and stage persona, Tera Patrick was inducted into three different adult industry halls of fame: NightMoves, AVN, and XRCO. She also attained mainstream popularity and fame, thanks to her work in the scene.
Tera Patrick's Best Work:
It's difficult to pick out a single film that can be said to be her best work. However, most fans will point out her Vivid videos and Playboy magazine shoots to be some of her best work. The beautiful porn star is also known for her mainstream movie appearance in Live Nude Girls, as well as having a cameo in Aqua Teen Hunger Force.
Tera Patrick's Status:
Though Tera Patrick has stepped away from adult films done by production companies, she still works as a cam model. That being said, she's also a major entrepreneur with a number of clothing lines, including TITS—also known as Two In The Shirt.
Tera Patrick's Inspirational Quote:
"Listen to your intuition, trust your strength."
Uma Jolie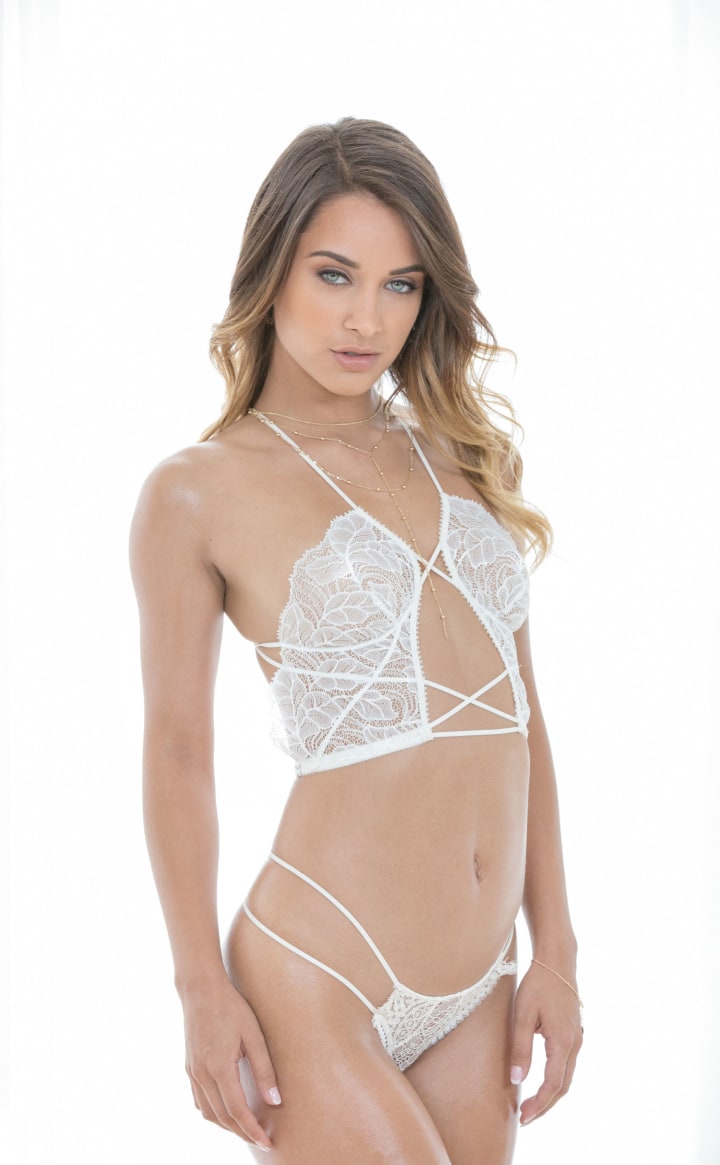 Uma Jolie's reputation as one of the most beautiful porn stars ever to be featured on magazines is one well-deserved. Known for her beautiful skin tone, crisp green eyes, and plump lips, Uma Jolie bears an uncanny resemblance to a young Angelina Jolie, with tousled golden brown hair. The most noticeable differences? She's more toned and presents a far more sexual vibe than Angie typically does.
In recent months, Uma Jolie has worked with major names like Vixen, and has booked photoshoots with some of the biggest names in the adult film industry. Her popularity is just beginning to explode, making her poised to become a legend in the XXX film industry.
Uma Jolie's Best Work:Movie-wise, Uma Jolie's work in A Soft Touch 3 proved to be one of the best lesbian porn flicks of the year. Her chemistry with Georgia Jones was impeccable, and it quickly was nominated for a number of awards. Her Vixen.com work has also proven to be a set not to be missed, and we can't wait to see more.
Uma Jolie's Status:
Uma Jolie is relatively new to the porn industry, and she is still happily active and making videos.
Uma Jolie's Inspirational Quote:Jolie's thoughtful and a fan of nature: "I get lost in the stars, I get lost in nature."
Skin Diamond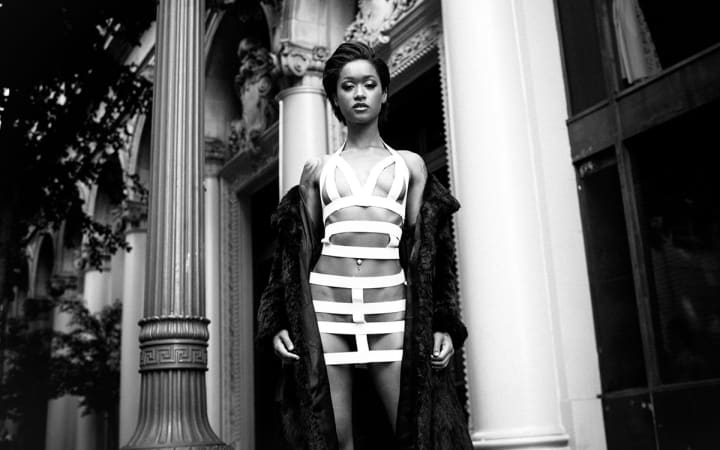 Can you say "triple threat"? Because that's exactly what this interracial beauty is. After she retired from the world of high fashion, this tattooed bombshell entered the world of adult films… and is now finding success in music under the name Raylin Joy.
Skin Diamond's Best Work:
Skin's resume is impressive. She's been nominated for dozens of awards in the adult film industry and won a few of them. But her greatest achievement is moving easily and seamlessly between print, film, and audio mediums. A master of rebranding herself, we can't wait to see what she comes up with next.
Skin Diamond's Professional Status:Currently making sick beats
Skin Diamond's Inspirational Quote:"Skin isn't gone guys, that shit lives on the internet forever! Go nuts."
Kayden Kross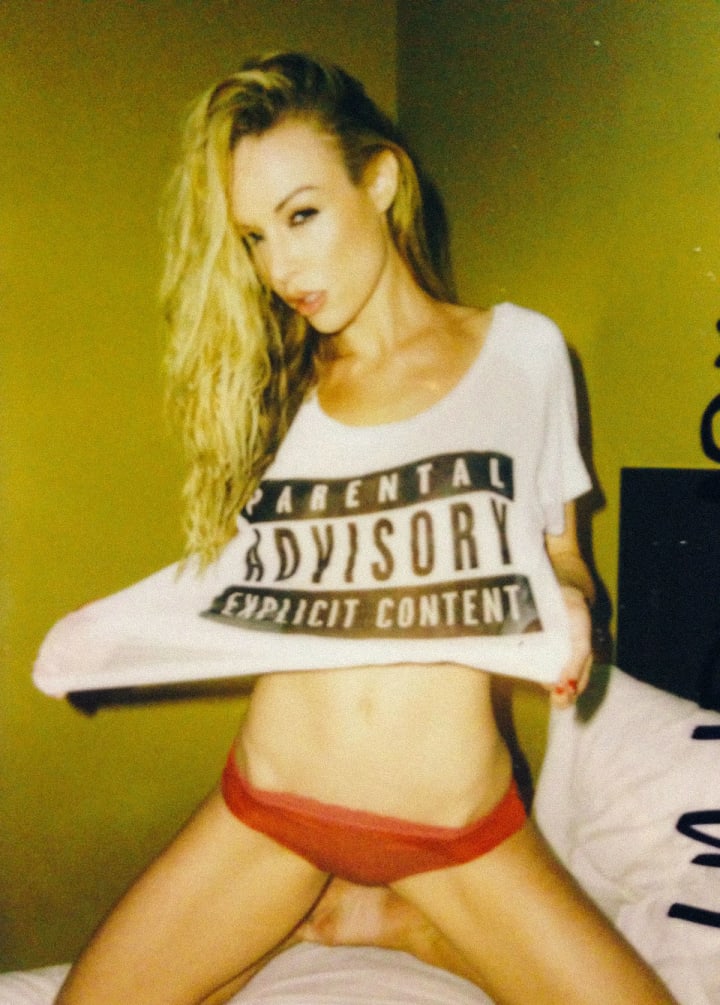 This blonde bombshell of Swedish descent hails from California originally. She has worked for big names in the industry, including Adam and Eve, and Digital Playground. Though she's starred in a variety of films, her expertise lies in girl on girl.
Kayden Kross' Best Work:
Kross holds titles for Best Actress, Best Female Performer, and Best Director. See if you can spot her cameos in Breaking Bad and The League.
Kayden Kross' Professional Status:
Kayden Kross regularly writes for Complex and XBIZ magazines, as well as writing short stories and an autobiography. She has several movies slated for release in 2017.
Kayden Kross' Inspirational Quote:
"Scrabble is trying to tell me 'fap' is not a word. What the shit have I been making for the last 10 years if fap is not a world?!"
Carter Cruise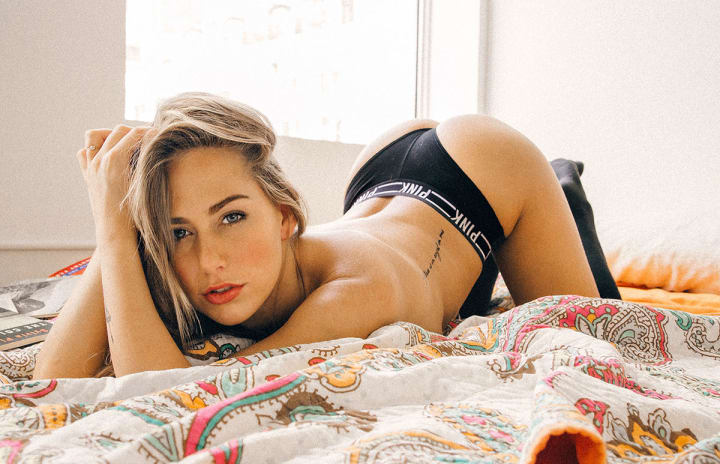 Someone sure is cruising to the top. This down to earth, 25-year-old native of North Carolina started as a Hooters girl while studying at ECU. With blonde hair and blue eyes, this Americana tells it like it is on her politically charged Twitter account.
Carter Cruise's Best Work:Taking a page from the book of Jenna Jameson, Cruise is the first actress to win the AVN awards for Best New Starlet and Best Actress in the same year.
Carter Cruise's Professional Status:Carter Cruise is new to the scene, but she is killing it! Miss Cruise stated in her 2014 Cosmopolitan interview that acting in adult films was a stepping stone to realizing her dreams of writing, fashion, acting, and music. And honestly, she is doing just that. Aside from acting, Cruise is also making a name for herself as a DJ.
Carter Cruise's Inspirational Quote:"If doing research and asking questions about political issues makes me the bad guy, I don't want to live in this world anymore."
Samantha Bentley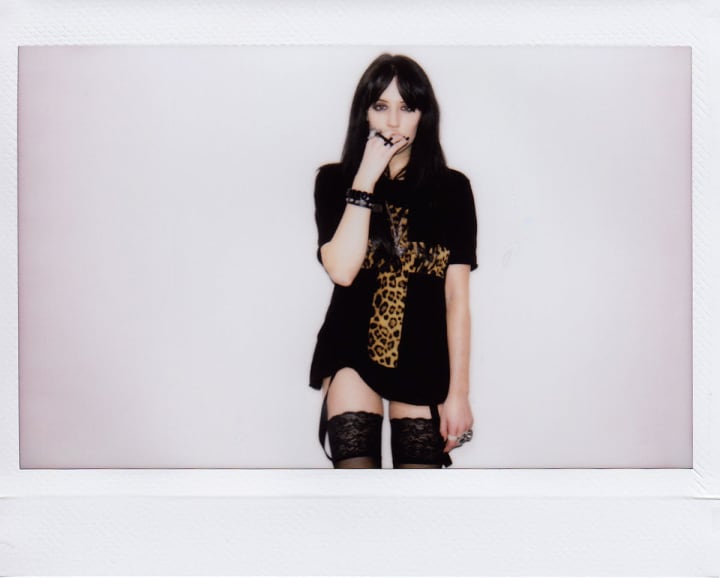 This dark-haired beauty got her start as a stripper at the age of eighteen. Though she starred in mainly girl on girl films for the first several years of her career, she soon moved to girl on guy scenes and has gone on to win many awards for her, ahem, talents. Today, the British beauty also DJ's.
Samantha Bentley's Best Work:
Samantha has won awards for her steamy girl on girl scenes. She's also been featured on a small budget TV show called Game of Thrones. You probably haven't heard of it...
Samantha Bentley's Professional Status:
Jivin' and thrivin'
Samantha Bentley's Inspirational Quote:
"Anyone that doesn't like dogs is probably a bad person."
Stoya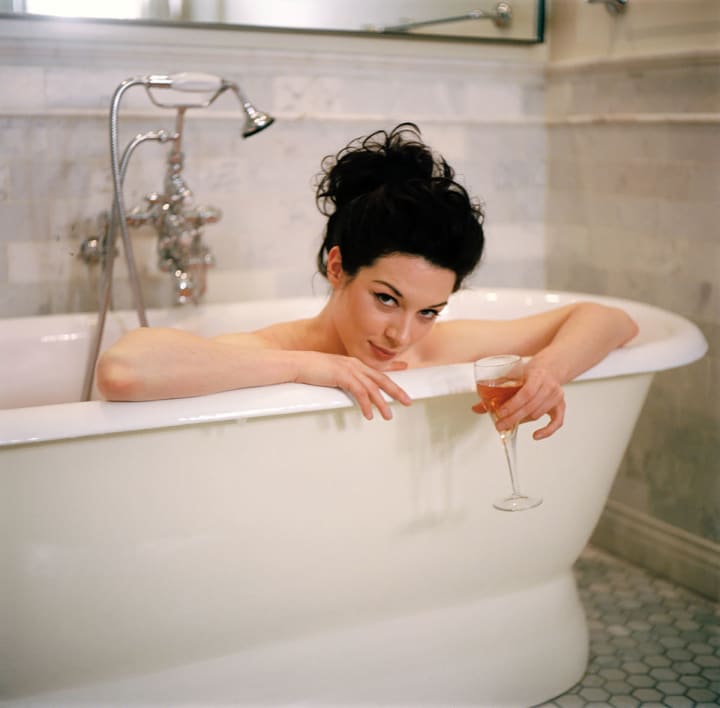 North-Carolina-born Stoya is an all-natural beauty (rumor has it that she turned down breast implants offered by her frequent employer Digital Playground, not once but twice). High cheekbones and bee-stung lips; Depending on the scene at hand, she can look creamy-fragile or tension-wire tough. A favorite of the hipster set, she's been known to make the scenes in Brooklyn's Williamsburg.
Stoya's Best Work:Stoya's was a Digital Playground contract girl, and there is a lot of porn hounds out there who insist that what Digital Playground does isn't porn—too tame. Well, of course, its porn but it's classy porn. That said, 2008's Stoya: Sexual Freak and 2009's Stoya: Heat show the girl is at her best within the parameters of the label.
Stoya's Professional Status:Cranking them out for Digital Playground; the tech aficionado (she claims to have learned DOS around age 3) costarred in nerd porn favorite Hacked. Who doesn't love sexy nerds?
Stoya's Inspirational Quote:
"When you ask a porn star about a big cock…a big cock is Lexington Steele and that shit is frightening and not going anywhere in the vicinity of my body."
Faye Reagan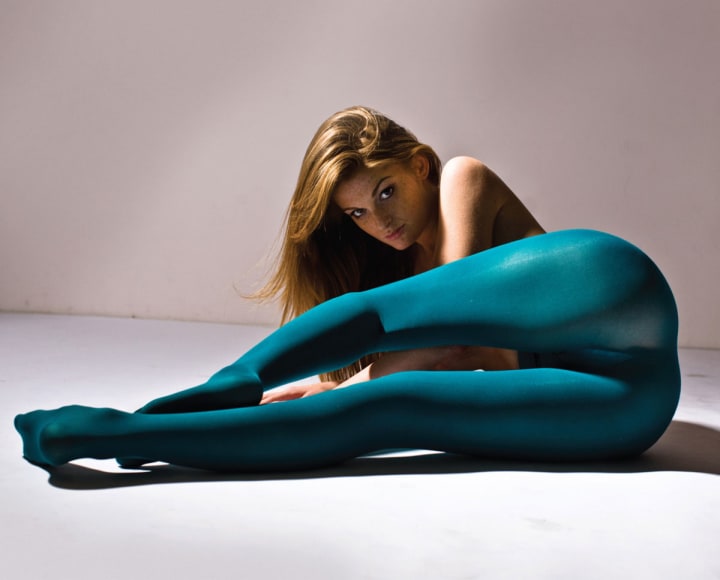 Freckle-flecked redheaded porn star Faye Reagan posed under the name "Jillian" for ads by erotically-emphatic clothing emporium American Apparel around the same time she was making it big in the porn industry. She's fresh-faced, sassy, and busty, with a gorgeous face that's as all-American as apple pie. Connoisseurs also cite her delightfully puffy nipples.
Faye's Best Work:Commenter at the Adult DVD Forum wrote of Reagan's work in 2008's The Gauntlet 3: "I love Faye Reagan, that red hair, freckles, and nice tits. She takes multiple cream pies, with the only clean up between is from another girl." Cream Pie lovers, take that for what it's worth. Faye herself has said "It's the dirtiest movie I've done."
Faye's Professional Status:Working it. Although her last DVD release of a new scene was quite some time ago, her run is almost a marathon for a female porn star these days stay tuned.
Faye's Inspirational Quote:A total beginner, she has said, "When I got into porn I'd only given two blowjobs, so I kind of jumped into it."
Nautica Thorn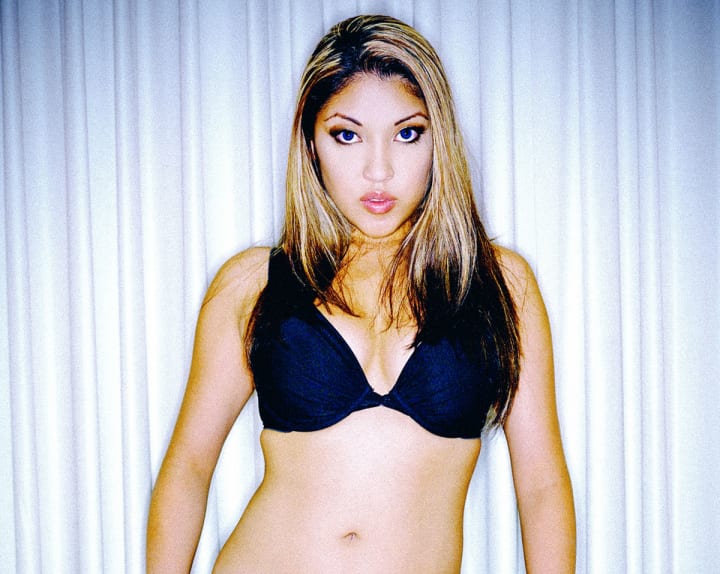 Hot enough for mainstream Hollywood, Nautica Thorn had a part as a lap dancer in the comedy hit Knocked Up. It may not be award nominating stuff, but you really believed she knew what she was doing. Half-Japanese, a quarter Puerto-Rican, and a quarter Hawaiian, the striking brunette is the kind of exotic mix that drives certain porn hounds wild. Depending on hair and makeup, she can look intimidatingly hard, but under the right lights her features have a milky suppleness that's breathtaking.
Nautica Thorn's Best Work:2009's Feeding Frenzy 10, in which she looks fab in white hot pants and fishnets. She displays a generosity of spirit rarely seen in multi-dude oral sex exploits.
Nautica Thorn's Professional Status:
Active. Frequently featured in Asian porn titles.
Nautica Thorn's Inspirational Quote:
The porn foodie told her agent, "I like working with Playboy. They have really good food."
Jamie Summers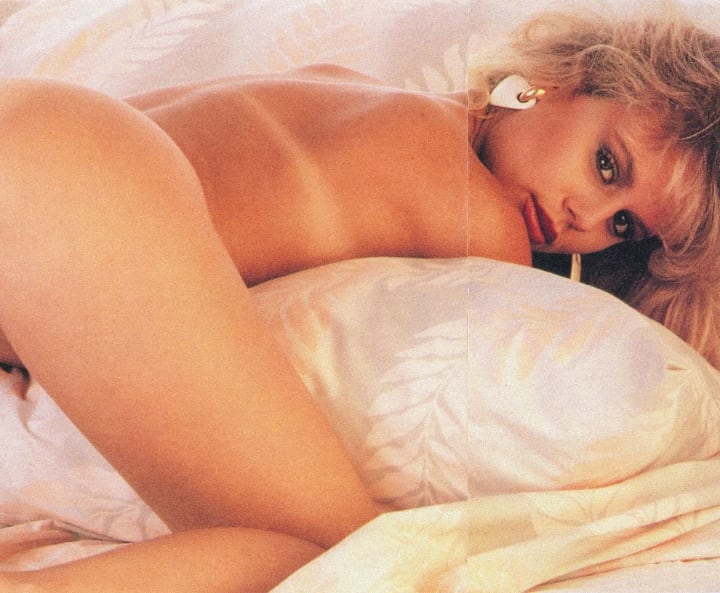 Beautiful porn star Jamie Summers is a stunning example of what beauty means. The second Vivid contract girl, 1980s star Summers, has a stage name that was a play on that of the character played by Lindsay Wagner on The Bionic Woman. She had a fresh-faced appeal that was a marked contrast to that of naughty-cheerleader Ginger Lynn, the first Vivid Girl. Never prone to extremes as a performer, she rode to fame on the back of a "Brat" persona that made her an icon of her era.
Jamie Summers' Best Work:Hard to say, but she is featured in Andrew Blake's groundbreaking Night Trips.
Jamie Summers' Professional Status:Retired and not even active on the periphery of the biz as far as we can see.
Jamie Summers' Inspirational Quote:"Just because I yawn doesn't mean i want to give you a blowjob."
Tia Bella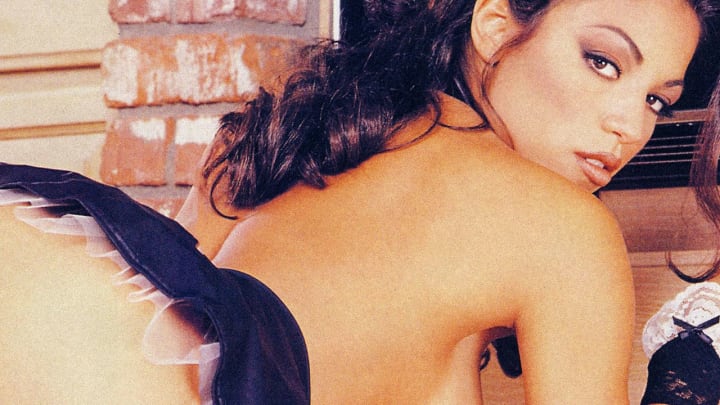 Mamma mia! Although she's not even Italian, Tia Bella is one beautiful Mediterranean looking lover. Under normal circumstances, her high-caliber silicone-grown rack would disqualify her in a contest of natural beauties, but what can we say? Those lips, those eyes. Of Greek background and one the hottest Latina porn stars, she augmented her beauty with a cool sense of sexual savoir-faire.
Tia Bella's Best Work:
She shakes it good in 1999's Taxi Dancer, also featuring the intriguing Asia Carrera. As befits a late '90s adult actress, she's got oodles of compilations discs out and each of them features…well, her. So there you go.
Tia Bella's Professional Status:
Retired, although the Internet seems to have her confused with Christine Smith, Playboy's Miss December of 2005, because Bella's real name is Christina Smith. Interesting but not our problem.
Tia Bella's Inspirational Quote:
"Some guys thing it is an honor to blow them. They are wrong."
Sasha Grey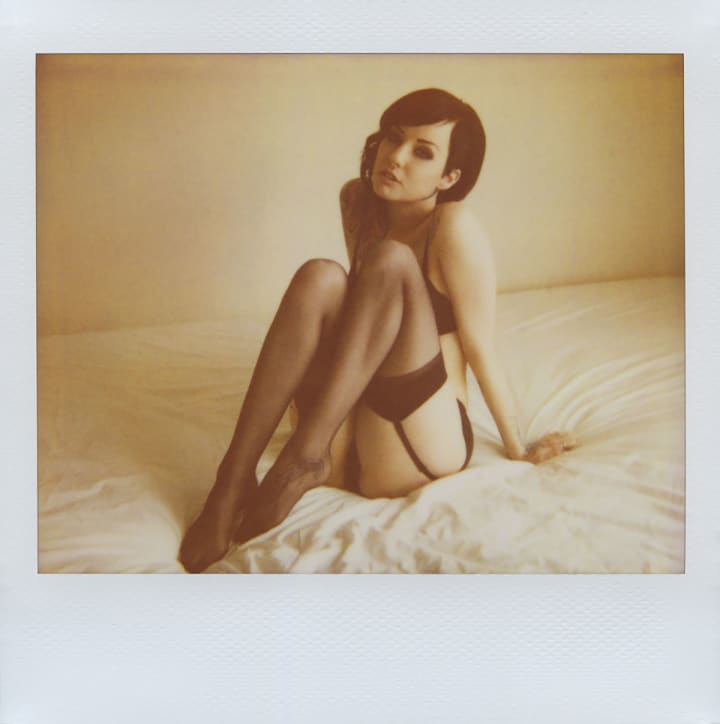 The notorious Sasha Grey has an angelic face with silent movie star and/or Goth girl stylings, depending on how you look at it. Eyebrows that redefine the word bush. Slender and limber, she struck some in the porn industry as an ice queen, but that was part of her appeal. Also noteworthy in her lack of reluctance to go farther out sexually than a lot of starlets.
Sasha Grey's Best Work:
She gives a fine performance in Steven Soderbergh's The Girlfriend Experience. But not a terribly lubricious one. Her three-way with veteran stud Tom Byron and perky Sunny Lane in 2009's King of Coochie 4 (hey, we don't title these things) is a relatively mild but still steamy indicator of her erotic performance capabilities. She was also a Penthouse Pet of the Month in July of 2007.
Sasha Grey's Professional Status:After Girlfriend Experience and a stint playing "herself" on HBO's Entourage, Grey has officially left the industry and is pursuing other interests, as they say, only she is doing it for real. A musician and DJ, she plays in the band aTelecine and has just published her first novel, The Juliette Society.
Sasha Grey's Inspirational Quote:All class, "I definitely consider what I do to be performance art."
Valentina Nappi
Mamma mia, this one actually is Italian; the bellisima Valentina Nappi is more than just a beautiful porn star. A sultry brunette with an all-natural body, and a gorgeous face that apparently was improved by a nose job. The Italian newbie has a sway that doesn't quit, and her sultriness is merely enhanced by the fact that she has curves and rolls where other girls have bony angles.
Valentina Nappi's Best Work:
As she's still a relative rookie, it could be yet to come, but a girl-girl-boy scene with Dana Vespoli and Ramon Nomar in which a dildoed Dana and anagrammatic Nomar double-team Valentina is quite the eye opener. She is Penthouse's Pet of the Month for November 2013.
Valentina Nappi's Professional Status:Just getting started!
Valentina Nappi's Inspirational Quote:Well, her English isn't so great yet, and she's rumored to have made some unpleasant pronouncements in her native Italian, so we'll just quote a grateful fan on the Adult DVD Talk Forum: "She takes it in the ass like a champ."
Hyapatia Lee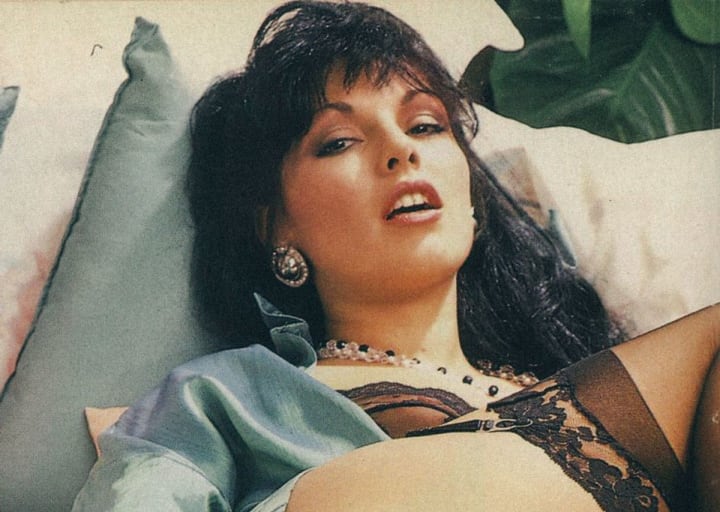 Proud Native American Hyapatia Lee is easily categorized as an exotic beauty. The raven-haired beauty Hyapatia Lee is a quarter Cherokee, making her the only documented Native American in the industry during its 1980s golden era. Her most remarked-upon porn tricks was her ability to lactate slightly during sex. While not a performer who tested boundaries, her staggering good looks and intelligent, self-assured manner made her one of the great teases in adult. Fun fact: She is featured in the now-contraband September 1984 issue of Penthouse, the infamous Miss America issue in which the Pet of the Month was an underage Traci Lords.
Hyapatia Lee's Best Work:
Again, this is one of those cases in which if you like Hyapatia, you'll like what she does. A compilation disc called Hyapatia Lee and Friends seems a smart one-stop-shopping move.
Hyapatia Lee's Professional Status:
Retired from porn, but according to Wikipedia, she's working in musical theater in Indiana and recently appeared in an episode of the uber-trashy reality show Gigolos under her real name.
Hyapatia Lee's Inspirational Quote:
The relationship oriented star has joke, "I do not recommend working with one's husband in any business."
Annette Haven
"Annette Haven has a terrific body," legendary American director Brian De Palma has said, and who are we to argue. The looks and bearing of an Upper East Side socialite who can be perfectly prim and proper on a visit to the Frick Collection and end the evening shagging like a mink near the hot tub at Plato's Retreat. Because the 1970's porn actress was active when Plato's Retreat. De Palma actually considered casting her in his 1984 Body Double. Melanie Griffith eventually got the part, but her schtick about what her porn star character won't do. "There are some things I'd like to get straight right up front, so there are no misunderstandings later on: I do not do animal acts, I do not do S and M or any variations of that particular bent, no water sports either; I will not shave my pussy, no fist-fucking, and absolutely no coming in my face." is apparently a direct quote from Annette.
Annette Haven's Best Work:
The retro porn label Alpha Blue has several comps demonstrating what Haven would do (including vintage loops), and of course, Barbara Broadcast is a Golden Age classic. See if you can spot her in Blake Edwards' Ten.
Annette Haven's Professional Status:
Retired, inducted into both the AVN and XRCO Halls of Fame.
Annette Haven's Inspirational Quote:
"Don't let him cum on your face, unless you regularly exfoliate."
Mia Malkova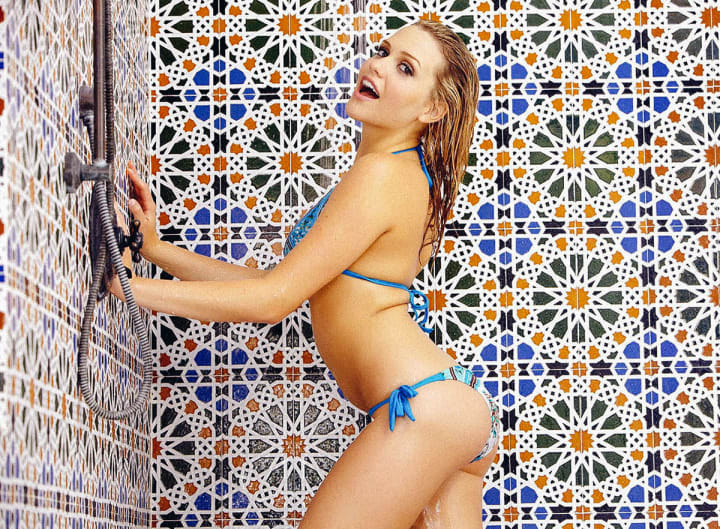 While her name speaks of Eastern Europe, when Mia Malkova opens her mouth, out comes Madison, Wisconsin. Looking like a cross between young Cameron Diaz and Rachel McAdams, rookie Mia is one of those beautiful porn stars you look at and say "THAT'S a porn star?" Corn silk-blue eyes, cheerleader-blonde hair, perky breasts and a bubble butt to inspire several hip-hop mix tapes, she's a newbie who gives a guy hope for the future of porn.
Mia Malkova's Best Work:
Mia, her self-titled Elegant Angel feature, is an apt introduction.
Mia Malkova's Professional Status:
She's only just begun.
Mia Malkova's Inspirational Quote:
"Every scene I do now has either someone else's finger up my ass or my own."
Sunny Leone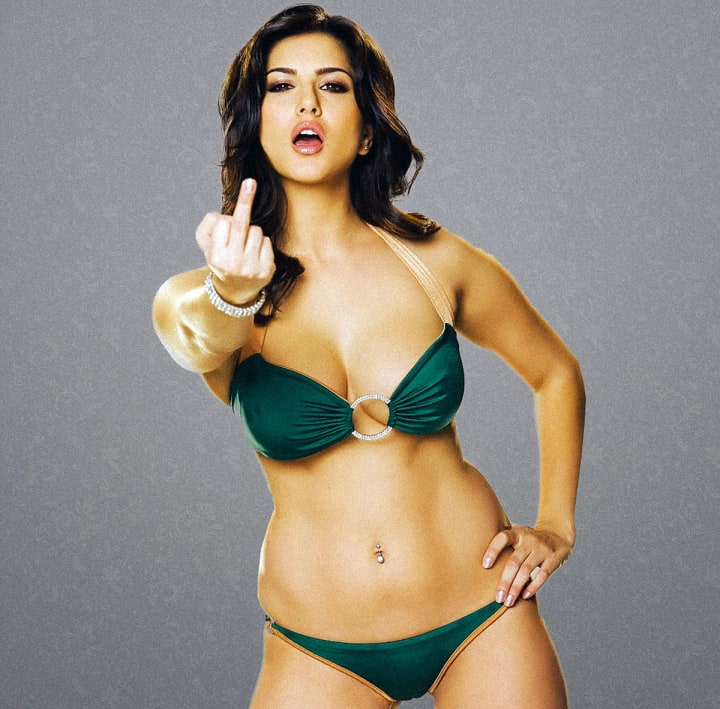 Sunny Leone was actually born in Canada, giving her something in common with Nobel laureate Alice Munro. Bet you didn't see that reference cuming. A warm-looking brown eyed beauty, the breast augmentation she had midway through her porn career was a perfect addition to her ravishing beauty. She's got the kind of eyes you can get lost in, and breast to rest on after the long journey.
Sunny Leone's Best Work:
On the one hand, 2012's Goddess features her doing all sorts of the nasty things she had never undertaken in porn, including anal; on the other hand, it's one of the most dully-conceived and worst-shot films of a latter-day porn star. Your call. Her work in 2009's Undress Me is pretty hot. Sunny was Penthouse's Pet of the Month in March of 2001, and 2003 Pet of the Year.
Sunny Leone's Professional Status:
Born of Punjabi parents, Sunny went to India for a reality series there called Bigg Boss, then made a Bollywood movie called—no really—Jism 2. (Don't get too excited, the title is Hindi for "Body." "Body 2," to be precise.) Apparently she still resides in India, has been exploring her spirituality there, and her porn disposition is unclear.
Sunny Leone's Inspirational Quote:Apparently waxing theologically she declared "In any religion, it doesn't want you to shoot adult material."
Nikki Dial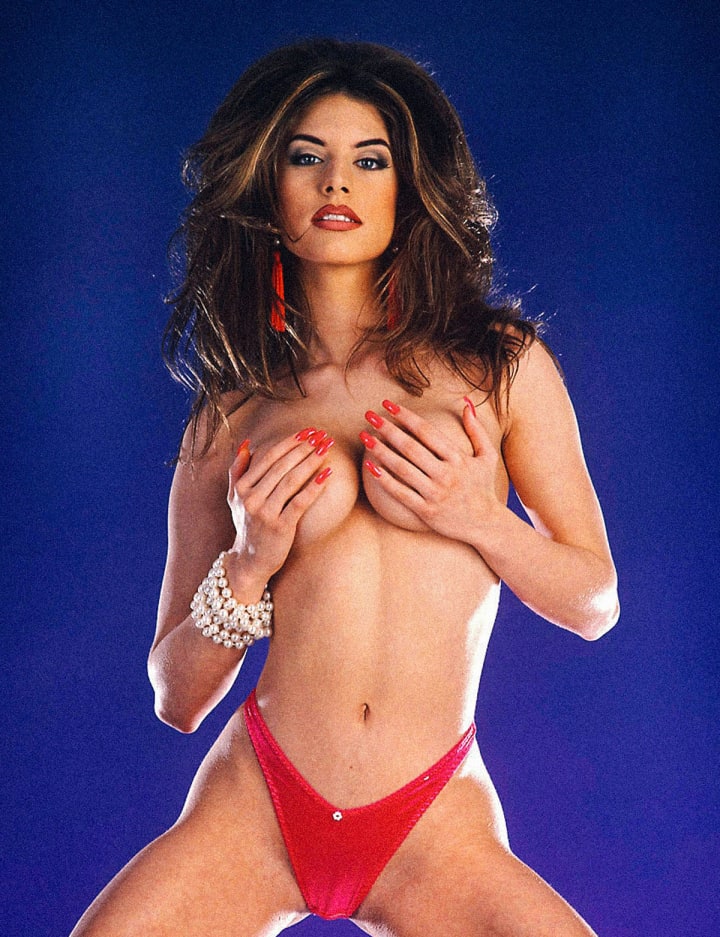 Was she the Sandra Bullock of porn, or the Anne Hathaway? Whichever mainstream star she reminds you of, Nikki Dial definitely deserving of the number 4 spot on this list. It's a shame about the stuck-in-the-80s hairstyles that the radiantly appealing, wholesome-but-sultry Nikki Dial was often saddled with, but ask any guy who came of age in the 1990's who the fantasy figure of choice was and Ms. Dial's is the name you'll hear 8 times out of ten and with good reason.
Nikki Dial's Best Work:
Nikki's exertions tended to be pretty vanilla even by vanilla standards, but she looks great with P.J. Sparxx in 1994's Starlet and gets surprisingly loose and nasty in Sex and Sex 2 from 1993, although good luck finding un-truncated versions of those movies on disc or the Internet.
Nikki Dial's Professional Status:Long retired. In 1996, your humble correspondent saw Nikki perform at The Roadhouse Strip Club in Columbus, Ohio, said to be one of the best strip clubs in America. At the picture signing afterwards, she confided that she was leaving the biz to go to school, get a degree, and then work with the deaf. To which your humble correspondent replied, "What? Huh?" It didn't work.
Nikki Dial's Inspirational Quote:
Unfortunately, there are no quotes available for Nikki Dial.
Marilyn Chambers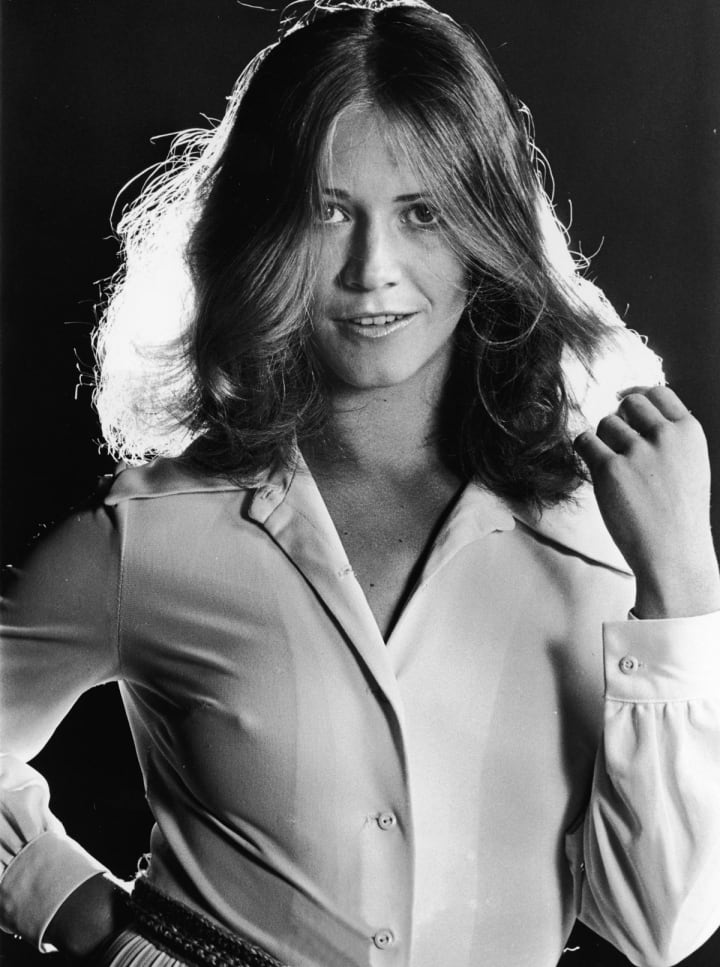 The Ivory Snow Girl turned Behind The Green Door trapeze artist Marilyn Chambers became a household porn name. It sounds like an urban legend today, but it's true: young Marilyn Chambers was the model holding the baby on an Ivory Snow box in the late 1960's. The aspiring actress then got a bit role in the Barbra Streisand movie The Owl And The Pussycat. Her resemblance to then-ingénue and undeniable beauty Cybill Shepherd made San Francisco porn moguls, The Mitchell Brothers, want her for their 1972 orgy picture, Behind The Green Door. According to Chambers, she didn't know it was a porn at the audition. You'd never know to watch the result. She went on to mainstream and made a 1980s return to porn followed by another comeback in her cougar years, a little less fresh-faced.
Marilyn Chambers' Best Work:
Her efforts at taming John Holmes in 1980's Insatiable are impressive, provided you can tolerate looking at John Holmes.
Marilyn Chambers' Professional Status:Angel, we hope. Marilyn passed in 2009 of a cerebral hemorrhage.
Marilyn Chambers' Inspirational Quote:"I've never to this day seen one of her hardcore movies, but I saw a softcore movie she did and she was incredibly sweet and unspoiled. When I met her she was a lot harder than I had hoped. She had plucked eyebrows and her hair was very pre-Farrah Fawcett. She had been doing Las Vegas. Chuck Traynor, her husband/manager, was not my favorite kind of guy." —David Cronenberg, who directed Chambers in 1985's Rabid."
Constance Money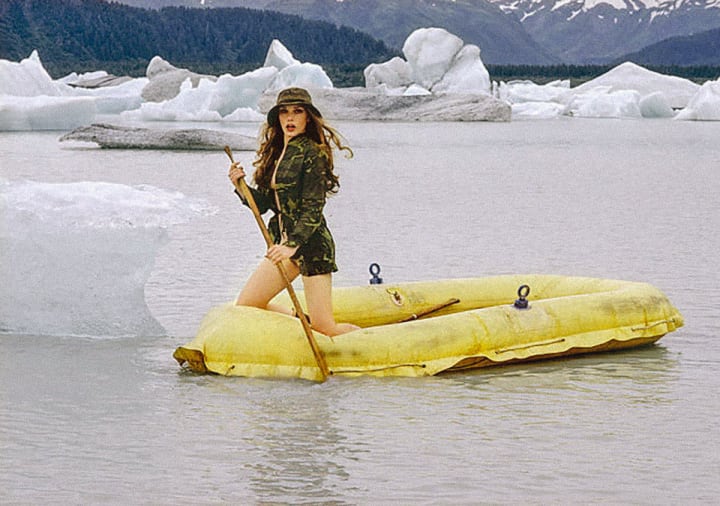 She's so money, baby. Constance Money, was a porn star for only a brief period. With long straight hair, perfect facial features, and statuesque figure, Constance Money was a classic beauty. Exactly the sort director Radley Metzger wanted for his 1975 porn magnum opus The Opening of Misty Beethoven. Metzger, working under the name Henry Paris, didn't want jaded porn veterans for his adult gloss on Pygmalion, and luckily for Metzger, Money, a one-time Mills College student, had only done a loop or two when he tapped her for this immortal specimen of porno chic.
Constance Money's Best Work:
There's so little of it! Misty, and to a lesser extent, Barbara Broadcast and Maraschino Cherry, both of which feature Money scenes originally shot for Misty!
Constance Money's Professional Status:According to a making-of doc on the terrific Blu-ray of Misty Beethoven, Money "disappeared completely from public view" after posing for a Playboy pictorial.
Constance Money's Inspirational Quote:
"I like Beethoven's music."
Brigitte Lahaie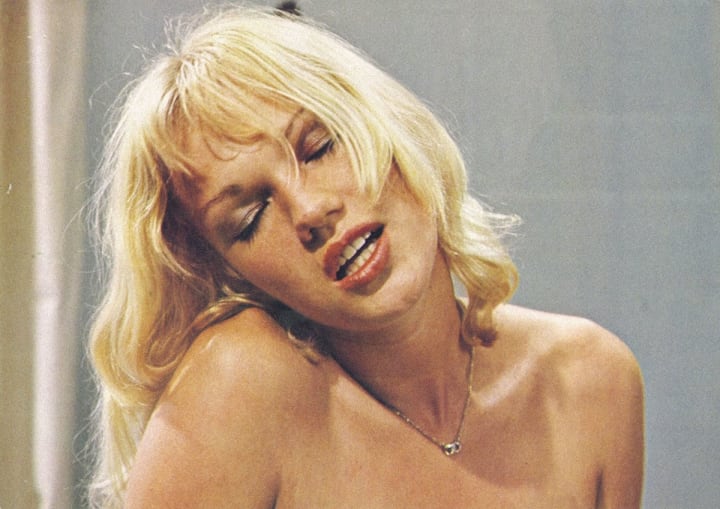 Naturally ample-bosomed, peaches and cream in complexion, a gorgeous mouth and alert, bright eyes…it is our considered opinion that Brigitte Lahaie, born in 1955, was and is the most beautiful actress to work in porn. Too bad it isn't American porn. A major French porn star from 1976 to 1980, she transitioned to softcore and modeling in the 1980s.
Brigitte Lahaie's Best Work:If you have a foreign-region friendly DVD player, just go out and get her sex-teacher comedy Les petites écolières, her final adult film and one of her most alluring and amusing. Be advised, though, that Lahaie's male partners often look like runners-up in some kind of Eurovision's Skeeviest Looking Men Contest, complete with ballpoint prison tattoos and stuff. For non-hardcore jollies, see her in the Jean Rollin horror movie The Grapes of Death, in which she enacts the most hilarious "Moi? A zombie? But how can I be with this untainted body?" routine in the history of genre movies.
Brigitte Lahaie's Professional Status:No longer doing hardcore films, she hosts a radio show on which she provides sex advice.
Brigitte Lahaie's Inspirational Quote:
"Tell him to keep it in his pants, if you don't want it out."
About the Creator
Senior editor and chief film critic of Premiere magazine, 1998-2007. Appears as Dick Filth in David Foster Wallace's essay "Big Red Son." Author and Editor. New York Times Writer.
Reader insights
Be the first to share your insights about this piece.
Add your insights