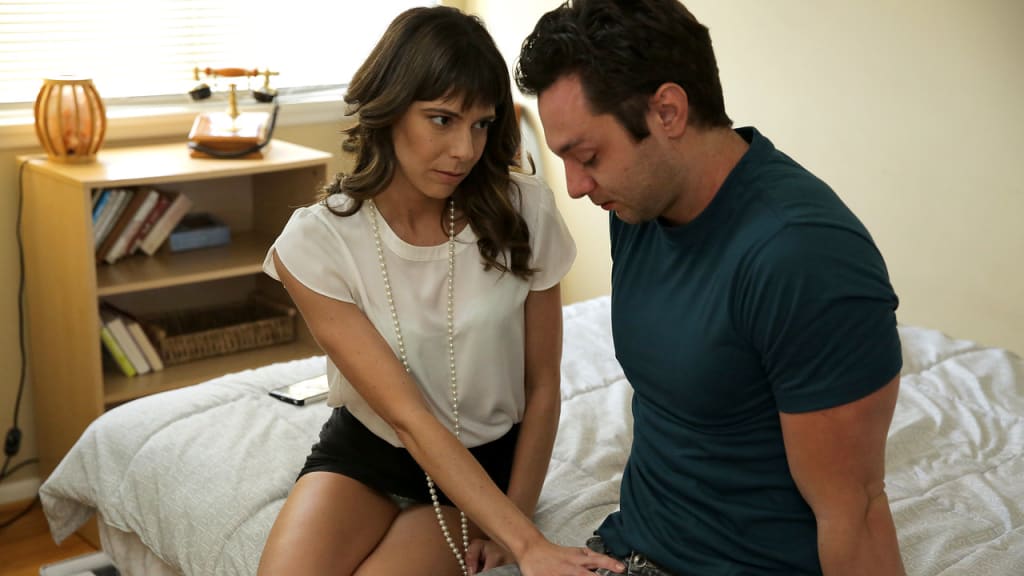 Vera King showing Brad some 'affection.'
It's no secret that men love older women; we've came up with enough nick names for them such as 'MILF, cougar or panther. There's something about an older woman which stirs a lot of feelings in us men, especially when we're younger. Some of us even prefer older women to younger women which may come as a surprise to the female gender. They have a very maternal quality which adds to the affection they give during sex.
That's my opinion anyway but there was never any doubt that the porn industry would pick up on such a 'selling point' and dedicate scenes to the maturer woman. They've been doing it for years as what males desire is no big secret and there are plenty of porn sites dedicated to the older woman. 'Nubiles – PORNSITE' have created a series called 'Moms Teach Sex' which have scenes based around the idea of an older woman teaching a younger man. A lot of their scenes involve a stepmom seducing a stepson or vice versa. They're pretty unique online as they're probably one of the first big porn companies to focus on this 'taboo niche.'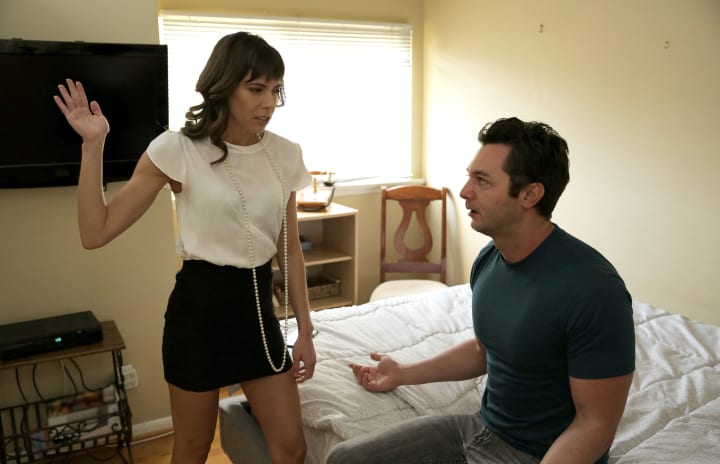 I've reviewed their scenes before and I have to say they are some of the best on the internet. I find the big companies don't do the 'stepmom fantasy' very well and you often have to have a look at the independent porn makers. 'Moms Teach Sex' however seems to break that formula and produce some of the best sex scenes on the web.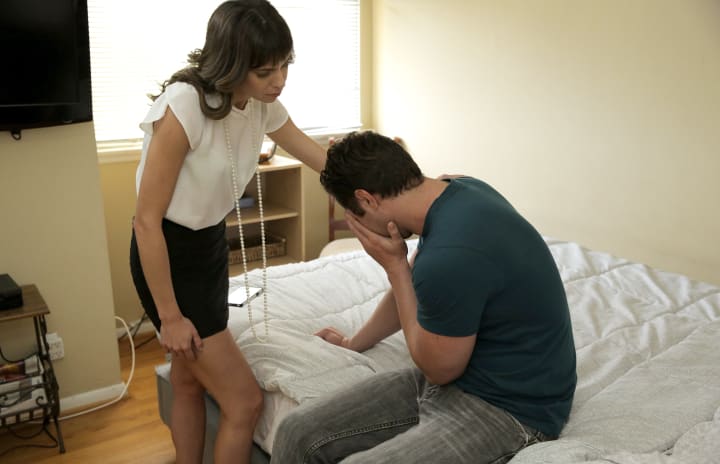 The scene I'm reviewing today stars Vera King, a natural honey with curves of 32B-24-32. She hasn't been in porn very long only starting to shoot films back in 2018 but she's been very busy. If you check the IAFD website it appears shes been filmed in quite a few movies.
Vera describes herself as a bit of an introvert who enjoys writing poetry, doing Yoga and running with her dog. She's actually a fully qualified Yoga instructor which shows she's very interested in her health and well being. Vera is multi-talented as she plays the guitar and took English AP Classes. Apparently one of the driving factors why she got into porn was the fact she wanted to write about sexuality.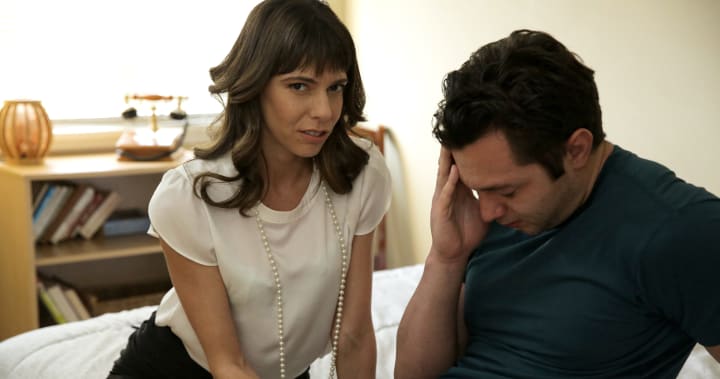 In this scene she plays the slightly psychotic (the Japanese would call it 'yandere') stepmother of hunky Brad Sterling. This is the first time I've seen Brad but he's a pretty good actor and has a very buff look about him that women are bound to love. Obviously this sort of stuff helps with the believability of a scene and drive the narrative.
The scene begins with Brad messaging his girlfriend who he seems a bit infatuated with. We get this impression from the fact that he starts masturbating over one of her text messages. Vera spots him doing this and angrily interrupts. She questions who he has been texting to which he replies 'one of his friends.'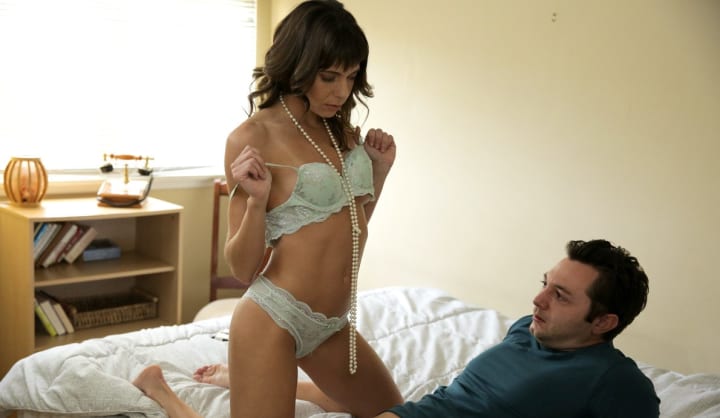 Vera is eager to know if it's one of his female or male friends to which he replies 'one of his female friends.'
Vera is angry with him and wants him to focus on his studies, not some girl from school. Brad asks how his stepmom expects him to learn about women if he's not allowed to be around them. There's a bit of craziness in Vera's character as she slaps him at various points during the scene. Yet she does this and then switches to the 'caring' mother type stroking her stepson's face at the same time. I won't lie and say that this character she plays is kind of hot and it's obvious she wants her stepson all for herself. After the disagreement she commands him to go wash himself in the shower but it appears there's a reason for this. Half way through she decides to join him naked much to his shock and horror. It's good acting from Brad who seems to get the facial expressions just right for this as his mother proceeds to give him a rub down. Vera eventually starts rubbing his cock and Brad cannot believe what is happening. Vera in a half creepy but all sexy way emphasizes how much Brad means to her. It's arousing stuff and I think Vera should maybe talk to Nubiles about doing a follow up series or something? It's the first time I've seen a porn film done in this type of 'yandere mother' style that's often reserved for Japanese animes. Brad finishes in his stepmother's mouth to what is a great start to the half an hour scene.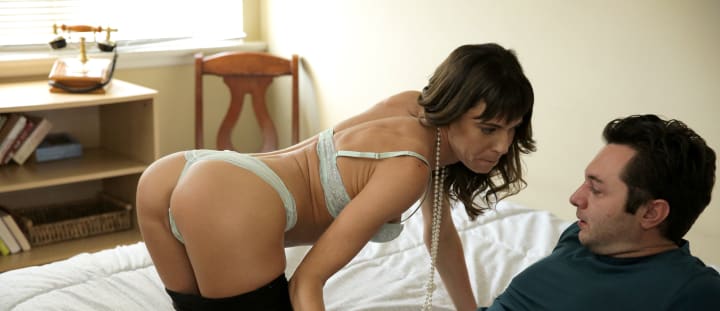 It then cuts to him talking to him in his bedroom talking to his girlfriend. In pure psycho fashion Vera interrupts and tells his girlfriend not to call him again. Brad is obviously horrified but it appears Vera wants him to focus his attention on her and his studies. Vera then speaks the title of the scene when she says 'Mommy is all you need.'
I don't think any guy would comply if it wasn't sexy brunette Vera King but because it is the scene is pretty hot. Vera starts sucking Brad's cock saying stuff like 'Do you like it when Mommy sucks your cock?'
She then commands him to say 'yes mommy' in what makes for a great scene. The look on Brads face is both 'what the fuck' and 'oh man my stepmom is hot.'
Vera really gets into as well as her eyes literally glaze over as she rides her stepson's big dick. I found the best position was the doggy one as Vera really gets worked up here. Yet with her sexy, natural look Vera King does look pretty amazing from all angles. She's also pretty convincing as the 'yandere stepmother' of your dreams. Have to give this scene 5 out of 5; Vera King is perfect both physically and acting wise. The scene is one of the hottest taboo shoots I've seen and Brad Sterling is a convincing stepson.
5 out of 5.