'MILF Witches' Part 2
Krissy Lynn in home wreaking antics...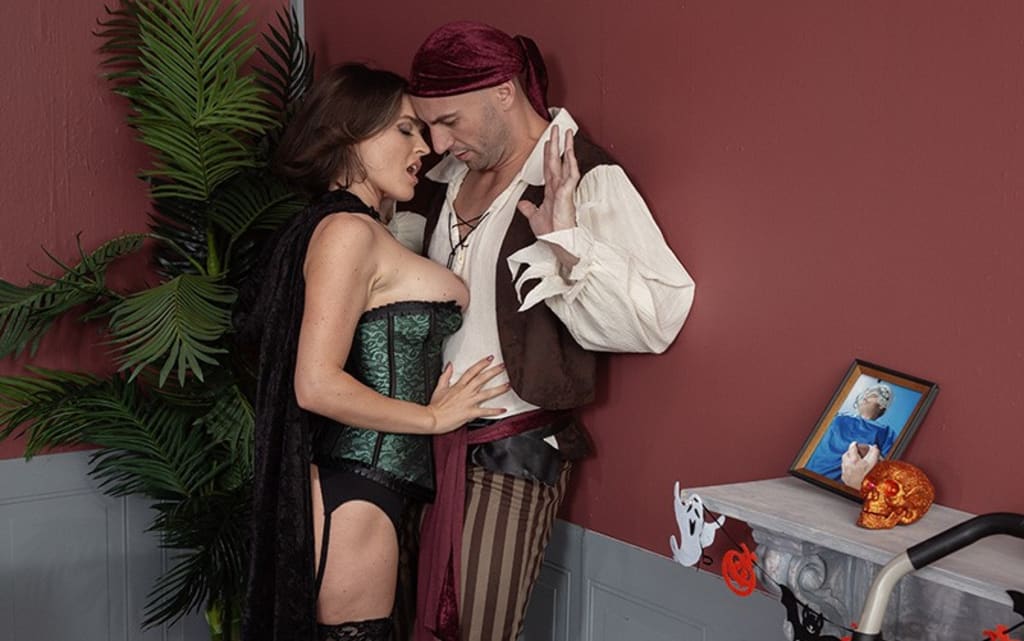 It's early November, and what would it be without a Halloween theme porn film?
These are often hit and miss with fans, and a successful one usually touches on taboo fantasy which tickle the imagination. Halloween is also a flexible holiday when it comes to porn, as its themes are darker compared to Christmas or Easter. Brazzer's content is consistently good, so much so that it's often hard for me to give them a bad review when I write these articles. Don't get me wrong; they have produced some crap, but luckily for viewers and readers this is often few and far between. This latest escapade is one of a four-part series called MILF Witches, and is based around a group of witches trying to make a mixture for eternal youth. This is Part 2 and I have to be honest I didn't watch Part 1. The reason I picked this up was because I saw the gorgeous Krissy Lynn was starring in it.
Described as "one of the nicest people in the business," Krissy's real life persona couldn't be further from her onscreen counter part. She often plays the bad girl on screen, much to the delight of her fans. Originally from Salt Lake City Utah, Krissy has assets of 36D-24-34, and is 34 years old. Her start in the adult industry came while she was working as an exotic dancer at Southern Exposure Strip Club. She met people from the industry there, and became involved with LA Direct Models in September 2008. She started filming hardcore porn scenes in her mid 20s and worked with all the big companies such as Vivid, Hustler, and Wicked. She even has a sibling in the business, her sister who works under the name, Cassidy Lynn.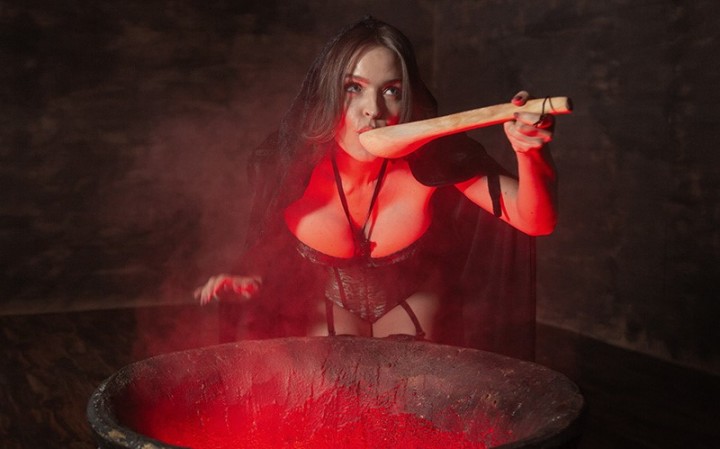 This is a good performance from Krissy here, who plays the "slutty witch" excellently. The scene begins with her and fellow witches plotting to get the next ingredient: the seed of man. As you can imagine with porn, this means a bucket-load of spunk. Krissy masturbates over the caldron (as you do) to receive her mission. The caldron produces the image of a married man, Stirling Cooper, getting ready to celebrate Halloween with his wife. This is information enough for Krissy, who sneaks into the couple's home using her magic. It's entertaining stuff if a bit slapstick, but the dark themes will be enough to arouse any eager viewer. Krissy's curvy MILF shape is nice viewing, and she actually has a bit of a spiritual nature if you watch her videos on Youtube.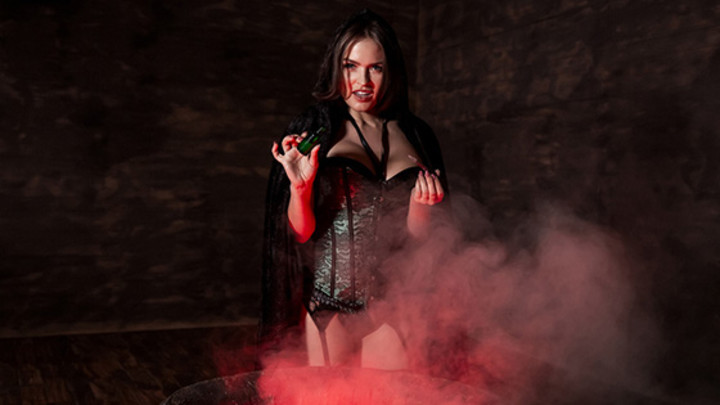 Enter Stirling Cooper, who seems to be having an enjoyable time decorating the house with his wife. He's dressed as Jack Sparrow, and his wife as Cat Woman from Batman. They clearly enjoy this holiday, and want to spend it together, which makes Krissy's dark entrance so sexy as she needs to make Stirling Cooper cum. Stirling's wife receives a call from her friend whose husband has cheated on her. Visibly shocked, she informs Stirling that she has to go and console her. While this is going on, Krissy is peering from behind the sofa, grinning about the predicament. Before she leaves, Stirling's wife needs reassurance that he would never cheat on her. It's good acting from Stirling and his "wife" (uncredited, unfortunately) who play their roles well. Stirling tries to make her feel better before she leaves, but the incoming witch has other plans. Before the wife leaves, she promises Stirling a Halloween treat, which Krissy uses to her advantage. It's excellent stuff, and Krissy's seduction before the sex is amazing. For someone so spiritual, it's shocking to see her play such a naughty character. The costume for her was a good pick as well, taking advantage of her massive bust. The dark green colour doesn't venture too far away from the witch. You know Krissy's a witch by her costume, but it gets away from the goofy cartoon stereotypes of a "pointy hat."
The sex is well shot with good camera work, and there's some anal in there for fans of that sort of thing. Overall, it's an excellent scene and if you want to view it get over to Brazzers.com. I give it 5 out of 5, Krissy Lynn and Stirling Cooper give a sweaty performance.
5 out of 5.