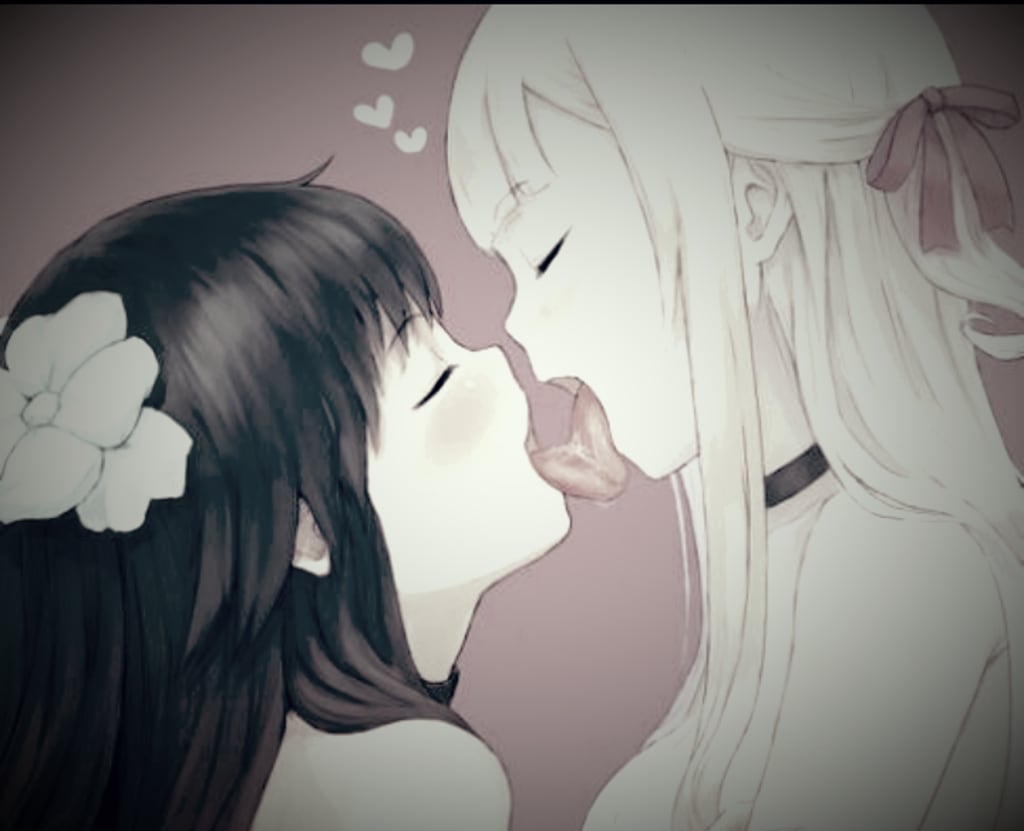 Me and Ashley, who was my best friend growing up, were walking down the street. We had just parked the car so we could sight see the busy areas and maybe buy some fun stuff. We always did everything together since we were kids. Shopping, skating and anything else girls like to do. So why did today change into something more?
"Tiffany," I heard Ashley say while she was sipping from her slushy.
"What's up?" I asked setting mine down.
"Alexis was wondering if she could stay the night with us tonight as well. Like a girls night ya know," she said smiling.
"But I thought it was gonna just be me and you tonight," I said shocked for some reason. It was always just us.
"That's fine too. I was just wanting to relay the message," she said drinking again.
Unfortunately at that time was when I heard it. You know a sound that for some reason immediately upsets you? One that you can't even explain but you just wanna tell when you hear it. That's what I heard.
"Ashley. Tiffany. How are you two?" she said walking up all happy and smug like.
It was Alexis. She was wearing her usual skimpy outfit and her frilly hairdo. I preferred my brown hair to flow naturally. Ashley was the same way, but her blonde hair was amazing. Beautiful. Stunning even. Sorry I get off topic.
"We're good," Ashley replied sipping her drink.
"Cool, so how about that sleep over?" Alexis said snapping her hands together.
"Yeah about that. I uh," I started but didn't really have anything to say.
"Tiffany and her family are out this weekend. Family trip I'm afraid. We will have to do this another time," Ashley said looking at her phone.
She stood up for me. I felt so relieved. I wanted to hug her on the spot.
"Cool. Well I guess it's just you and me Ashley, " Alexis said touching Ashley on the shoulder.
"No!" I accidentally shouted.
They both kind of looked at me oddly. I'm not even sure what came over me. It was like anger and jealousy for some reason. Just the thought of Alexis and Ashley together for some reason peeked all my nerves. But now what was I gonna say. They stared at me and I looked like a psycho.
"No, I have things I have to take care of this weekend too. Unfortunately my family decided this was gonna be the weekend we go to a family reunion. Never cared much for them but it figures," Ashley said while standing up. "C'mon Tiff. I'll give ya a ride home so you can get ready. Guess I will too."
"Well we will have to plan on another time. Maybe sometime in the summer when we don't have school?," Alexis asked.
"Oh yeah totally. Never busy really on the summer schedule," Ashley said grabbing my hand and walking toward the car. "See ya at school Monday Alexis."
They waved at each other while smiling. I didn't wave at all. I was still stuck in my mentality that the bitch could go to hell. And I didn't even know why I thought that. Alexis was usually a friend of mine too.
We arrived at the car and got in. Ashley smiled at me before turning it on.
"What?" I asked.
"Let's go to my place. She never knew where I lived but if rather her not see us at yours. We will stay at my place tonight," she said driving off.
She went to another store. She didn't let me see it but I was dropped off at a different place. She came back with a bat she said was a surprise. Oh well, I trust her.
We arrived in about 20 minutes to her place. We got out stuff we had bought out of the trunk and brought it inside. We then ordered a pizza and flipped through what movies to watch and games to play. After the pizza we went into the room.
"I forgot my pillows at home, and my blanket. Where do you keep the spares?" I asked as I finished brushing my teeth.
"Haven't gotten any yet. You'll just have to sleep in my bed tonight," she said.
"Alright," I said as I finished and walked out of the bathroom.
Then I saw it. She was there completely naked. She had just removed her clothes. I could see her night clothes beside her on the stand. But she was bending over and tucking in her sheet. I've seen her naked a million times, so why is my heart jumping so much this time?
"That should do it," she said turning toward me. "Come help me get these pillows straightened out."
I walked over and fluffed one of the pillows. Before I knew it, I felt her push me onto the bed.
"How's the new bed feel. Comfy right?" she said giggling. It was my first time since she moved out of her parents that I had slept over at her place. It was actually pretty soft of a bed.
I felt her climb on my back. Her hands slowly rubbed my back. So soft. So gentle. Made me. Well. I don't know. I felt amazing. She rolled me over and it became evident she was laying on top of me naked still.
"What are you..." I started but was interrupted when she kissed my lips.
My heart skipped a beat entirely. It felt like the world stopped just so I could live this moment for a while. I hadn't even noticed she undid my shirt. I hadn't even noticed she pulled off my panties. I was oblivious after her kiss.
I finally snapped to when I felt her tongue inside of my pussy.
"What are you doing?" I asked in a heavy breath.
"I thought for a while that you liked me. But today confirmed it. The way you got jealous and snapped. The way you got upset when she touched me. All you had to do was say something." Ashley said before pushing my legs further open.
I felt her entire face push onto my pussy. Her tongue going deeper. I had never been touched by anyone. Far as I know neither has Ashley. I saw her eyes stare up at me as her face rose up every time she licked higher. her hands reaching up and playing with my tits.
I moaned out as she sat up and reached over to her drawer. What she pulled out the bag she got earlier. It was opened now. I saw things I had never personally seen. A double sided dildo, vibrator, and a strap-on. My entire body now was tingling.
"Should we be doing this?" I asked nervously.
"Do you love me?" she asked rubbing her fingers down my chest to my clit.
"Yes," I answered quickly.
"Then yes. We should be," she said before grabbing the vibrator out and licking my pussy again.
I sat up and watched as she slowly pushed the vibrator in and out of her own pussy while still licking mine. After it was wet with her pussy cum she slowly pushed it into my pussy. She pushed it gently in and out as I fell back onto my back and moaned. Her tongue still caressing my pussy as the vibrator intensified inside of me. As I orgasmed she smiled and sucked my tits. I looked up and saw the vibrator now pulled out. It was covered in blood. She popped my cherry. She then put it inside of herself and grabbed my hand and gestured for me to play with her.
I grabbed it and went down to face her pussy. It was so perfect. I couldn't resist. I began licking it. I slowly pushed it deeper as I licked her pussy. Before too long she moaned heavily and I pulled the vibrator out. It now was covered with both of our pussy cum and our blood.
"Now for a new toy," she said as she pulled out the double sided dildo. It wasn't long which was good seeing as we were both virgins. Well. Used to be I guess. It was about 12 inches. So 6 each, maybe more. She placed one side into her and one into me. She slid it deeper inside of our pussies as our pussies touched now. It was like the dildo wasn't even there at all. It was now inside of both of us. Both our legs now spread and pussies rubbing each other we kissed and fucked. We both came several times as we kissed and licked each others tits. Our blood and cum mixing as one like it always should have. I was now covered in her blood and her pussy cum and her in mine. I didn't even care. I wanted to feel her pussy cum on me forever.
We both climaxed again before she pulled me on top of her and kissed me. I laid there my head on her perfect breasts. She rubbed my hair. Both of us dripping wet from face to cunt. She held me tightly.
I was beginning to doze off laying on her perfect tits listening to her heartbeat.
"Don't be jealous of me," she said as her leg wrapped around my ass to further hold me tighter. It's me and you. Together. Forever.
I held her tightly. I felt complete. We kissed again before I dozed off. Me and you. Together. Forever.
erotic
MMy name is Johnathan Hunt and I have been writing since I was 8. I write poems stories and books.