Mastering the Art of Double-Ended Dildo: A Beginner's Tutorial
Double-ended dildos offer a unique and versatile way to explore your sexuality, whether you're playing solo or with a partner. These double-sided toys can provide new sensations and experiences, allowing you to take your intimacy to new heights. If you're new to the world of double-ended dildos, this beginner's tutorial will help you master the art of using these toys effectively and safely. We'll cover everything from choosing the right toy to trying out different positions and techniques for maximum pleasure.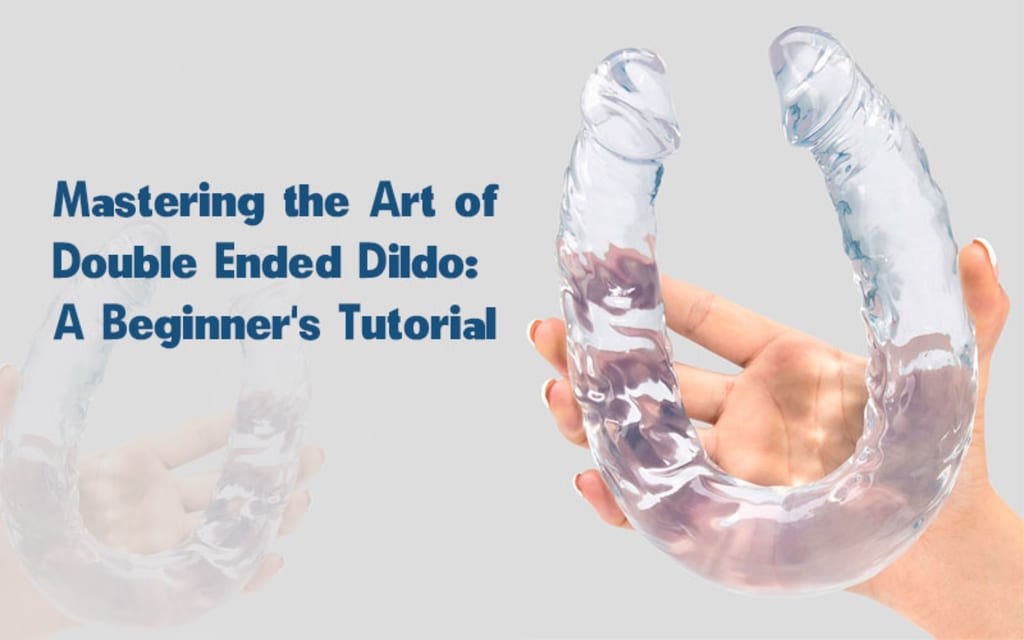 First, we need to figure out what is a double-ended dildo.
A double-ended dildo is a type of sex toy designed for simultaneous penetration and stimulation of two people or for versatile solo play. It is a long, cylindrical, and often flexible dildo with a phallic shape on both ends. Double-ended dildos come in various sizes, materials, textures, and levels of flexibility, allowing users to choose the one that best fits their preferences and experience level.
These toys can be used for both vaginal and anal penetration, as well as a combination of both. They can be enjoyed by people of all genders and sexual orientations, providing a versatile option for sexual exploration and pleasure. Double-ended dildos can be used in a variety of positions and techniques during solo or partner play, offering unique sensations and experiences that can enhance intimacy and sexual satisfaction.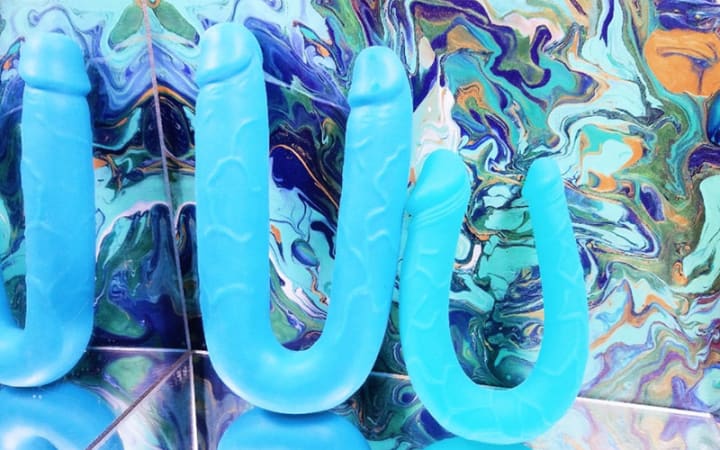 Choosing the Right Double-Ended Dildo
Your first step in mastering the art of double-ended dildo play is to find the perfect toy for you. There are several factors to consider when choosing a double-ended dildo:
1. Material: Opt for body-friendly materials such as silicone, glass, or stainless steel, which are non-porous and simple to clean, promoting a sanitary experience.
2. Size and shape: Double-ended dildos are available in a range of lengths, widths, and forms. Keep your experience level and individual preferences in mind when choosing a toy. Smaller, more pliable options might be better for beginners.
3. Texture: Double-ended dildos can have either smooth surfaces or feature various textures, such as ridges or bumps, for enhanced stimulation. Pick a texture that suits your taste and aligns with the intensity you desire.
4. Flexibility: The pliability of double-ended dildos differs, with some being more stiff while others offering greater flexibility. A more adaptable toy may be simpler to handle, particularly for novices or during partnered activities.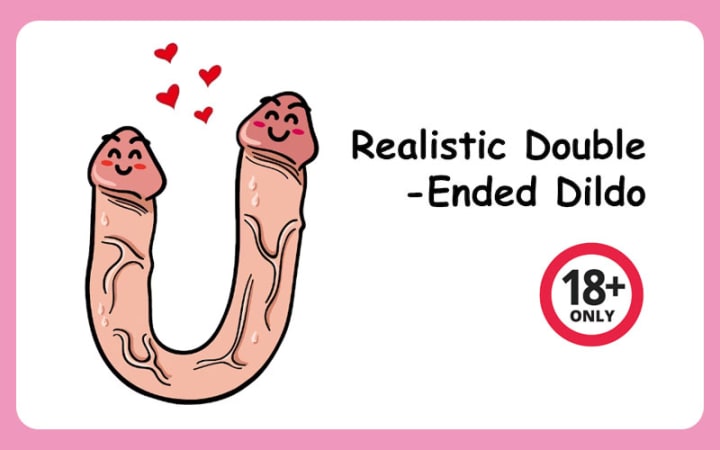 Preparing for Playtime
Before diving into double-ended dildo play, make sure you have everything you need for a comfortable and enjoyable experience:
1. Lubricant: A superior, water-based lubricant is crucial for a seamless and delightful experience. Lubricant minimizes friction and guarantees the toy slides effortlessly.
2. Towels or a waterproof pad: Position these under you to safeguard your bedding or other surfaces from any lubricant or bodily fluids.
3. Cleanliness: Confirm your double-ended dildo is clean prior to use. Clean it with warm water and gentle soap, or utilize a toy cleaner specifically formulated for sex toys.
Warming Up
As with any sexual activity, it's essential to warm up before using a dildo. Spend some time engaging in foreplay or self-stimulation to become aroused and relaxed. This can help you become more comfortable with the toy and make insertion easier.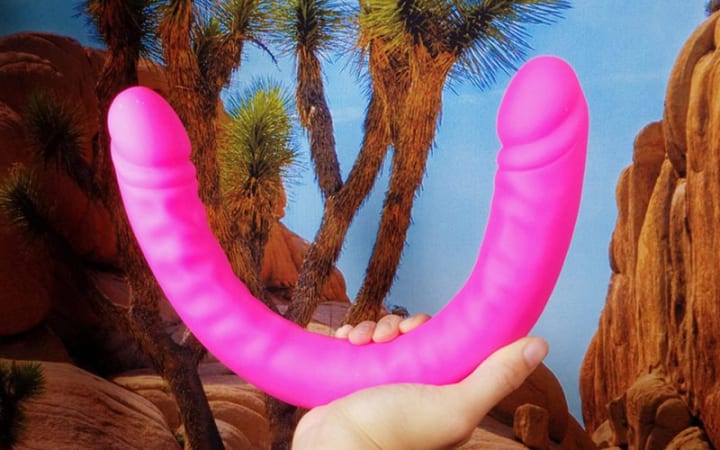 Solo Play-Techniques and Positions
Experiencing a double-ended dildo during solo play can yield immense pleasure and gratification. Here are a few techniques and positions from Venusfun to try:
1. Lying on your back: While lying on your back and having one end of the dildo inserted vaginally or anally, use your hand to guide the opposite end in and out. Tinker with various angles and depths to discover what feels optimal for you.
2. Riding: Sit or crouch on one end of the dildo, leveraging your body mass to regulate the depth and velocity of penetration. Grasp the other end for steadiness or employ it to stimulate your clitoris or additional erogenous areas.
3. Doggy style: With one end of the dildo inserted, position yourself on your hands and knees, and utilize your hand to thrust the opposite end in and out. This posture enables deep penetration and intense stimulation.
Partner play: Offering new ways to connect and explore your intimacy- Techniques and Positions
1. Facing each other: Sit opposite your partner with your legs entwined and insert one end of the dildo into each person. Sway back and forth or bounce in unison to establish a rhythm that feels pleasurable for both parties. This posture fosters eye contact and intimacy while indulging in shared sensations.
2.Scissoring: Lie on your sides facing one another, intertwining your legs in a scissor-like arrangement. Insert one end of the dildo into each person and adjust your positions as required to locate the most comfortable angle. Gently rock back and forth, allowing the toy to glide in and out.
3. Doggy style: Have one partner bend over on their hands and knees, while the other kneels behind them. Insert one end of the dildo into the partner in front and the other end into the partner behind. The partner in the rear can dictate the thrusting motion and tempo, delivering a distinctive and intense experience for both individuals.
4. Spooning: Lie down in a spooning position, with one partner behind the other. Insert one end of the dildo into the partner in front, and the other end into the partner behind. The partner in the back can control the depth and rhythm of penetration while also being able to wrap their arms around their partner for added intimacy.
5. 69 position: Lie down in a head-to-toe arrangement, with one partner on top of the other. Each partner can insert one end of the dildo while simultaneously performing oral sex on each other. This position allows for simultaneous pleasure and stimulation, making it a highly erotic experience.
6. Standing: Stand facing each other with one partner's leg raised and resting on the other partner's hip or thigh. Insert one end of the dildo into each partner, and use your hands to hold and guide the toy as you move together. This position requires balance and strength but can lead to exhilarating sensations and deep penetration.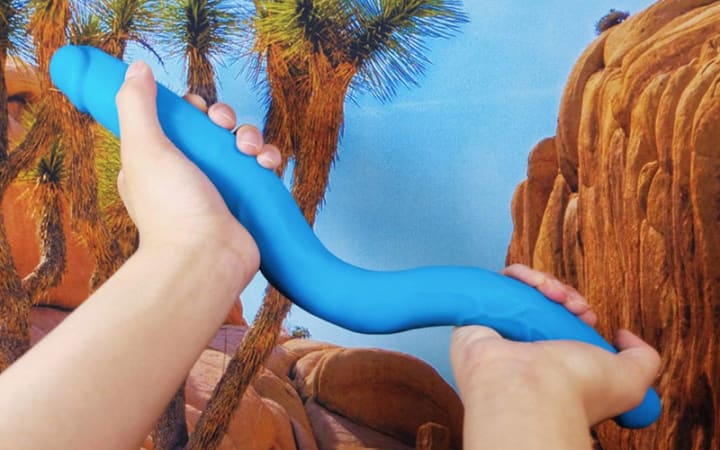 *Remember: Communication is key during partner play with double-ended dildos. Continually check in with your partner to ensure their comfort and pleasure. Feel free to get creative and experiment with different positions and techniques that work best for both of you. With practice and open communication, you can master the art of double-ended dildo play and unlock new levels of intimacy and pleasure with your partner.

Mastering the art of double-ended dildo play can be a thrilling and rewarding journey for both solo play and partner exploration. By selecting the right toy, preparing adequately, and experimenting with various techniques and positions, you'll be well on your way to discovering new dimensions of pleasure and intimacy. Communication and patience are crucial, as well as maintaining a sense of adventure and open-mindedness.
As you become more comfortable and experienced with double-ended dildos, don't be afraid to try new things and push your boundaries. This beginner's tutorial serves as a foundation for you to build upon, allowing you to unlock your full potential in the world of double-ended dildo play. With time, practice, and the right mindset, you'll find yourself enjoying new heights of sexual satisfaction and connection with yourself or your partner. So go ahead, embrace the journey, and discover the endless possibilities that await you in the exciting realm of double-ended dildo play at venusfun.com.
About the Creator
Online store here, visit www.venusfun.com
We are willing to share the experience of using sex toys and lingerie.
Reader insights
Be the first to share your insights about this piece.
Add your insights